Rustic weddings can be modern chic, have a vintage touch with lace and mason jars, or even have a country feel with cowboy boots and barn animals. Personalize this theme to inspire unique rustic wedding invitations that will wow your guests and give them a peek at the beautiful rustic details that will fill your wedding. Check out these **20 Unique Rustic Wedding Invitations **for your big day...
Table of contents:
1

Forest Friends Rustic Wedding Invitation...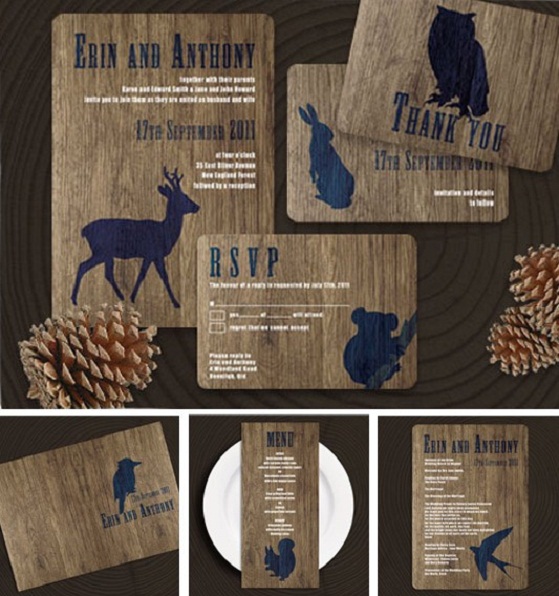 Photo Credit: I Do it Yourself
Rabbits, deers, and owls...oh my! Whether your rustic wedding venue is in the middle of the woods, on the mountain tops, or in your backyard; your forest friends **rustic wedding invitations **will be sure to help you greet your guests in a cute yet sophisticated way. I love the contrast of the blue animals against the rustic woodgrain print and how the theme is carried out through the set of the invitation, the RSVP, menu, and thank you card.
2

Succulent Rustic Wedding Invitation...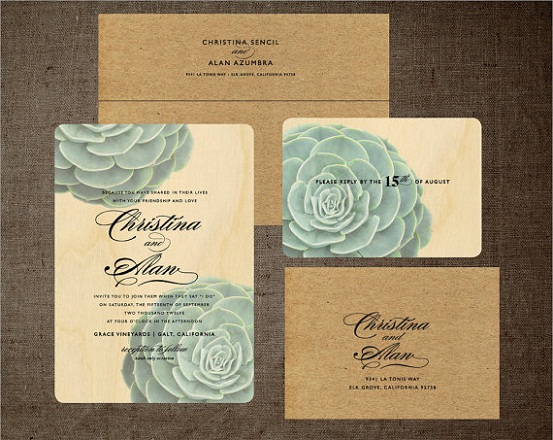 Photo Credit: Etsy/SaraSofiaCouture
Succulents are a very popular rustic wedding detail featured in groom's boutonnieres, centerpieces, and even bridal bouquets. However, I haven't seen many brilliantly and boldly showcased on invitations like this one before. Why not show your love for this cactus cousin trend when you send out your rustic wedding invitation with a set like this one, which is actually printed on real birch wood veneer!
3

Country Rustic Wedding Invitation...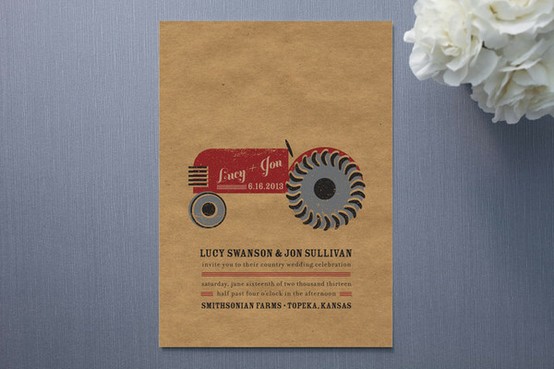 Photo Credit: Mintedvia Rustic Wedding Chic
Country rustic weddings have a delightful charm that warms your heart and brings back childhood memories of grandma's apple pie, swimming at the lake, and running through the fields. Set the tone for your charming country wedding with this adorable tractor rustic wedding invitation that will bring a smile on the hearts of all your guests...especially your grandmother's!
4

Vintage Rustic Wedding Invitation...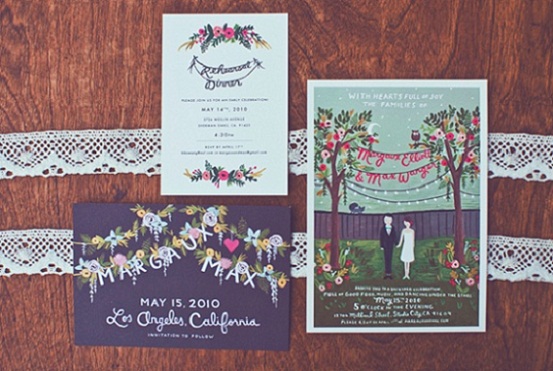 Photo Credit: Rifle Paper Co. via Rustic Wedding Chic
You can add delightful vintage touches to your rustic backyard wedding with a little lace, a few mason jar centerpieces and some twinkling lights. Personalize your rustic wedding invitation with elements that show who you are as a couple and let your love for vintage shine through even in the smallest details.
5

Woodgrain Rustic Wedding Invitation...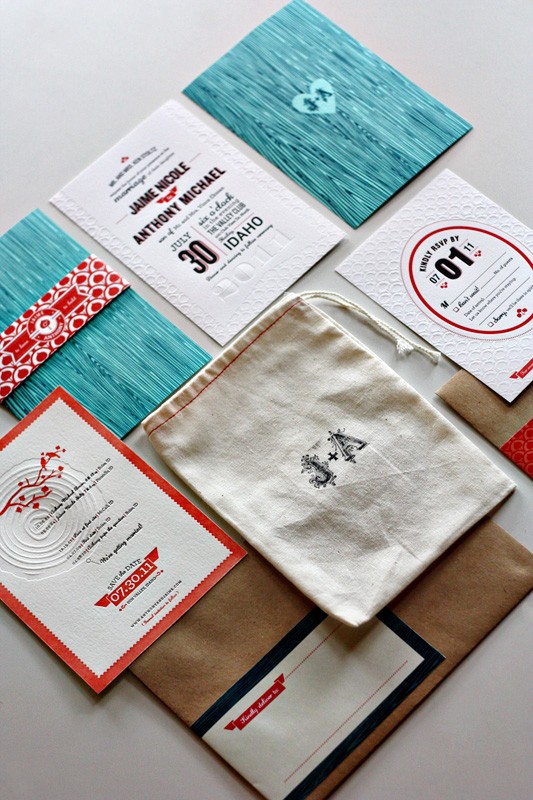 Photo Credit: Kate Holgate via OhSoBeautifulPaper
I love how unique this rustic wedding invitation set is with the colored woodgrain, I've never seen it in blue before! No one said a rustic wedding theme had to be filled with only browns and greens, so surprise your guests with a pop of color with a playful yet elegant invitation like this one.
6

Woodland Rustic Wedding Invitation...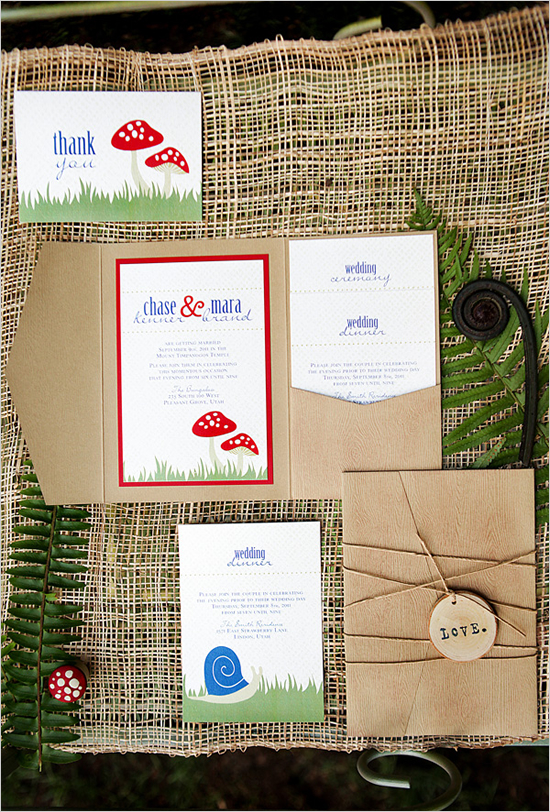 Photo Credit: Polka Dots & Daisiesvia WeddingChicks
I adore woodland rustic wedding themes with the little mushrooms, charming creatures, and beautiful ferns and moss that decorate cakes, ring pillows, and bouquets. Who would not be intrigued to see more of this enchanting woodland wedding when they see this whimsical rustic wedding invitation! I smile every time I see the little red spotted mushrooms in the details of a rustic wedding.
7

Modern Rustic Wedding Invitation...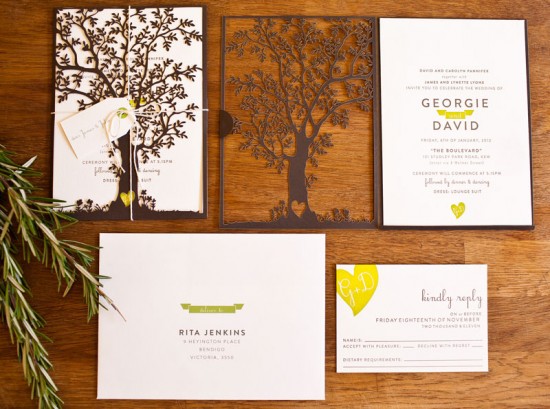 Photo Credit: Saint Gertrude Design and Letterpressvia OhSoBeautifulPaper
Modern technology can help designers print amazing invitations and showcase every little detail right down to the yellow heart that pops through the tree. This breath taking laser cut tree helps to highlight the wedding theme but also gives this rustic wedding invitation a modern feel.
8

Offbeat Rustic Wedding Invitation...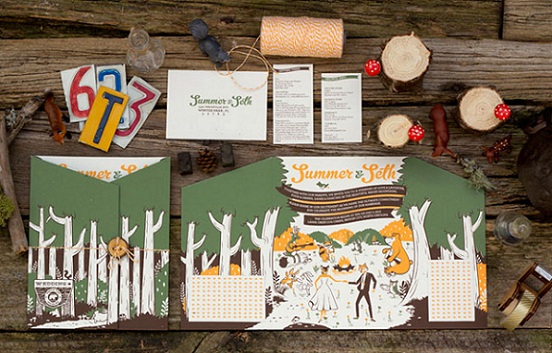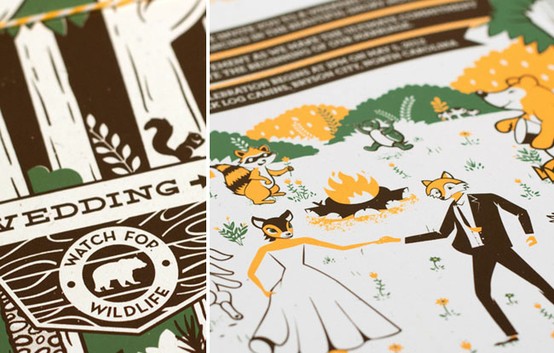 Photo Credit: Caseboltdesignvia GreenWeddingShoes
Can you imagine just how creative the rest of the wedding details are when the rustic wedding invitation is as magical as this! I love the playfulness of the bride and groom characters; it can only mean that the real bride and groom are quite the life of the party themselves! When you see an invitation like this you just know that a good time awaits. This wedding should get a yes from every guest just because of the awesome invitation!
9

Mason Jar Rustic Wedding Invitation...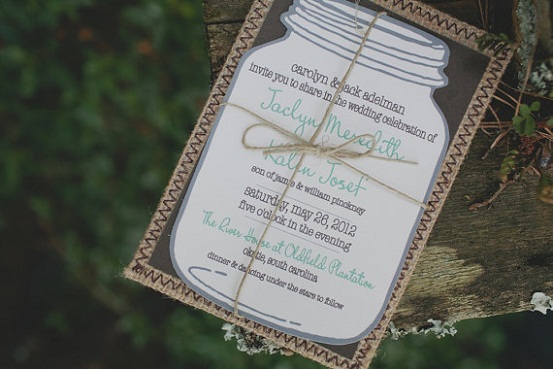 Photo Credit: Etsy/BlueEnvelope
I love rustic wedding invitations that really give guests a feel for the details they will see on the big day, like this one that looks just like a mason jar! Mason jars can add a vintage touch to your rustic wedding day and be filled with wildflowers, wrapped with burlap, or can even hold photos of you and your groom for guests to take home as favors.
10

Winter Rustic Wedding Invitation...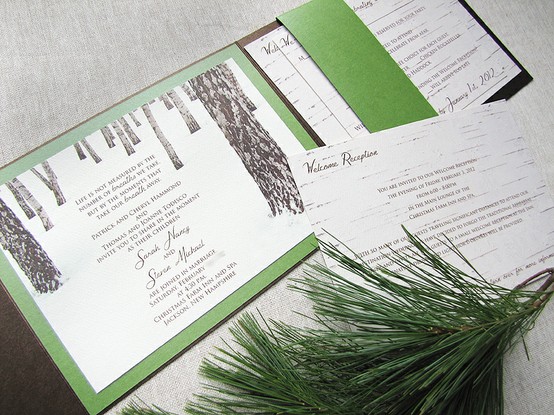 Photo Credit: Lasso'D Moon Design
Rustic Wedding Themes can be celebrated all year long, no matter the season. I love the simplicity of this beautiful winter rustic wedding invitation with the little elements of snow in the forest, you get the idea of the theme without it being too overwhelming with too many rustic or winter details.
As always your wedding details and theme, from the rustic wedding invitations down to the cake topper, should represent who you are as a couple and the things you like and enjoy. If you are the couple who loves camping in the woods show your love for the great outdoors as your guests open your rustic wedding invitations and see dancing bears, roasting marshmallows, and fireflies. But remember, your rustic wedding invitations don't have to be bold in saying to your guests, "Here's a rustic wedding theme", they can just simple say, "Here's a wedding with a few rustic details". Be as rustic as you want to be. Less is always more no matter what your wedding day theme is.
Please rate this article