Courthouse weddings are no longer thought of for those who just want to elope, but also for those who want something less stressful and more intimate. They can be very romantic with just the two of you, a few family members, and close friends when you are looking for something that isn't over the top or over budget. If you are thinking of having a small wedding here are 7 Reasons to Get Married at the Courthouse...
---
1

Intimate Setting...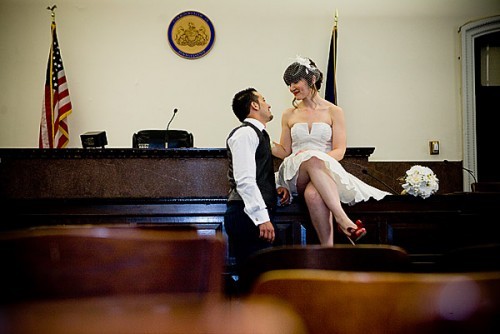 Photo Credit: LindsayDochertyvia ElizabethAnneDesigns
Sometimes planning a big wedding with a big guest list can feel overwhelming, especially when you feel the need to please everyone. If you decide to get married at the courthouse, depending on which state you live in, you will only need to invite two witnesses. However, you can also invite a small group of guests as well to help celebrate this beautiful day with you. As you look into each other's eyes to say 'I Do', you will really feel like you are the only two people in the room in this intimate setting.
---
2

Urban Chic...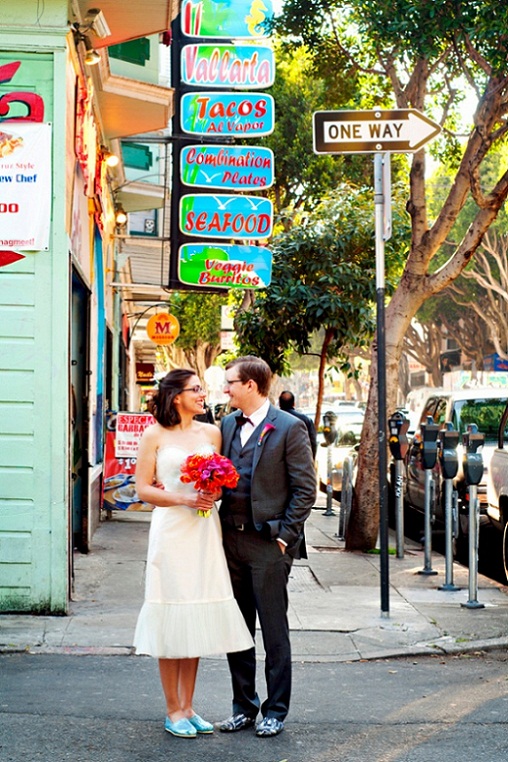 Photo Credit: Locally Grown Weddingsvia My Wedding
The nice thing about getting married at the courthouse is how quick it is and that it gives you more time to run around the city to take fun, urban chic photos. You won't need to worry about missing cocktail hour while you pose at your favorite locations where you grew up hanging out at or the coffee house where you met.
---
3

Budget Friendly...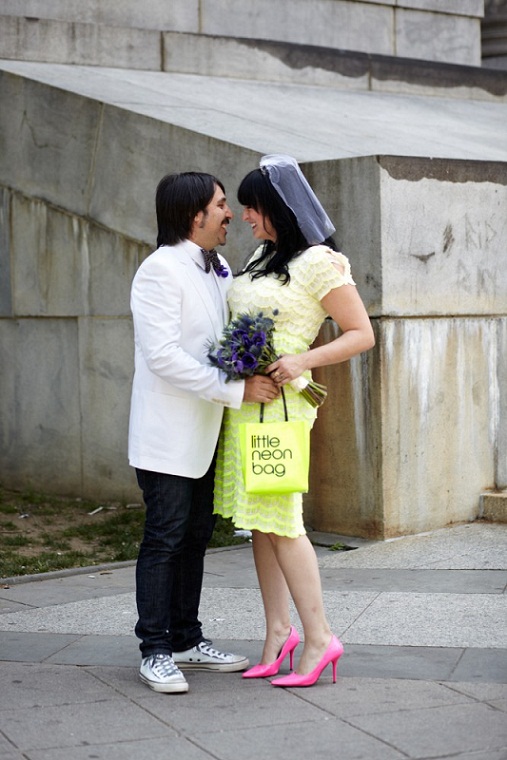 Photo Credit: Refinery29
How adorable is this couple! I love her neon dress, bag, and heels, along with his jeans, sneakers, blazer, and bow tie. Who said you couldn't be chic and budget friendly at the same time! Getting married at the courthouse can save you hundreds if not thousands of dollars, and just because you get married at the courthouse doesn't mean you still can't have a reception or a small gathering at a nice restaurant afterwards. A city hall wedding will cut down on the cost of paying an officiant or a church, having a big guest list, invitations, and other items.
---
4

No Gown Needed...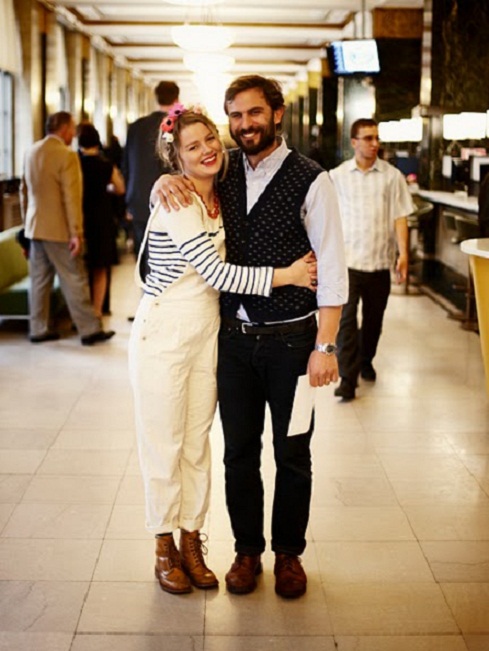 Photo Credit: Simon Howellvia A Cup of Jo
How much do you love this sweet couple! Getting married at the courthouse means that you can feel more comfortable to wear something that isn't a white gown. Many brides aren't the type to wear dresses but would feel uneasy about not wearing a dress as they walk down the aisle in church. At the courthouse you can wear pants, shorts, or even a adorable overalls!
---
5

Stress Free...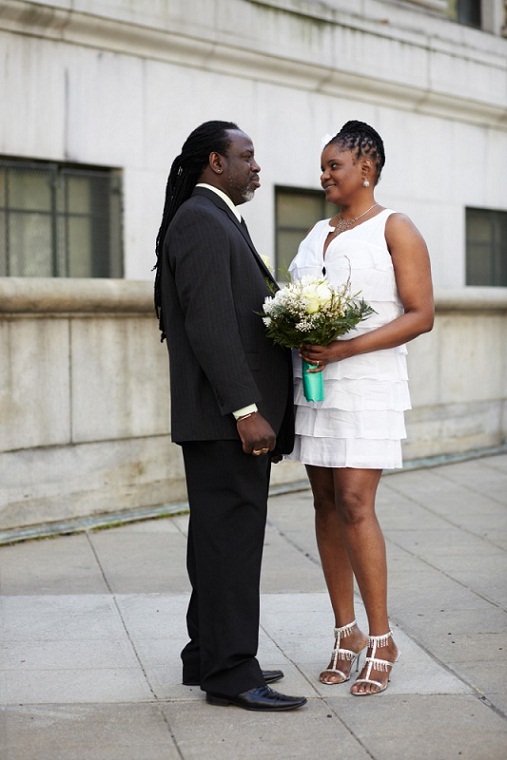 Photo Credit: Refinery29
Planning a wedding can be exciting, but it can also be very stressful. Who do you invite, who can you leave out, where do you sit your crazy Aunt who no one likes, how many hours do you need to get ready, etc. When you get married at the courthouse you can save yourself a headache, tears, and even an argument or two! There's no seating chart to worry about, DIY invitations that will keep you up all night, and no need to check with your mother about whether or not she likes your dress!
---
6

Everyone is Welcome...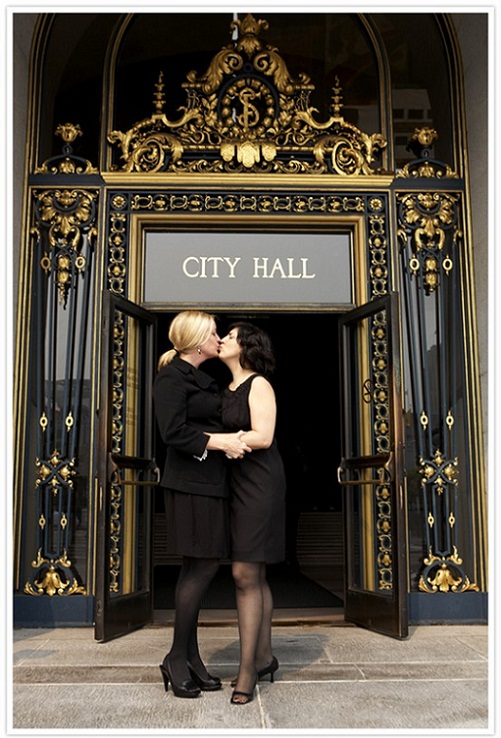 Photo Credit: Laura Morton Photovia 100 Layer Cake
No matter your religion, race, or now in some states sexual orientation, you can not be turned away from wanting to get married at the courthouse. Same-sex marriages/unions are being performed in six states; Connecticut, Iowa, Massachusetts, New Hampshire, New York, and Vermont.
---
7

Shorter Engagement...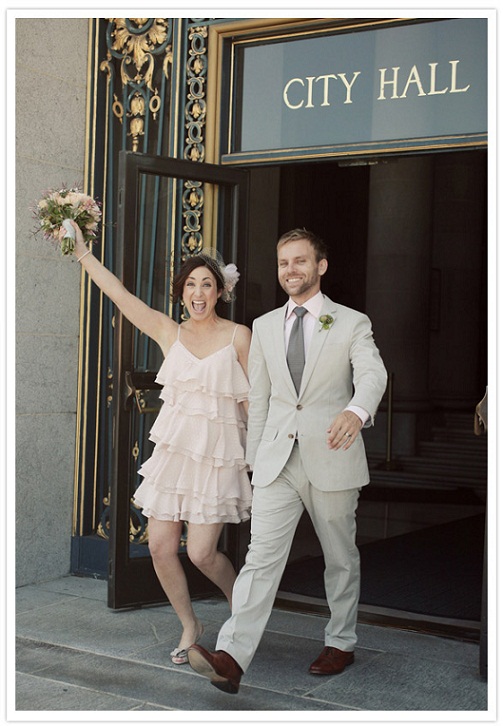 Photo Credit: Edyta Szyszlovia 100 Layer Cake
Perhaps your significant other is getting deployed, going overseas for a job, or had a little surprise visit from the stork and you want to get married before any of this makes a major change in your lives. Getting married at the courthouse will make it much easier on your situation when you have a short engagement; you just need to wait three days before you can get your marriage license after you apply for one. After that you have sixty days to get married or you will have to apply for a new marriage license. Be sure to get everything you do want; like flowers, something to wear, etc. before your big day!
Getting married at the courthouse isn't for everyone, but if you are thinking about it, I hope these wonderful reasons help you decide. It isn't about it being quick and easy, but about it being intimate, stress free, budget friendly, and urban chic. When you are thinking about getting married at the courthouse, be proud of it and make sure it is something you both agree on. Have fun with it and make it just as special as if it were a million dollar wedding, because the love you have for each other will be there whether you get married at the courthouse or at a mansion.
More
---
Comments
Popular
Recent