I received an inquiry yesterday about featuring a lovely beach table numberset and an idea popped in my head! I've been posting a series about how to color your weddings different shades of purple, green, and such, so why not show you how to color your beach wedding with different earth tones. Shades of **ocean blue, sandy brown**, and** crisp white **will compliment your wedding by the beach without overwhelming the theme. Here are 5 items from EtsyI love for that dip in the sand, flip-flop bride, cool breeze wedding...
---
6

An Ocean Elephant...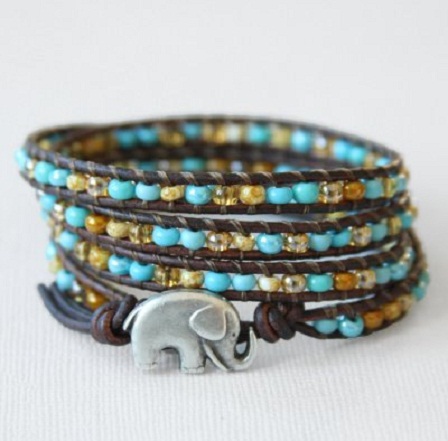 Price: $95.00 at TheLuckyElephant
I had to share more Lucky Elephantlove, have you entered the wonderful giveawayyet it ends Monday! As soon as I saw the beautiful colors of this** "Ocean"** elephant bracelet I knew it was the perfect fit for my **beach colored **post! For a bride who isn't afraid of bold wedding accessories and is looking for that something blue this would be a lovely addition to your laid back beach wedding.
---
5

Beach Signs...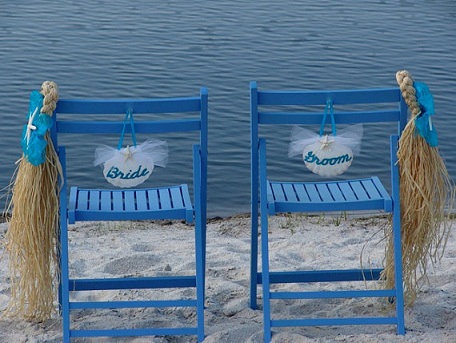 Price: $22.00 @ Etsy.com/shop/BlueRoofProductions
When you're planning a weddingright on the sand seashell accessories **and decor are must! How sweet are these bride and groom **seashell signs, I love the starfish tulle bow! What ideas do you have for your beach wedding?
---
4

Beach Flower Girl & Ring Bearer...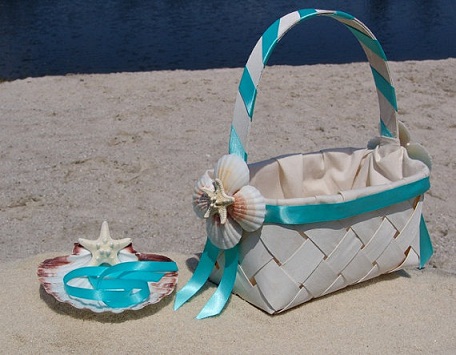 Price: $29.50 @ Etsy.com/shop/BlueRoofProductions
The decor just keeps getting more adorable! I love the **aqua ribbon **on both the flower girl basket and seashell ring holder, a great color to compliment a destination wedding. The added shells and starfish on the basket are done in a chic way, however you don't want to overload your **beach wedding **with seashell decor, too much can get too tacky.
---
3

Starfish Bride...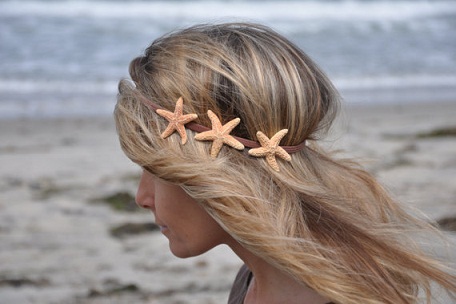 Price: $21.00 @ Etsy.com/shop/ShepherdoftheSea
Is she not the most perfect **beach bride **with the most gorgeous starfish headband! More **earth tones **and pale colors that match the beautiful colors of the sands. I saw many versions of this headband but loved the triple starfish the most; I wonder if my sister would wear this for her beach wedding?
---
2

Sand Ceremony...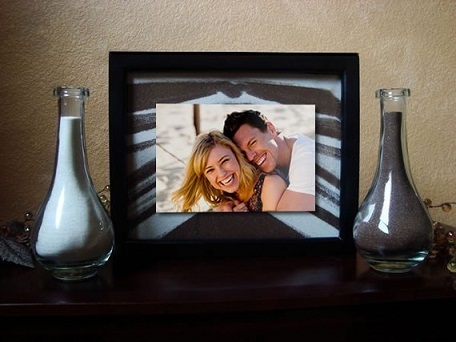 Price: $68.00 @ Etsy.com/shop/SayAnythingDesign
How awesome is this sand ceremony picture frame. I loved the idea of a sand ceremony for our wedding, especially since we wanted to include my step-children in our big day with a special moment. But until now I haven't seen a** sand ceremony kit **like this before and now I'm jealous! There is detachable clear container that can come out from the frame when you change the photo, has anyone used one like this before?
---
1

Sand Dollar Table Number...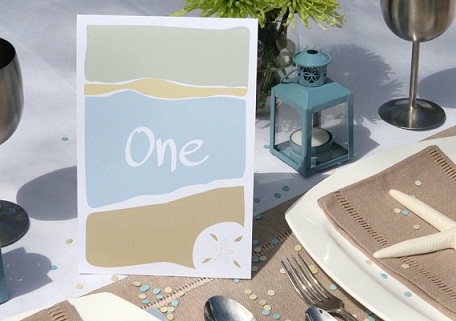 Price: $40.00 set of 20 @ Etsy.com/shop/Oliverink
This lovely **table number **brings together the look and feel of a beach weddingin just one look. The **soft colors **of ocean blue, sandy brown, and pale green with a little white **sand dollar **could bring the beach to you even if you're not actually on the beach.
What colors will decorate your beach wedding?
---
Comments
Popular
Related
Recent