No matter what stage of your life, it's fun to look at wedding rings, even if you already have one on your finger. There are so many glittery and beautiful choices out there to admire. If you're hoping for a proposal soon or just want something to dream about, check out these wedding rings and they'll captivate you for sure.
Table of contents:
1

Small Stones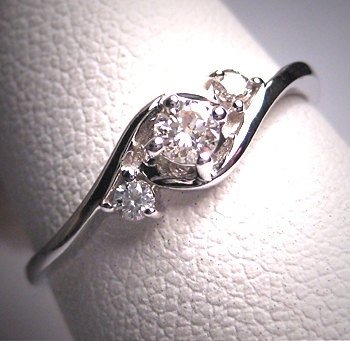 Via Vintage Diamond Wedding Ring Band ...
The stones on this ring might be small, but they sure are gorgeous. It looks like one of the best wedding rings to me.
2

Hidden Gem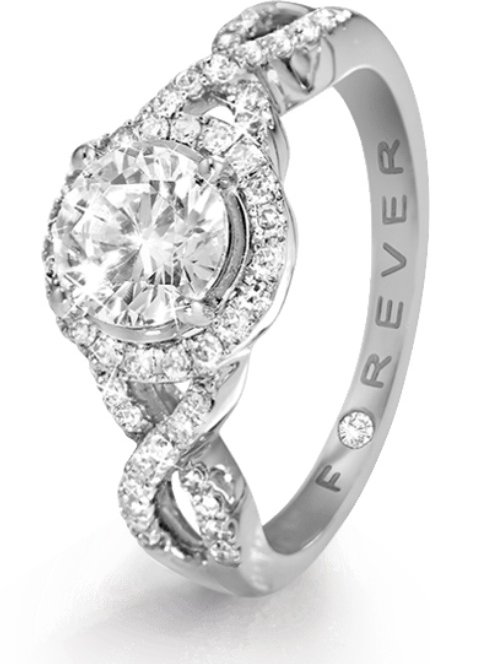 Via Blooming Beauty Unique Engagement Rings ...
The tiny gem on the inside of the band is your little secret.
3

Pearl Wedding Ring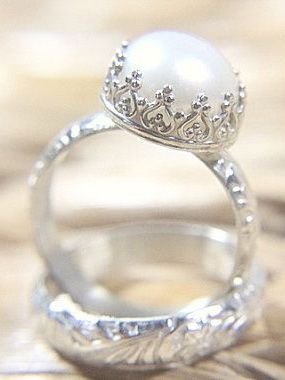 Via Pearl Wedding Ring Set - ...
There's no rule that your wedding ring has to have a diamond, as proven by this lovely pearl creation.
4

Simply Beautiful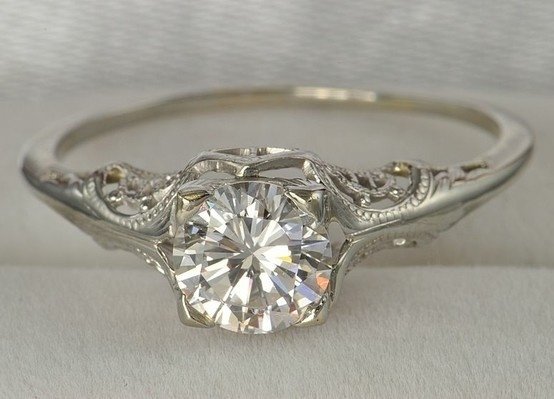 Via media-cache1.pinterest.com
The band is detailed, but the ring is still simple and gorgeous. What's not to love?
5

Wedding Band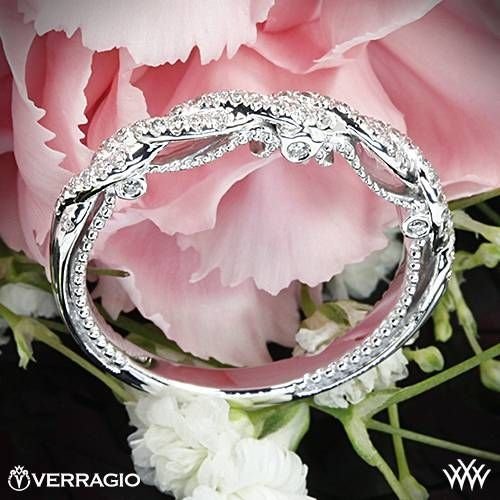 Via Verragio INS-7074W Beaded Twist Diamond ...
This wedding band is by no means simple, but will look wonderful paired with its matching engagement ring.
6

Simple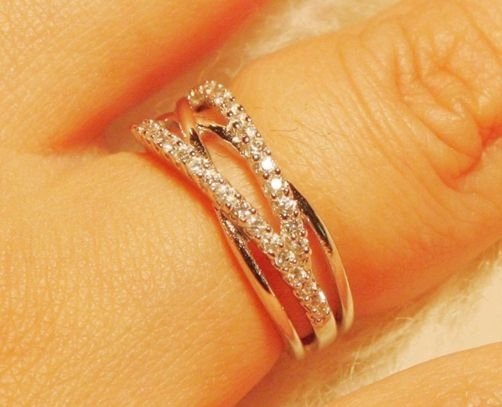 Via Tungsten Wedding Bands, Carbide Rings ...
On the other hand, there's also something to be said for the simply beauty of this wedding ring.
7

Bezel Set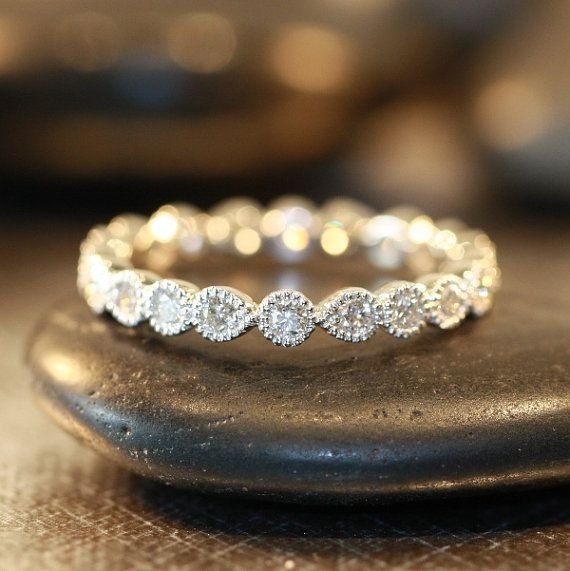 Via Vintage Inspired Bezel Set Diamond ...
You could wear this band on its own or pair it with a variety of engagement rings.
8

Puzzle Pieces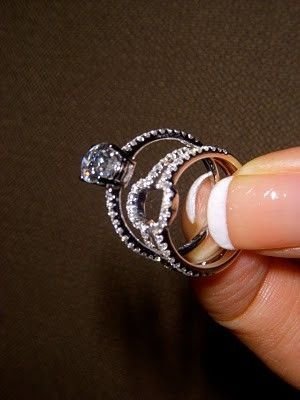 Via pinterest.com
This is definitely a set that goes together.
9

Twisted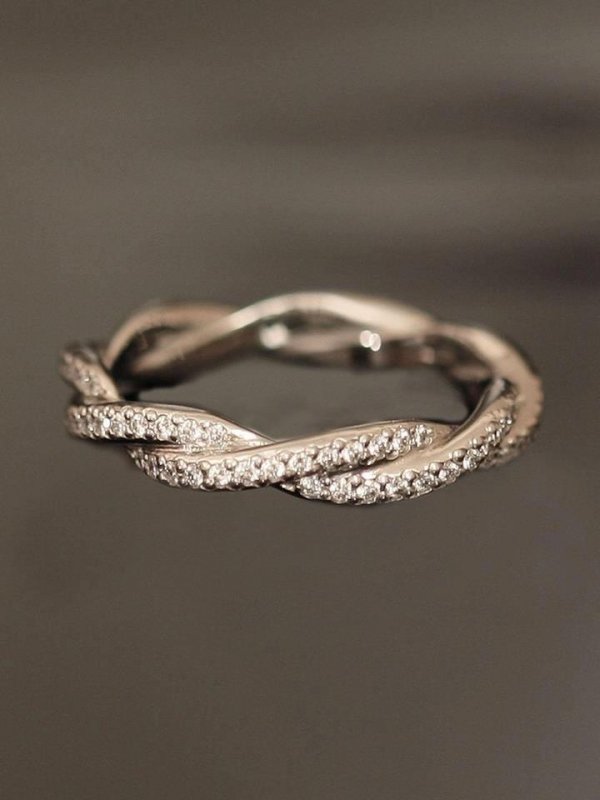 Via Love this wedding band
This simple creation can be both engagement and wedding bands and is perfect if you want something small and simple, but still jaw dropping.
10

Top and Bottom Bands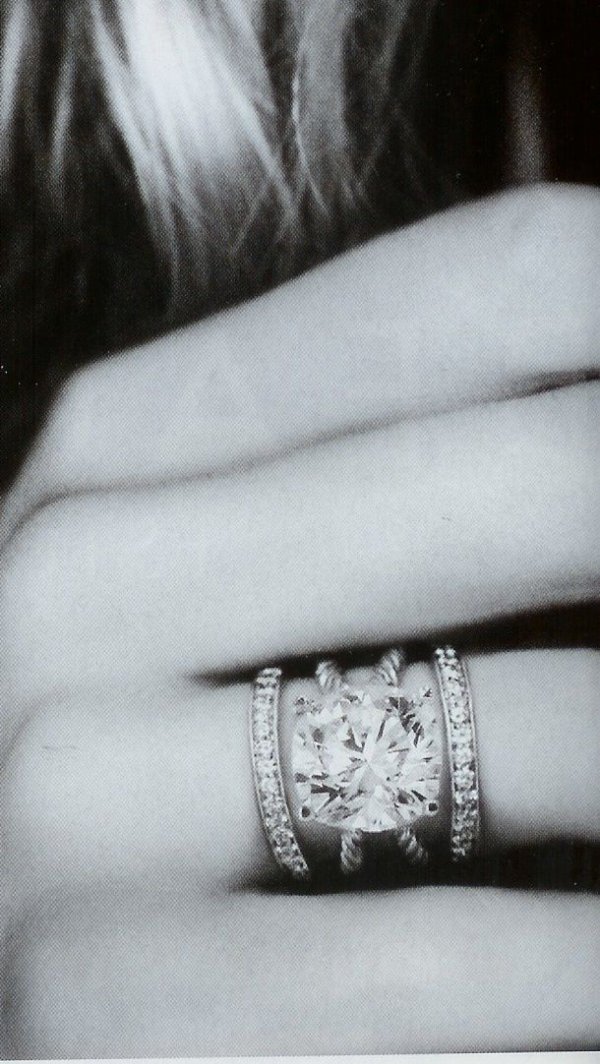 Via Agirlswedding.com
Add the anniversary band on top when you hit a big milestone. Or little one!
11

Fancy Band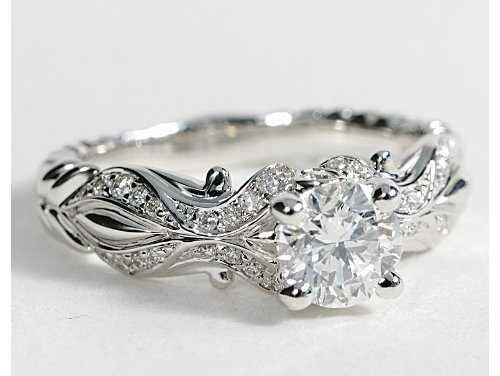 Via Wedding Rings
The band on this ring is unlike anything you'll ever find.
12

Rose Bud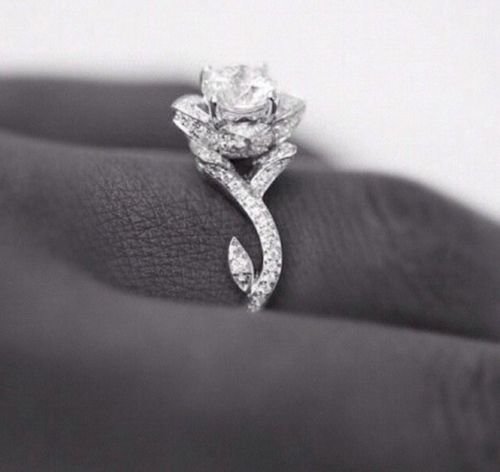 Via Blooming Work of Art - ...
For the romantic in you comes this rose shaped ring. The flower of love!
13

Eternal Braid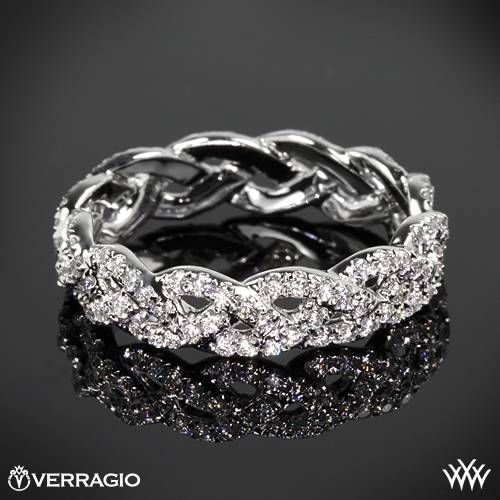 Via Verragio Eternal Braid Diamond Wedding ...
It never stops, just like your love for each other.
14

Diamond and Gold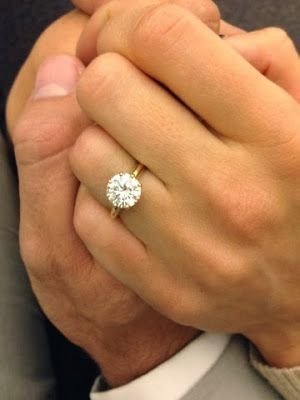 Via Fine!! Wedding stuff
Super traditional and sophisticated, but still something to talk about.
15

Small and Spectacular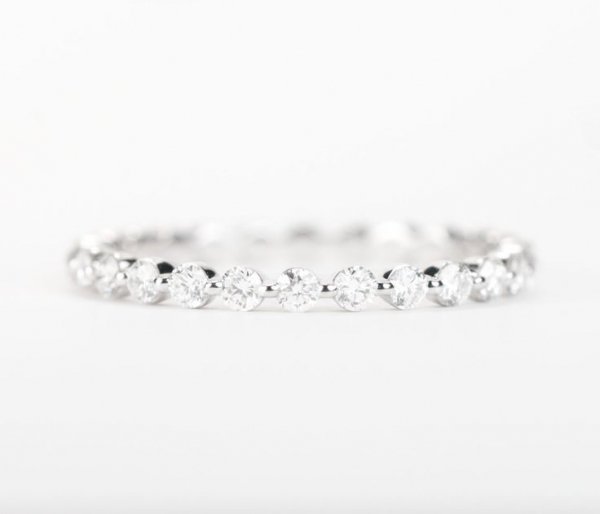 Via Diamond Wedding Band 14K White ...
It might not be seen across the room, but this simple wedding band is still really beautiful.
16

Couples Wedding Ring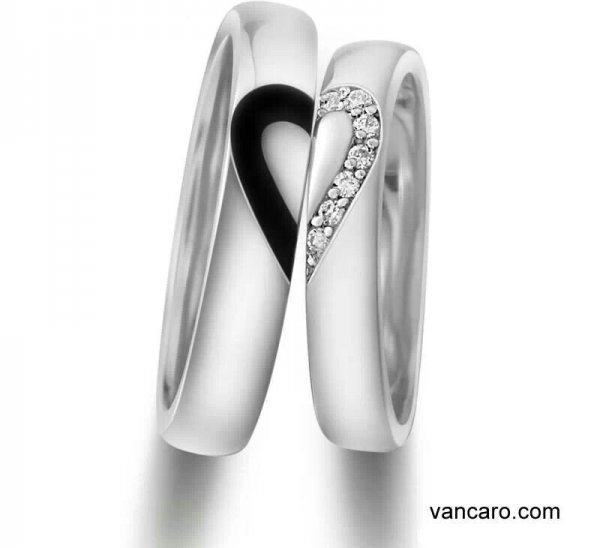 Via unity
It's really cool how the two rings match up when they are next to each other.
17

Matching Set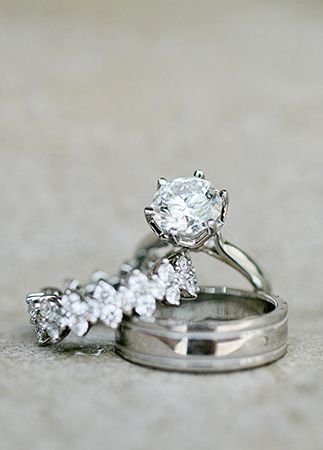 Via See How Two Crazy-Different Styles ...
What could be more symbolic than a groom's ring that matches the bride's?
18

Intricate Design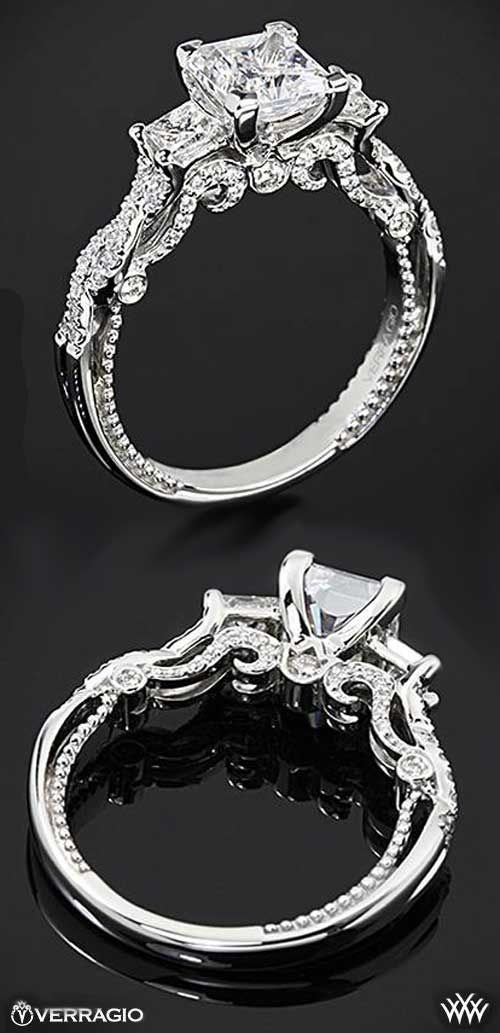 Via wf3stone2 - Brides and Rings
The intricate detailing on this ring makes it something really special.
19

Vintage Feel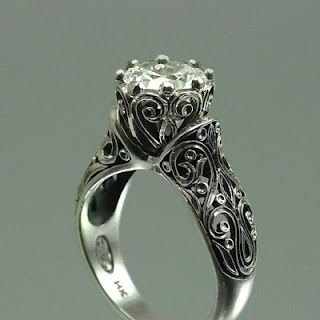 Via The ENCHANTED PRINCESS White Sapphire ...
It might not be encrusted with stones, but the band on this ring is really special.
20

Engraving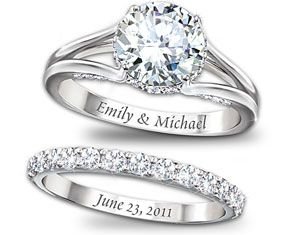 Via Wedding
Engraving your names and the date of your wedding makes this set even more meaningful.
21

Integrated Bands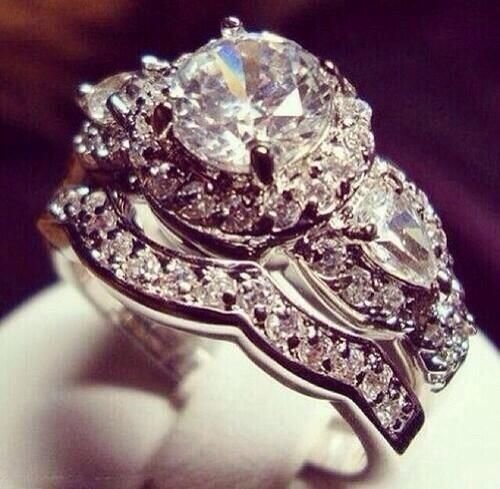 Via Ring Porn™ on Twitter
I like how the wedding band slides right up the engagement ring for a showstopping setting.
22

Sparkle Galore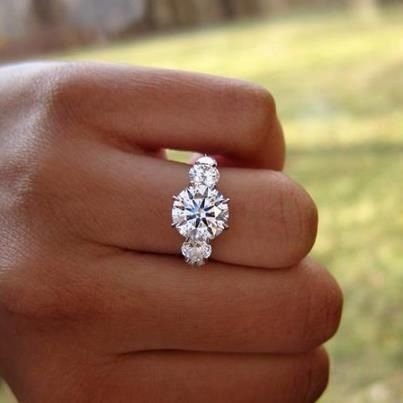 Via Wedding
I can only imagine this beauty catching the light. Stunning, wouldn't you say?
23

Super Bling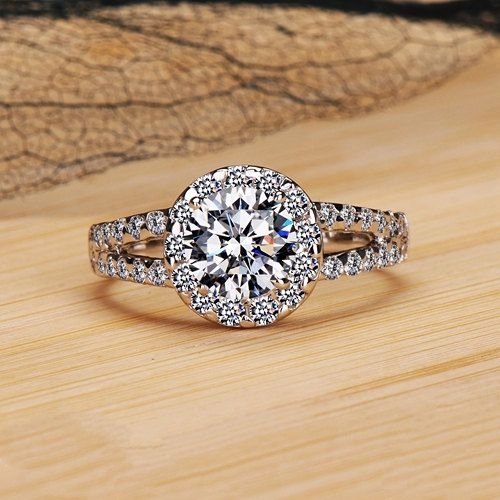 Via Etsy :: Your place to ...
This is one shiny wedding ring. It's sure to get lots of attention.
24

Mingled Band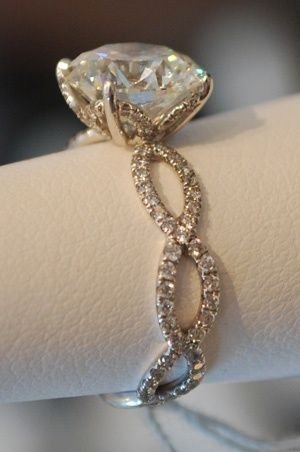 Via AVERY WEDDING RING on The ...
I love how the two bands intertwine with one another. Symbolic, wouldn't you say?
25

Multicolored Metal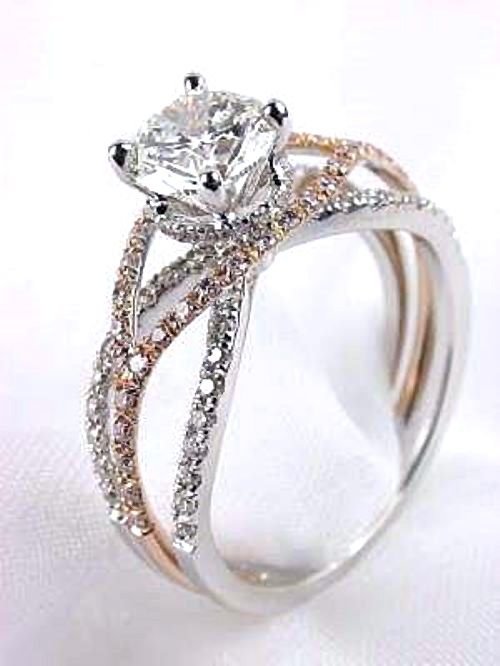 Via Tungsten Wedding Bands, Carbide Rings ...
For something really different, check out the multiple metals making up the band on this ring.
26

Princess Cut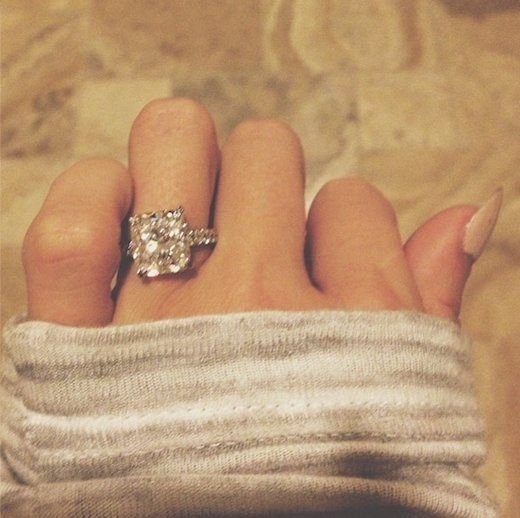 Via Southern By the Grace of ...
Princess cut diamonds are a pretty popular choice and this ring shows you why.
27

Round All over

Via pinterest.com
The round diamond looks wonderful surrounded by smaller round stones.
28

Fancy Details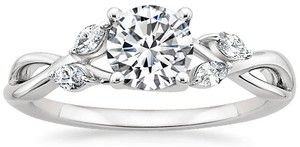 Via New modern and vintage-inspired wedding ...
It's not super showy, but the details on this ring make it stand out anyway.
29

Swirly Details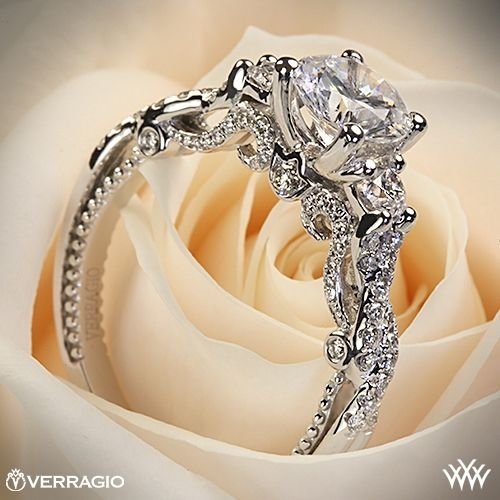 Via Tungsten Wedding Bands, Carbide Rings ...
The swoops and swirls covered in diamonds are great additions to this ring.
30

Antique Platinum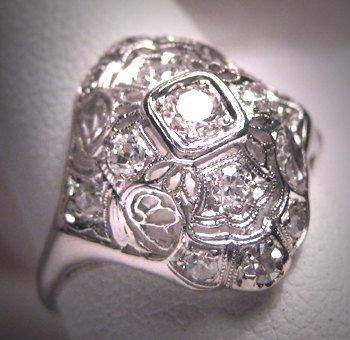 Via Antique Platinum Diamond Wedding Ring ...
If you're really in the market for something different, this is the wedding ring for you.
31

Fantastic Stone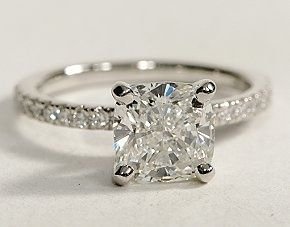 Via Beautiful Ideas of Engagement Rings ...
The cut of the stone makes this a really sophisticated choice.
32

Traditional and Elegant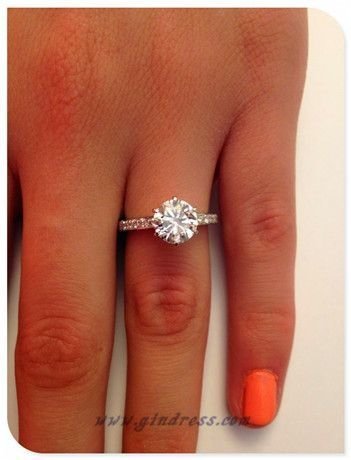 Via weddingkeep.com
There's nothing wrong with choosing something that's as sophisticated and traditional as this engagement ring.
33

Antique Pearl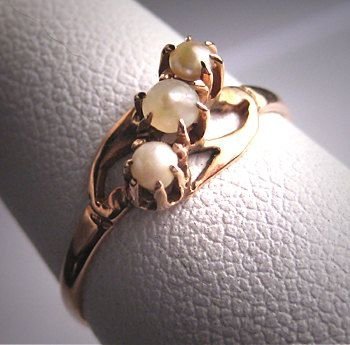 Via Antique Pearl Wedding Ring Victorian ...
It looks like this ring has a ton of history behind it.
34

Rose Gold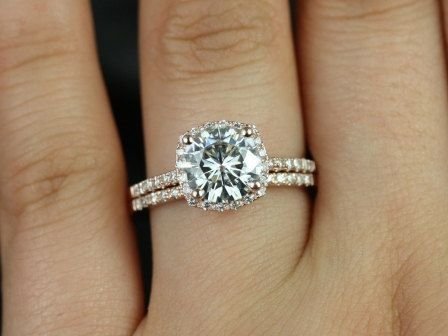 Via Barra 8mm 14kt Rose Gold ...
The rose gold of the bands really makes the diamonds shine.
35

Art Deco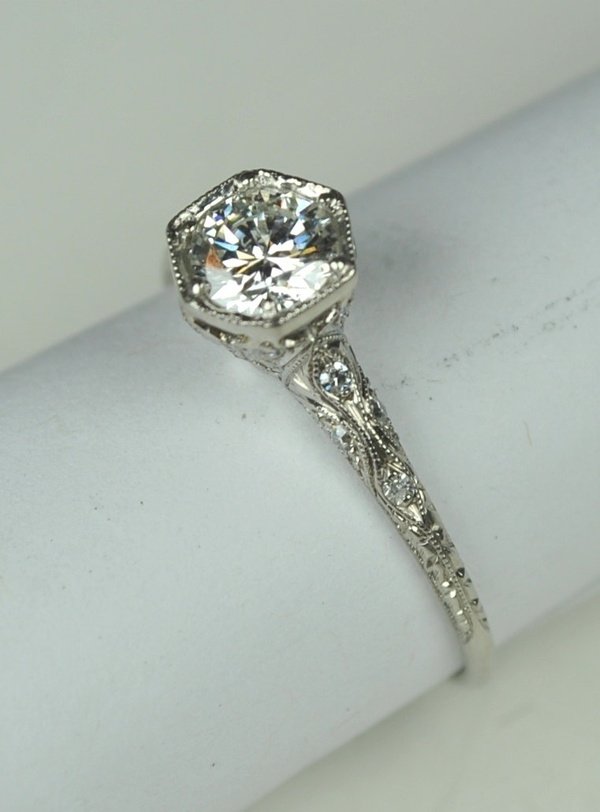 Via craftsforfamilys.blogspot.ca
A little bit vintage and a little bit modern - this ring is stunning no matter what time period it is.
36

Double Band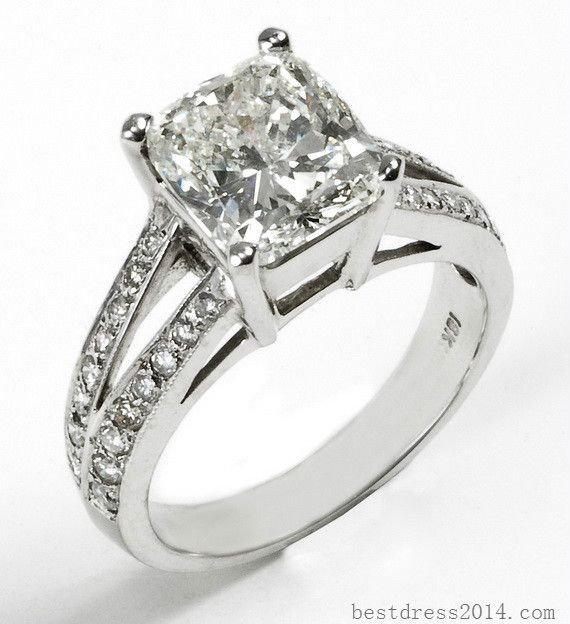 Via In the market for a ...
This ring is engagement and wedding in one with the two bands already together.
37

Thick Band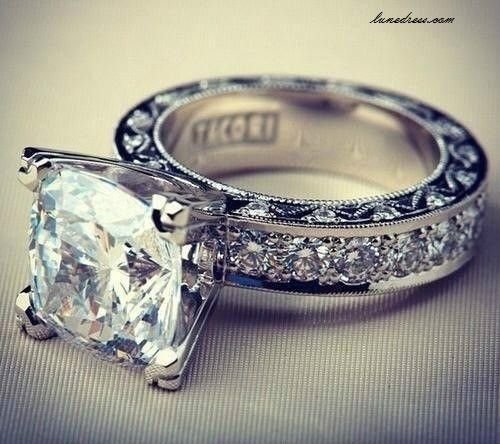 Via Discount Wedding Dresses & Occasion ...
The band might be thicker than average, but all the better to hold all those extra diamonds.
38

Super Sophisticated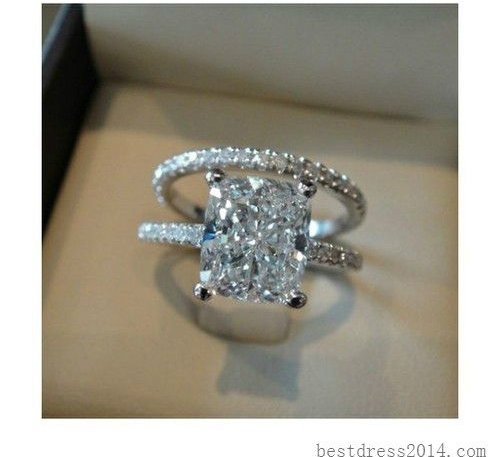 Via One day
You wouldn't turn this ring down would you?
39

Tapering Diamonds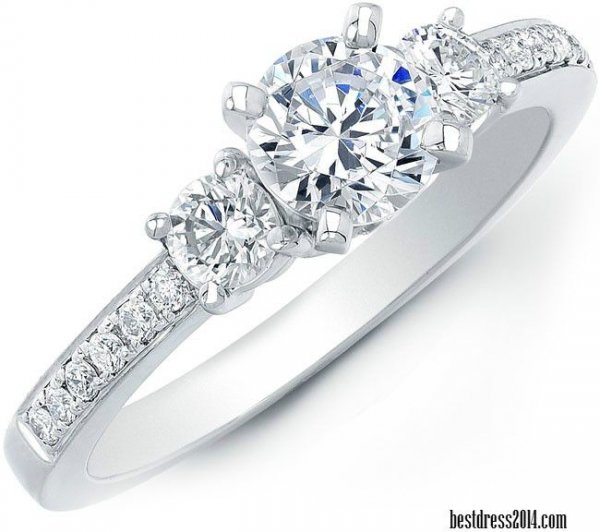 Via FAIRYTALE FASHION
You can't deny how lovely the tapering effect looks when it comes to this ring.
40

Jaw Dropping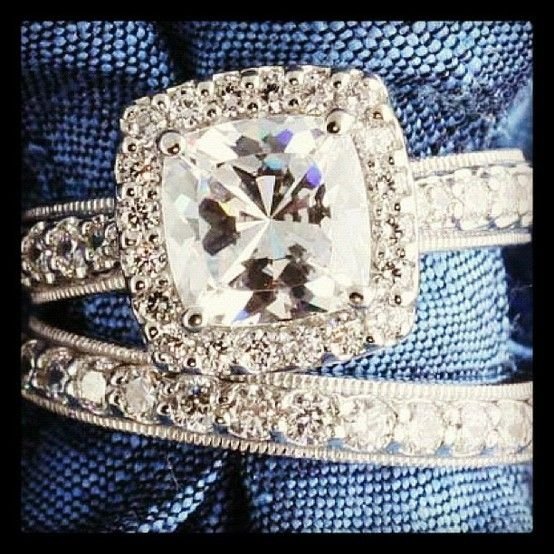 Via Rocks on rocks on rocks: ...
No one is going to miss this stunning wedding ring set on your finger!
41

A Band of Diamonds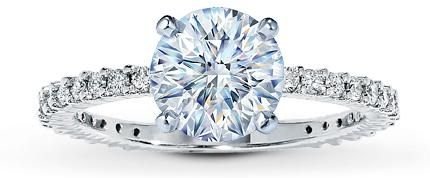 Via 7.10.15
I love how the stones on the band highlight the big one in the middle.
42

Framed Stone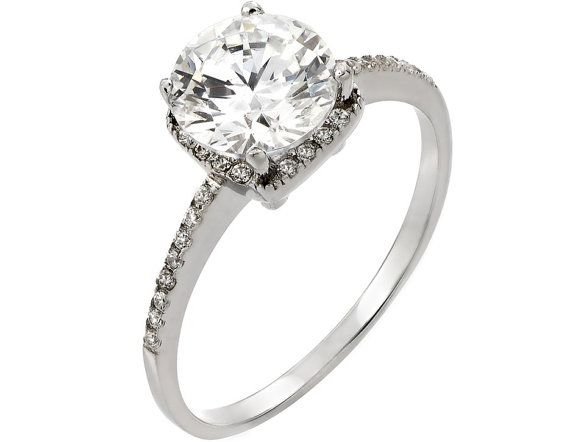 Via Sterling Silver CZ Wedding Ring- ...
It's really pretty how the large stone is framed by the smaller ones surrounding it.
43

Diamond Bands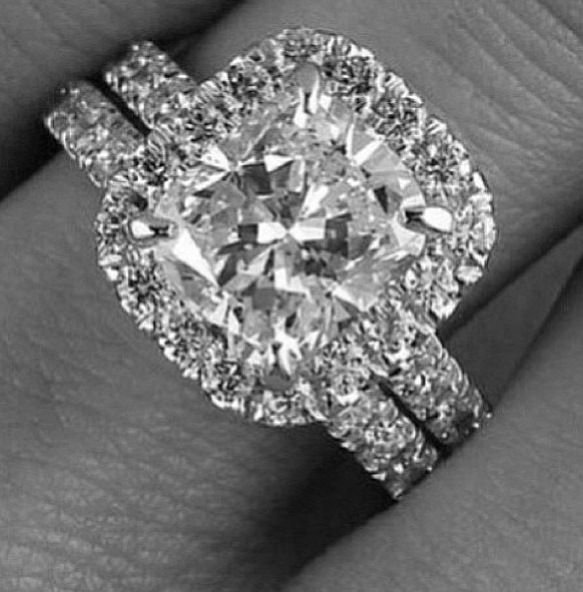 Via pinterest.com
I love how the bands are covered in diamonds too.
44

Matching Bands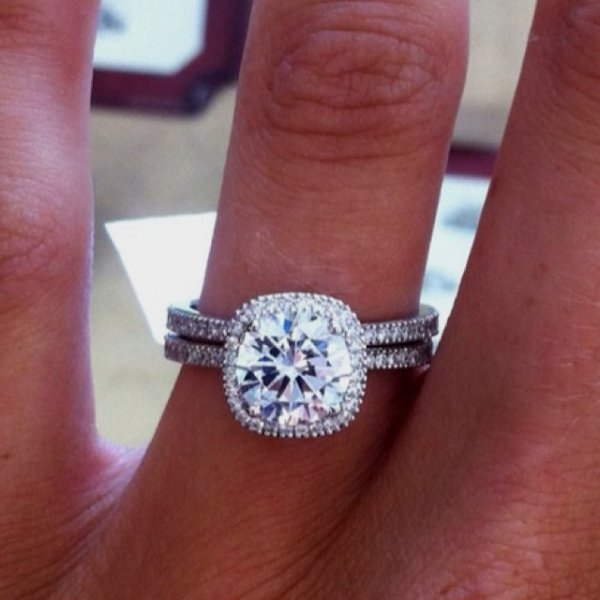 Via #Diamonds ~ #Capri #Jewelers #Arizona
Some wedding bands are different than the engagement one, but I love how these two match.
45

Colored Stones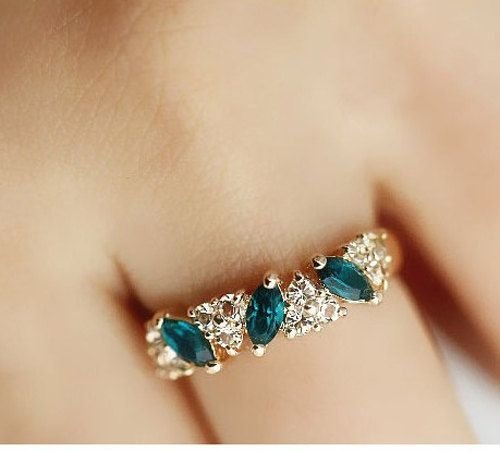 Via Etsy :: Your place to ...
Most men opt for diamonds, but whoever picked this ring got it exactly right.
Do you already have a wedding ring or are you dreaming of one? Which one is your favorite?
Please rate this article