Looking for a few creative wedding ring photo ideas to help add a unique twist to your day? You and your partner's rings will surely be in the spotlight all the way from the ceremony to the reception, and with the help of these creative wedding ring photo ideas, you'll be able to remember for years to come just how shiny and new they looked. Of course, your photographer may also have other fun ideas of his or her own, so be sure to ask for suggestions! Here to get things started are 11 ideas I especially love.
---
1

Three Generations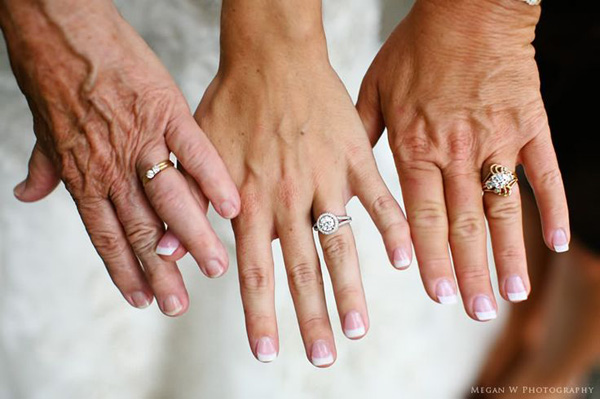 Showcasing one of my all-time favorite wedding ring photo ideas, this image beautifully features three generations of rings, including the bride's, her mother's and her grandmother's. Do you love it as much as I do? Add this idea to your shot list and frame the picture after the wedding for a lovely keepsake.
---
2

Handprints in the Sand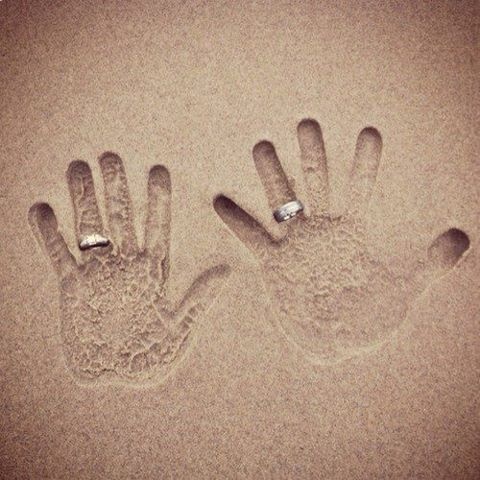 Perfect for those planning a beach wedding, I just love the idea of making handprints in the sand and then embedding your wedding rings. What do you think? Would you give this idea a try?
---
3

Wedding Dress Corset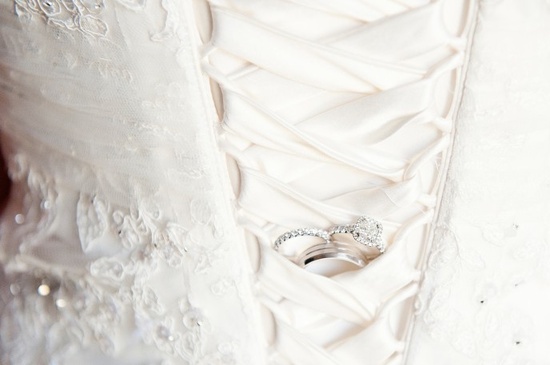 For a shot that's incredibly unique, ask your photographer to capture your rings peeking out from the corset lacing on the back of your dress. I particularly like the way this image showcases not only the rings, but also the lovely beaded details on the gown itself.
---
4

Chalkboard Drawing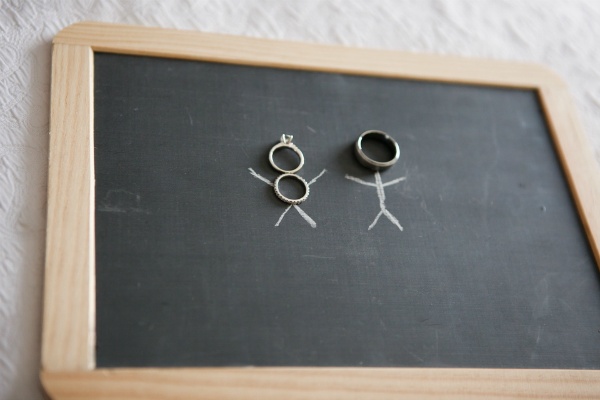 Offbeat and fun, a chalkboard drawing like this one gives your wedding ring photo a playful vibe. You can even personalize things with your names and wedding date, a more elaborate drawing or a special message.
---
5

Submerged in a Glass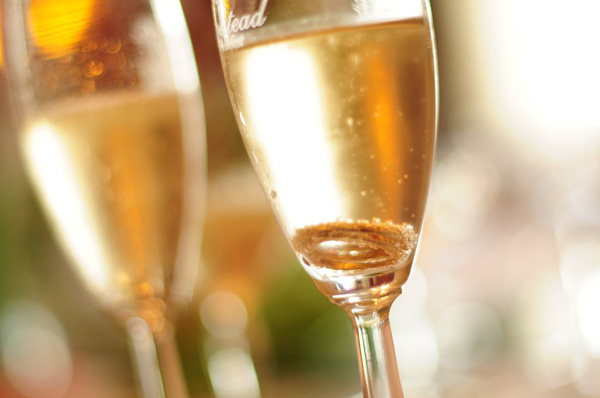 Make your reception toasts extra chic by submerging your rings in a couple glasses of wine or champagne for a unique photo op. Whether shot in color or black and white, this is one classic image you'll love looking back on.
---
6

Scrabble Tiles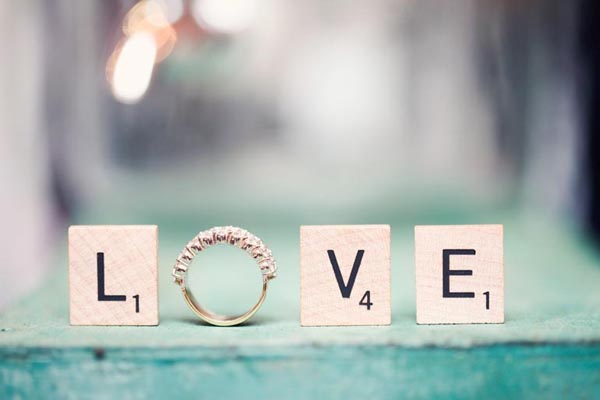 Scrabble tiles can be used to spell out everything from your names to a favorite saying or quote, so don't miss the chance to snap a few photos of your rings swapped in as part of the message. As seen here, the couple's rings have been used to replace the letter "o."
7

Romantic Roses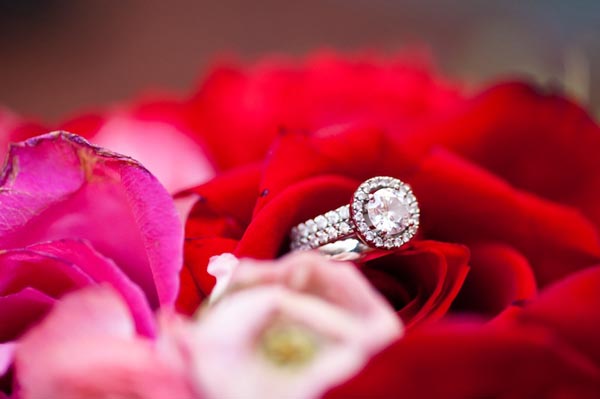 For a romantic photo that shows off your gorgeous bouquet up close, ask your photographer to capture your ring sticking out from inside a single lovely bloom. Is this not one of the prettiest ring shots you've ever seen?
---
8

Book Pages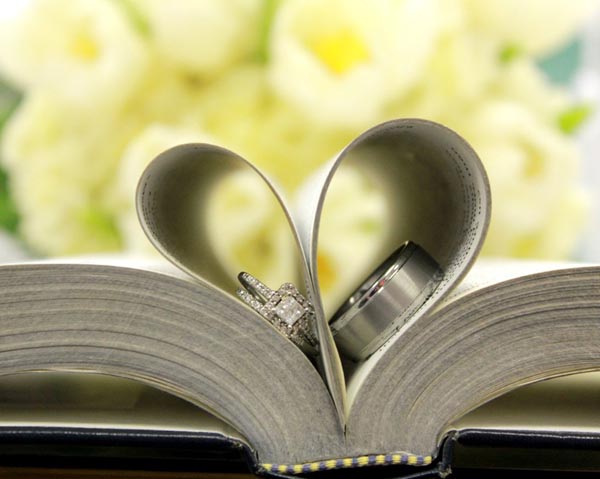 Whether you use a Bible or any other type of book, folding a handful of pages into a heart shape and then placing your rings inside makes for a truly fantastic picture. Another option is to open the book to a page with a favorite passage or illustration and then capture the rings either lying next to the text or positioned within the crease.
---
9

Wine Cork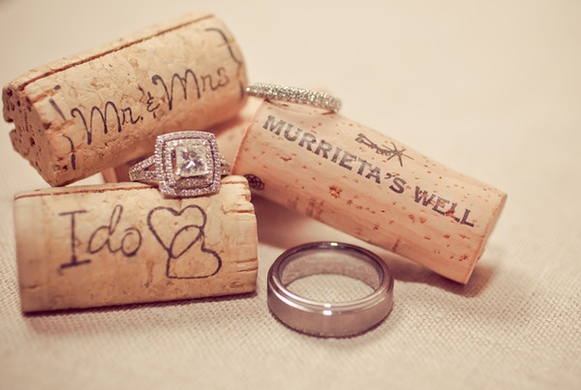 Looking for an idea that's simple yet eye-catching? Wine lovers or those planning a vineyard wedding are sure to adore the idea of photographing a set of rings either wrapped around or leaning up against a wine cork.
---
10

Sheet Music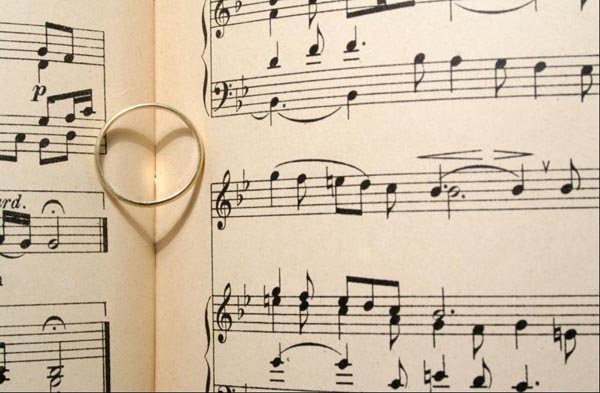 How sweet is this image of a ring balanced within the crease of some sheet music so that the shadow forms a small heart? This idea can also work just as well using a book or card, so choose whichever item you like best.
---
11

High Heels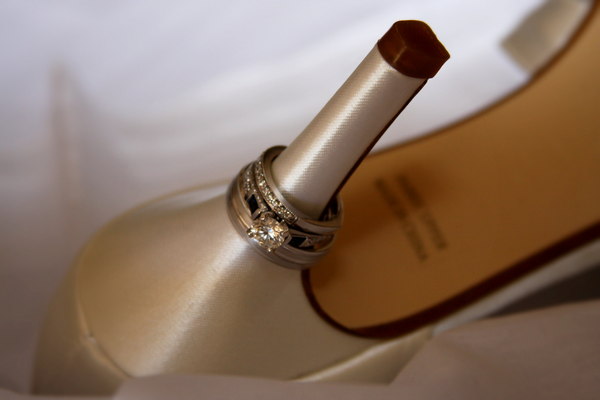 Saving one of the best ideas for last, this detail shot of a bride's shoes with the couple's rings wrapped around one of the heels is nothing short of amazing. I don't know about you, but I definitely think their photographer did a great job positioning the shoe at such a unique angle.
What do you think of these wedding ring photo ideas? Do you love them, too? Which one is your favorite?
---
Comments
Popular
Related
Recent