We all love The Boy Who Lived... and you've fallen in love with The One, so why not celebrate your marriage with a wedding cake that's more magical than anything even Dumbledore could have whipped up? Here are a few spectacular Harry Potter-themed wedding cakes you'll adore... accio cake knife!
---
1

Tier by Tier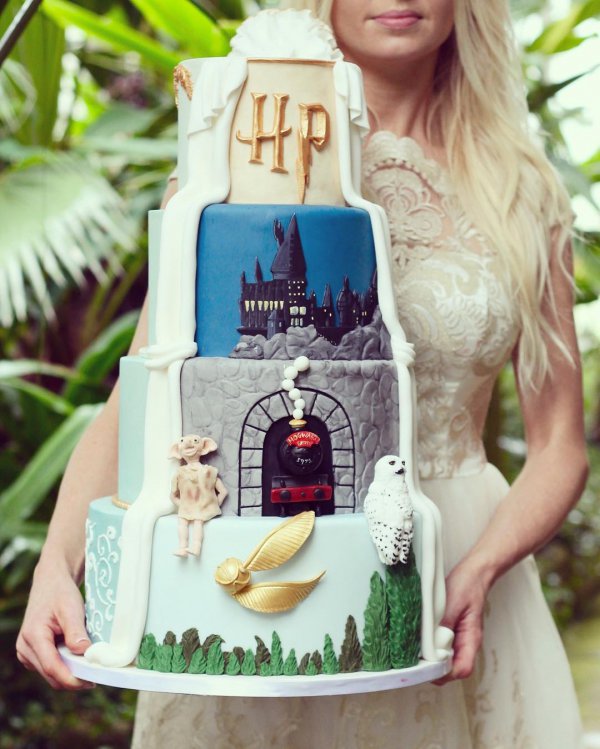 Made by Julia, who's obviously a witch, this tiered Potter cake is just magical, and is guaranteed to give you feels. Dobby! Hedwig! It's totes okay to cry on your wedding day, by the way.
---
2

Alexa & Kris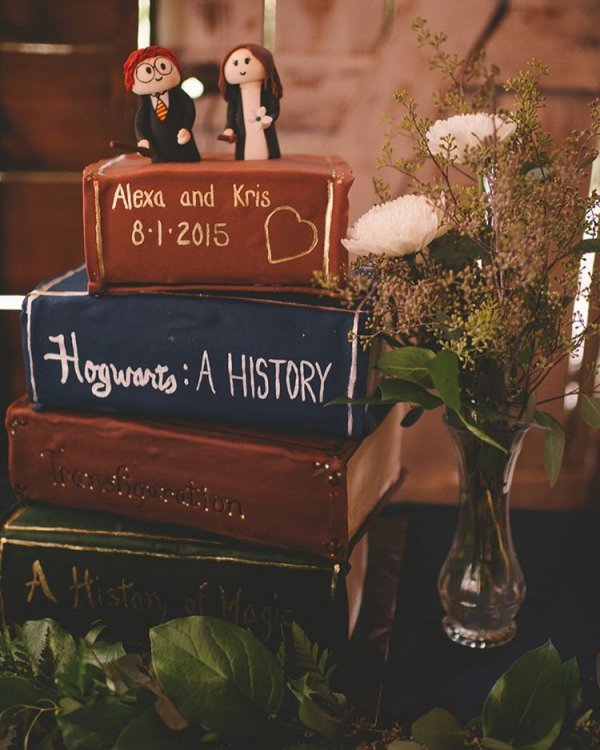 I don't know which is cuter, the little cake topper, or the little stack of Hogwarts text books.
Trendinig Stories
More Stories ...
3

Doe & Stag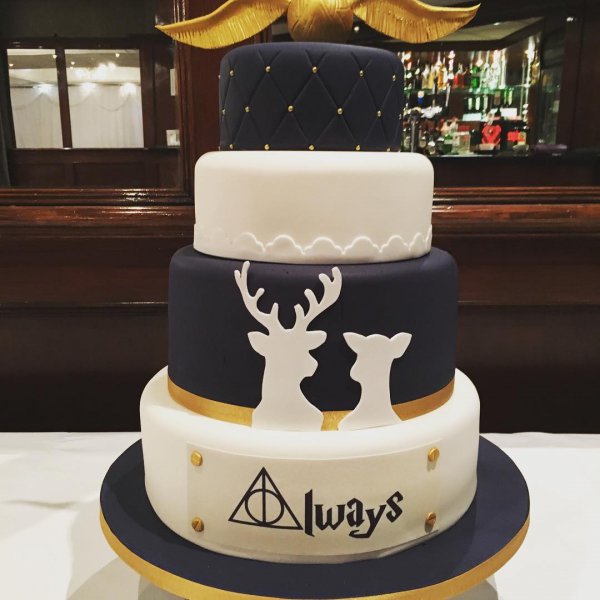 This cake is so sweet (pun intended)! I love the little Patronus silhouettes.
---
4

That Topper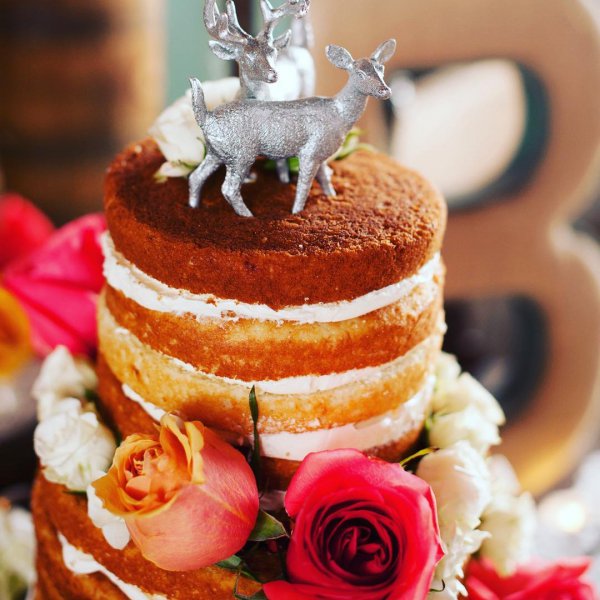 What if you don't want to be too obviously a Potter fan? Then a subtle nod to the series in the form of a magical cake topper will work beautifully.
---
5

The Houses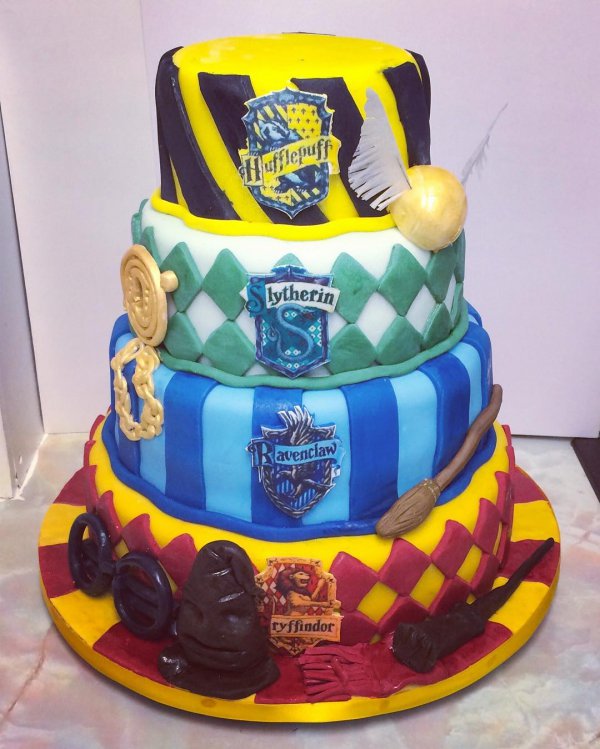 This could be a cake for any occasion, really. Fifty points to whichever house this baker is from.
---
6

So Beautiful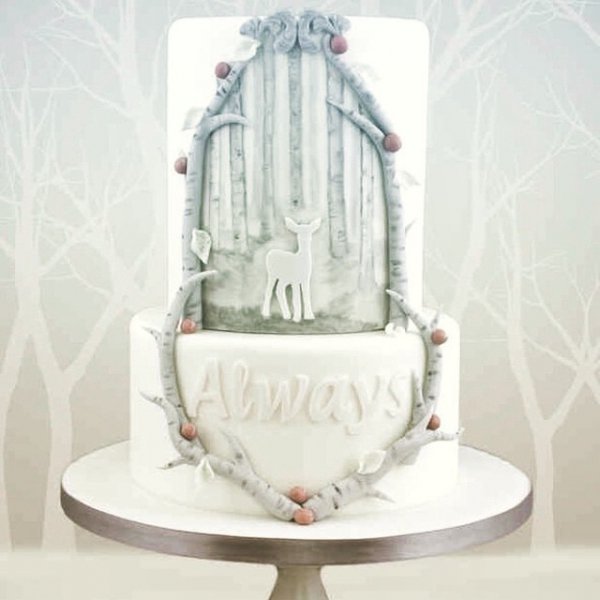 Okay, now I'm going to cry. This is just so gorgeous! It's hands-down my favorite on this entire list.
---
7

Tim Burton?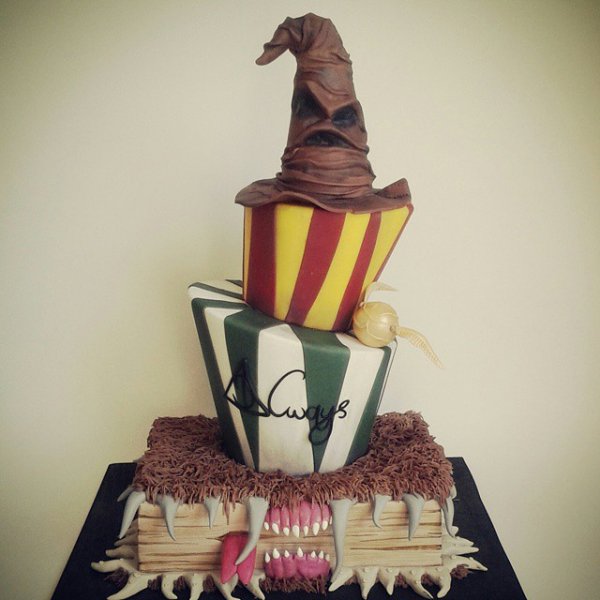 This looks like what a Potter cake would be if Tim Burton baked it.
---
8

The Sorting Hat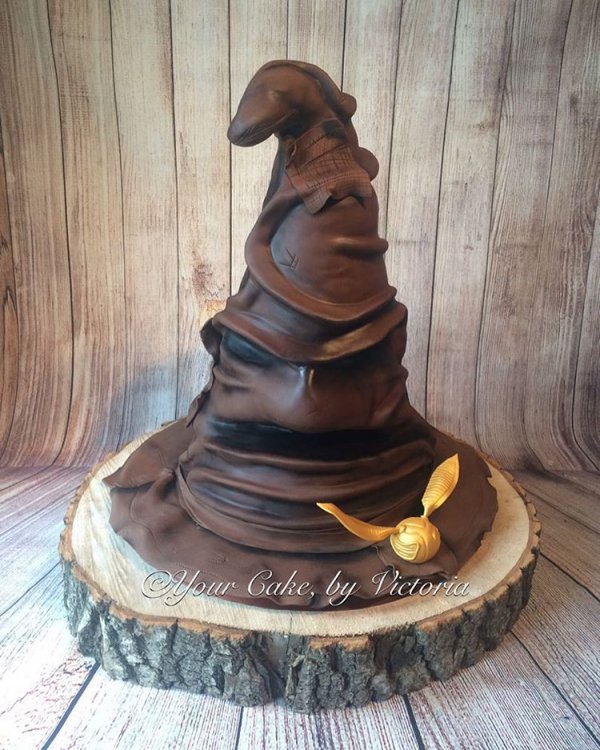 If that's not chocolate frosting, I'm going to be very disappointed.
---
9

So Simple!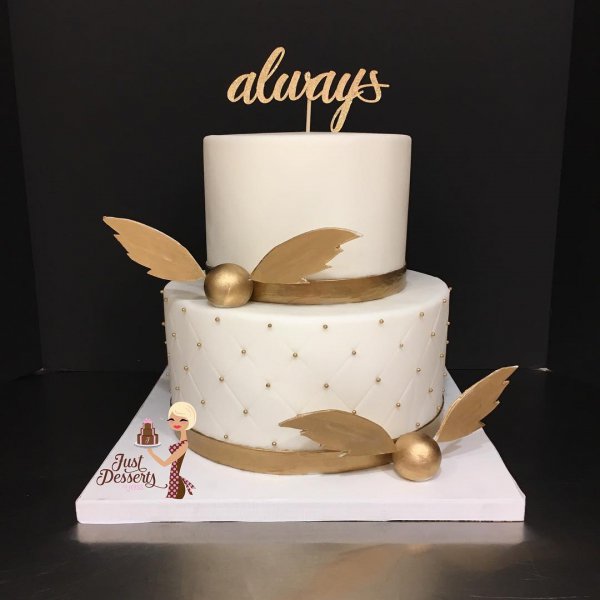 This cake is so simple and elegant! I love the color scheme... we'll call this color "Golden Snitch Glimmer."
---
10

Mischief Managed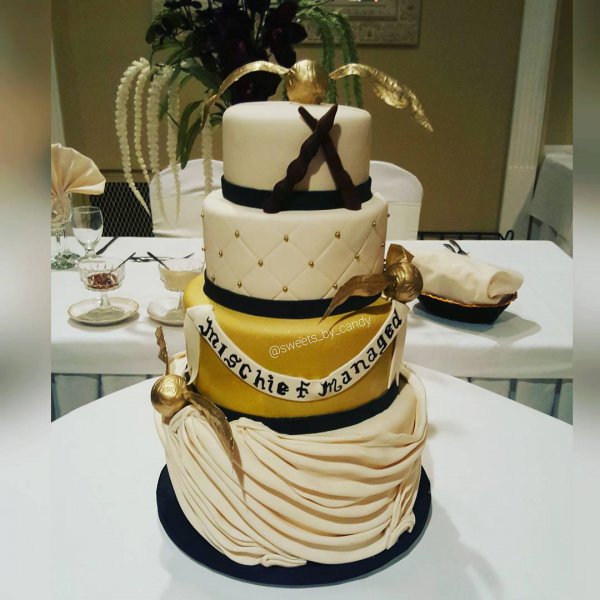 I love that this couple incorporated such a fun part of the series into their cake: the Marauder's Map!
---
11

This Cake Though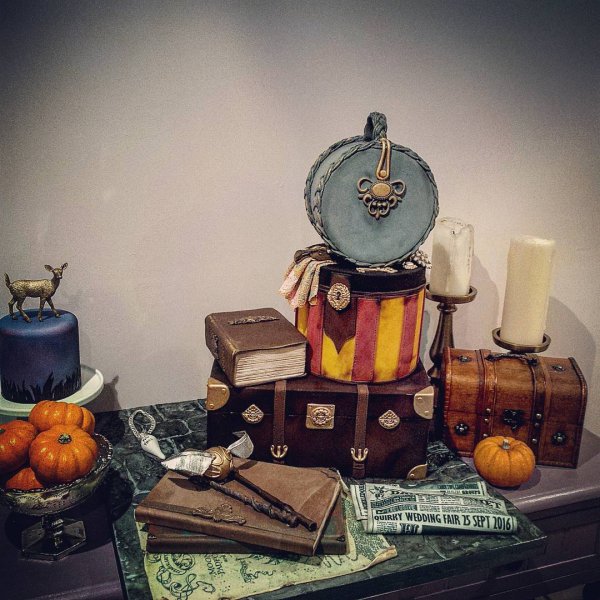 It's hard to tell where this amazing cake ends, and the props begin. OMG. There's so much going on here!
---
12

Always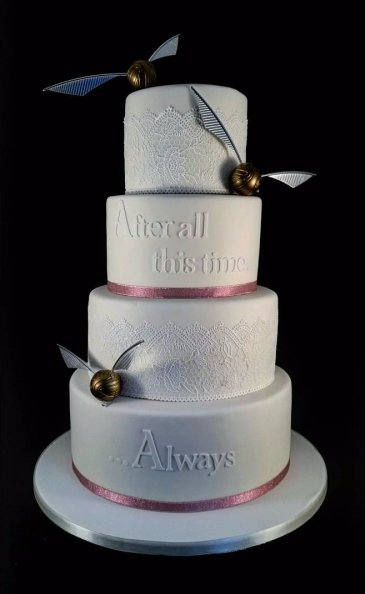 I mean, really. Again, it's perfectly acceptable to cry at a wedding, especially when something romantic and sweet and tragic comes up.
---
13

Hannah & David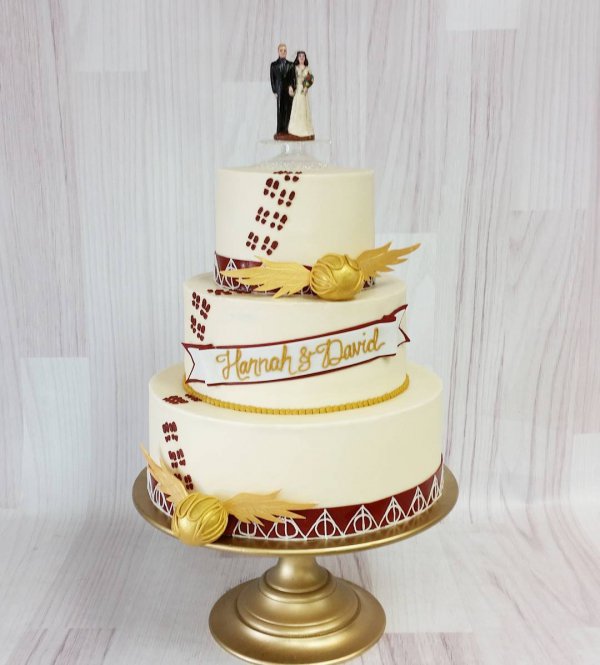 This couple has the right idea: The Deathly Hallows, Golden Snitch, and Marauder's Map details, and a color scheme made for fall(ing in love).
---
14

Again!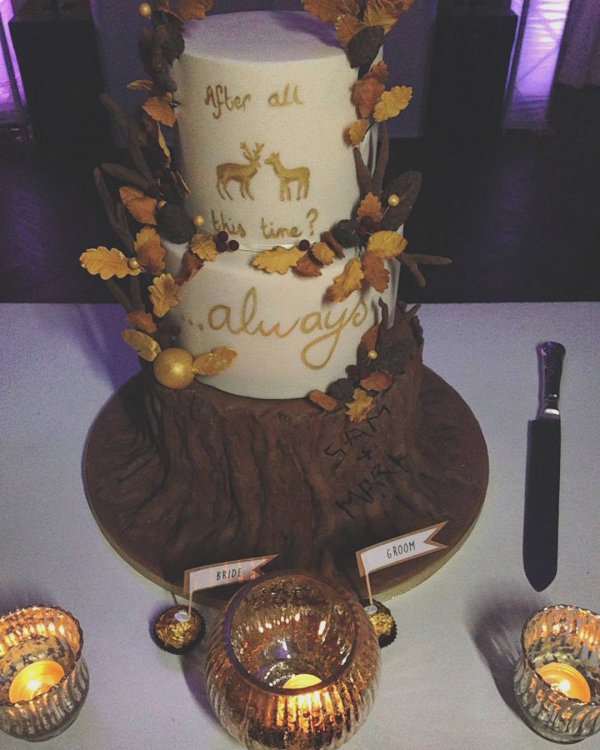 Okay, you have got to stop with this quote! I mean why does a cake evoke such strong feels?
---
15

All the Nerdy Things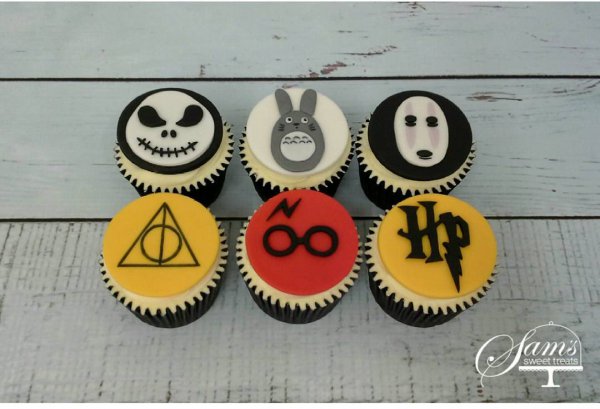 Maybe you're a fan of more than just Harry Potter... so go with cupcakes, like these! No Face alongside Harry Potter. Swoon!
---
16

Mr. & Mrs. Bean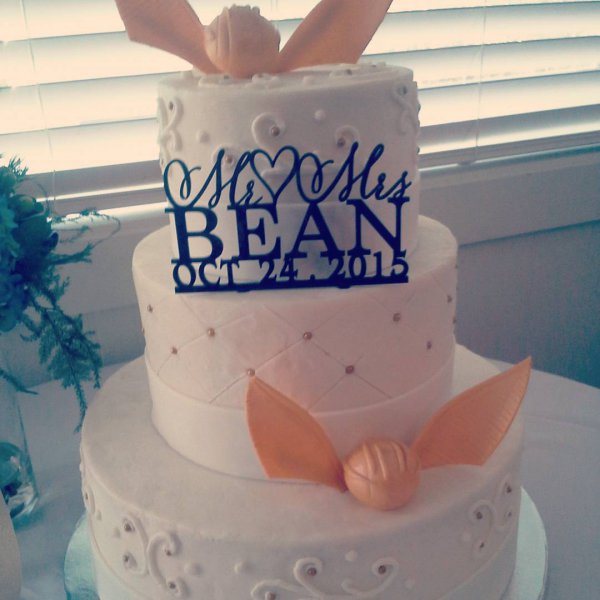 I don't know who they are, but these two have great taste in books, movies, and cakes.
---
17

In Action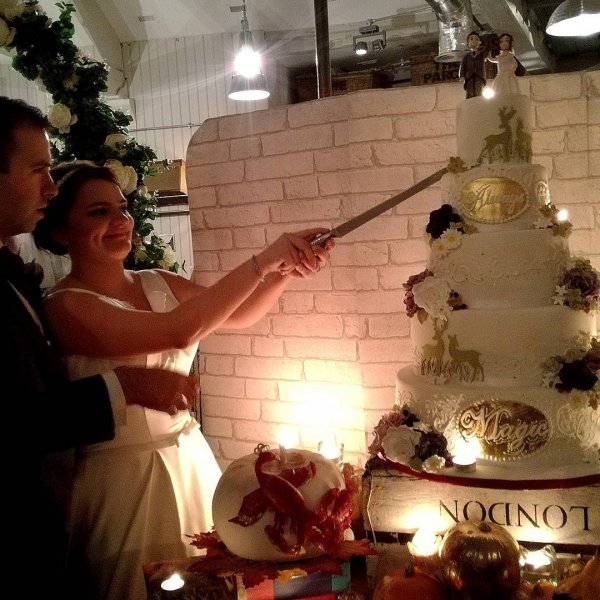 This is what a super-tall, Hagrid-sized wedding cake looks like in action... impressively gorgeous!
Which of these wedding cakes will get you down the aisle with your fellow Potterhead?
---
Popular
Related
Recent