It's more than just a movie starring Leonardo DiCaprio, it was a way of living; so why not take inspiration from the book, the movie, and the era to plan a Great Gatsby wedding day that will bring the roaring '20s back to life. From art deco invitations and table numbers to flapper inspired bridesmaid dresses, a Great Gatsby wedding theme is a theme that will never go out of style.
---
1

Great Gatsby save the Date...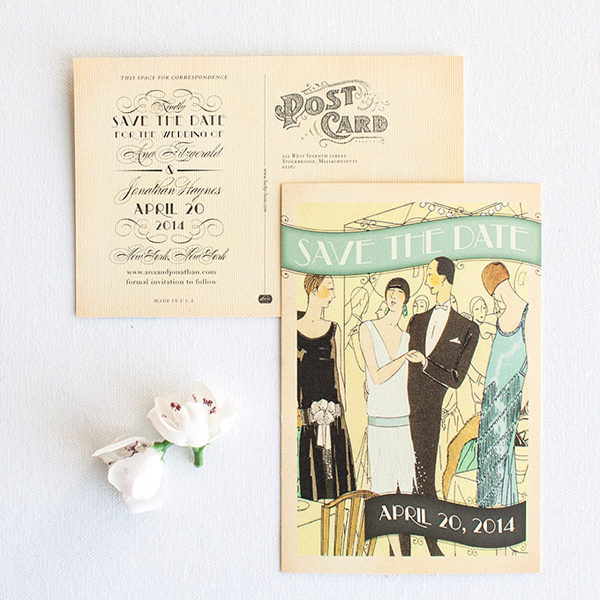 It's almost as if the '20s were coming to life on this postcard Save the Date, which is perfect for your Great Gatsby wedding theme. The short hair, the elegant clothing; the artwork just takes you back and will give your guests a little hint of the fun experience that awaits them. A gorgeous Save the Date like this one from lucky-luxe.com can also inspire your guests to dress in '20s inspired attire!
---
2

Great Gatsby Decor...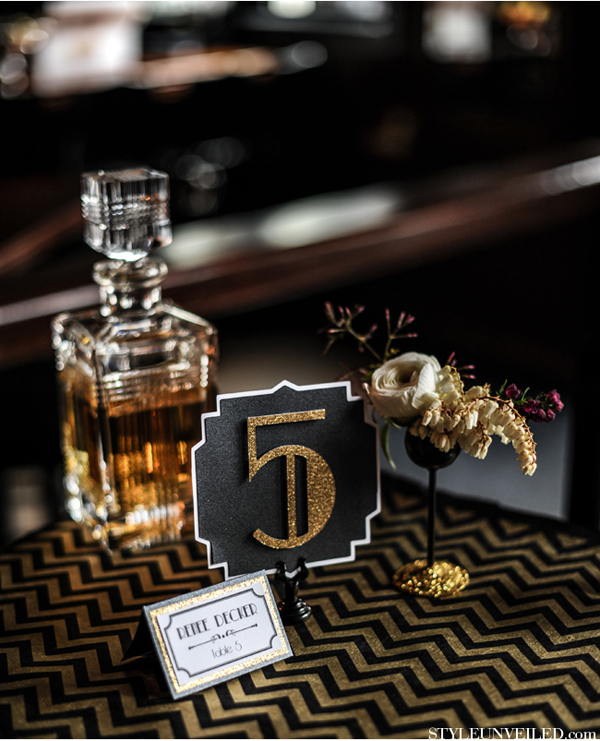 The 1920s and '30s were a time when art started to inspire the world around it with geometric shapes, sharp colors, and bold lines; also known as the art deco period. Think of places like the Chrysler Building in NYC or gangster style cars like the Rolls Royce. Take your wedding decor to a whole new level with these sharp details and colors. The chevron print is on trend right now, so why not use it to your advantage in colors that match your Gatsby art deco theme, along with table numbers like this one that pull it all together.
Trendinig Stories
3

Great Gatsby Bridal Style...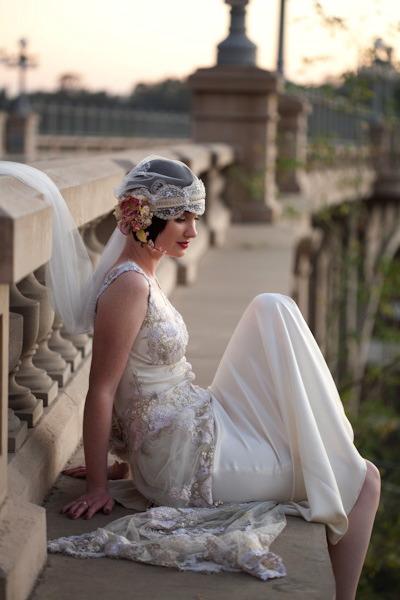 The party fashions of the 1920s were loose and free, but very detailed with sequins and fringe. However, it was not just about the dresses, oh no, hats, head scarves, and jeweled headbands were very much part of the ensemble. If you cannot find an original 1920s dress for your big day, many designers like clairepettibone.com, who designed this gown, are producing replicas that are just as stunning as the original dresses the ladies of the '20s wore. But don't forget about your headpiece, I've seen a few on bhldn.com that would look perfect for a Great Gatsby inspired bridal style.
---
4

Great Gatsby Bridesmaids...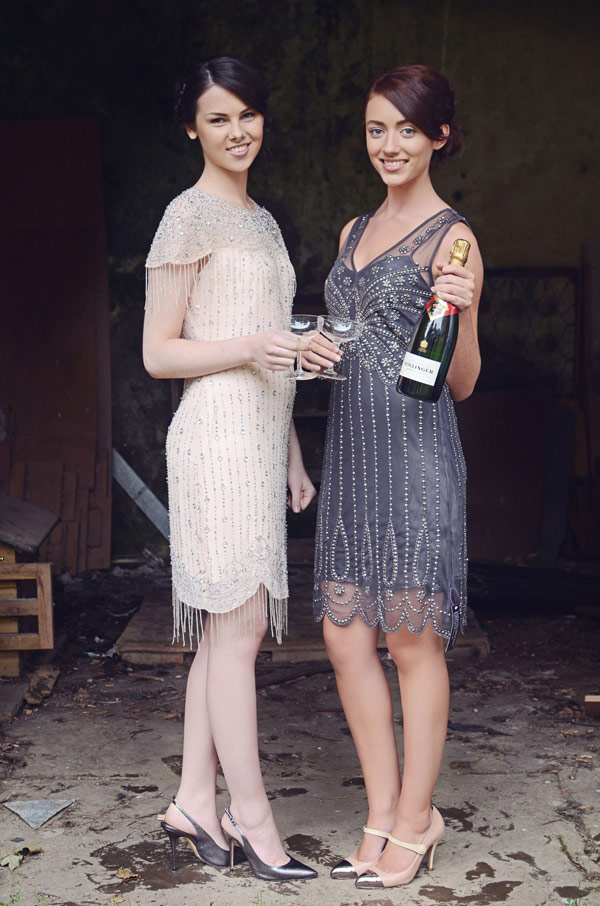 Let your bridesmaids have fun in a flapper inspired dress that moves on the dance floor and will continue to be a great dress to wear again and again. Both of these drop waist party dresses are by Jenny Packham, but you can find other flapper and '20s style bridesmaid dresses at stores like modcloth.com and elsewhere.
---
5

Great Gatsby Wedding Cake...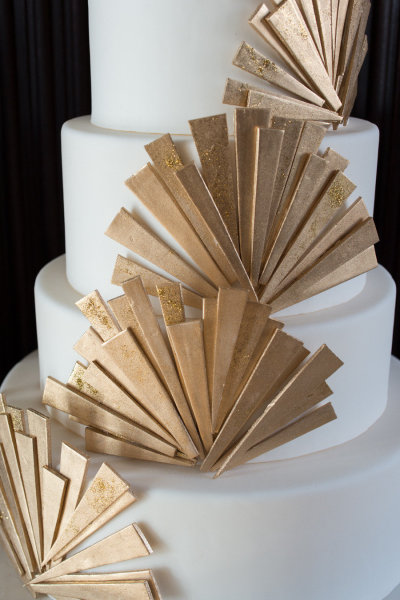 The sunburst design was very popular during the art deco period and can be seen in many building designs that were built during that era. Making these wedding cake details perfect for your theme, which is why this particular cake was created in the first place...for none other than a Gatsby styled wedding shoot! The book has been around since 1925, when author F. Scott Fitzgerald was inspired by the life around him to write such a story about crime, corruption, parties, and passion. Sadly it wasn't until after his death in the 1940s that his book began to catch on and bring back 1920s inspired parties.
---
6

Great Gatsby Wedding Transportation...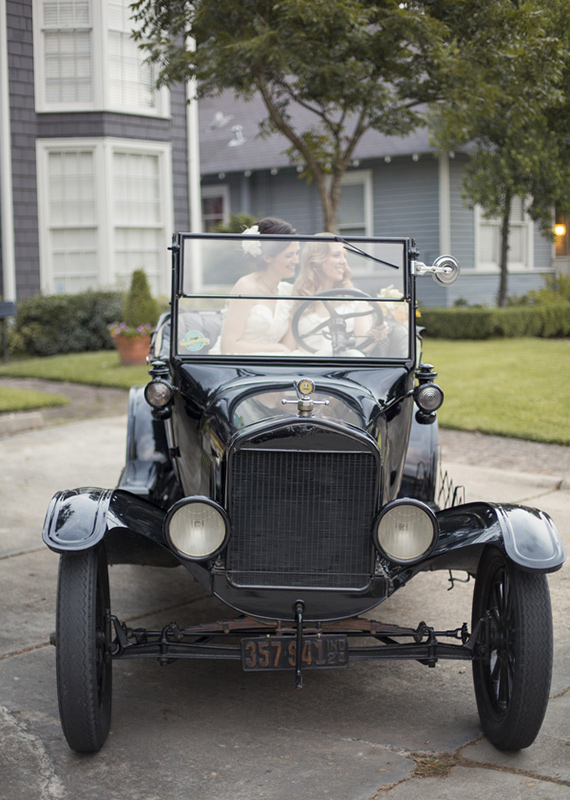 If you're really looking for a way to add charm to your Great Gatsby themed wedding, then be sure to arrive in style in a 1920s automobile! How fantastic would it be to show up in an old caddy or Rolls Royce from the era, with its old fashioned tires, steering wheel, and shape. You have to promise to check out the complete details of this wedding over at 100layercake.com, even their guests showed up in 1920s fashion!
---
7

Great Gatsby Wedding Cocktail...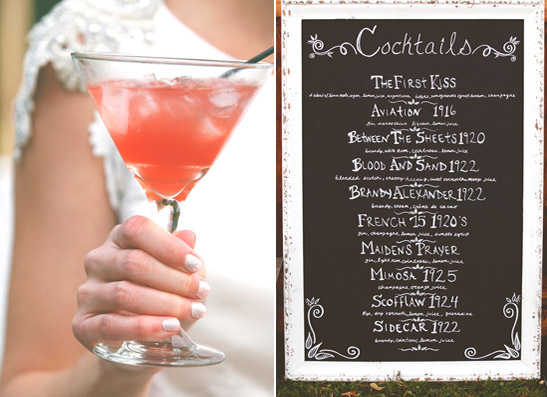 You can't have a 1920s themed wedding without 1920s inspired cocktails! It was the beginning of the prohibition period, where many would go to drink illegally at a speakeasy and others were bootlegging, which was the illegal transportation of alcohol. Besides his love interest, bootlegging was a big part of Gatsby's life and how he stayed so wealthy. So have your bartender mix drinks like the sidecar, a mint julep, or a highball to keep your theme flowing during your cocktail hour.
---
8

Great Gatsby Groom Style...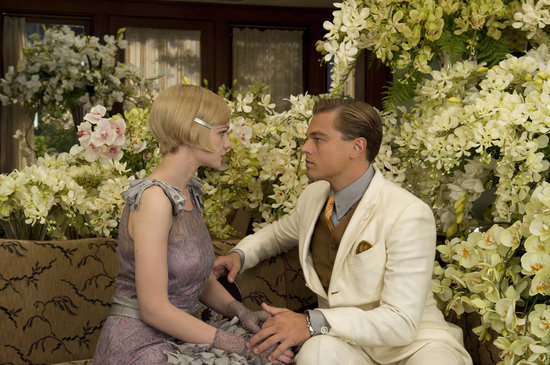 Your theme is centered around a book about a wealthy man who loved to party, so we can't forget about your groom's style and how to keep him looking as fresh as Jay Gatsby himself! Light colored suits, like the one seen here on Leonardo DiCaprio, were very popular during the 1920s, as well as bow tie tuxedos. So whether your groom is more comfortable in a light suit with a tweed vest or a darker, tuxedo style, it's his choice to decide how he wants to portray the 1920s during your big day.
Are you planning a Great Gatsby wedding or do you know someone who is? What do you love most about your Great Gatsby wedding theme?
---
Comments
Popular
Related
Recent