There is so much inspiration for a retro themed wedding, whether you search Pinterest or Wedding Gawker, you'll find it! From vinyl record table numbers to vintage wedding dresses, this is a theme with endless possibilities. Inspiration for a retro themed wedding can be from the 1920s, '40s, '60s; pretty much any decade other than the one we live in! So come along with me on a ride to the past and see what inspires your big day...
---
1

Retro Themed Wedding Invitation...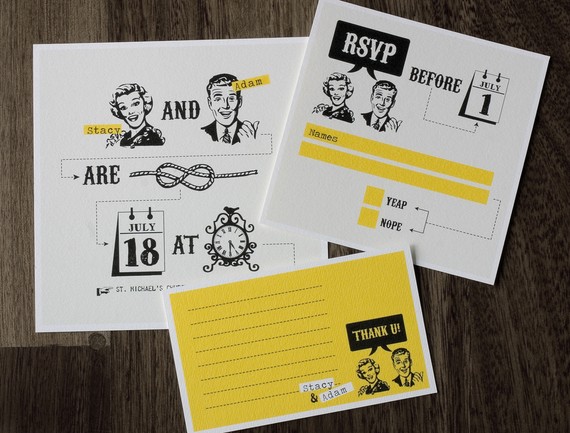 How fun and quirky are these retro themed wedding invitations! I love the retro comic style couple that you can personalize with your names. The theme flows from the invitation to the RSVP and thank you card to pull it all together as a set. It gives your guests a little hint of your theme without going over the top.
---
2

Retro Themed Wedding Venue...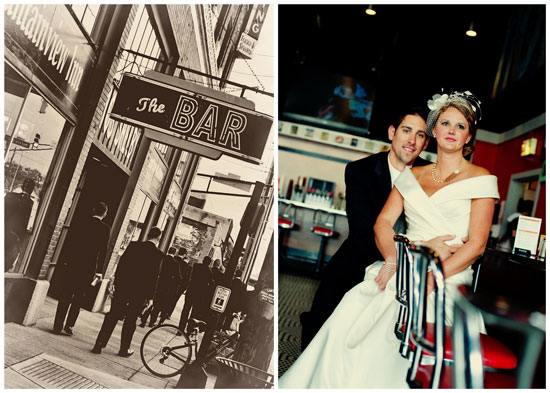 Make your retro theme really stand out against the rest when you host it at a retro venue like a '50s styled restaurant or a vintage theater. I love retro restaurants that have soda fountains, a jukebox, and colorful vinyl chairs and booths. What a fun photo shoot it would be to have your wedding picture taken with the waitress who is riding around on old-fashion roller skates and wearing a poodle skirt!
3

Retro Themed Wedding Transportation...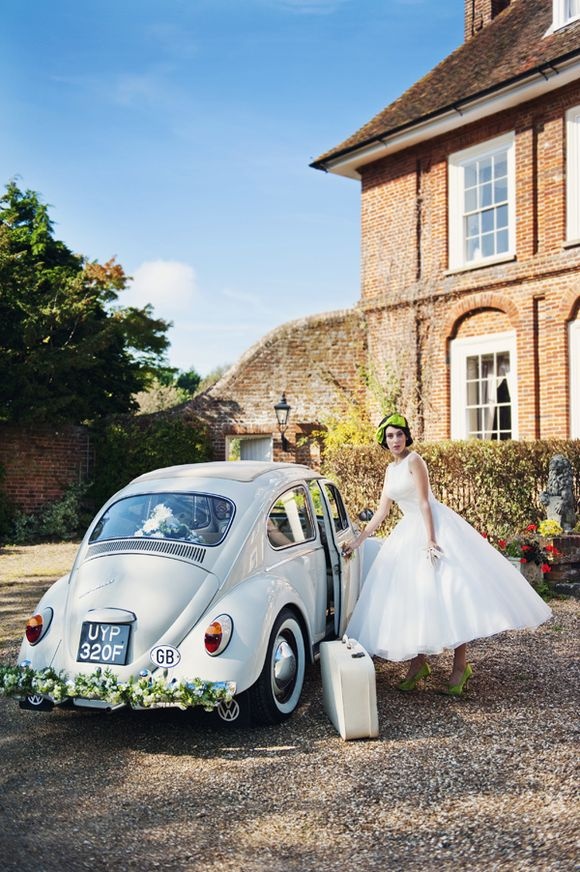 How adorable is this photo of the retro bride getting into the little Volkswagen Beetle with her poofy, tulle skirt! I wonder if she could actually fit into the back seat! Either way, her retro themed wedding transportation adds charm to her big day to really make her theme shine. Whether it's a Volkswagen Beetle, a retro VW Bus, or a 1950s Ford Thunderbird, check out retro transportation that will add that finishing touch to your wedding day.
---
4

Retro Themed Wedding Guest Book...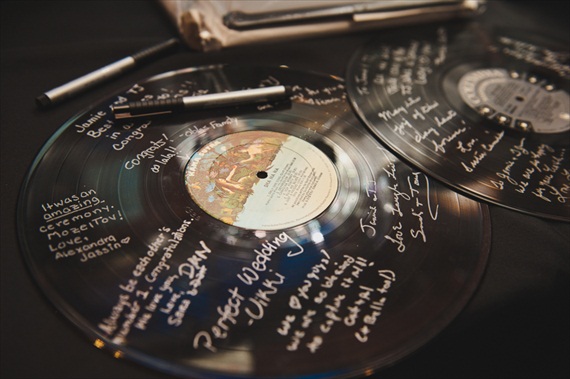 Does this retro guestbook not fit perfectly into this theme! I'm pretty sure my friend over at Vintage Vinyl Journals would love this idea for her big day, huh Katie?! What could be cooler than having your guests write on vinyl records that feature your favorite artists! I bet my daughter would use The Beatles, and me...I'd probably go with The Rolling Stones, how about you?
---
5

Retro Themed Wedding Decor...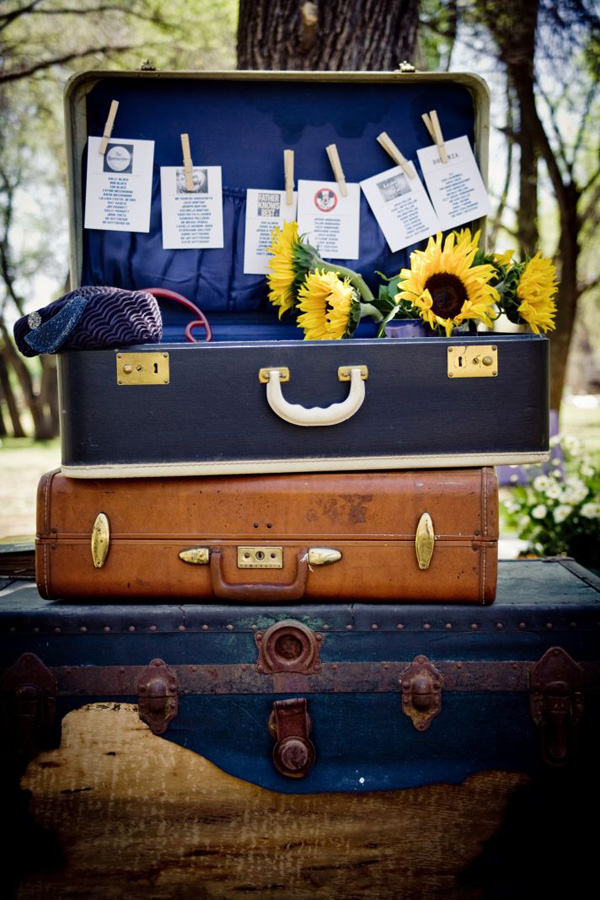 I love vintage suitcases, they really make great DIY projects for weddings and home decor as well. At this retro themed wedding, the bride and groom used their vintage suitcases to hold their seating chart and named their tables after 1950s TV shows, such a cute idea! If you don't know anyone who has retro decor that would fit your theme, whether it's '50s or '70s style, check your local thrift shop and start popping tags!
---
6

Retro Themed Wedding Groom Style...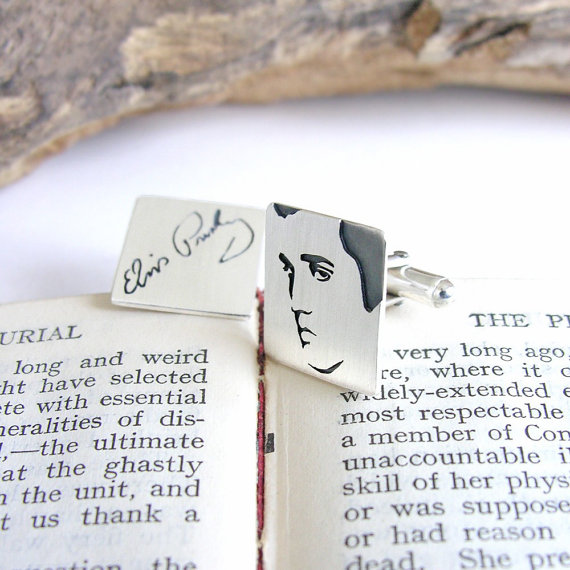 Give your groom a retro look that is fit for a King...the King of Rock n' Roll, that is! These cuff links are pretty amazing, if you take a closer look you'll see that Elvis Presley's face is actually cut into the cuff link, which is made from sterling silver. I wonder if the King himself had a pair that were this cool!
---
7

Retro Themed Wedding Bride Style...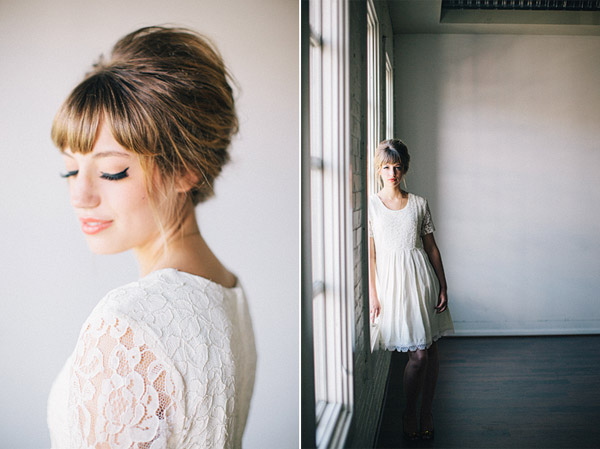 Well we couldn't forget about the bride's retro style, now could we! I love the look of the bouffant hairstyle together with the stunning eye makeup, it makes a retro statement without trying too hard. If you really love the retro pinup girl look, consider doing a boudoir photo shoot to surprise your hubby-to-be with. However, tone down your makeup and hairdo a bit for your ceremony and make it a subtle nod to your favorite sexy ladies.
Are you planning a Retro Themed Wedding, would you use any of these ideas? My post has more retro inspiration from the '50s and '60s, but you can choose from any past decade to plan your retro themed wedding around.
---
Popular
Related
Recent