It's a little too late for Heather and I to plan a Harry Potter wedding, but I'd be lying if I didn't express a teensy bit of regret. I saw a recent feature on Buzzfeed that detailed one couple's magical adventure and nearly died. Granted, this is only an option for extreme Potterheads and true lovers of magic, but if Hogwarts will always be your home then you may want to think about going this whimsical route when you're planning your own nuptials. You can either go all out or just incorporate a few touches of everyone's favorite wizarding world. Either way, it's incredibly easy to plan a Harry Potter wedding. Accio "I do"! (Let's just pretend that made sense, y'all, I was trying to be clever.)
---
1

Choose Your House Colors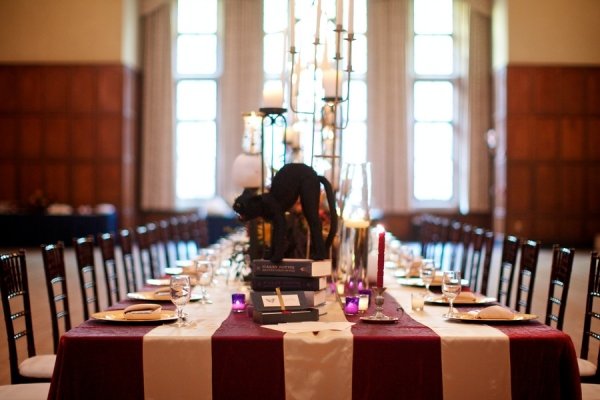 This will only work if you really love the colors for Slytherin, Gryffindor, Ravenclaw, or Hufflepuff, but it's one great way to plan a Harry Potter wedding. I'm a Slytherin at heart (duh), and I do actually love green and silver – they look gorgeous together. Scarlet and gold, Gryffindor's colors, are quite lovely as well, and I don't even hate Ravenclaw's blue and bronze. I'll be honest, though, it would be really hard to pull off yellow and black.
---
2

Decorate with Magical Symbols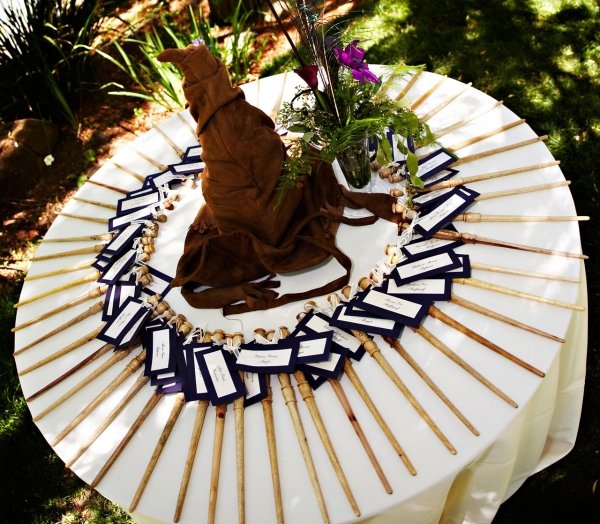 Whether you use the house mascots, flasks and cauldrons, Golden Snitches, or any other recognizable symbols from the books, this is an excellent but subtle way to put together a magical wedding. Sometimes the little touches mean the most, so you could have centerpieces filled with gems to represent house colors and points, or your place cards could feature the Deathly Hallows symbol.
---
3

Incorporate Quotes into Your Vows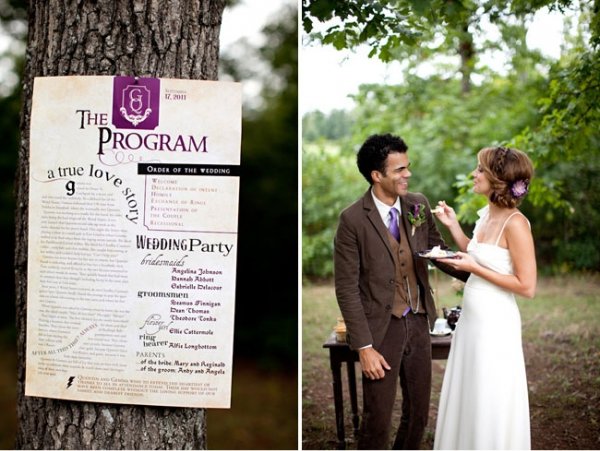 "After all this time?" "Always." There are so many great lines about love, friendship, loyalty, trust, and destiny in the Harry Potter series – and so many epic love stories! You could do worse than quote Snape in your vows, you know, and if your beloved is as big a fan as you are, he or she will surely swoon to know you love him or her as intensely and endlessly as Severus loved Lily.
---
4

Have a Candy Table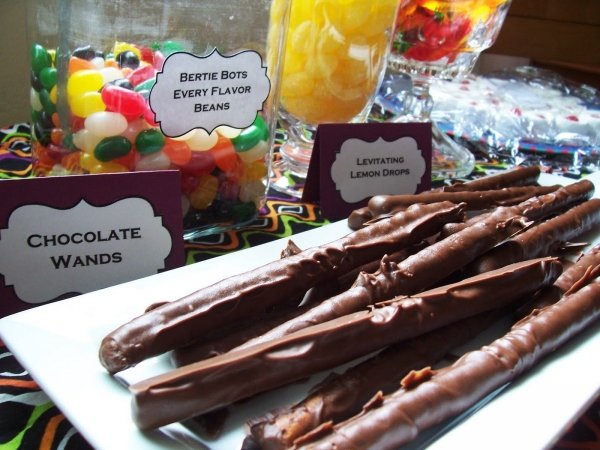 Nearly every student at Hogwarts loves that magical candy – and you can get authentic versions from so many places! Serve up some Chocolate Frogs, Bertie Bott's Every Flavour Beans, Sherbet Lemons, or gorgeous Sugar Quills. Candy tables are hugely popular at receptions, and your guests will get some sweet treats as well as some amazing take-home favors.
---
5

Look for Lookalikes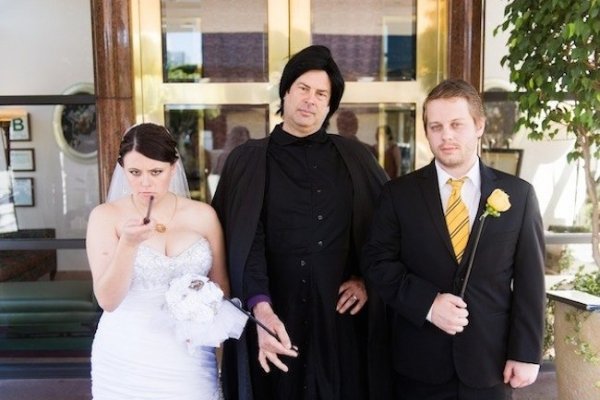 The couple on Buzzfeed had a Snape lookalike officiate their wedding, which is just the coolest thing ever. However, you could even advertise for lookalikes who resemble your favorite characters, whether you go gaga over Draco, swoon over Bellatrix, or adore Fred and George. They don't necessarily have to officiate, either. You could have them serve as ushers, servers, or they could simply lend their looks to the atmosphere of the ceremony.
---
6

Create a Magical Cake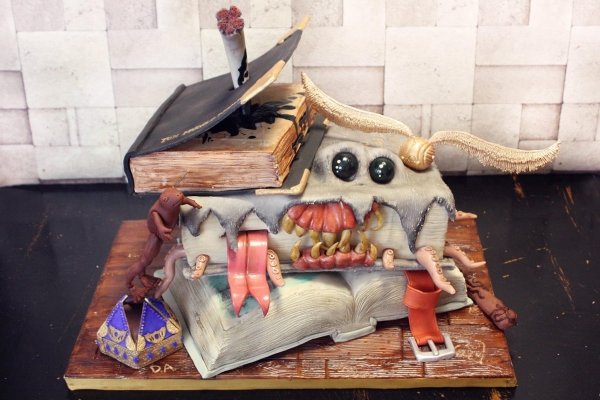 Using important symbols or aspects from the books, you could come up with a really epic cake. You could even take a cue from the films and try to recreate Bill and Fleur's cake. You really get to go all out with your cake, though, so even if that's the only place you choose to add the Harry Potter touch, you can easily get away with it.
7

Serve up Hogwarts Fare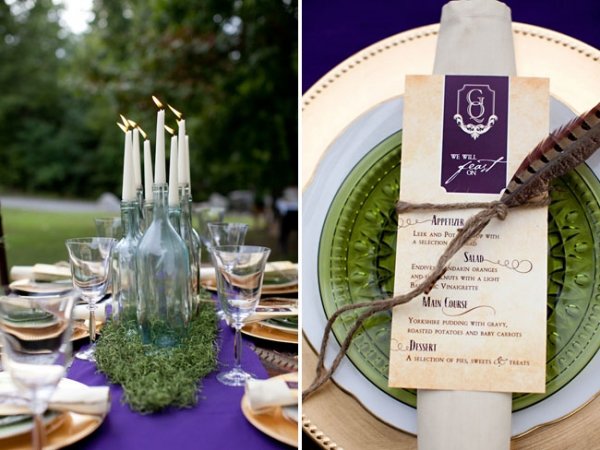 A candy table is one thing, but serving up some of the dishes made famous at Hogwarts is even better. The great thing is that you don't have to go crazy, you can just serve lots of delicious roasts, vegetables, potatoes, and things of that nature. Of course you can include pumpkin pasties as well, and I think it would be awesome to serve up mugs of Butterbeer.
---
8

Make the Most of Your Invitations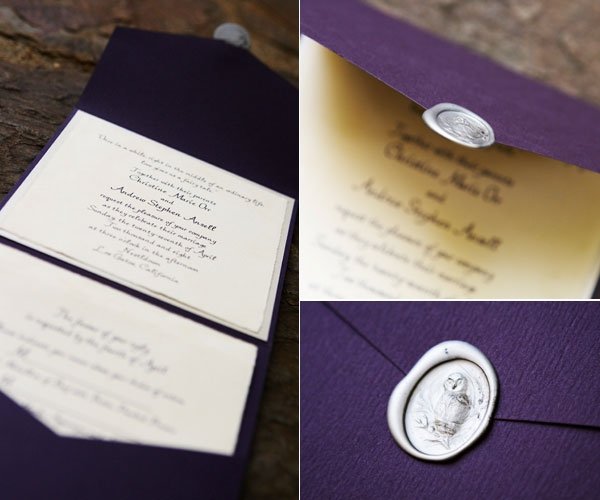 You can really go all out with your invitations as well, so this is another place where you can sneak in some magic. Sketch out your own version of the Marauder's Map to let guests know where to go, include your favorite quotes, or get really creative and provide some illustrations. Heck, you could even make your invites look like a Hogwarts acceptance letter – although you probably won't be able to use owl delivery. Bummer.
---
9

Walk of the Wands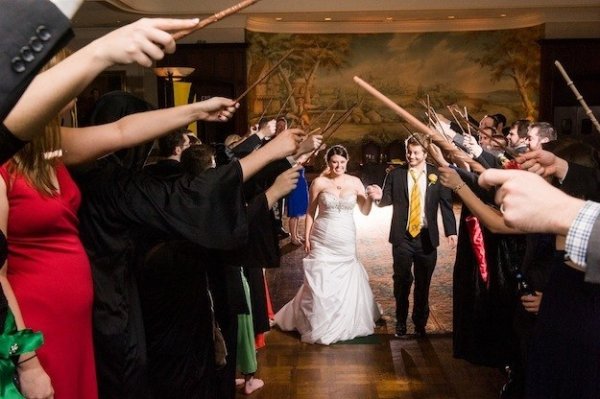 This one might be hard, but as someone who actually owns replicas of the wands of every major character in the Harry Potter series, I love this idea. When you take your first walk as a wedded couple, your bridal party and/or your guests could create an arch by holding up wands. A little cheesy? Yes. A little awesome also? Absolutely! (P.S. Snape's wand is my favorite.)
I won't lie, I love the thought of a Dumbledore lookalike officiating at our wedding, but it's a little too late for that as well. If you do decide you'd like a Harry Potter wedding, the thing you have to remember is that it's very easy to go overboard and get a little cheesy. Even if you choose to go all-out, you can still do it tastefully and end up with a truly magical ceremony. Would you ever base your wedding off a book, movie, or TV show, or is that too off-the-wall for you?
Sources: buzzfeed.com, bridalguide.com
---
Comments
Popular
Related
Recent