Making a wedding toast is easy for some but extremely stressful for others. Standing up in front of a group of people and talking is not effortless for everyone. Fortunately there are a few best practices that if you incorporate in your approach to this task, will result in a successful outcome. Here are 7 tips for writing an awesome wedding toast.
---
1

Jot down All Your Thoughts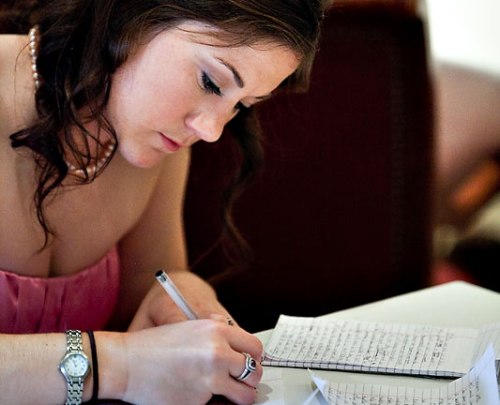 Image source: lusterstudios.com
When you first begin writing your toast it is a good idea to jot down everything that comes to your mind. You may not know what is going to ultimately work out so when you scribble all your thoughts you might end up with something worthwhile sooner than you think.
---
2

Get Personal

Any wedding toast should contain some personal information about the bride and groom, how they met or a funny story about them. It is no fun to listen to a toast only containing philosophical opinions about marriage or general information about life. Guests have come to celebrate the bride and groom so include them in your toast.
---
3

Introduce Tasteful Humor

A toast that is funny with a few tasteful jokes interspersed at optimal points is usually a well received one. It might seem difficult at first to come up with jokes but it is actually easier than you think if you spend a little time and take the help of a few friends.
---
4

Be Creative

Image source: lusterstudios.com

Spend some time working on your toast so that you can introduce some creative inputs. The best and most memorable wedding toasts are the ones that are different and unique. Do your research; the Internet is a fantastic resource, and look for ways to put a creative spin on your toast.
---
5

Less is More

When it comes to wedding toasts, less is always more. No one wants to sit through long speeches and serious lectures. They have come to have fun. So keep your toast under 5 minutes long and resist the urge to ramble on and on about stuff that only you think is necessary.
---
6

End with Warm Congratulatory Wishes

The purpose of the toast is to wish the couple as they embark on a life together. It is also an opportunity to congratulate them on this grand occasion. Your toast should always end with warm wishes for the future so that everyone in the room can join you in this greeting.
7

Be Prepared

No matter how good your public speaking abilities are, do not for one second underestimate the importance of adequate preparation. Rehearse a few times in front of a mirror or with someone else so that you know how well you have memorized your speech. You can also ensure that you emphasize the right aspects and time the jokes perfectly.

An awesome wedding toast needs a fair amount of time and effort. You need to ensure that you have written it well, tested it on a few trusted sources and rehearsed it sufficiently. Once this is done, you can rest assured your performance will be a grand success.

Top image source: lusterstudios.com
---
Popular
Related
Recent