Whether you're planning a destination wedding or simply expecting many of out-of-town guests, a fully stocked wedding welcome bag is always appreciated. From basics like water bottles and mints to fun treats like a locally inspired snack, these wedding welcome bag essentials are guaranteed to help your guests settle in and prepare to party. Read on, and get ready to check one more thing off your to-do list!
---
1

A Stylish Bag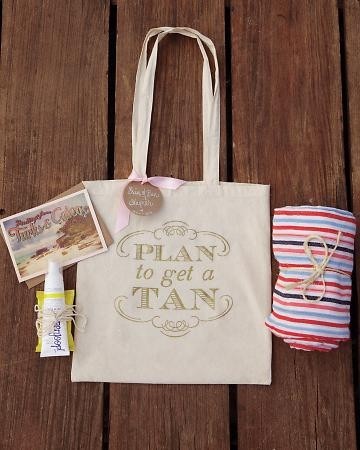 While a stylish paper bag is definitely a great option, you can also make your wedding welcome bag itself something guests can reuse all weekend long and even afterward by selecting an eco-friendly reusable tote. Customized tote bags featuring your names, wedding date and monogram are popular choices, as are those showcasing graphics or sayings that represent your city, state or wedding venue. Get creative, and don't forget to order a few extras for yourselves, your parents and the members of your wedding party.
---
2

A Helpful Map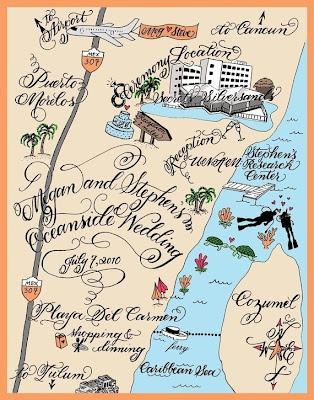 Even in the era of GPS, you can never go wrong with a paper map highlighting your wedding location and key sites to visit around town. Custom maps are always fun, or you can simply include a store-bought map along with a typed insert identifying must-visit locations. Including turn-by-turn printed directions from the hotel to the wedding venue is definitely a helpful touch, as well.
3

Your Wedding Weekend Itinerary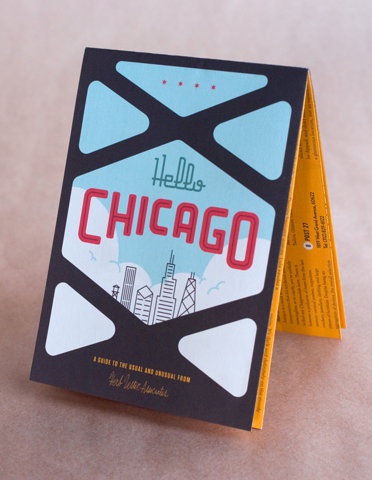 As your guests arrive and settle in, they're sure to have one big question on their minds – what should we do next? Including an outline of your wedding weekend itinerary, complete with a listing of any planned welcome parties, sightseeing excursions and morning-after brunches, will help your guests easily keep track of everything on the agenda while also getting excited about what's to come. Custom itineraries with fun designs are a great choice, but a basic DIY printout also works just as well.
---
4

A Locally Inspired Snack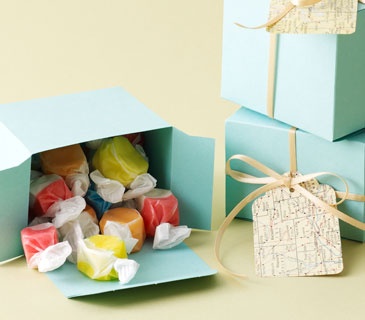 Treat your guests to an extra wedding favor by sticking a locally inspired sweet or savory snack into their welcome bags. Snacks that symbolize your wedding theme, like saltwater taffy at a seaside affair or chocolate macadamia nuts at a Hawaiian island celebration, are always popular, but don't be afraid to also think outside the box by choosing something unexpected and totally unique to your locale. After all, this is your chance to show off exactly why it's so special to you!
---
5

Bottled Water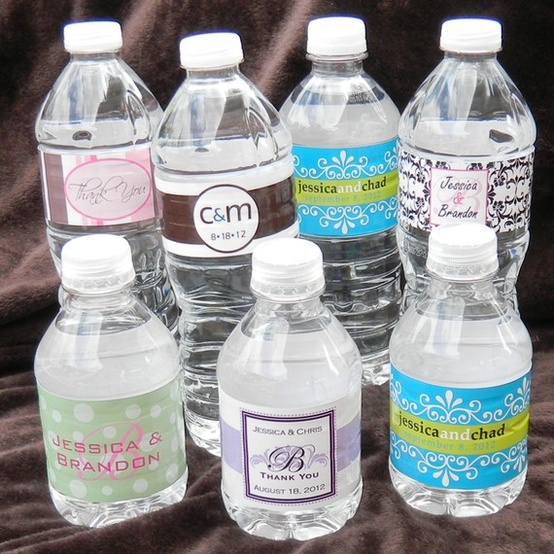 Now that you've given your guests a tasty snack, make sure they also have some water to help wash it down! Think basic plastic bottles are just too boring? Dress them up with custom labels, or consider also giving out personalized sport-style bottles your guests can reuse long after your wedding weekend has come to a close.
---
6

A Pack of Gum or Mints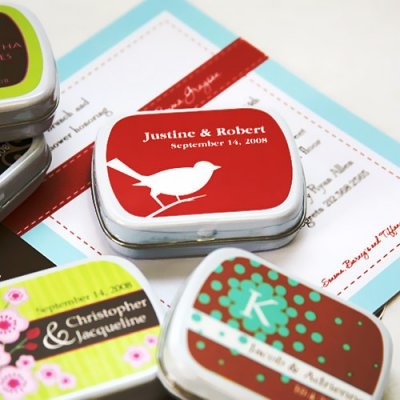 As they dash from one wedding activity to the next, your guests will no doubt appreciate having a pack of gum or mints on hand to ensure fresh breath throughout all of the meeting and greeting. Order a personalized batch of tins online, or consider printing out and sticking on your own DIY labels.
---
7

A Bottle of Sunscreen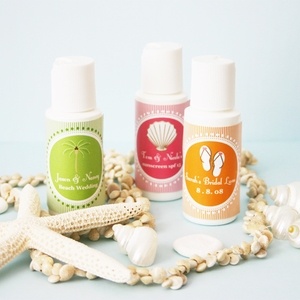 Hosting a daytime wedding outdoors? Help keep guests' skin from getting fried by including small bottles of sunscreen in their welcome bags. And don't forget to set aside a couple spare bottles for you and your bridesmaids, too. Dealing with lobster-red skin on your wedding day? No thanks!
---
8

Tissues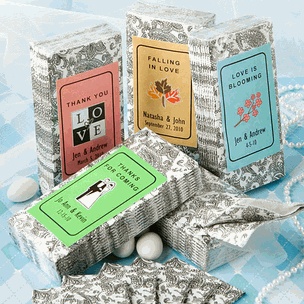 Like mints or gum, tissues are another basic necessity your guests will appreciate having on hand, but might have forgotten to pack for themselves. A mini pack will be easy to keep at the ready, and the tissues will no doubt be especially handy at capturing tears of joy during the ceremony and toasts.
Which other items do you think make great additions to a wedding welcome bag? Will you be giving out welcome bags at your own wedding?
---
Popular
Related
Recent