Vera Wanghas always been a top name in the bridal industry, especially when it comes to wedding gowns. As most of us wedding crazed people know, earlier this year Vera introduced her new bridal gown line at David's Bridalfor the brides who were on a budget but still wanted something couture. Well now the time has come for the bridesmaids to step into the couture spotlight with the new White by Vera Wang Bridesmaid line...here are the 7 lovely bridesmaids dresses, which one is your favorite?
---
7

Short Draped Satin Dress...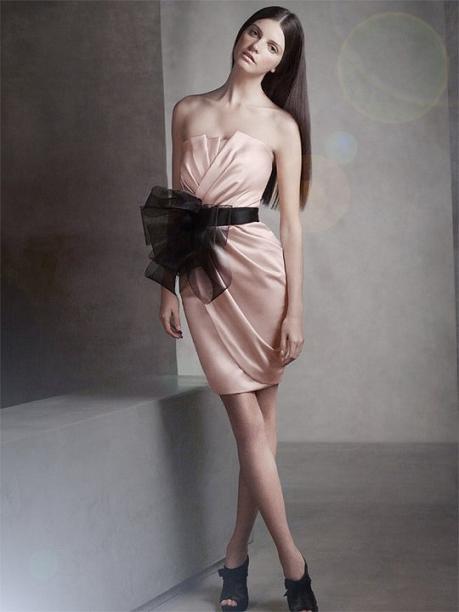 Price: $158.00 @ DavidsBridal
It's short, sweet, and sassy! This lovely draped satin dress by Vera Wangcomes in eight different colors at David's Bridal, I believe this one is shown in the very pretty blush shade. The dress does come with a sash but not the horsehair one shown, which can be purchased for $58.00 atDavid's Bridalas well. Have you checked out her shoes yet? Those are new to theWhite collectionby Vera Wang too!
---
6

Tiered Crinkle Chiffon Dress...
Price: $158.00 @ DavidsBridal
I've always loved the look of tiered dresses, but this is the first time I am seeing them for a bridesmaid and I love it! This tiered crinkle chiffon dress is perfect for so many themes, from classy and elegant to simple and relaxed. Vera Wangknows fashion, her designs are like works of art so why not make your ladiesfeel special as they walk down the aisle on your wedding day! For prices under $200 and colors like this beautiful Amethyst, what's not to adore.
---
5

V-Neck Chiffon Column Dress...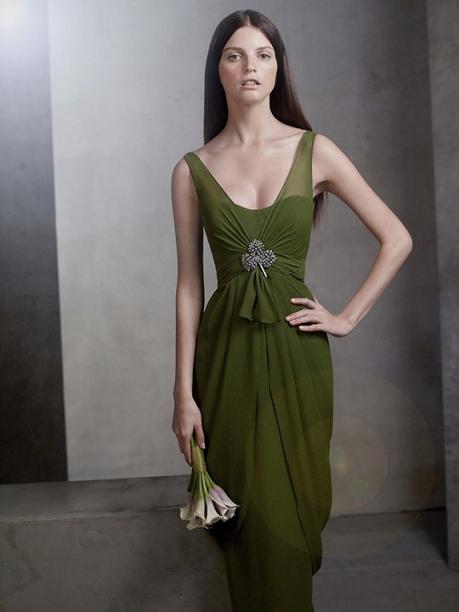 Price: $168.00 @ DavidsBridal
Speaking of classy and elegant, this gorgeous v-neck sleeveless chiffon column dress is picture perfect for a black-tie affair. I have seen many bridesmaid dresseswith sheer overlays and I'm usually not a big fan, but Vera has turned my opinion around with this one! The back of this gown is just as remarkable and the pretty crystal orchid clipadds just the right amount of sparkle to catch the eye.
---
4

Long Draped Satin Dress...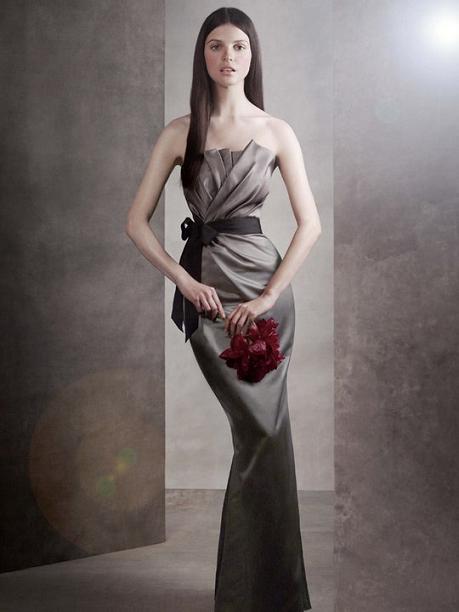 Price: $168.00 @ DavidsBridal
If you love the short draped satin dress in the first photo but are having a fall or winter wedding this long version is just the dress for your bridesmaids. I love the structure of the** draping** at the bodice, in this long dressit reminds me of beautiful architecture. I love that most of Vera Wang'sdresses come with a sash that has a bow on it; this is the same sash that comes with the short one as well. Are you in love with any of these dresses yet?
Continue Reading...
---
3

One Shoulder Satin Dress...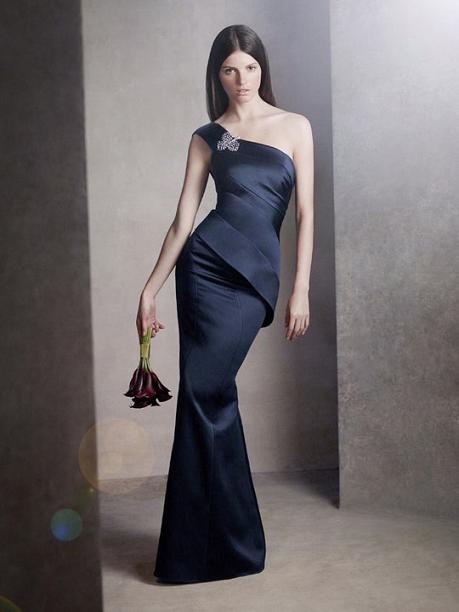 Price: $168.00 @ DavidsBridal
Vera Wang's bridesmaids gownsare more than just simple dresses; if they didn't have some funk and style to them they wouldn't be a true Vera dress! How cool is the** "flange"** of fabric that wraps around the the body of the skirt to create a stunning silhouette. This one shoulder satin dress is sexy yet sophisticated for bridesmaidswho want to hide their hips or just want a fun dress to wear!
---
2

Organza Dress with Bubble Skirt...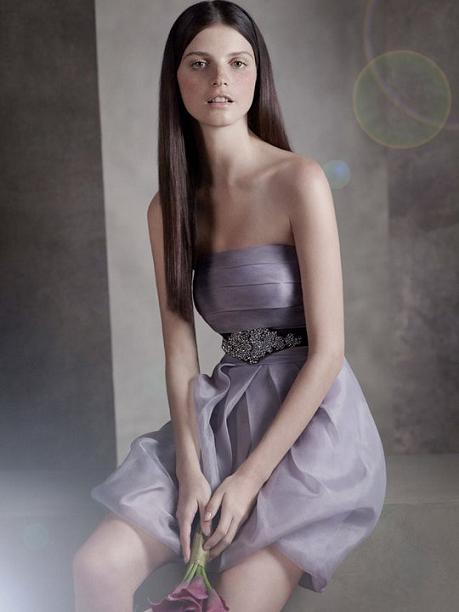 Price: $158.00 @ DavidsBridal
What is great about theWhite collection by Vera Wangis the diversity of her designs. She has gowns for every woman of every age, every shape, and every size. If you have many different ages and sizes in your wedding you want to make sure each woman is comfortable in what she is wearing. This prettybubble skirt dressis adorable for someone who is in her teens and twenties, but perhaps a bridesmaidin her forties might not feel the same way. Have your younger girls wear this** cute dress** and the older ladies wear something like the** v-neck column dress** for a look that pleases everyone.
1

One Shoulder Organza Dress...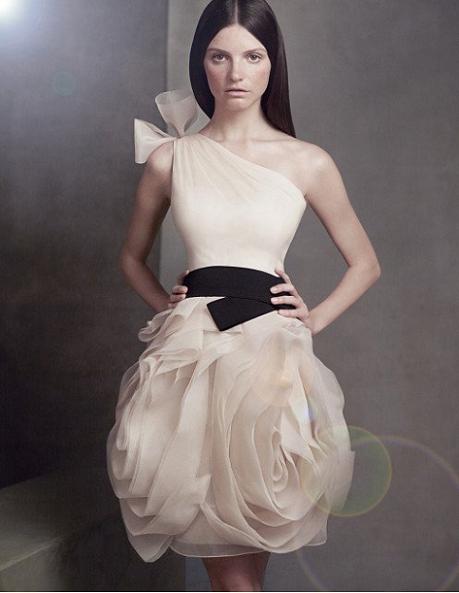 Price: $198.00 @ DavidsBridal
How fashion forward is this amazing organza bridesmaid gown, which would also make a really fantastic short wedding gown as well! This might not be the gown or the style that everyone loves, but I think it's a really incredible bridesmaid dress, one that I haven't seen before. We always see these wonderful rosettes on the bridal gowns and never really see such a design for the bridesmaids who usually get stuck with something simple. Well now all of your ladies can be couture too and have fun wearing this dress time after time!
Will your bridesmaids wear any of these lovely dresses from the White by Vera Wang collection?
---
Comments
Popular
Related
Recent