Choosing the right wedding invitation can be confusing given the insane number of options out there! Guest contributor Kristi Charter shares some tips on how you can pick the perfect wedding invitation for your theme.
Your wedding invitation truly does give your guests their first glimpse into your wedding day. The design you select for your invitation will set the tone and the expectation your guests will have for your wedding décor and styling. This means that it is important to represent the theme of your wedding through your invitations design. To help, I've broken down invitation styles that will suit your wedding theme.
---
1

Rustic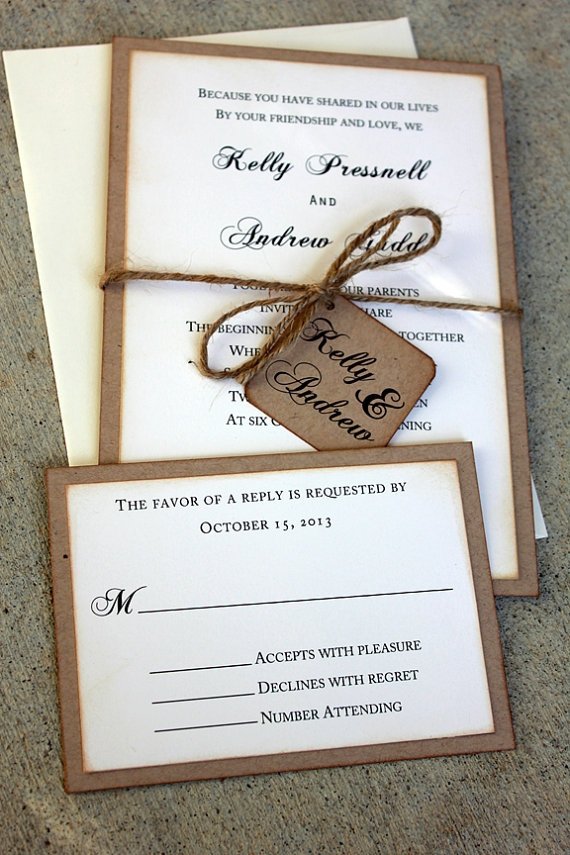 Rustic wedding invitations are all about depicting that shabby chic, DIY style. Craft, texturized paper and cream white doilies epitomise the essence of a rustic styled wedding. Elements of burlap, twine and lace are also extremely common.
---
2

Garden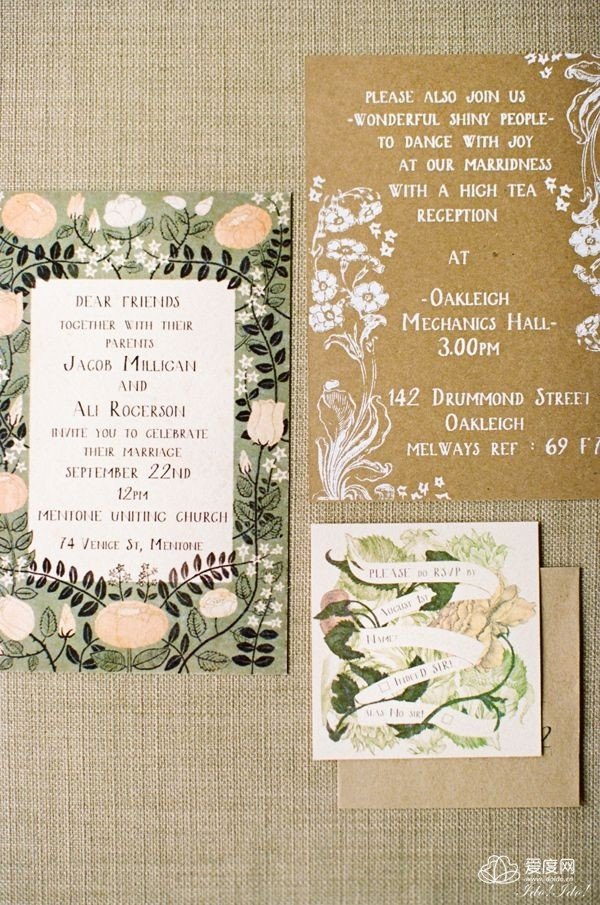 Floral patterns combined with luscious shades of green are the perfect way to depict an intimate garden wedding celebration. However the colour doesn't necessarily need to be as obvious as green, especially if floral details are already a component of the wedding invitation.
---
3

Vintage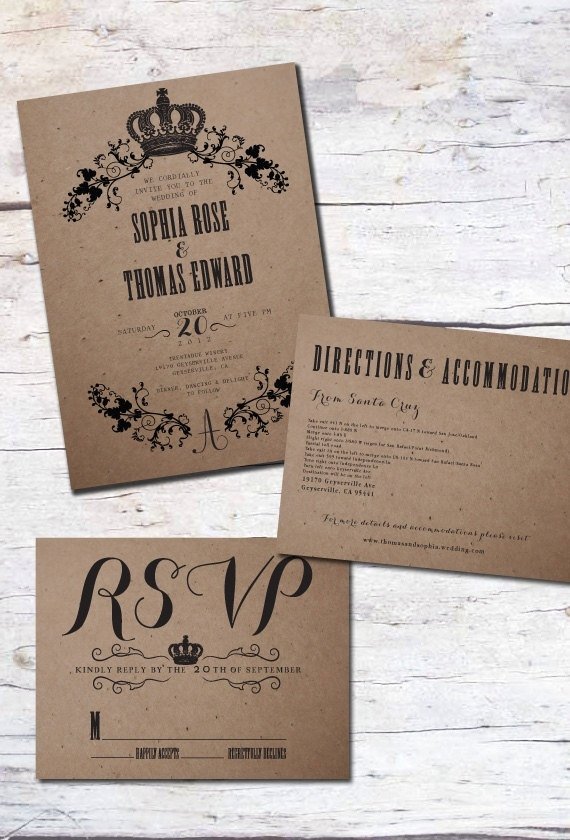 If you intend on holding a vintage wedding, look no further than lace accents. Complimented with delicate ribbons, think vintage inspired typography such as letter press or raised ink printing for the ultimate in vintage wedding invitations. Other traditional detail elements might include intricate foil stamping or striking embossing features. Simple, neat designs are the key. Frame like designs on textured paper stocks are also always prominent in the vintage inspired category.
---
4

Formal - Black Tie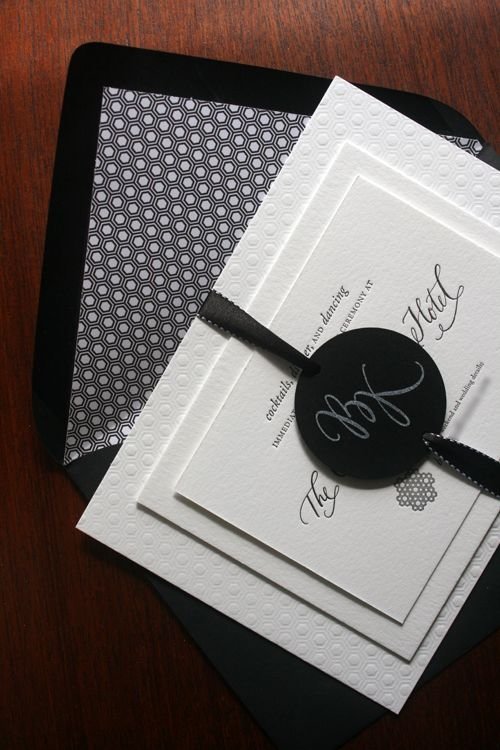 Formal weddings require equally formal invitations. Exuding sophisticated elegance and glamour, formal wedding invitations feature classic elements of black and white and are adorned with crystal embellishments to ooze a lavish flair.
---
5

Beach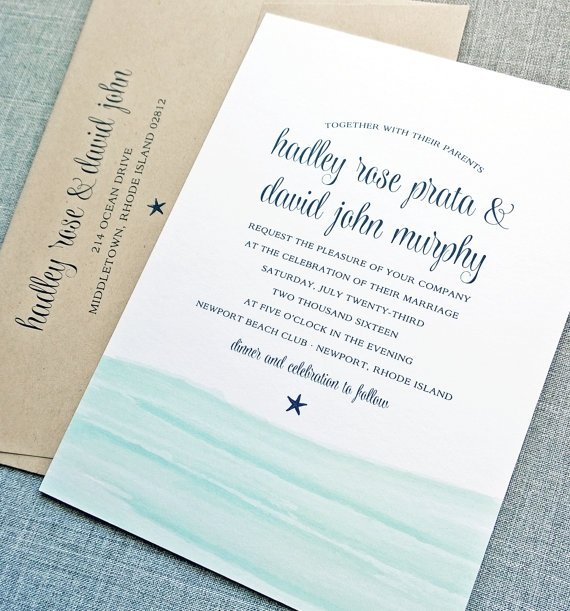 If you're holding a beach wedding you'll want an ocean inspired invite to match. Think different shades of blue paired with crisp whites. Beach invitations are relatively modest in their design featuring a fresh balance of one prominent design element accompanied by subtle complementary elements. Beach imagery including shells, anchors and palm trees are common features on invitations for seaside weddings. Relatively relaxed in their style invitations for beach weddings require simple, clear fonts.
---
6

Classic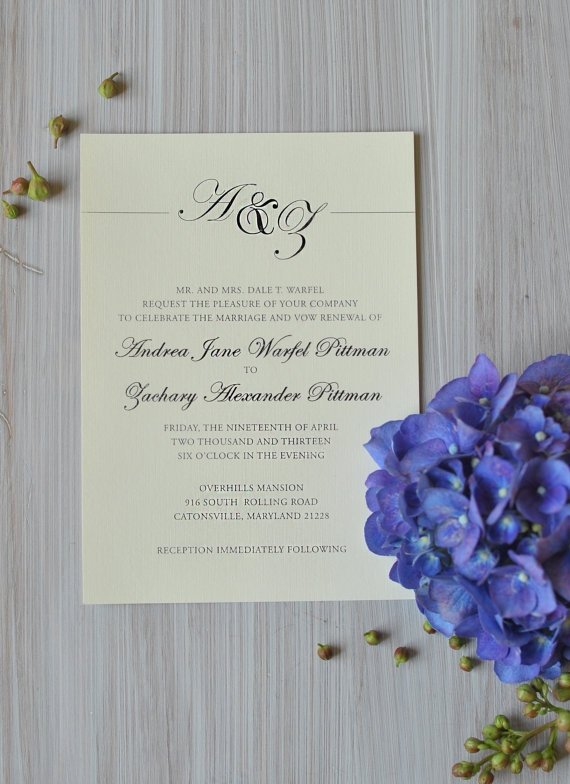 Classic wedding invitations are characterised by their traditional components including ivory paper stock, elegant embossing and delicate embellishments such as perfectly placed ribbons. Another timeless feature of classic wedding invitations is luxurious raised ink lettering which provides the ultimate finish.
7

Modern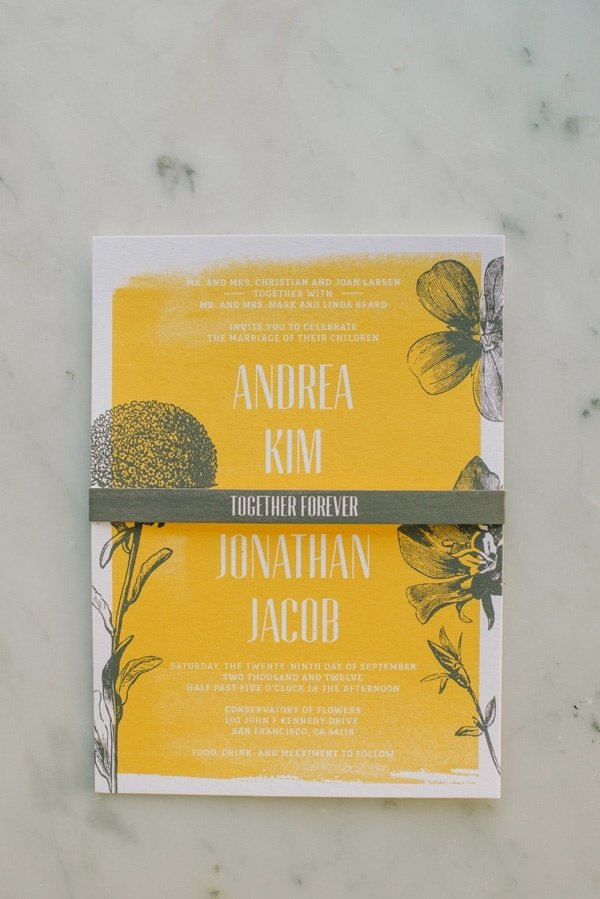 Modern wedding invitations often incorporate sleek designs combined with a range of colours from bright and bold to soft and pastel. Often on trend, modern wedding invitations feature distinct patterns and shapes with simple overall designs. This means you will need to avoid ribbons and embellishments. Big, bold fonts are also a common feature on modern invites.
---
8

Tropical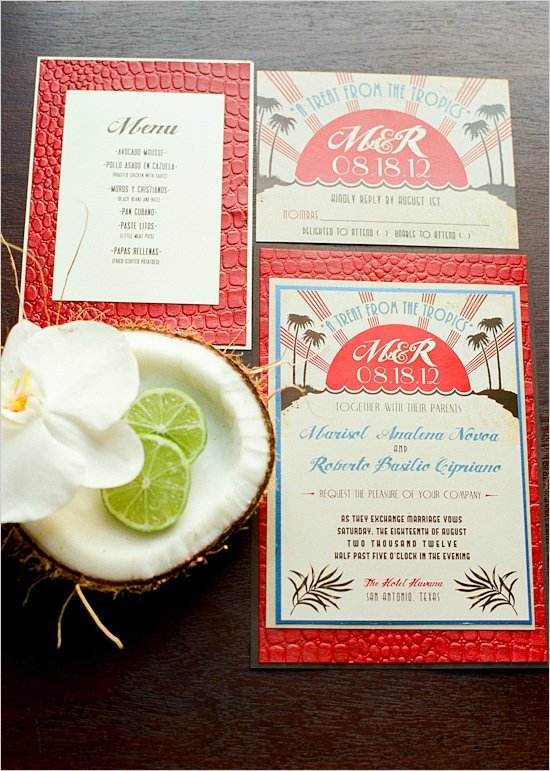 Tropical wedding invitations are characterised by their bold colours and minimal design. The key to invitations designed for tropical weddings is the inclusion of floral or shell motifs to complement the bright coloured paper. The font is normally quite informal on tropical wedding invitations in order to create a relaxed vibe reminiscent of a tropical wedding.
Have you chosen your theme yet? Will your invitations echo the theme or are you staying with the traditional?
---
Popular
Related
Recent