Ever since Queen Victoria made extravagant white wedding dresses popular, the bridal gown, for many women, is the most important aspect of their big day. These days, anything goes - any style, any color, even getting married in a pants suit - but there is just still something special about a gorgeous dress. vashi.com - a retailer of engagement rings - produced a nice chart of 100 Iconic Wedding Dresses and I thought it would be fun to share some of them with you. Getting married or not - enjoy!
---
1

Kate Middleton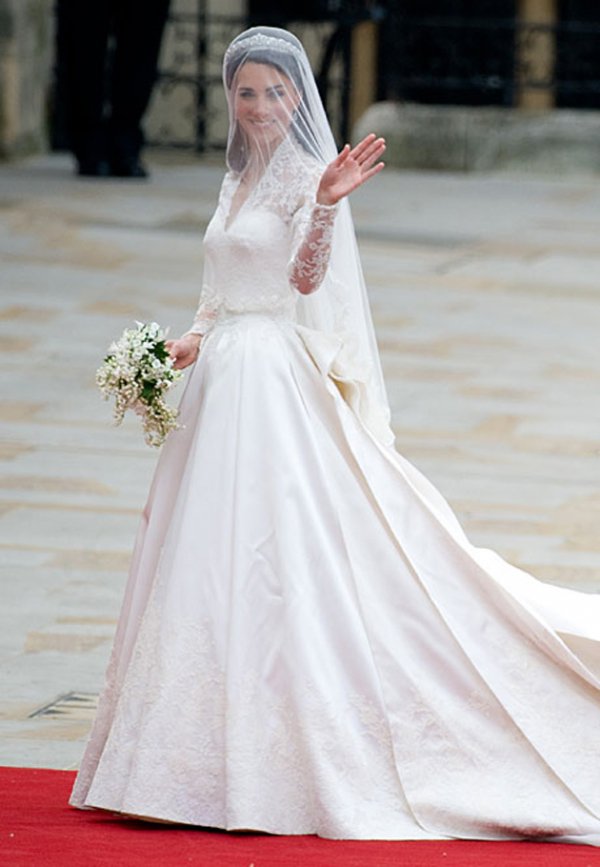 Gorgeous yet almost understated as royal gowns go, The Duchess of Cambridge's Dress was designed by Sarah Burton for Alexander McQueen.
---
2

Grace Kelly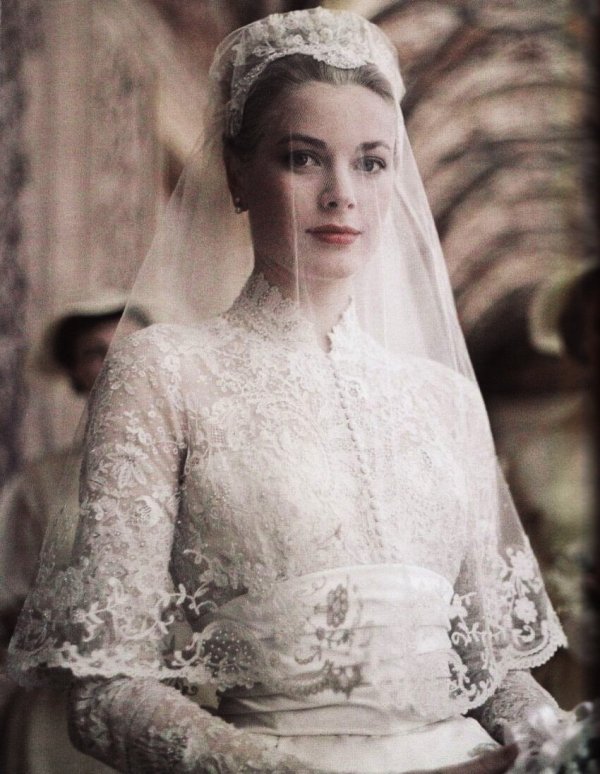 To marry her Prince (Rainier of Monaco) the American actress chose a gown not from a top fashion house but a seamstress from MGM Studios. Made up of 100 yards of silk net and 25 yards of silk taffeta which also featured ivory peau de soie and Brussels rose point lace embroidered with seed pearls, the wedding dress is worthy of a true princess.
---
3

Gwen Stefani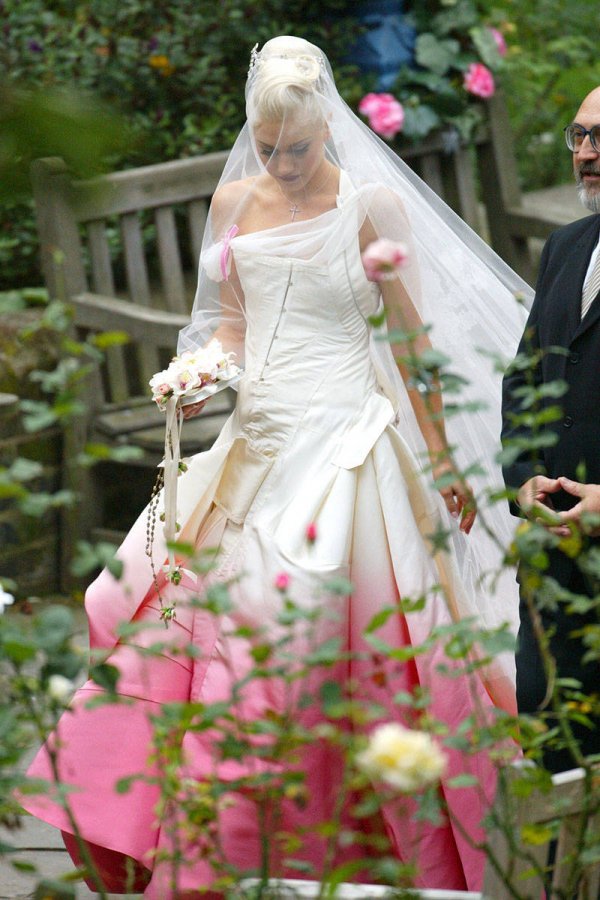 You just knew there would be something unconventional about the gown the No Doubt singer would choose for her nuptials to Gavin Rossdale. Gwen swooped down the aisle in a pink dipped gown by Dior.
---
4

Kim Kardashian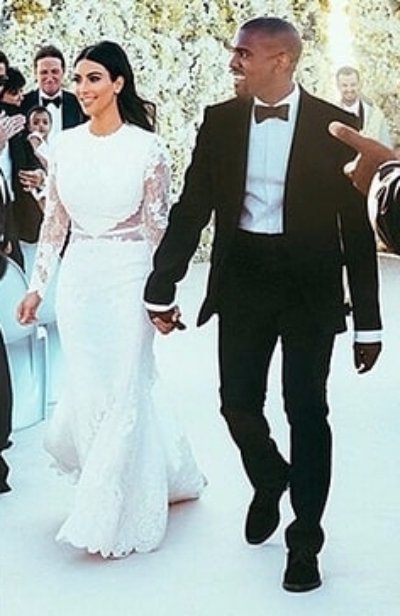 Priced at half a million, the Haute Couture Givenchy wedding dress featured a luxurious sweeping veil and train.
---
5

Victoria Beckham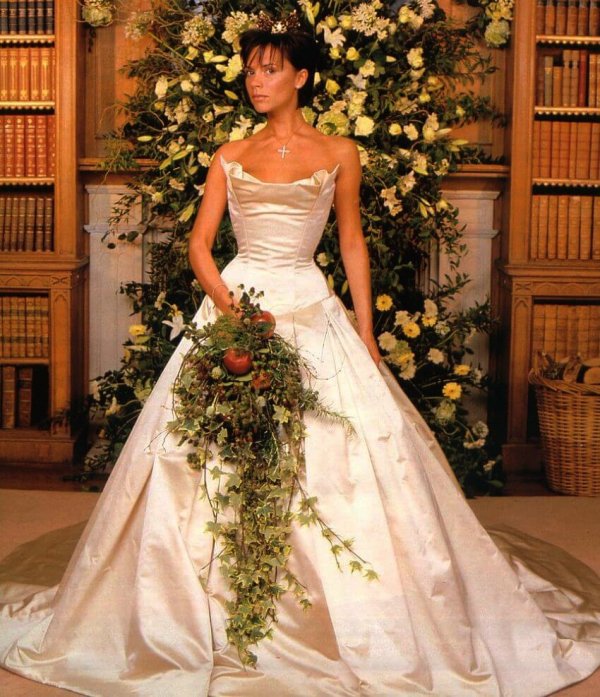 Victoria wore a strapless gown from Vera Wang to marry Football God, David. She's saving the dress for daughter, Harper.
---
6

Portia De Rossi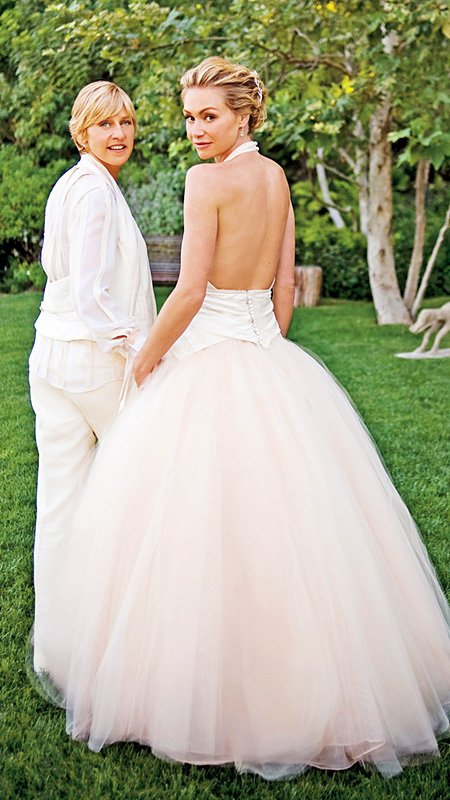 Ellen was always going to be the one in the suit so Portia was able to go ultra-feminine with a backless, halter-necked concoction of lace in soft pink made by Zac Posen.
7

Audrey Hepburn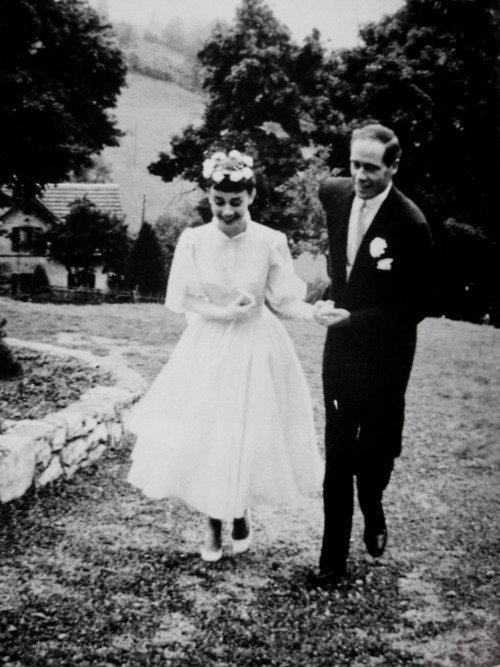 For her marriage to Mel Ferrer, Audrey wore a classic 50's style with a crown of flowers. The tea-length flared dress with a satin sash, ball gown sleeves and a high neck, paired with elbow-length gloves was designed by Pierre Balmain.
---
8

Anne Hathaway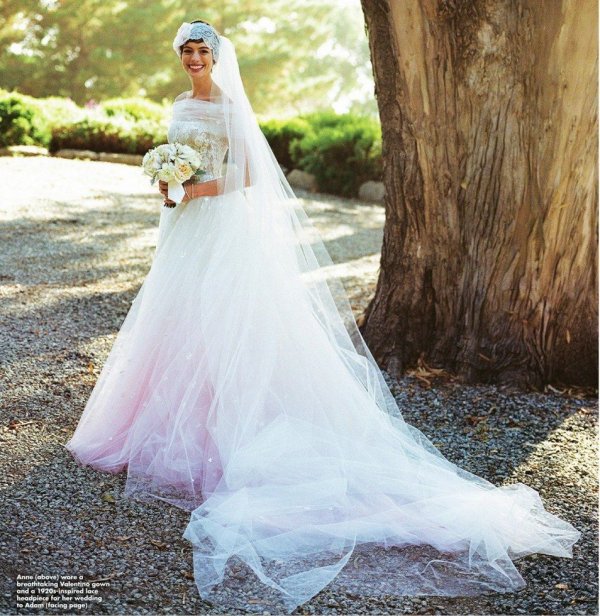 Definitely a day a princess would write about in her diary, Anne graced the aisle with a Valentino lace creation with just a hint of pink.
---
9

Bianca Jagger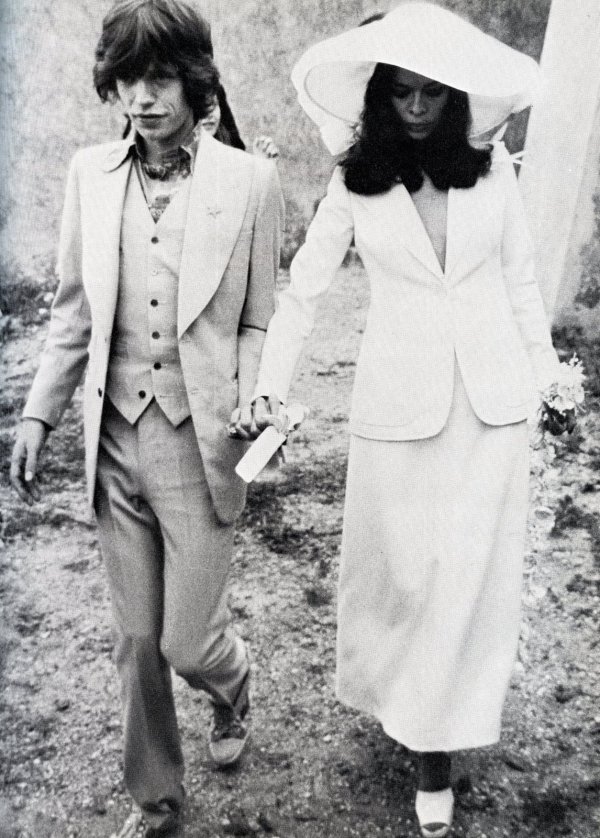 It was 1971. It was St. Tropez. She was a Nicaraguan-born beauty, he was one of the biggest rock stars on the planet. The wedding ensemble was a white two-piece with a plunging neckline and statement hat.
---
10

Emma Thompson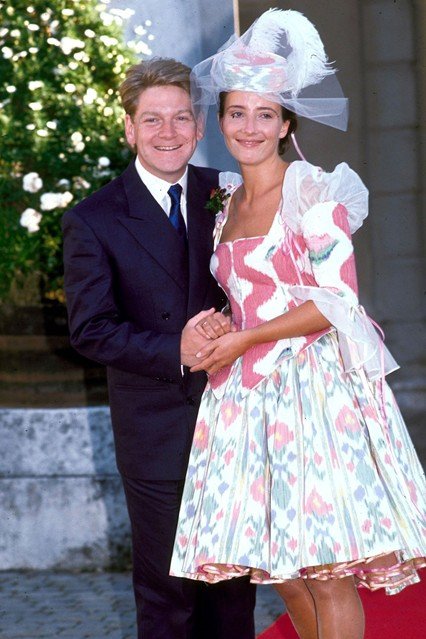 There was more than a hint of the theatrical when Brit Emma married fellow thespian Kenneth Branagh. I've been unable to find who designed it. It's wonderfully jolly but ...
---
11

Hilary Duff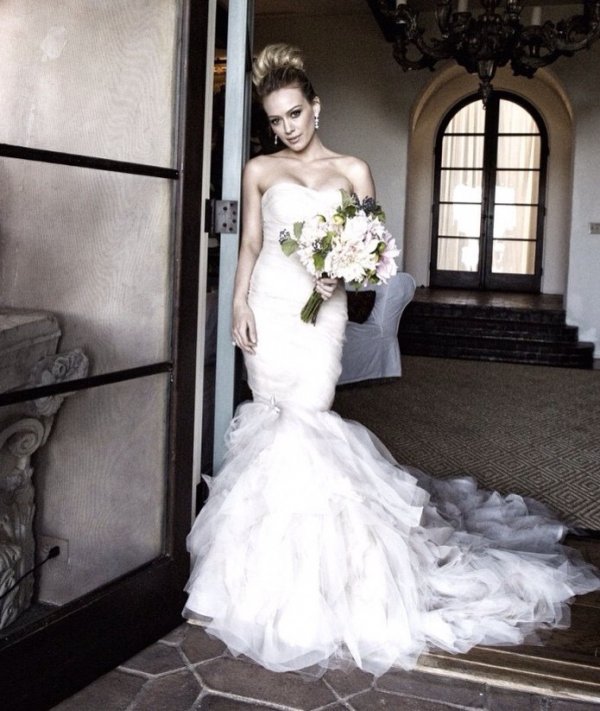 When actress Hilary wed Canadian sports star, Mike Comrie, she stepped out in a hand-embellished mermaid style gown from Vera Wang.
---
12

Elizabeth Taylor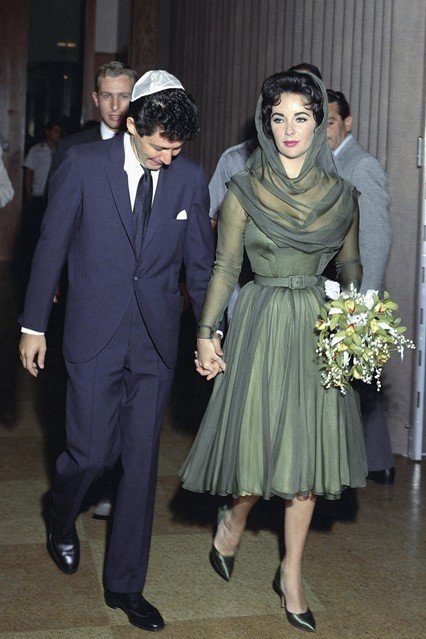 When Liz Taylor married her fourth husband Eddie Fisher, she left the other three gowns in the closet and wore a short, hooded, forest green dress with matching shoes.
---
13

Solange Knowles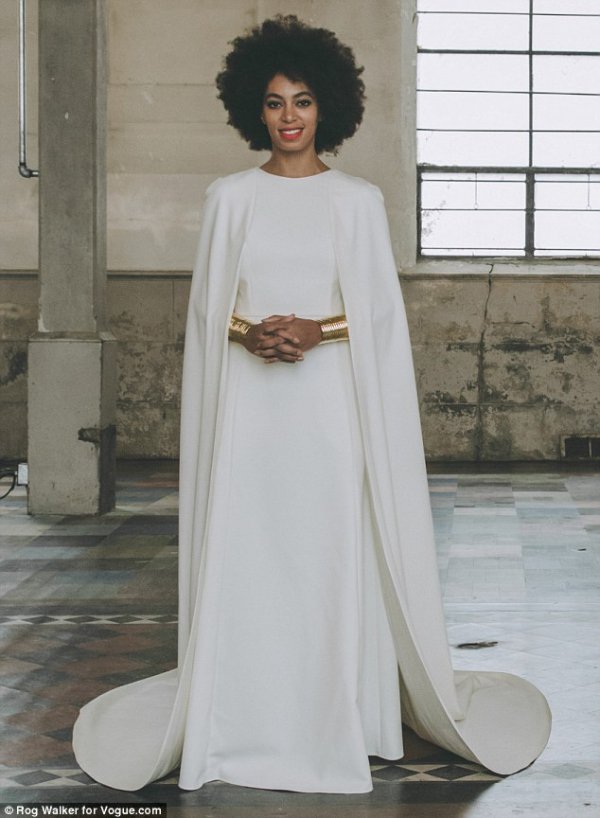 A superbly simple caped gown with gold arm cuffs was the choice when Solange married Alain Ferguson. It was designed by Humberto Leon for Kenzo.
---
14

Brigitte Neilsen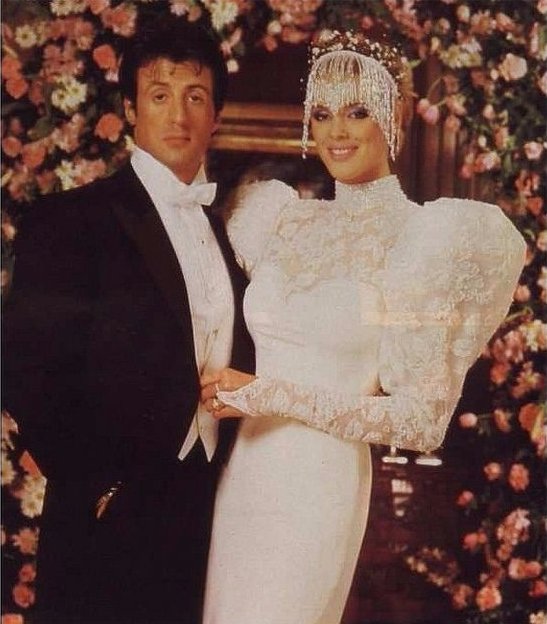 Could anything be more 1980s than a wedding gown with power shoulders? The towering Dane actually designed the dress herself.
---
15

Kate Moss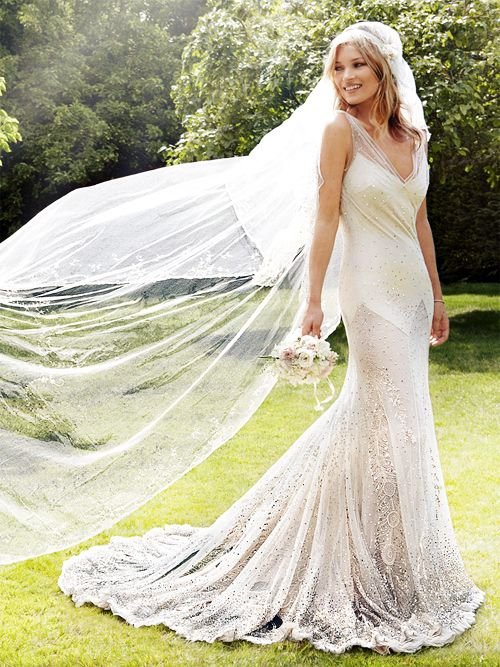 When the supermodel was to wed Jamie Hince, her instruction was a classic John Galliano dress with lashings of chiffon. He delivered!
---
16

Mia Farrow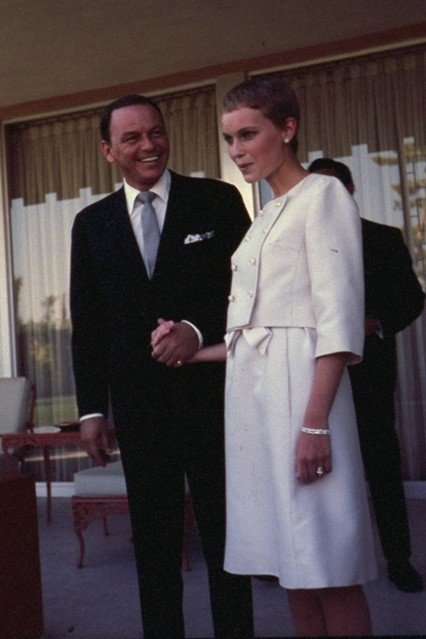 It was the 60s. All the celebs seemed to be eschewing anything with even a whiff of meringue or tea gown. Mia was marrying Frank Sinatra. In a mini dress matched with a short boxed jacket, she was a pixie-perfect bride-to-be.
---
17

Sarah Jessica Parker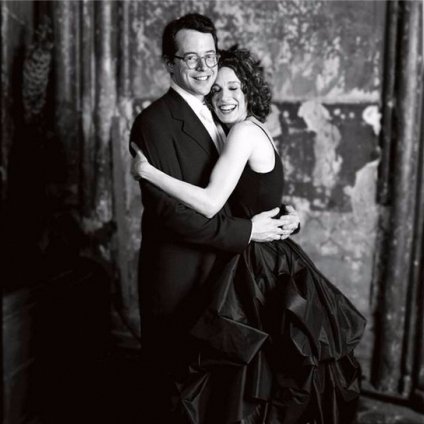 As Carrie Bradshaw, SJP became one of our favorite style icons. She certainly made a SATC-style style statement when choosing a black bridal gown to marry Matthew Broderick.
---
18

Keira Knightley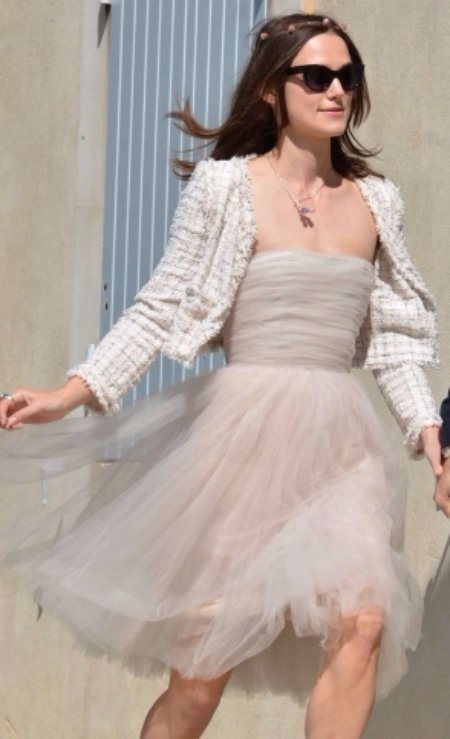 Maybe Keira was a bit fed up of all those long period gowns so she chose to go short for her wedding gown. She wore a tea length dress from Chanel.
---
19

Diana, Princess of Wales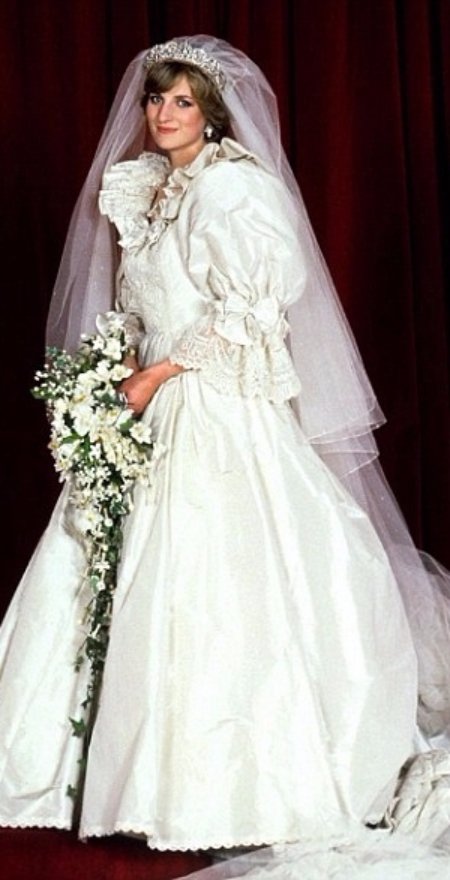 Let's end with probably the most iconic wedding dress of all. Lady Diana Spencer walked down the aisle to Marry Prince Charles in a silk taffeta and antique lace gown designed by David and Elizabeth Emanuel. RIP gorgeous lady.
---
Comments
Popular
Related
Recent