Choosing from all of the different china patterns can be overwhelming, but there are some great patterns out there that you will want to include on your bridal registry. My family has an unusual tradition of having the girls pick out their china pattern in their teens. For all of my birthdays and for Christmas I received pieces to my china pattern as I went through high school. Needless to say, I actually know quite a bit about picking out china patterns and can offer some helpful advice for brides to be. Fine china is something you will have for a lifetime, and you want to be sure you will always like it. Consequently, it is best to pick patterns that are simple. Not only will you continue to like them, but you will get much more use out of them. All of the patterns I have included on this list can be found out Bloomingdale's, and they would be perfect for fancy occasions that you and your soon to be spouse will be having.
---
1

Bernardaud "Soleil Levant"
The Bernardaud Soleil Levant pattern is a perfect pattern for a bridal registry. It is simple enough that you will like it for years to come, but the gold pattern around the edge makes it special. In case you are interested, you should know that Bernardaud is a company in France that has been making fine china for over 100 years. Their expertise has led them to create beautiful china, like this dinnerware. Of the many china patterns that you can choose, this is certainly a wonderful choice.
---
2

Waterford Crystal "Padova"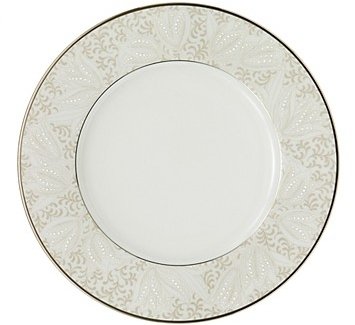 The Padova pattern from Waterford Crystal is absolutely exquisite. The trim on the plate is so elegant, it even has raised beading. If the raised beading concerns you, don't worry. My mother's china pattern has raised beading, which has lasted for years. Aside from the raised beading, I also love the cream color, which is a perfect choice for dinnerware. Anything you serve would look delicious on this china.
3

Mottahedeh "Chinois Blue"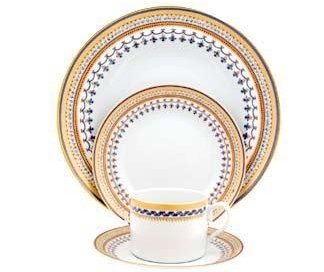 This one is a little more detailed than the previous patterns, but it is still simple enough that you should love it for many years. Personally, I love the blue and gold on the Mottahedeh Chinois Blue china. It is very sophisticated and looks perfect together. One unique feature of this pattern is that it is an adaptation of an antique china pattern. I appreciate that there is a history behind this pattern, perhaps you do too.
---
4

Philippe Deshoulieres "Orsay"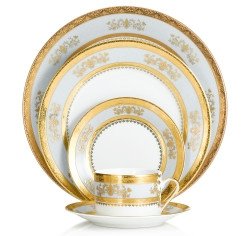 The Orsay pattern from Philippe Deshoulieres is a very elegant pattern that would look stunning at a family Christmas dinner. Although it is a more ornate pattern, this pattern is simple and unassuming. The powder blue color that is on the edge of the plates is a lovely understated color that pairs nicely with the gold. This is one pattern that I am particularly fond of.
---
5

Waterford Crystal "Newgrange"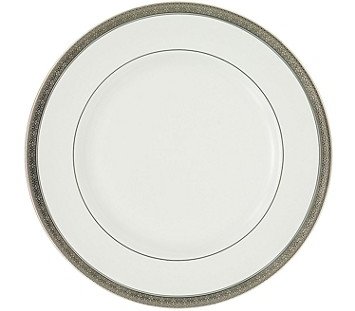 The Newgrange pattern from Waterford Crystal has a modern feeling to it that is fresh. The platinum pattern that lines the dishes is a beautiful stark contrast to the white bone china. Interestingly, this platinum pattern was inspired by an ancient Celtic design. Somehow it still manages to feel very modern. It is the perfect china set for those of you with an affinity for platinum.
---
6

Marchesa by Lenox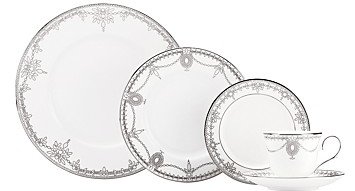 The Empire Pearl pattern from Marchesa by Lenox is perhaps my favorite china pattern on this list. The black pattern on the white china is so attractive. Also, each size plate has a slightly different pattern, which adds a lot of visual interest to a table setting. The nice thing about this pattern is that it is intricate enough to be interesting, but the black and white pairing keeps it from being too ornate.
---
7

Royal Crown Derby "Carlton Gold"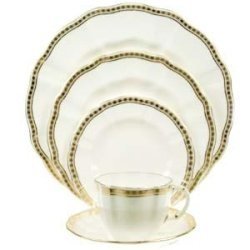 Sometimes it is not the pattern that makes a china set interesting, but it is the shape that makes it special. The scalloped edges on the Carlton Gold china from Royal Crown Derby are so beautiful and they make the china very distinctive. Without the scalloped edges the gold border could seem boring, but with them it is just perfect. This would be a beautiful china set for any bride to include on her registry.
If you are in the process of planning your wedding, you are probably very overwhelmed with everything that has to be done. Thankfully, picking out a china pattern doesn't have to be overwhelming. You can use this list to guide in your choices, or perhaps you found the perfect china pattern among these choices. What pattern would you consider putting on your registry?
---
Comments
Popular
Related
Recent