Now that I've mentioned movies that can inspire your wedding theme, let's talk about movie wedding dresses! Some of them are a little outrageous while others would be a dream come true to walk down the aisle in. Here are 8 Beautiful Movie Wedding Dresses that I love, which ones are your favorite...
---
1

Twilight Movie Wedding Dress....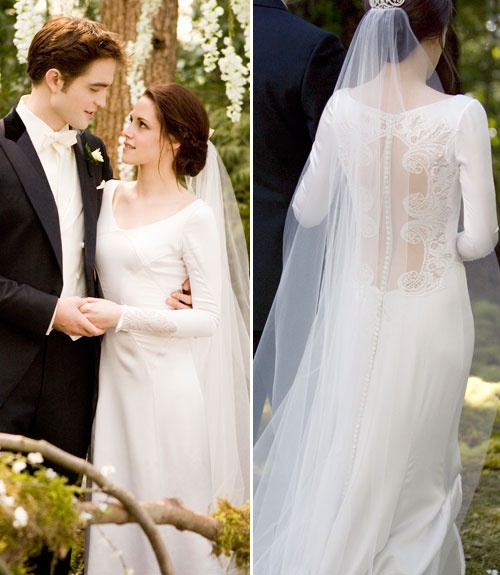 Photo Credit:Marie Claire
Young girls are probably still dreaming of Bella's Twilight: Breaking Dawn wedding gown. The modern cut out in the back, the long sleeves, the lace; it's simple in an elegant way. If you didn't know Carolina Herrera before seeing this movie wedding dress, you certainly should know her name by now!
---
2

Bride Wars Movie Wedding Dress...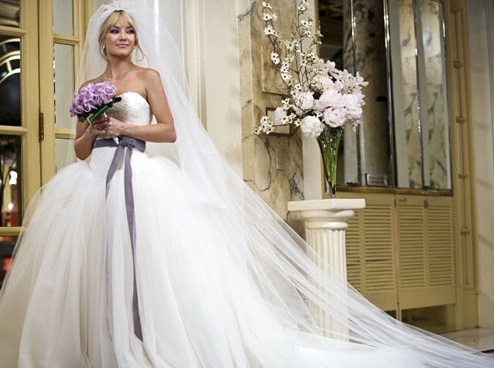 Photo Credit: The FW
Tulle, tulle, and more tulle! Kate Hudson's Vera Wang wedding gown in Bride Wars fit her like a dream. I never thought I would fall in love with a drop waist gown, but Vera really knows how to make any bride fall head over heels for her wedding dresses. This is one of my favorite movie wedding dresses, is it on your list?
---
3

The Other Bride Wars Movie Wedding Dress...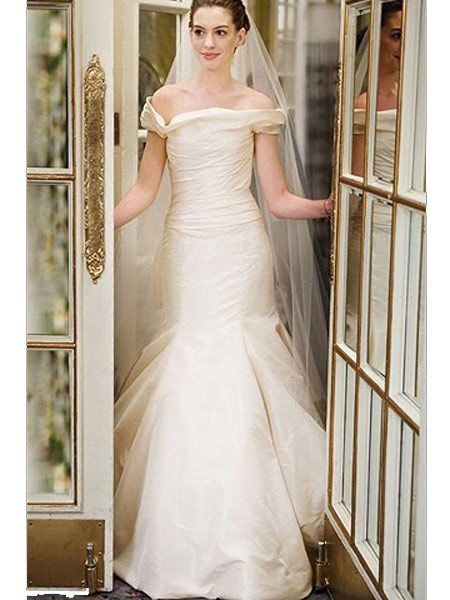 Photo Credit: Luxpresso
Did you know that Anne Hathaway's movie wedding dress from Bride Wars was also made by Vera Wang? It's not one of my personal favorites as far as gown styles, but Anne does look stunning in it. It was actually a vintage take on Vera, as it was Anne's character's mother's wedding gown.
---
4

Sex & the City Movie Wedding Dress...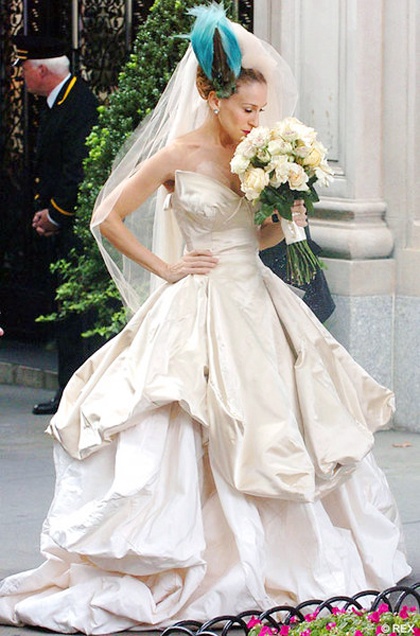 Photo Credit: Marilyn's Keepsakes
Anyone who has seen the Sex and the City movie starring Sarah Jessica Parker will never forget her character's over the top, head to toe bridal ensemble. Vivienne Westwood was the perfect designer for Carrie Bradshaw's unique fashion sense, it was just the statement she was looking for to get everyone in NYC to notice her! Too bad it was too much for her groom.
---
5

The Vow Movie Wedding Dress...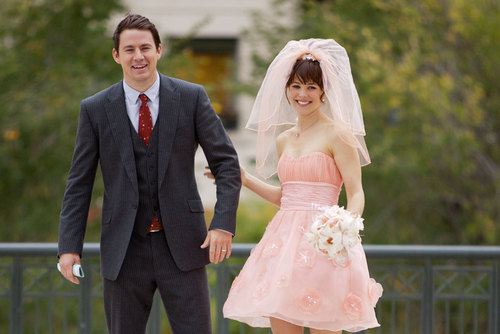 Photo Credit: Marketplace Weddings
2012 was the year colored wedding dresses were on trend and they don't seem to be going any where for this year's weddings. That's why I had to include this adorable pink little number Rachel McAdams wore in The Vow. I love the soft color, matching veil and the short hemline, great for a garden theme or even an elopement!
---
6

Funny Face Movie Wedding Dress...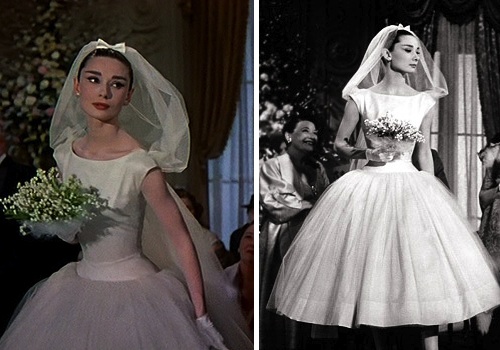 Photo Credit: Fifties Wedding
I couldn't leave a classic fashionista like Audrey Hepburn off my movie wedding dress list! I wonder if this beautiful tea length dress is in a museum or a vault some where! She will forever inspire wedding aisles and runways.
7

Jumping the Broom Movie Wedding Dress...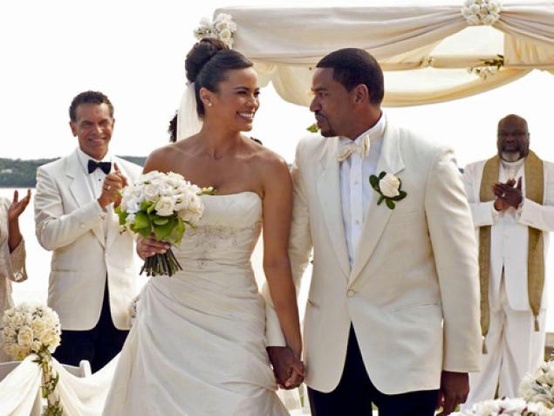 Photo Credit: NYDailyNews
Jumping the Broom may have been full of laughs, but it was also full of romance and a gorgeous movie wedding dress. Paula Patton looks like a knock out in anything, but she looks especially stunning in this Anjolique wedding gown. It wraps around her curves like magic and is one of my favorite movie wedding dresses.
---
8

Star Wars Movie Wedding Dress...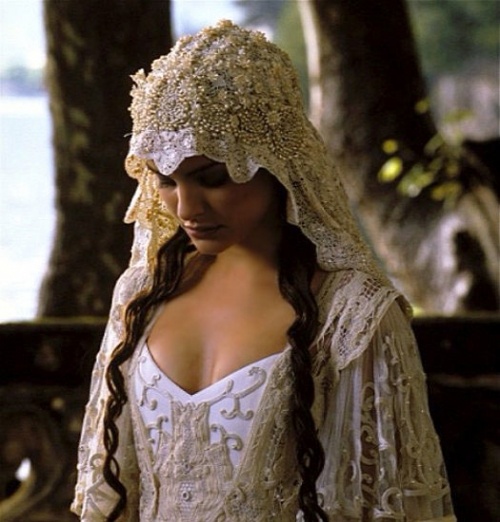 Photo Credit: Corals Bridal
Star Wars geeks are probably so excited that I didn't leave this one of a kind movie wedding dress off my list! The beading on Padme's veil is phenomenal as well as the details on her gown. I would love to see more veils inspired by this one.
What movie wedding dresses are your favorite, are they on my list? I love all of these movie wedding dresses for different reasons, from the never ending tulle to the intricate lace, and I only hope they will inspire you in your wedding gown search.
---
Comments
Popular
Related
Recent