Having recently experienced the joy (and stress!) of finding the perfect wedding dress, I've become fascinated with some of the more unusual wedding gowns out there. From themed weddings to holiday ceremonies, dresses have become extravagant and strange. These aren't your classic white A-Lines or Empire Waists, these are very unusual wedding gowns.
---
1

Mrs. Claus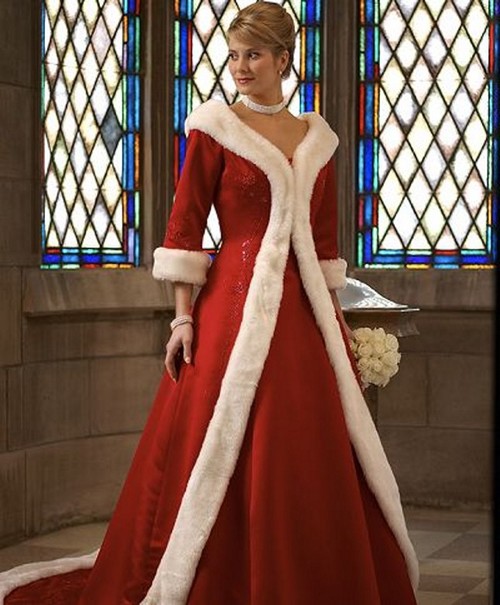 Of all these unusual wedding gowns, this is perhaps my favorite. It does make you look like Mrs. Claus, but the outdoor, snowy wedding photos would be beautiful! If you are looking to stand out amidst the white winter landscape, this vibrant red dress will definitely make you noticeable! If your wedding falls near Christmas and you are looking to take a non-traditional route, this may be your dress!
---
2

Halloween Chic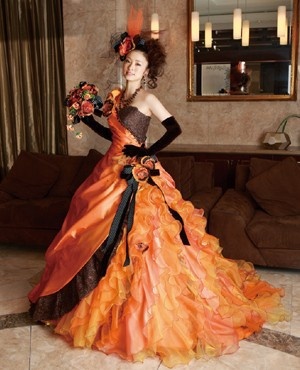 For Halloween themed weddings, this is the best dress I have seen. The vivid orange dress with the black accents offers the perfect balance for all of the autumn or Halloween décor that will surely adorn the area. Halloween weddings are some of the most exciting themed weddings I have been to. There are so many fun and funky ideas available to make the day a success. If you are having a Halloween wedding you are obviously an exciting person, let your dress show your individuality.
3

Pretty in Pink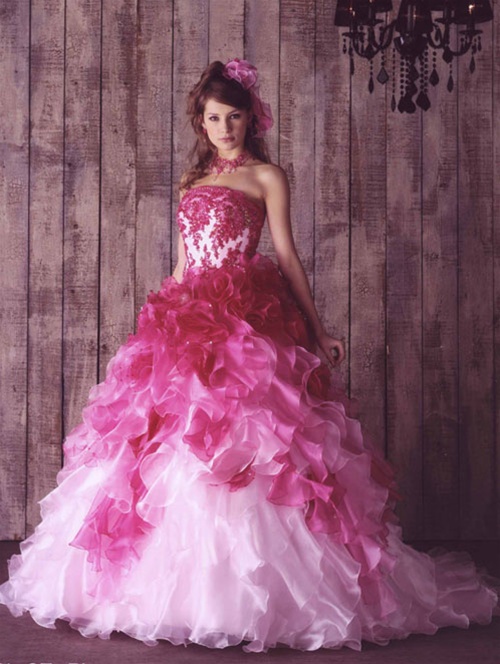 If you are a girly-girl who wants a non-traditional wedding gown, this floral inspired dress in varying shades of pink will give you everything you're looking for. This pretty, eye-catching dress is perhaps one of the most feminine looking creations I have seen. The wispy, flowing layers add pops of appealing color to achieve a gorgeous look you're sure to love!
---
4

Black Beauty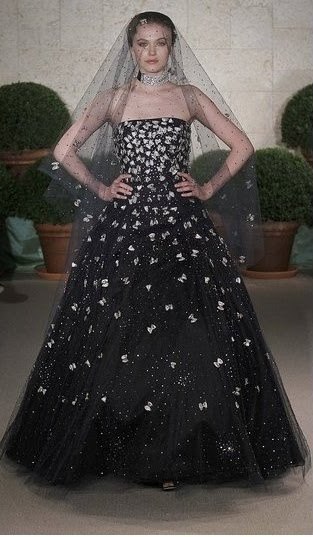 While black is not a color one would normally think of when picturing a wedding dress, when done right, it can be outstanding. I very recently attended a wedding where the bride and groom dressed completely in black and the entire bridal party was in white. Their pictures came out stunning, the contrast really made the wedding couple stand out. It may be unusual but it can also be beautiful. Adding jeweled accents or some sort of sparkle definitely helps it feel more like a wedding gown.
---
5

Victorian Frills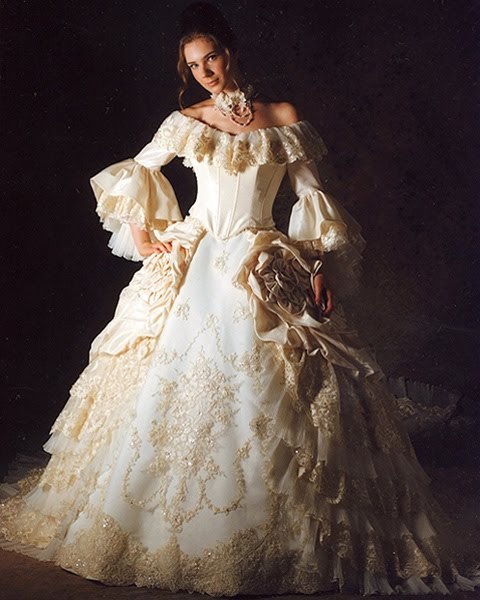 If there is one wedding theme I absolutely love it is the Victorian theme. Nothing captures feminine beauty like a Victorian wedding dress. The layers and lace as well as the full billowing sleeves add a loveliness rarely seen now in the age of sleek, slim dresses. The cut of the neck on this gown is incredibly attractive and the purposeful discoloration adds wonderful character.
---
6

Belle of the Ball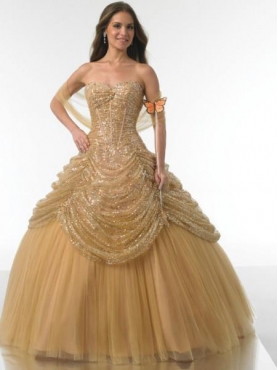 Beauty and the Beast has always been my favorite Disney movie. While I did not choose a Belle inspired dress for my wedding, I can certainly see why someone would choose this dress for their magical day. Every woman should feel like a princess on her wedding day; with this Disney Princess gown, that's guaranteed! I love the design of the dress and the color is just gorgeous! There are several "real life" versions of Belle's dress, but this is by far my favorite.
---
7

Radiant Splendor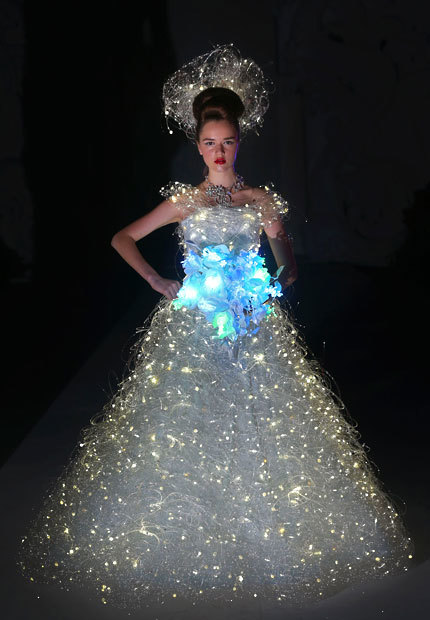 If you really want to shine on your wedding day, this light up dress will make sure you do! There are several versions of light up wedding gowns now, from simple to extravagant. Don't worry, there are a few matching tuxedos too. Imagine the glow as you twirl around the dance floor for your first dance. Designers are getting very clever and creative; these wedding dresses lend an air of futuristic fantasy to your beautiful day.
Many new brides are opting to forgo the traditional wedding, from dress to location and décor. Gals are getting very imaginative and letting their personalities really show through. These unusual wedding gowns highlight the unique and varied ways women are choosing to adorn themselves for their big day. Would you wear a non-traditional wedding dress, or would you rather stick with the classics?
---
Comments
Popular
Related
Recent