I'm pretty sure I was born in the wrong decade, I am just crushing over these lovely vintage wedding dresses. Lace, sleeves, fun and flirty skirts...what's not to love! Whether you are a hippie chick from the '70s, or love the poodle skirts of the '50s, I have vintage wedding dresses to show the retro bride in you who is ready to rock her favorite era...
---
1

1950s Lace Vintage Wedding Dress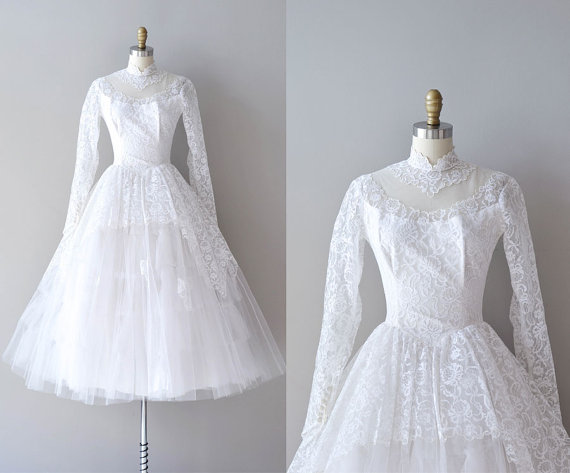 A high neckline, long sleeves, and a full skirt: this is undoubtedly a vintage wedding dress from the 1950s. The lace collar and bodice remind me of Grace Kelly's gorgeous wedding gown, oh to feel like a princess on your wedding day, wouldn't that be fabulous! How sweet would this flirty little dress look with a birdcage veil and red wedding shoes...love! You can find this and many other retro clothes over at Dear Golden vintage etsy.com shop.
---
2

1960s Vintage Wedding Dress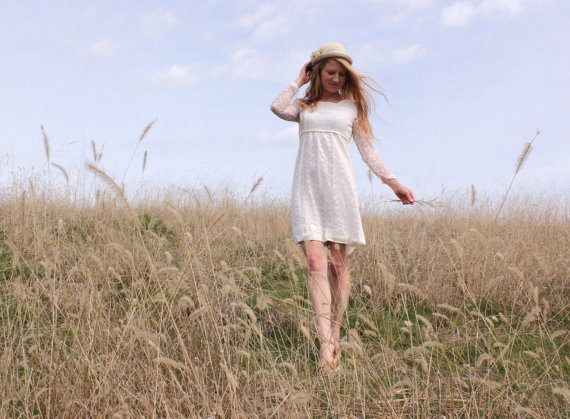 Just wait until you see the details on the back of this adorable 1960s vintage wedding dress. Featured on the back is the cutest little bow that has an attached lace train that matches the dress! I love the high empire waist, a dress like this one would be great for a courthouse wedding or something to change into for your reception. I could picture a bride in this little number carrying sunflowers down the aisle, what do you think? Check out etsy.com for more details on this dress.
3

1970s Hippie Vintage Wedding Dress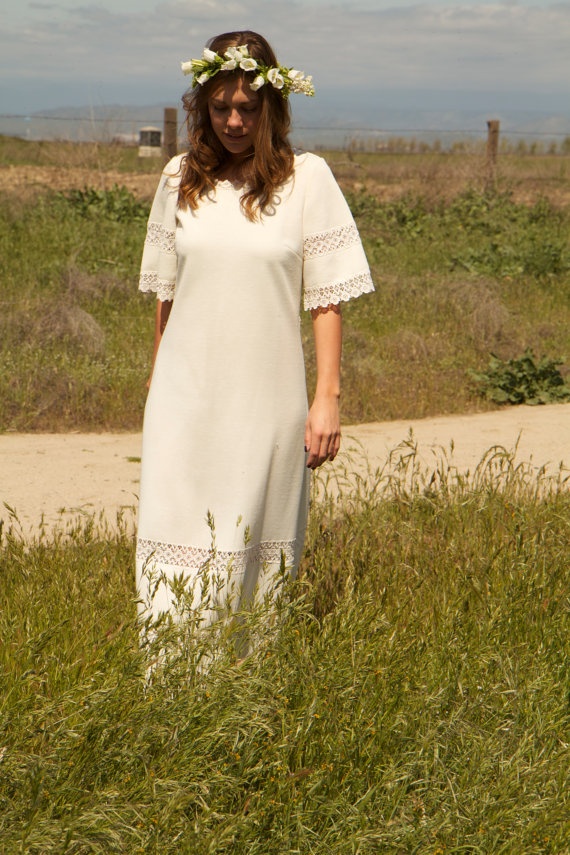 Is the flower child in you loving this vintage wedding dress as much as I am? I love how they styled the model with a floral crown and flowy hair, quite the perfect look for a hippie, boho bride. I love the stunning crocheted details on the sleeves and skirt. You could wear the dress as is for a simple, easy going look, or dress it up a bit with a funky belt that would really show off your hippie chic style. Stop by Daughters of Simone for more dresses to wear for your retro themed ceremony and reception.
---
4

1970s Yellow Vintage Wedding Dress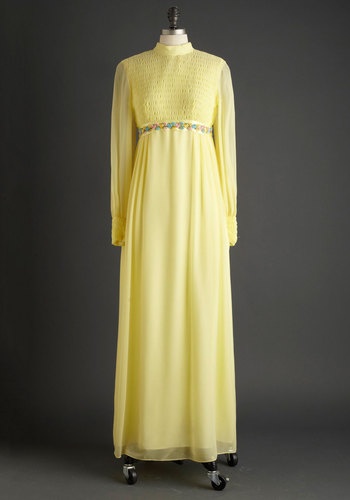 For some reason I can see a beautiful, pregnant bride walking down the aisle in this yellow vintage wedding dress. Perhaps it's the high empire waist; wouldn't a baby bump look so adorable with this dress? I love the thought of a hippie bride wearing a yellow dress while carrying a bouquet of fresh wild flowers; peace man...peace! Hurry on over to ModCloth to find this dress.
---
5

Two-Tiered Vintage Wedding Dress...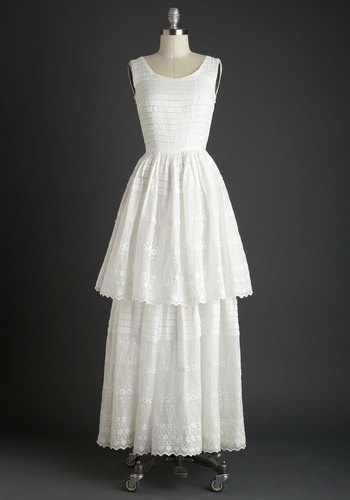 I love finding vintage wedding dress styles from the '60s and '70s that have inspired modern wedding dresses of today. Everything old is new again! What's great about actually buying the real vintage dress is that you aren't paying for the modern price! My friend Katie over at Vintage Vinyl Journals shared this dress from ModCloth with me that cost only $298. Sadly it's no longer available, but I just loved the look of it so much that I couldn't go without showing it to you. Perhaps you can find a similar one online.
---
6

1950s Satin Vintage Wedding Dress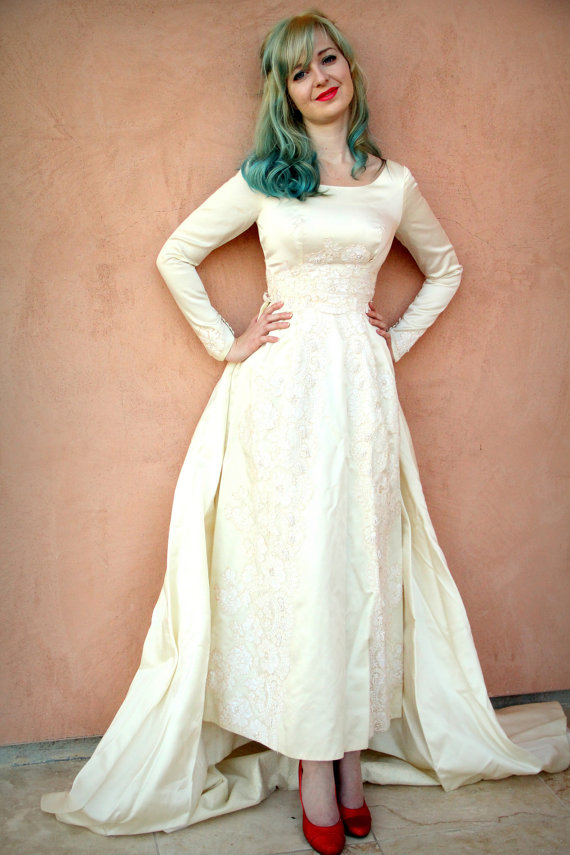 How did they fit into these dresses? Women were so tiny in the '50s, every detail I see mentions that vintage sizes are comparable to extra small sizes we have today! Though if you really love this gorgeous, silk satin gown, I'm sure the waist could be altered to fit what our frames are today. There's just something about long sleeves and a high neck on a silk dress that feels sexy without trying too hard. I love the way this dress shows off her curves, I could see Joan from Mad Men wearing a gown like this! You can find this dress and many others over on etsy.com.
---
7

1950s Tulle Vintage Wedding Dress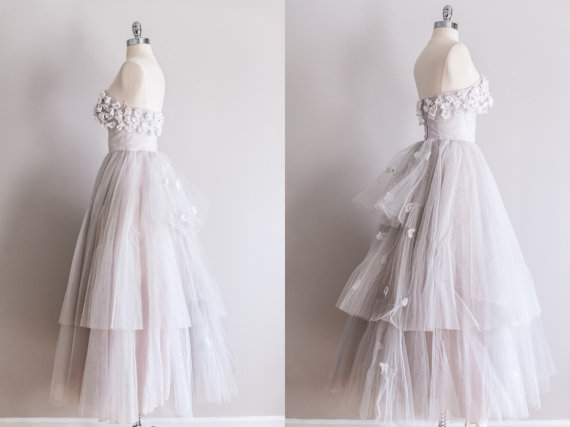 This may have been a prom dress in the 1950s, but who said it couldn't be worn as a vintage wedding dress today? I love the tulle skirt and the details on the bodice, it reminds me of a dress seen on the movie Grease! I've always wanted to dress up in a fun, vintage dress like this one...are you daring or retro enough to wear this on your big day? Head on over to etsy.com to purchase this dress and find many others like it!
So tell me, do these vintage wedding dresses speak to you? Are you thinking of planning a retro themed wedding day and rocking a vintage wedding dress down the aisle?
---
Comments
Popular
Related
Recent