Looking for some fab shoes to get married in? Well, I know what you are going through because I'm in the same situation myself. A wedding is one of those moments you'll always remember so looking your best is simply a must. I, for example, don't want to catch myself looking at my wedding photos 30 years from now, regretting my own choice of wedding attire. A fab dress simply must be worn with a pair of fab shoes so, for all of you planning to splurge and all of you with a strictly limited wedding budget, here's a list of 8 perfect shoes ranging anywhere from under $100 to almost $1000:
---
1

Marechale 100 Satin Sandals by Christian Louboutin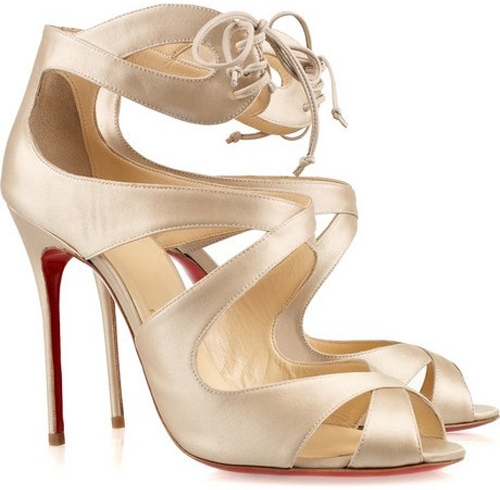 Price: $897.00 at net-a-porter.com
These gorgeous sandals will be adorning my happy feet during my big day! Everybody say I'm crazy but I just can't help it! Yes, the dress will hide them but, hey, I won't be wearing them to show off but because Louboutins are my dream shoes and walking down the aisle wearing them will make me feel like a princess. Well, with a year and three months left until the wedding, I'll just have to work up a successful savings strategy.
---
2

Paloma Satin Platform Pumps by Charlotte Olympia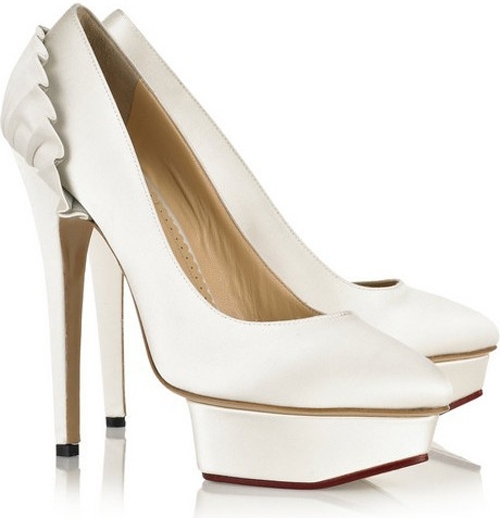 Price: $840.00 at net-a-porter.com
A modern, fashion-conscious bride definitely deserves to say her "I do" wearing these chic satin pumps! One thing is for sure: he will be admiring you wondering how he managed to find such a beautiful woman and all the girls at your wedding will be admiring your shoes wondering where in hell you managed to snag such an eye-catching pair!
---
3

Bow Embellished Patent-Leather Pumps by Valentino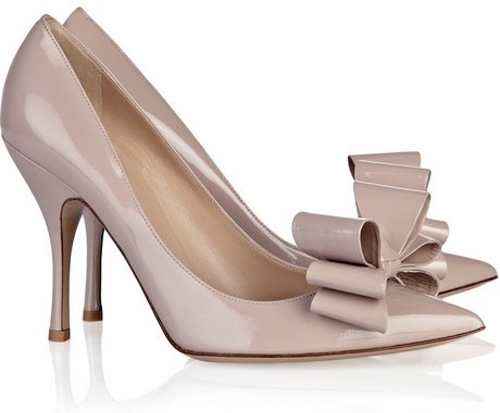 Price: $745.00 at net-a-porter.com
A wedding dress doesn't have to be totally white, fluffy or long and, in case you're reading this and nodding your head, I bet you'll agree that this chic pair of shoes by Valentino is exactly want a stylish bride needs to complete the whole nude-toned and, yet, oh-so-glam look. This shiny pair in patent leather will keep your feet looking fab even after the wedding because you'll have a whole bunch of non-wedding outfits to wear them with!
---
4

Lace Covered Satin Pumps by Alexander McQueen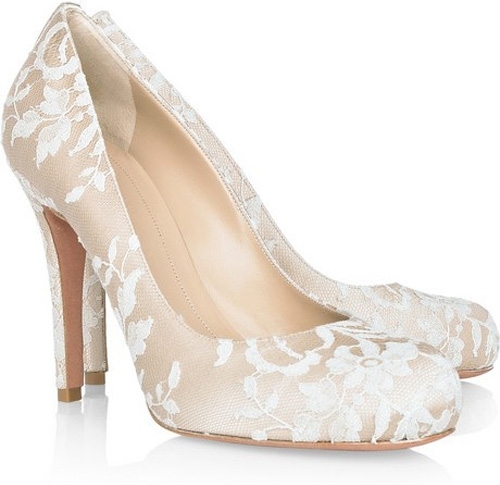 Price: $995.00 at net-a-porter.com
If you still can't decide on the color of your dress, I suggest opting for these romantic bridal shoes that will look fab on both totally white and nude-color wedding dresses. I don't think you'll find them very useful after the wedding but, hey, if money is not a problem and you simply must have a pair of McQueens, rush to the checkout and don't look back.
---
5

Eveline Pumps by Kurt Geiger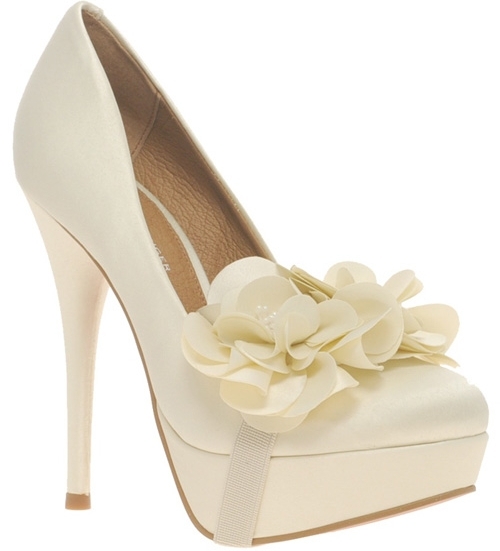 Price: $268.95 at asos.com
Detach the flower and you'll have a pair of classic, sky-high platform court shoes or keep the flower on and add a touch of romance to your already sexy, stylish, bridal look. The beauty of this pair lays in their modern shape, gorgeous-looking platform and the ability to go from romantic to sleek and low key in just a couple of seconds. Now, isn't that just what a bride needs?
---
6

PEARL High Shoes by ASOS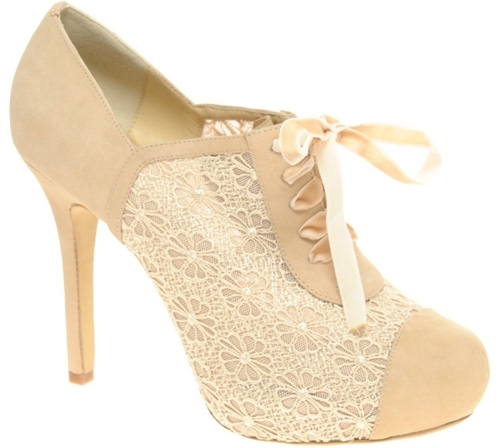 Price: $64.55 at asos.com
Now what do you say about these vintage babies? I totally love the idea of a retro themed wedding so, if that happens to be exactly what you have in mind, do take these pearl embellished, lacy shoes into your consideration. I'd wear them with a short dress, very low in details and complete the whole look with a pair of short, lacy gloves, pearls and diamonds.
7

Humbie II by Badgley Mischka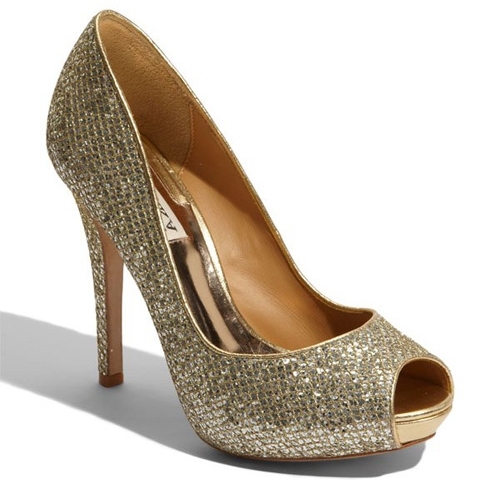 Price: $200.00 at shop.nordstrom.com
Glass slippers are so last year! Modern princesses wear gold, glittery pumps and they don't need to lose them in order to get their prince to say "I do". Feel free to show your dancing skills and don't even bother to look at the clock because these shiny babies are going to enchant everybody and keep them under your spell even after midnight!
---
8

"Sinful" Pumps by Steve Madden

Price: $89.95 at shop.nordstrom.com
Why "Sinful", you might wonder. Well, I've been thinking about it too and the only logical explanation I could come up with is that it would be a sin not to get them. If platform is not what you want for your wedding, these classic pumps with an interesting rhinestone embellished buckle could be a perfect addition to your bridal attire. Start with the first dance and simply dance the night away in these fabulous comfy heels. Oh yeah, and remember to send me a postcard from that high end honeymoon resort you'll be able to afford because you didn't blow all your cash on a pair of wedding shoes.

Which one of these fab shoes are, in your opinion, the "fab shoes to get married in" material? I'd love to get two pairs but, since my shoe selection isn't really the most budget-friendliest one out there, I guess I'll just have to keep both my cravings and my money under control.
---
Comments
Popular
Related
Recent