I was trying to decide what type of bridal shoe to feature today and Zappos.com'sfront page gave me all the inspiration I needed! It's all about the wedge ladies. Whether they are cork, raffia-wrapped, leather, or satin, you'll be sure to find the wedge that fits your style for your big day. Would any of these 5 sexy shoes be the one you walk down the aisle in?
5

A Wedge with a Little Sparkle...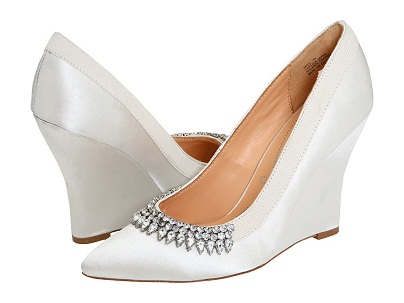 Photo: Zappos
Price: $100.00
So how high do you wear your wedge heels? I love the look of this glamorous bridal wedge **from Pour La Victoire; it's soft and satin with a touch of glitz and **sparkle. This is a bride who wants to shine without going over the top.
4

Retro Style...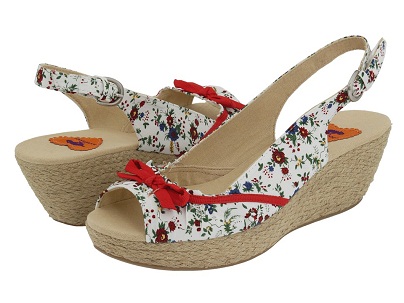 Photo: Zappos
Price: $54.95
Picture the offbeat, retro bride who would wear these lovelyRocket Dog**floral wedge** shoes! Can't you just see her stunning birdcage veil, red lip, the wavy curl in her hair, her short wedding dress, and these fun red bow wedge sling-backs. Retro or not, these would be a great Spring or Summer shoe for any woman.
3

Rustic Ruffle...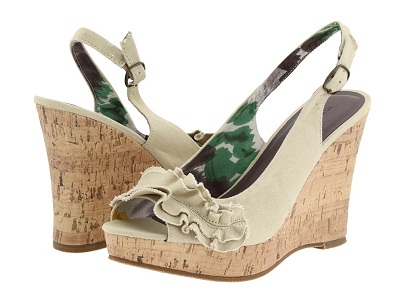 Photo: Zappos
Price: $49.95
It's a wedge with a ruffle! I love that this wedge is not your normal, adorable, bridal ruffle shoe. To me this Madden Girlcanvas wedge has a rustic feel to it and would be a great shoe for a country or barn reception bride.
2

Mellow Yellow...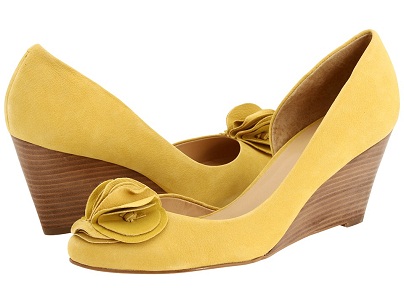 Photo: Zappos
Price: $85.00
Who doesn't need a Nine West**yellow wedge** shoe to brighten up their day! What's great about the tone of this yellow is how mellow and calm it is without being too bright, but it is still very cheerful. It's a cute wedge with a pop of floral detail on the toe.
1

Sleek & Classy...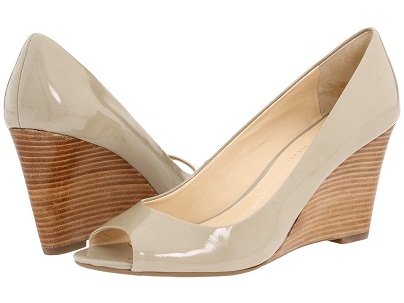 Photo: Zappos
Price: $89.00
Neutral, classic, and perfect for any event, especially a wedding! I love the stacked wedge and the sleek look of this Franco Sartoshoe. You can wear it right from your engagement party, to your bridal shower, and all the way down the aisle! This is one wedge that will never go out of style.
**Which wedge will you strut your bridal stuff in?! **
Top Photo: Zappos.com