St. Patty's Day is March 17th and it gives us every excuse to party and celebrate so why not celebrate your wedding day with the** luck of the Irish**! There are so many ways you can go about decorating and accessorizing your Irish theme. You can go all out from top to bottom or give little hints of the holiday and heritage you love. Inspired by Nan and Dan @ Dancy Daysfor their heritage and month long celebration...here are 7 ways to celebrate your Irish Themed Wedding...
7

Green Bridesmaids...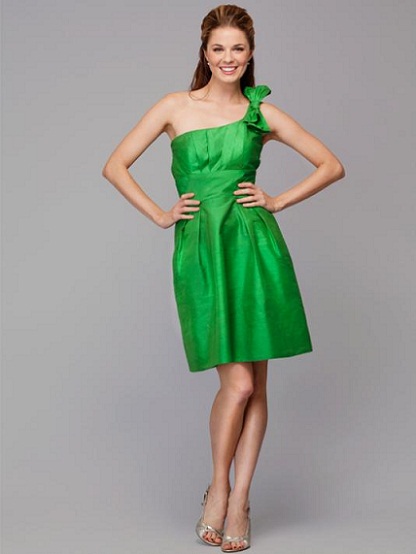 Photo: FashionableBride
This adorable bridesmaid dress is just the most beautiful color of green. It's so perfect for your Irish Themed Wedding that the name of the green color is Ireland! The bow on the shoulder is such a lovely touch on this Siricocktail dress. There's even hidden side pockets! What a fun dress.
6

An Irish Gift...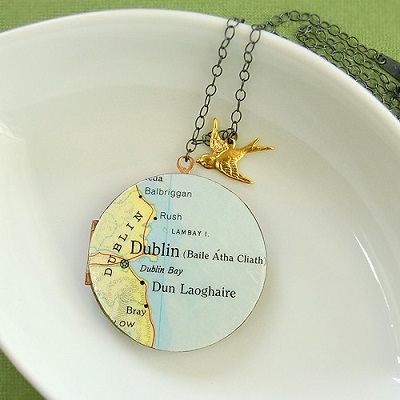 Photo: Etsy.com/shop/Vsc83
When I saw this unique Dublin map locket I knew I had to include it in my round-up. This would be a wonderful gift for the mother of the bride with a photo of the new couple inside. Or let your sweetheart know that you would like this as a bridal gift to celebrate your heritage!
5

A Green Wedding Dress...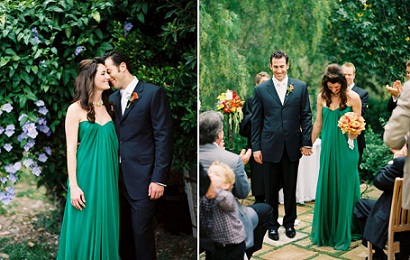 Photo: Susan Deanvia GreenWeddingShoes
Who says the bride has to wear white? I love the emerald color of the bride's dress; she rocks it well! Let your guests know how happy you are about St. Patrick's Day and make everyone green with envy when they see how gorgeous you are!
4

Irish Cupcakes...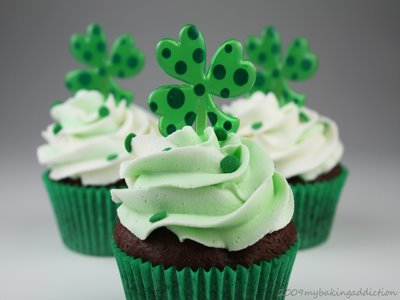 Photo: MyBakingAddiction
Green icing, green cupcake wrappers, and little green shamrocks, I wonder what you might be celebrating! Maybe you don't want to go all out with a green wedding dress or green bridesmaids but would like to show a little Irish love. With these little shamrock cupcakes you'll have just the right amount of love shown at your wedding reception for St. Patty's Day!
3

Save the Date...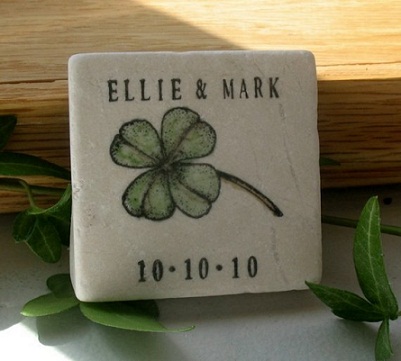 Photo: Etsy.com/shop/AngelEllie
If you're going to plan an Irish Themed Wedding let your guests know all about your idea with the cool magnet save the date. You can order a set of 20 for $37.00 and **customize **the top photo with a shamrock, an Irish Claddagh, or many other designs.
2

Irish Cake Topper...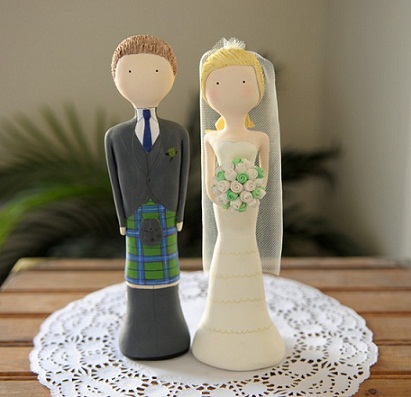 Photo: Etsy.com/shop/RedLightStudio
How cute is this Irish themed cake topper! I really love how creative artists are when couples request a special order like this. The groom's little kilt just makes me smile every time I see it, you just know the bride and groom were so happy when they saw this in the mail!
1

Tradition...

Photo: Luster Studiosvia IntimateWeddings

Are you a fan of St. Patrick's Day just because you get to wear a cute green shamrock shirt and drink beer all day? Or do you love celebrating your Irish heritage to carry on traditions and history? I love the beautiful celtic dress this bride is wearing as well as the traditional kilt her groom has on. Will your spouse walk down the aisle in attire that represents customs of their family's culture?

How will you plan your Irish Themed Wedding?

Top Photo: Luster Studiosvia IntimateWeddings