You've pictured out your dream wedding. You know exactly what your wedding dress will look like and how tall your wedding cake should be. Everything is on schedule. Or so you thought... We're listing down seven wedding mishaps experienced by real women, which you don't want to happen on your big day:
---
1

Wedding Gown Gone Wrong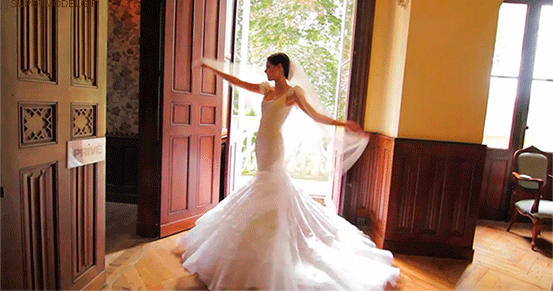 Shanna was beaming. She was all glammed up for her big day. But an hour before her wedding, her most precious white gown hadn't arrived in her dressing room. She kept on calling her designer, but the calls were left unanswered. Finally, after long agonizing minutes, the gown arrived but... alas! It didn't fit! Shanna was devastated. The lessons she learned? Get to know your designer very well. And... never opt for the cheapest service because it might give you a nightmare of a wedding.
---
2

No Flowers at the Aisle

John and Natalie thought they would have the perfect Christian wedding. But when they arrived at the church where the wedding ceremony would be held, the place was so bare it looked like no wedding was going to happen. As it turns out, their wedding planner duped them and didn't pay the florist who was supposed to decorate the church. Major heartbreak!
3

Missing Photographer

You're all set to walk down the aisle but where's the very person who will document your momentous stroll? Missing in action! So the wedding march started and you just asked your friends to please take photos using their mobile phones and tablets. That's what happened to Ara. While walking, she was hoping the photos weren't blurred so she'll have some decent documentation of her grand walk. What happened to the photographer, you may ask? He arrived in the middle of the ceremony. The excuse? He said he was not feeling well. Honestly, we're not convinced.
---
4

Overemotional Soon-to-be Mother-in-law

There's nothing wrong about shedding tears in a wedding. It really is an emotional occasion for everyone. But if your soon-to-be mother-in-law gets too weepy and won't let go of her son and repeatedly says, "I hope she takes care of you and cooks good food for you," then that's the time when you just want to freak out. Thankfully, in the case of Justin and Marinel's wedding, the father of the groom eventually convinced his wife to let go of her son's arm so he could go ahead and proceed to his wedding. Hilarious but alarming!
---
5

Late Serving of Food and Drinks

Seriously, you really don't want this to happen in your wedding. Jessica said they opted for a mountain view reception because it was the perfect venue for a sunset wedding. But since the venue was too far from the city and the caterer screwed up with the time, the guests ate two hours after they arrived at the venue. It wasn't a happy wedding, said Jessica. You certainly won't be smiling when your stomach is growling.
---
6

LBM Hours before the Big March

Cold feet is an all-too-familiar occurance prior to a wedding but when it's coupled with loose bowel movement, that's when you have to panic and scream for heaven's help. It happened to Emerald and she ended up wearing adult diapers just to make sure she didn't make a mess. Her advice? Make sure you don't eat chicken curry the night before your wedding.
---
7

Groom Shows up Late

"I was ready to kneel down and weep my heart out because he was already late for 45 minutes and the priest was asking if the wedding is still a go," recalls Anet. Her groom spent the night drinking with his groomsmen and they all arrived at the church late, looking pretty disheveled. Imagine the amount of verbal beating the groom got from the bride!

Any personal experiences involving a wedding mishap? How did it go?
---
Comments
Popular
Related
Recent