I'm so excited to share this real wedding with you today of hometown love, vintage memories, and a beautiful military couple. The bride is our very own Jordin Keim, and not only is she celebrating her 2nd wedding anniversary on January 15th, but also the news of expecting her first little one with husband Titus!
---
1

Vintage Memories...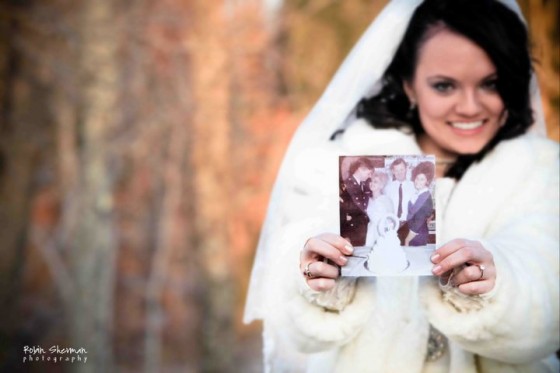 From the bride:
"I wore my grandmother's dress, so it was a true vintage. Her and my grandfather ( Gary and Brenda Hall) were married in 1968. My husband and I actually got married on their anniversary! I didn't change much of the original design. The dress was too small in the waist so my seamstress, Lori Shoots, dropped the waist and let it out. She cut the sleeves from full length to three-quarters and added some vintage lace cutouts. I also had her add an overlay of lace around the skirt with a split peak opening in the front.
The dress had a zipper, but I had her add buttons down the back to give the appearance of a button-down back. In the middle of the waist, in the front, I pinned a vintage brooch belonging to my great grandmother. I didn't wear the train, so we were able to use material from the train to do all of this with it."
2

"First Look"...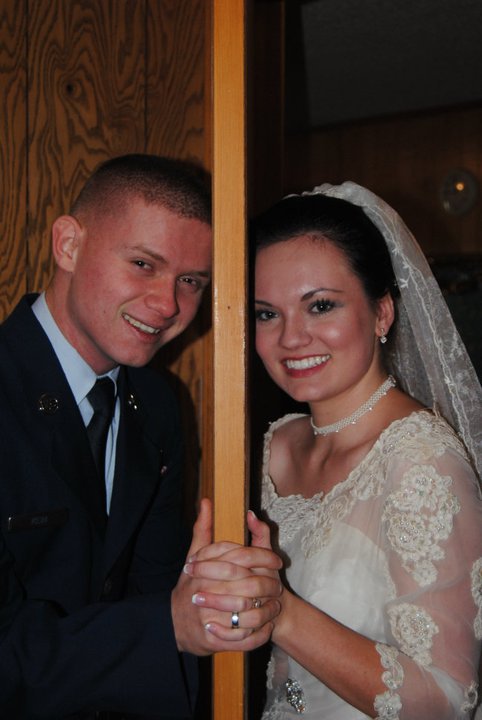 "While I was getting ready, Titus came to see me. We didn't want to see each other till I came down the aisle, so he stood on one side of the door with me on the other side and touched my hand. Our photographer was there and took a picture!"
---
3

Mother of the Bride...

"My mother wrote and sang a beautiful song to Titus right after Dad gave me away called "Treasure the key to my heart". She then presented him with a key in a little box. It was quite emotional."
---
4

Walking down the Aisle...

"We were married in the church my Grandfather, Gary Hall, pastors called Island Ford Baptist Church in Madisonville, KY. It's the same church my parents were married in and my dream location!"
---
5

Saying 'I do'....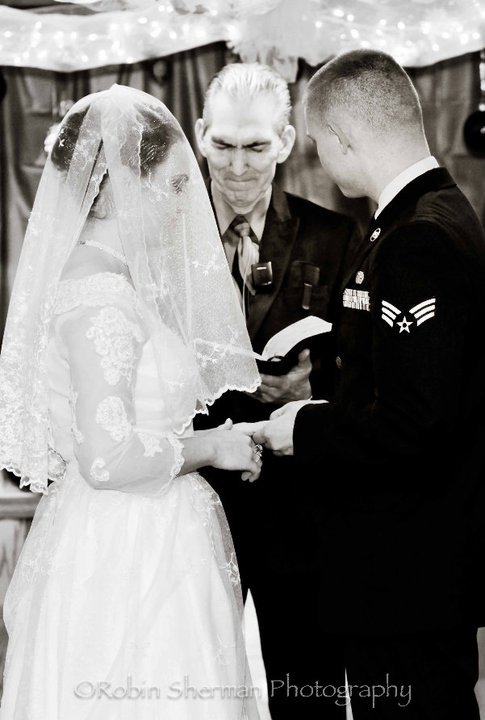 "When my Grandfather (one of the three preachers who took part in the ceremony) was supposed to say, 'You may now kiss the bride', instead, he said "The bride may now kiss her poppy!" Everyone laughed and then I did kiss his cheek!
---
6

Time to Toast...

"I planned our wedding for about 7 months. He proposed in May and we married in January. My cousin called me from boot camp during our reception to congratulate me! We were close growing up and I missed him being there. He only had limited telephone time so I felt special when he called me."
---
7

Bridal Party...

"Lori made all of my bridesmaid dresses as well. I chose the material and style that I wanted and she took care of the rest. My photographer was Robin Sherman. She was my mom's best friend from high school, and my dream photographer. My cousin, Elizabeth Rickard, with Precious Memories Photography, was her assistant. My mother, Tammy Pleasant, arranged all my flowers. I had her use flowers from her original bouquet when she married my Dad for my bouquet."
---
8

Being a Winter Bride...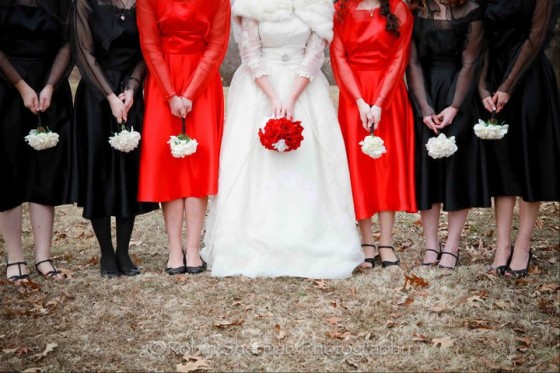 "I had the cutest little fur cape and muff to wear, it made me feel like a princess! My decorations also turned out so gorgeous, I used these snowflakes that looked like ice and white Christmas lights to turn the church into an ice land. However, it was very cold while we were doing our photo shoot. I didn't notice as much because I had the cape (and adrenaline rushes!) but my bridesmaids and flower girls were shivering."
---
9

Ever Lasting Love...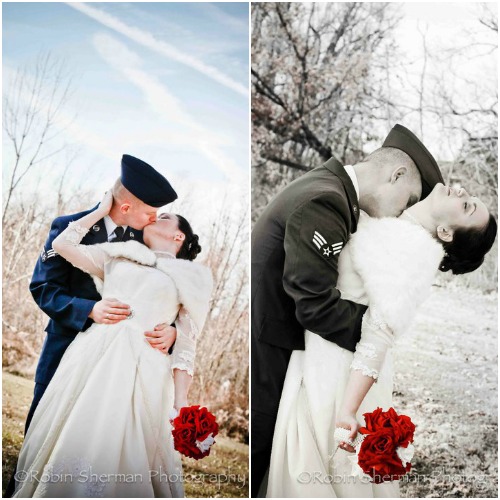 "As far as being a military bride, It was something I never imagined! My dad was in the military, as well as my grandfather, and it never occurred to me that I would carry the tradition on. I wasn't really completely sure of what I was getting into on my wedding day, it took a while of actually living the military lifestyle for it to seep in, but on my wedding day I was all aglow. My husband looked so handsome in his uniform, and my heart was full of dreams of heroism. Of course, he still looks handsome in his uniform and he is my hero everyday, but there's just something about a girl seeing a man in his blues at the end of the aisle on her wedding day! It's a hard life, but I wouldn't change it. I know what my husband does isn't easy, but I'm so proud of him, knowing that he is willing to do it. There's nothing left for me to do but support him.
I was very glad we got to Skype with his brother. Not having him there was really hard for Titus, but because he watched through Skype, it made it easier. His wife was there and I was so glad to have her. Funny...Titus was deployed when his brother got married, but I was there. Then his brother deployed while we were married, but his wife was there!"
---
Comments
Popular
Related
Recent