From the country to the city and everywhere in between, you can find wedding inspiration right from your location, which is why every big day is unique and beautiful in it's own way. I've always loved the idea of a city wedding; walking downtown through the crowds and busy streets in my dress and trying to catch a cab! If we were to plan it all over again this City Chic Inspirational Bridal Shoot from Amy-Jo Tatum Bridaland photographer Dominic Colacchiowould help push all other ideas aside and win me over with planning a downtown, city wedding!
Romance in San Francisco...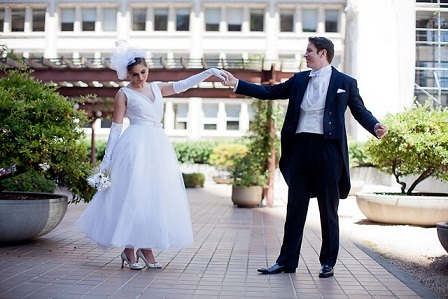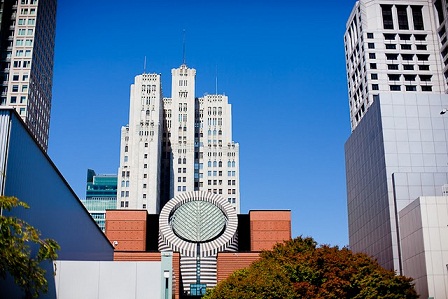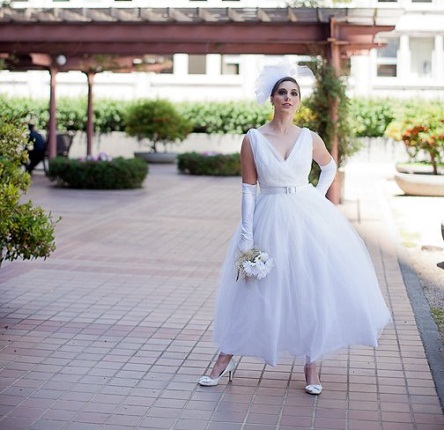 Words from Amy-Jo Tatum...
"Cities have always held a particular fascination and excitement for me, namely San Francisco, which just happens to be my home sweet home. One of the best things about my job is dressing brides for almost every kind of wedding you can imagine, the city chic bride being one of my favorite themes. The metropolitan wedding can be as informal and minimal (but chic) as a city hall affair or as high dress as this celebration on a roof garden. City dressing gives you the opportunity really 'Vogue' and wear those short kid gloves, carry a tiny satin clutch or sport that pill box hat with a wisp of veiling."
Continue Reading...
Celebrating Love, Laughter, and Happily Ever After...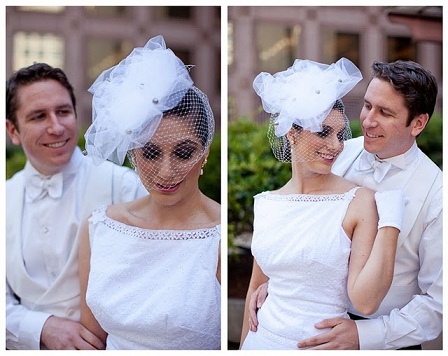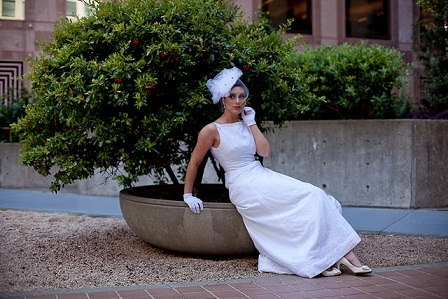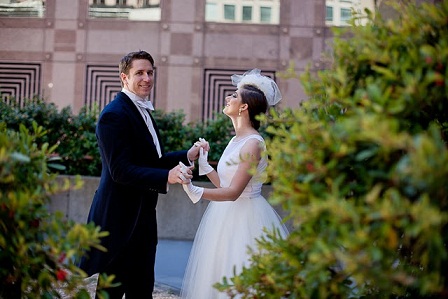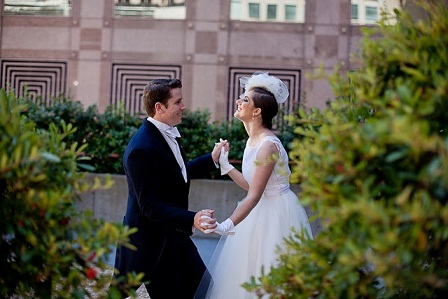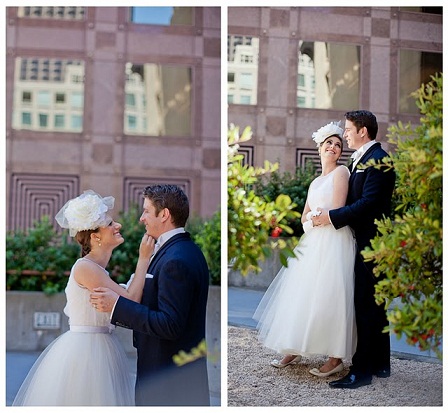 "What better way for Natalie and Dave to spend their fifth wedding anniversary than this improvised trek through San Francisco landmarks as bride and groom again? Natalie has been doing editorials for Bride Chicgoing on three years now. Having her hubby Dave pose alongside her was her idea and what a concept it turned out to be. Once we added photographer, Dominic Colacchiointo the mix, the improv and element of surprise began big time. We started our adventure atop the Crocker Galleria Roof Terrace and continued downstairs through the Galleria where the Farmer's Market was in full swing. The stunning bouquet of yellow roses were bought and made up on the spot at a little kiosk called, Abigail's Flowers. After that we all treked two blocks up to the magnificent Yerba Buena Gardens, a park South of Market Street, to take a ride on the Zeum Carousel. I'll always remember this shoot particularly for the carousel ride, the calliope going with Dave and Natalie (and Dom shooting) having the time of their lives . . . .
Continue Reading...
Kiss Me in the City...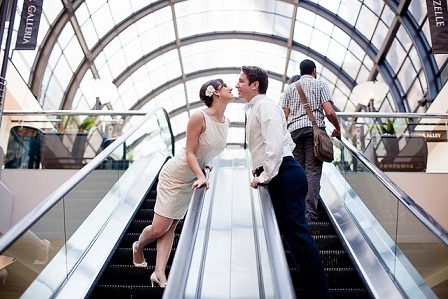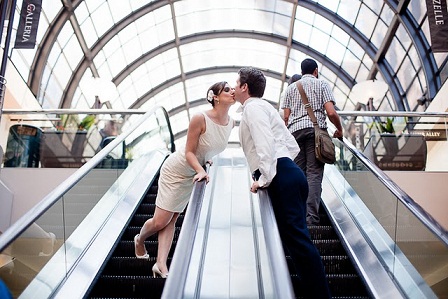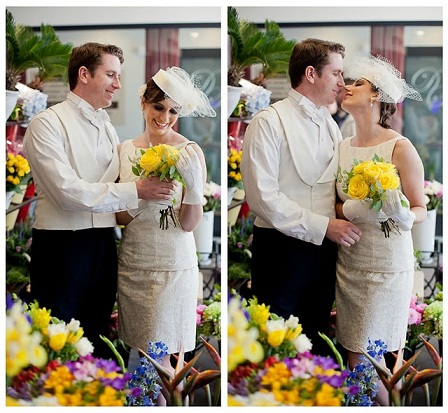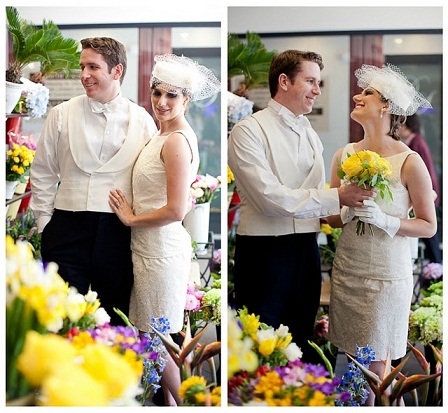 These gorgeous photos show how exciting and full of life a city can be and the magic it can bring to your big day. There are so many sights and sounds of the city to include into your photo shoot whether it is for your engagement, wedding, or anniversary like Natalie and Dave. There are options for your wedding no matter how big or small, even if it is just the two of you together getting married at city hall, make a day of it through the local market buying flowers and ice cream...and even catching a ride on the carousel...
Continue Reading...
Riding Life Together...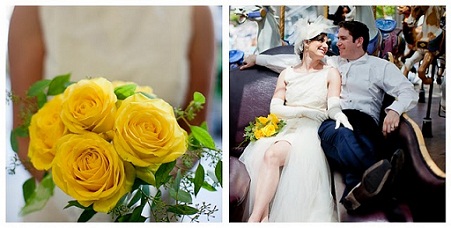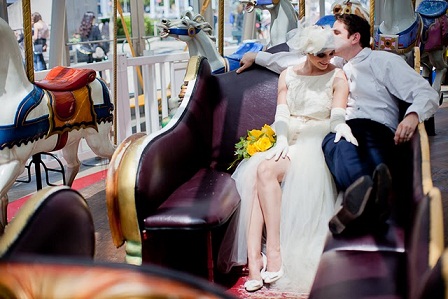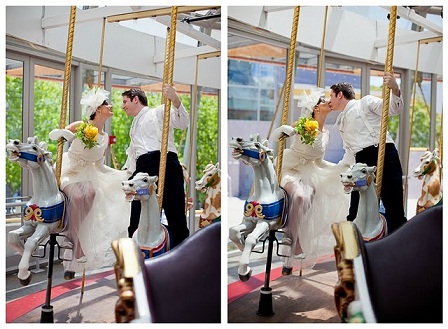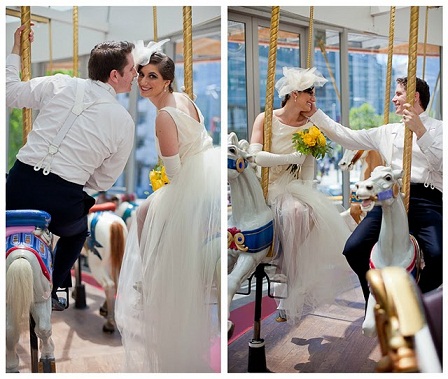 How sweet are these photos! Just being together in the city you love and celebrating what you have together is all you really need, well that and maybe a gorgeous dress from Amy-Jo Tatumand a photographer like Dominic Colacchio to take your pictures as you enjoy the day! I would have never imagined how romantic riding on a carousel could be until I saw this lovely, romantic couple. May their love grow each year.
Continue Reading...
A Bride in the City...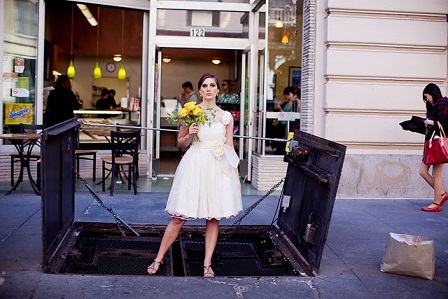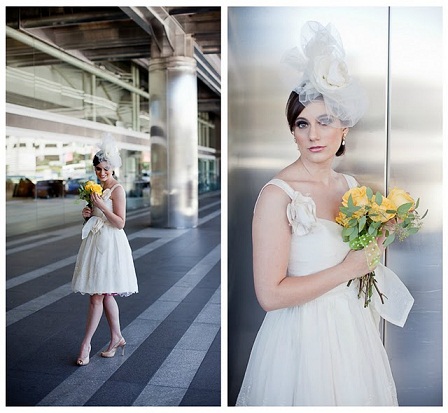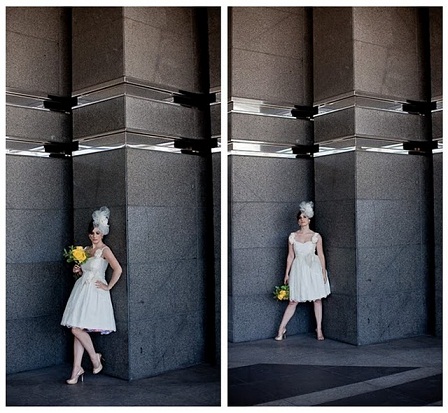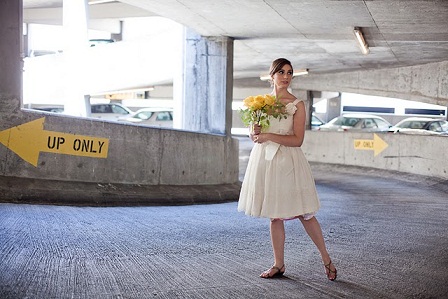 Imagine the possibilities of creative shots in just one city; here are four different looks created by just using the architectural beauty of the buildings. In the city you can be rustic, chic, modern, artistic, classic, vintage, or even offbeat. Be inspired by the city around you and build your theme around the lights, sounds, events, and buildings that you fell in love with. Be City Chic!
Special thanks to Amy-Jo for always sharing her beautiful work with us!
CREDITS
Photography by Dominic Colacchio
Dresses and Head Pieces by Amy-Jo Tatum
Makeup by Necia Whitmore
Dave's Tux by Magnoli ClothiersNew Zealand
Flowers by Abigail's Flowersin The Crocker Galleria
Venues: The Crocker Galleria, Yerba Buena Gardens, Zeum Carousel
Models: Dave and Natalie