Are you looking for a gift that your groom will never forget; something more than just a watch or cufflinks? In these 5 hot boudoir photos you will feel sexy yet comfortable as you knock the socks off your soon to be husband...give him the surprise of a lifetime!
---
5

Naughty or Nice...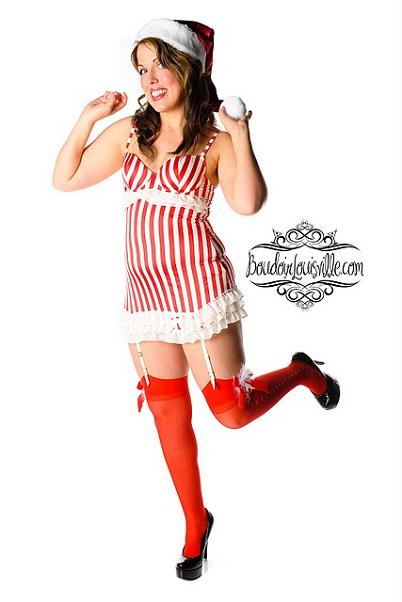 Photo: PinupGirlPics.com
Here comes Santa's little helper! Boudoir photos don't have to be all about showing off your skin and exposing yourself, though there is nothing wrong if that's what you do want. However, if you'd like to have fun, feel sexy, and comfortable wear a cute one-piece outfit like this adorable Santa lingerieyour fiance will love! **Ho, Ho, Ho...will you dress up for his Christmas gift? **
---
4

60's Inspiration...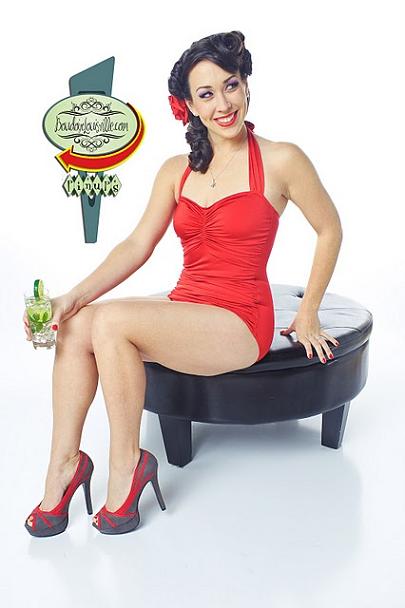 Photo: PinupGirlPics.com
Swim right into his arms! Does your man love to watch Mad Men or have a few pinup girl tattoos? Take your groom back to his favorite era as you dress up like a sexy pinup girl who will spank him if he gets out of line! Put on a 60's inspired bathing suit and he'll be eating out of the palms of your hands all night long. **Are you a retro bride looking for the perfect gift? **
---
3

Score a Touchdown...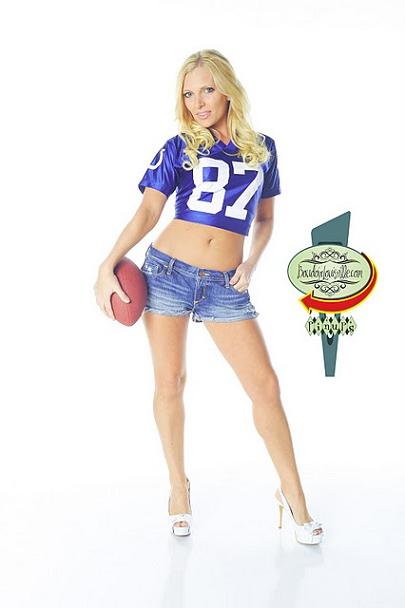 Photo: PinupGirlPics.com
Give that sports fan something to love other than football! Look sexy and sporty while wearing his favorite team's jersey or wear his jersey! You don't need to be naked for a boudoir; give your groom something yummy to drool over while wearing a tight top, booty shorts, and delicious high heels like this glamorous football fan! What team does your husband-2-be love?
---
2

Salute Your Man...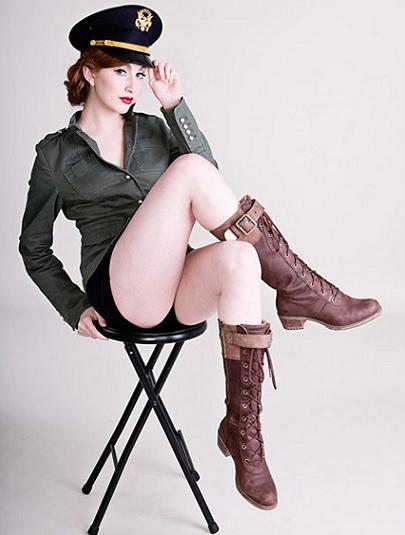 Photo: Stacyable.com/blog
Give your soldier the best honor he deserves. You missed him so much while he was gone but you are so proud of the job he is doing to protect our country. Grab his military uniform, some cute little panties or shorts and salute your groom for a picture he'll pinup and never want to take down! Are you a proud military wife-2-be?
---
1

Work It Girl...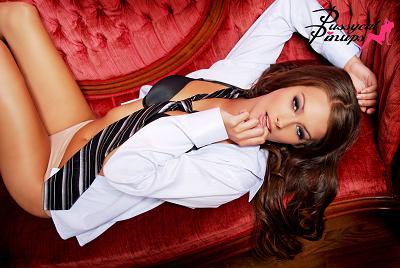 Photo: Pussycatpinups.com
Does he work long hours at the office? Light some romantic candles, throw around some rose petals and dress up in his work shirt and tie for a photo shoot that will make him want to run home to you! It's a classic look that will never go out of style. Any work uniform of your husband's always makes for a sexy boudoir; cop, doctor, truck driver, or mechanic. Have fun and get dirty!
**What kind of boudoir photos will you surprise your groom with? **
Top Photo: Pussycatpinups.com
---
Comments
Popular
Related
Recent