Boot Camp for Brides Who Want to Be beyond Gorge on the Big Day👰🏼👰🏻👰🏽👰🏿 ...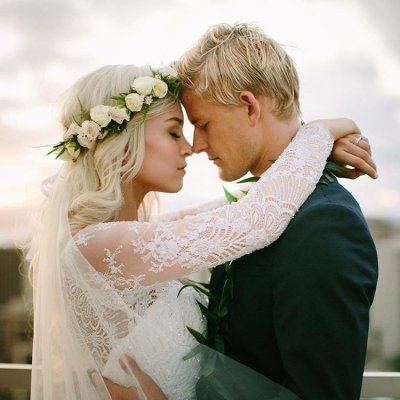 Your wedding is one of the most important days of your life. This is a day you probably dreamed about since childhood. You have envisioned marrying your perfect mate dressed like a real princess in the perfect setting and in your best shape. You imagine looking slim, sculpted and on top of your game as you walk down the aisle. You picture hearing the wows from your guests because you just look that amazing. And nowhere in your vision do you imagine wearing pantyhose or spanx to hide any bulge. You cannot imagine feeling uncomfortable with your body. So don't be! So before you search for shape underwear to suck it all in, just breathe and check out the boot camp exercises to help you look beyond gorgeous on your big day! As a certified trainer, I am here to help you look perfect on the most important day of your life. Wow your partner to be and your guests by beginning this program starting today!
1.

Strapless Dress

With a strapless dress you want a perfectly sculpted upper body so make sure you perform 3 sets of 12 tricep dips two days per week along with 15 diamond pushups and you can even use light weights to pump some iron. And as always, make sure you eat healthy so you will achieve your goal!
2.

A-Line Dress

If you are wearing an A-line dress you want to focus more on your core and arms because those will be in the limelight. Perform upper body exercises and basic crunches three times per week. And make sure you increase your lean protein to build muscle and boost your metabolic rate!
3.

Ball Gown

Move over princess because there is a new belle at the ball and that is you. It is your perfect day so look your best by sculpting your midsection with core exercises like the plank four days a week. Also since this wedding dress style will emphasize your waist, make sure to lower your carbs at night to reduce inflammation.
4.

Sheath

With a sheath dress you will need to be in your best shape because it shows every flaw. So be flawless by torching major calories with high intensity exercise 6 days a week. You get out what you put in so give it all you got in preparation for your big day!
5.

Mermaid

With toned and shapely hips, the Mermaid dress is the perfect dress for you. But make sure you sculpt those hips with isolated exercises like leg lifts and to tighten make sure you add cardio exercise like running. Perform 4 days per week for ultimate bridal sculpt perfection. This is the beginning of the next chapter of your life so get moving pronto!
6.

Short

If you are the non-traditional kind of girl and have chosen a short wedding dress, show off your gams with pride by working your legs and butt. Perform 3 sets of lunges and squats 3 days per week followed by a 2 minute squat hold. And add one day of biking to help you achieve your goals!
7.

Beachy

If you are going beachy with your dress and it is super fitted, you will need to increase your cardio workouts now. Perform cardio 6 days a week for 45 minutes to one hour and make sure you finish your workouts covered in sweat. Just imagine walking down the beach for your big day, slim, sculpted and feeling your best; you can do this!

Make everything heavenly by getting in your best shape for your big day! You deserve to be beyond gorgeous with your perfectly fit and fab body!

{{#comments_count}} Show Commnents ({{comments_count}}) {{/comments_count}}