If you're beginning your plus size wedding dress shopping, there are several things you need to keep in mind. The first thing is that you want to go try the dresses on in person, don't think you're limited to shopping online just because you need a larger sized dress! There are stores like Alfred Angelo, David's Bridal, DaVinci Bridal and Curvy Couture who are great for plus size wedding dress shopping because they cater to plus size women! Don't miss out on the full bridal experience, go in, try on as many dresses as your heart desires and remember, you WILL look beautiful in your wedding dress!
1

Try on Styles You Think You'll Hate

I honestly would never ever have found my dress while plus size wedding dress shopping if I had listened to myself. I got my dress at Alfred Angelo (which I HIGHLY recommend). The consultant I was working with told me to pick out 3 dresses and have my mom pick out 3 dresses and then the consultant picked out 3 dresses. She asked if there was anything I wanted to avoid and I looked at the gorgeous dress I was standing next to with the ruching over the front and the lace up back and said that I thought it was the most gorgeous dress ever but I wanted to avoid the ruching at all costs because I didn't want to accentuate my stomach. So of COURSE she picked that as one of her 3 choices and told me to just humor her and try it on because the ruching actually helps hide "imperfections." Lo and behold, it was gorgeous on me! It was the first one I tried on and after trying on 8 more, I put that first one on again and ordered it! I would never have tried it on if she hadn't pressured me into it because it's not a style I would normally see myself in, but it was perfect.
2

Choose Comfort over Everything else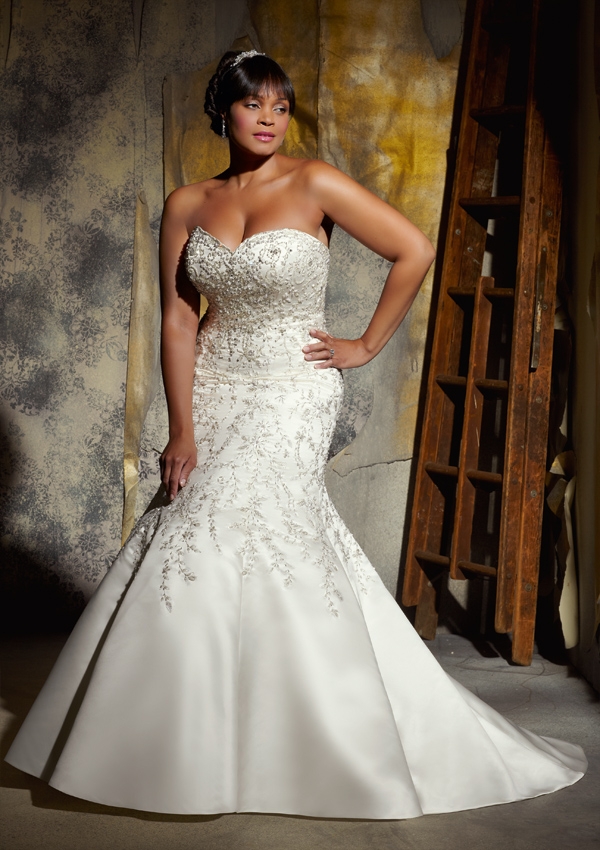 I know it is tempting to get that dress you look amazing in, even though it cuts off your circulation and doesn't allow you to breathe or sit down, but trust me, you need to be able to breathe and move. Weddings are long and extravagant affairs, there will be a lot of moving around, sitting down, dancing… the last thing you want is to be uncomfortable for hours on end. Don't try to squeeze into a dress that's two sizes too small because it's the "perfect" dress. If it doesn't fit, it's not worth it. You don't want to be conscious of every breath on your big day!
3

Spend the Extra Money on the Corset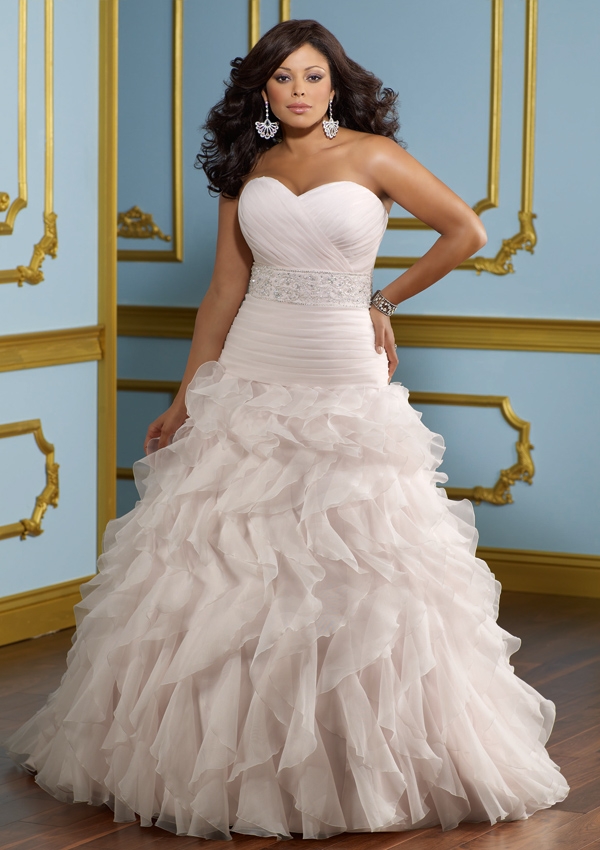 I know this may seem to contradict my last tip, but corsets aren't really that uncomfortable. I know they look like they are, and if they're too small they definitely will be, but allow the person helping you to measure you and choose the correct size for you. My corset was an extra $40 but I'm happy I had it because I wasn't worrying about how fat I looked all day. Plus now I have it and have used it several times since my wedding!
4

Taffeta and Satin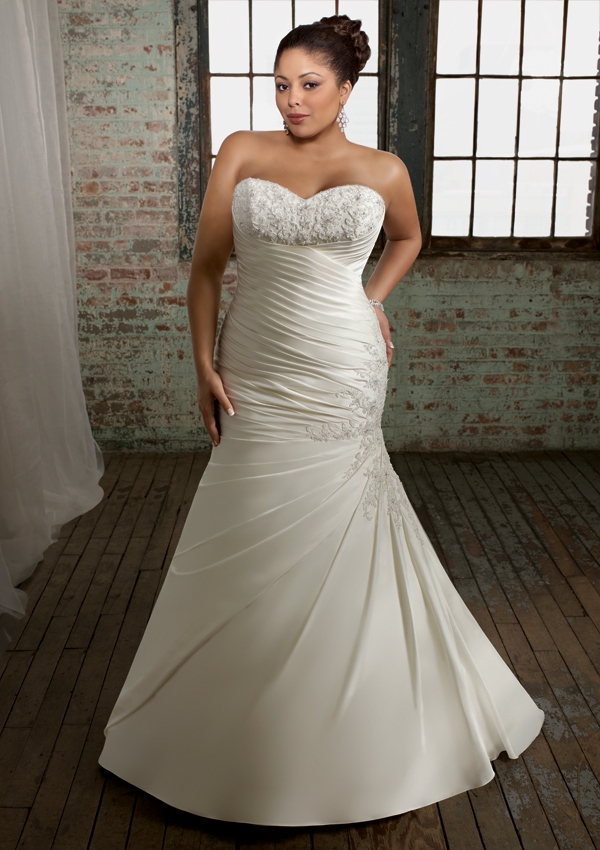 Certain fabrics are much more flattering than others on a fuller figured woman. My dress was taffeta and it was incredibly comfortable, flowed nicely and hid all of my less attractive areas. A lot of satin is too clingy and should be avoided, but certain types of satin smooth out our rough spots and look great! You'll know it when you see it!
5

Emphasize Your Assets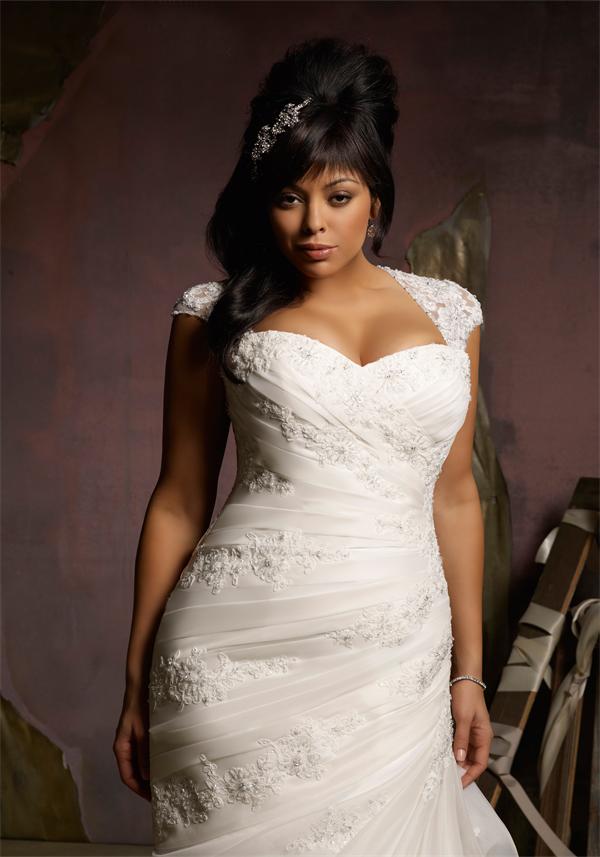 Instead of trying to cover up what you wish you didn't have, accentuate your best features! If you've got a killer tush or a to-die-for chest, focus on those assets. There are dress styles that can highlight anything you want. Don't be afraid to ask the sales clerk for advice, that's what they're there for!
6

Do NOT Order a Dress That's Too Small

If you're telling yourself "I'll lose another 10 lbs by my wedding" and order a dress a size smaller than you actually wear, you're in a danger zone! You can always take in a dress that is too large but there's not much you can do with one that is too small. If you're trying to shed some pre-wedding weight, go for it, but buy the dress that fits you now and alter it when it gets closer to your wedding date. Don't waste money on a dress that doesn't fit.
7

Shop around!
Don't feel as if you're stuck with just one place to shop. And don't, by any means, let the sales person bully you into getting something you aren't 1000% happy with! Those people are pushy and it is their job to sell that dress to you. If you've taken up 2 hours of their time trying on dresses but you didn't find one you want, oh well. They will try to talk you into buying the dress off the rack even if it means telling you it fits perfectly when it doesn't. Stick to your guns and go with your instinct. If it feels like they're trying to push you in a direction you don't want to go, head to another boutique.
I hope you find these tips helpful! It can be a bit stressful picking out the dress for your magical day, but it is also an exciting, uplifting and joyful experience! Do you have any tips you'd like to share with our brides-to-be?