Are you thinking of eloping instead of planning a big wedding with all the stress and drama that comes along with it? Or perhaps on New Year's Eve your significant other will pop the question and you'll run away to Vegas together! Whether it's a planned elopement or a true spontaneous moment, you'll still need something fabulous to wear. Perhaps one of these 8 Adorable Dresses Perfect for Eloping is just your style...
---
1

A High-Low Elopement Dress...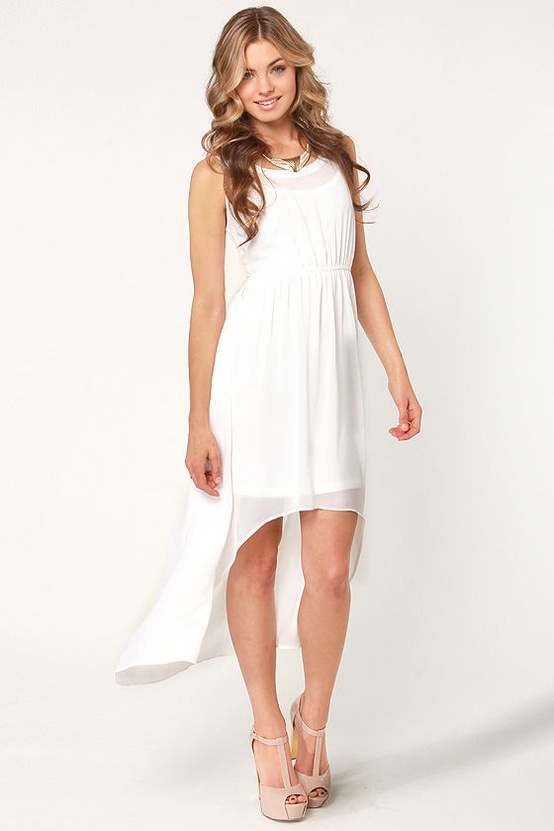 Photo Credit: LuLus
This is a spur of the moment occasion and it calls for a dress that is perfect for eloping. You don't want a dress that is going to weigh you down if you are planning on running around town afterwards to celebrate. Since eloping is usually a last minute idea you don't have time to get alterations and you usually don't have money saved to buy a $1,000 plus dress. So think of a carefree high-low dress from places like Lulus, this one is only $60!
---
2

Sequined Elopement Dress...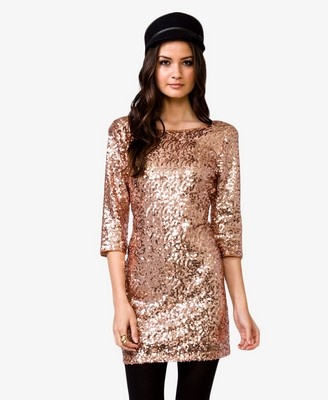 Photo Credit: Forever21
Shine bright like a diamond on your elopement day in this gorgeous sequined dress from Forever 21. For only $32.00 you'll have enough money left in your budget for a pair of fabulous shoes, an adorable sequined hair bow, and perhaps two tickets to fly to Vegas! Whether you're in Sin City or getting hitched on New Year's Eve, this is the perfect dress for eloping if you are looking to grab everyone's attention, especially that of your hubby-to-be.
---
3

Peplum Elopement Dress...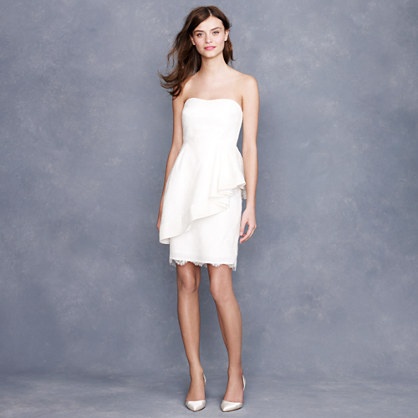 Photo Credit: Jcrew
How adorable is this lace peplum dress! I really love the oversized, asymmetrical style of this peplum, it looks like a dress that a girl of any size would feel glamorous and confident in. It's available in sizes 0-16 and may be a little higher than the other elopement dresses on the list at $395.00, but is still low on the wedding gown price scale. This would be a lovely dress for a Spring or Summer elopement; I can see a chic city bride rocking this!
---
4

Pink Lace Elopement Dress...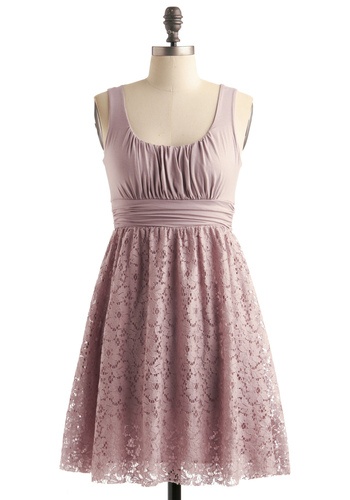 Photo Credit: ModCloth
Colorful gowns are all over wedding runways, so why shouldn't you have some fun in an adorable, colored dress perfect for eloping. This dusty rose, lace dress with a ruched bodice is perfect for a modern bride who has a bit of a vintage chic style. Lace is very popular for 2013 as well, so you will be rocking two big trends when you elope in this little number!
---
5

One Shoulder Elopement Dress...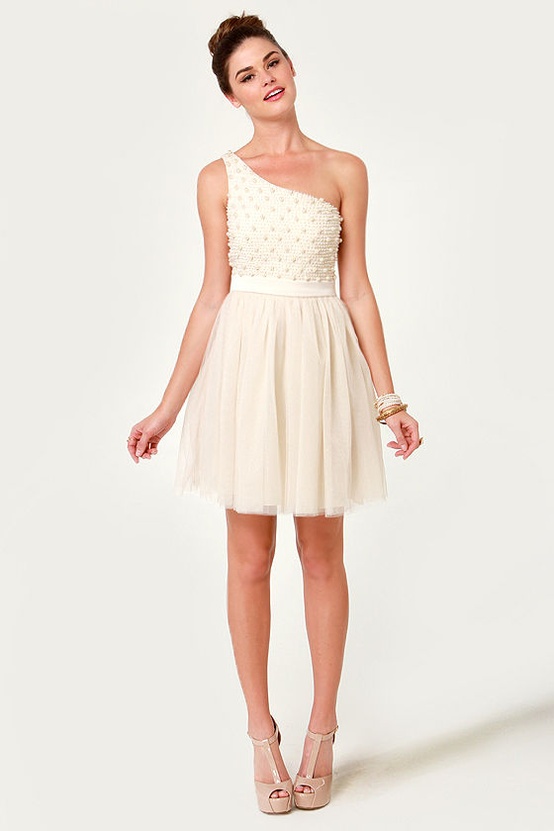 Photo Credit: LuLus
I love the combination of different textures in the faux pearl, one shoulder bodice and the tulle skirt. If you are a fashionista looking for a dress perfect for eloping, look no further! I can picture this bride in sparkly silver heels, glitter bangles, and running around town with balloons in her hand! She is a modern twist on Audrey Hepburn and the spotlight is on her.
---
6

Swiss-Dot Chiffon Elopement Dress...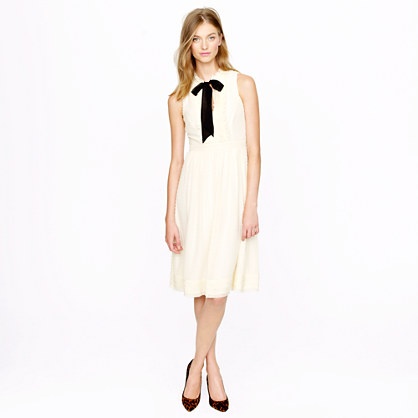 Photo Credit: JCrew
Are you loving the modern tuxedo trend this fall and winter season? If so, this black ribbon tied, swiss-dot chiffon dress is perfect for your elopement. I love how J.crew paired it with animal print heels, the dark color of the shoe matches the ribbon and gives this simple white dress some pizazz.
7

Ruffled Elopement Dress...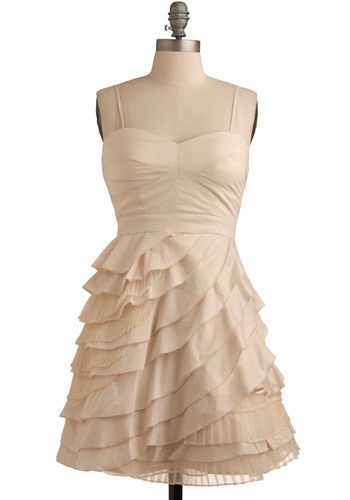 Photo Credit: ModCloth
I adore this dress, is it not perfect for eloping! I can picture a cowgirl rocking her boots and getting hitched in middle of a field full of sunflowers for a rustic chic elopement. Or perhaps a vintage bride with a birdcage veil and a modern beehive hairstyle, while her groom dons a bow tie and a vest. Bring your style alive in this adorable ruffled dress to say, 'I Do', and then wear it again and again!
---
8

Hippy Lace Elopement Dress...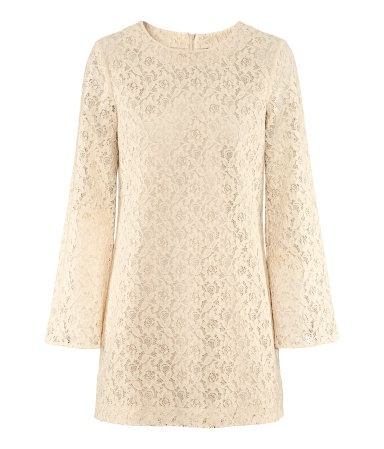 Photo Credit: H&M
Are you a hippy, bohemian bride who is looking for a dress perfect for eloping? Pair this lace, flared sleeved, 70's chic dress with a daisy headband, fringed boots, a groom in a velvet or suede vest and you are ready to get groovy baby! Can you believe it's only $34.95 from H&M!
If you are a carefree couple who just wants to run away and get away from it all or are looking to travel during your honeymoon, save your money and elope! Keep your budget low with these adorable dresses that are perfect for eloping. You can find something for every shape, size, and style. From ModCloth to J.Crew, look around and you will find the perfect dress for eloping that fits your personality and the location of your elopement. Are you eloping, is there a dress on this list that is perfect for your big day?
---
Comments
Popular
Related
Recent