I've always loved lace wedding gowns and I'll forever have a soft spot in my heart for them after wearing one on my big day. Lace wedding gowns are romantic, yet sophisticated and modern. They are timeless and as seen in these 8 Gorgeous Lace Wedding Gowns come in many different styles, from mermaid to ballgown and everything in between. Continue reading to start dreaming of your perfect lace wedding gown...
---
1

Vera Wang Lace Gown...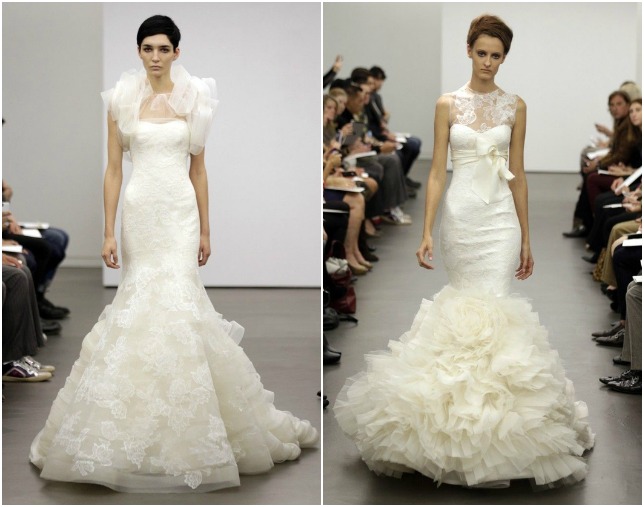 Photo Credit: OneWed
Is there anything more elegant than a Vera Wang** lace wedding gown**? When you have a fit and flare silhouette, ruffles, a bow, and lace, I think not! I love the combination of fabrics, if I could plan our wedding all over again one of these two would be my gown, most likely the one on the left. I love how the lace sits on top of the horsehair skirt, it's so dreamy it looks like she's floating down the runway. I have to say, Vera Wang Bridal Fall 2013 is her best work yet...in my opinion!
2

Elizabeth Fillmore Lace Gown...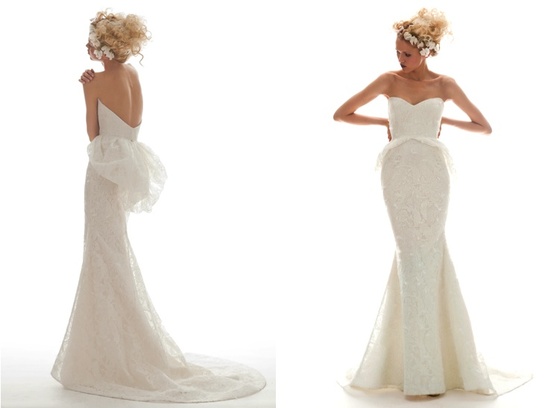 Photo Credit: Project Wedding Blog
The peplum is every where this year so how could I not include it in my lace wedding gown round up! Whether it's on a dress, a skirt, or shirt, the peplum is sticking around and everyone from Jennifer Aniston to Beyonce is wearing them on the red carpet. So no matter your body type, you too can rock this style down the aisle. Are you a fan of peplum wedding gowns?
---
3

Allure Lace Gown...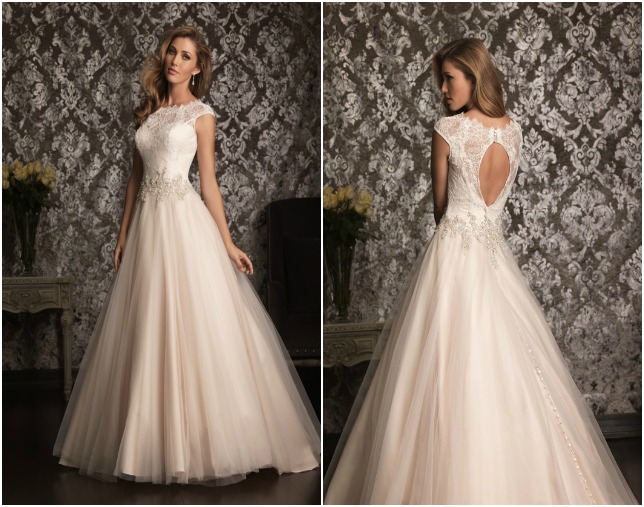 Photo Credit: Bridal Guide
Is there anything more Princess like than a pink lace and tulle gown? I really love gowns that have a modest look to them with sleeves and a high neck, but also have sexy cut-outs in the back, it gives the dress a more modern feel. If you don't love the all over lace wedding gown look, opt. for a dress like this one where only the bodice is covered in lace.
---
4

Monique Lhuillier Lace Gown...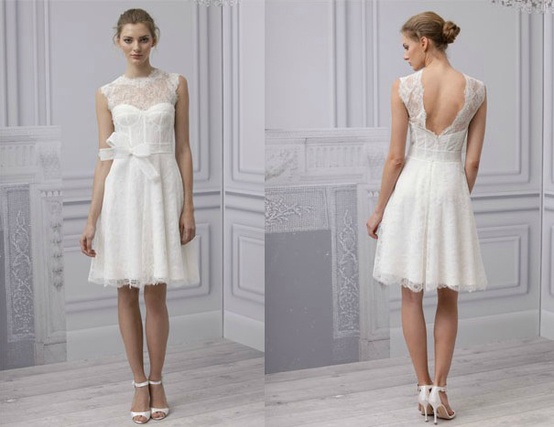 Photo Credit: Project Wedding
How adorable is this lace wedding gown! I have a feeling this little number by Monique Lhuillier will be trending for destination beach weddings next summer. It's the perfect length and has a sexy bodice and back, but adds a cute factor with a bow on the waistline. If it came in other colors, I could see bridesmaids wearing a dress like this as well.
---
5

Carolina Herrera Lace Gown...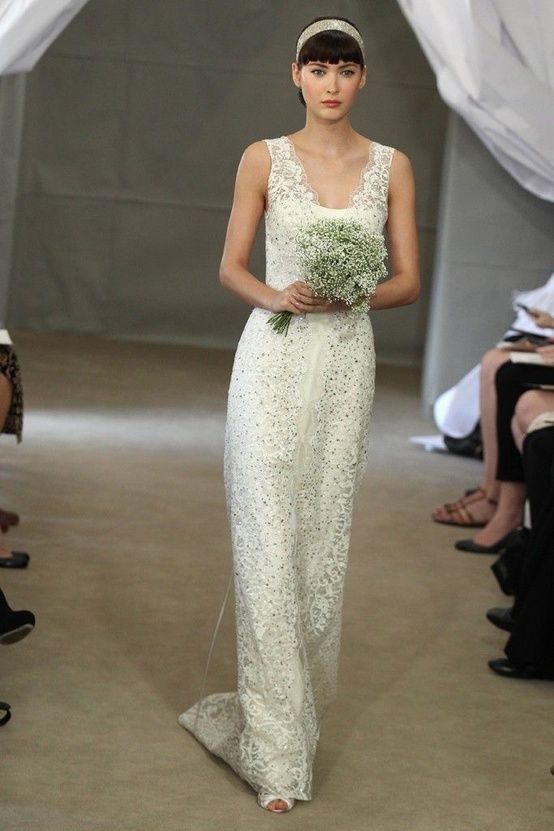 Photo Credit: One Wed
A lace wedding gown that sparkles, is this not the perfect dress for a winter wedding! I could see a New Year's Eve bride wearing this on her big day along with glittered silver heels and bridesmaids in silver dresses. I love the way the baby's breath bouquet complements the gown...are you taking notes!
---
6

Melissa Sweet Lace Gown...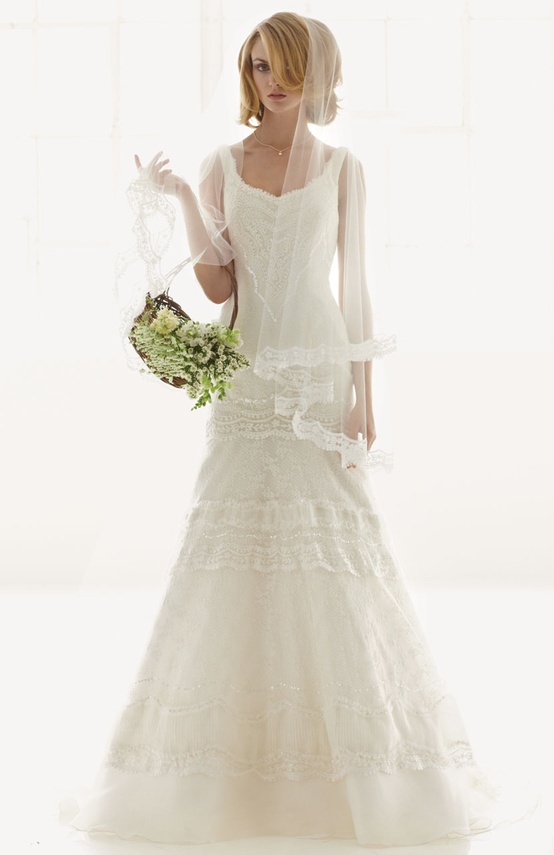 Photo Credit: Bridal Guide
Did you know that Melissa Sweet designed a line for David's Bridal? Me either! This stunning, vintage looking** lace wedding gown** is only $1,200 and comes in sizes 0-14 online, but can be ordered up to a size 26. I love the design of the lace on the bodice, the layered look of the skirt, and the matching veil. David's Bridal has come a long way and I love that major designers now have gowns in reasonable price ranges for any budget.
---
7

Lazaro Layered Lace Gown...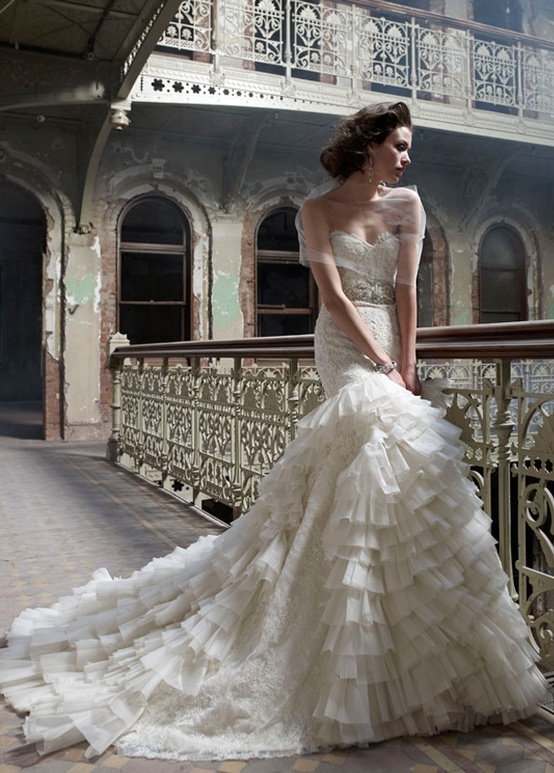 Photo Credit: JLM Couture
If you are looking for a** lace wedding gown** that has a little something more to the skirt, look no further than this Lazaro layered ruffle and lace gown. I love the way the pleated ruffles are layered on top of the lace skirt, it gives it a Spanish style that would be perfect for a Dia de los Muertos wedding.
---
8

Alfred Angelo Lace Gown...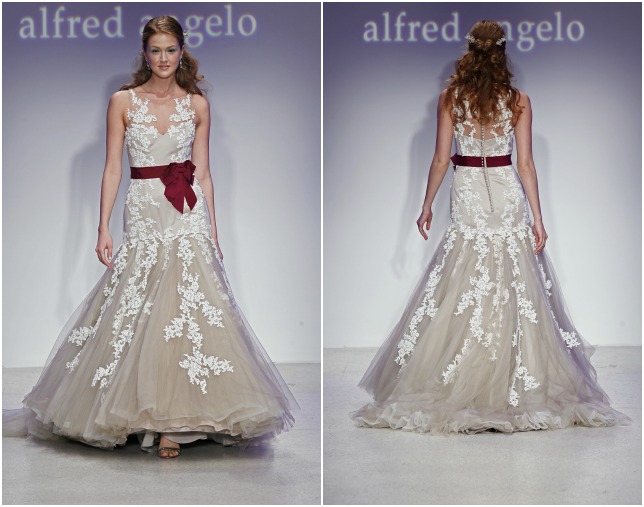 Photo Credit: Bridal">https://www.bridalguide.com/">Bridal Guide
Is this not a show stopping lace wedding gown! I love the look of the embroidered lace and the way it goes all the way up the bodice for an illusion look. If you never considered trying on a lace gown, think again! The lace wedding gowns of 2013 are not what you are used to seeing; they are bold, unique, and in no way do they resemble your grandmother's doilies!
Whether you want to walk down the aisle in Vera Wang, Alfred Angelo, Lazaro, or Melissa Sweet, lace wedding gowns come in all prices, shapes, and sizes. After seeing these gorgeous** lace wedding gowns**, you are never going to think that lace is too vintage or too old fashioned for you. 2013 will be the year of the modern lace wedding gown with fit and flare, ruffles, and glitter. Can you see yourself in one of these beautiful lace wedding gowns?
---
Comments
Popular
Related
Recent