Your bridesmaids are not just any girls walking down the aisle in your wedding. These ladies are your friends, they're your favorite ladies. Finding a gift they will love and use for your wedding and after can be a difficult job. You want something nice and special. Continue reading to see if one of these 5 Bridesmaid Clutches **is the one **she'd love to have...
---
5

A Clutch to Match Your Theme...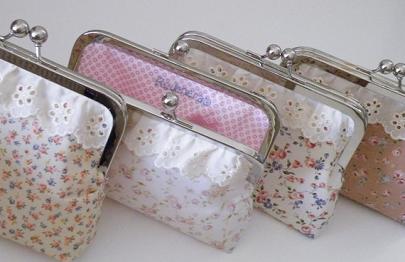 Photo: Etsy.com/shop/rejenerate
Price: $160.00 Set of 4
Your bridesmaids are there for you through all the planning stress,DIY projects, and put together the best bridal shower ever! If you're planning a vintage themethese lovely clutches would be the cutest** gift for your ladies**, they could even walk down the aislewith them instead of holding flowers! I love the soft colors and the adorable doily like fabric that pops out on each one. Are these clutches the gift you've been looking for?
---
4

A Clutch to Match Your Wedding Colors...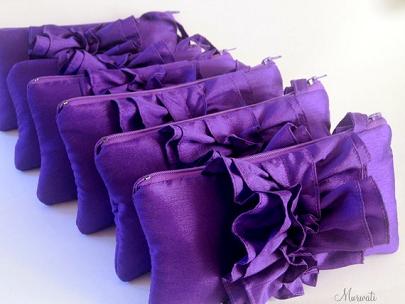 Photo: Etsy.com/shop/murwati
Price: $138.00 Set of 6
Purple is a stunning accent color for bridesmaidswearing grey, orange, or even yellow. Give your ladies a** pop of color** with this beautiful ruffled purple wristlet clutch and they will be sure to use it for all of your wedding emergency items! How gorgeous would this clutch look with a bridesmaid in grey wearingpurple heels! **Have you found the right color for your bridesmaids? **
3

Clutches to Match Your Wedding Decor...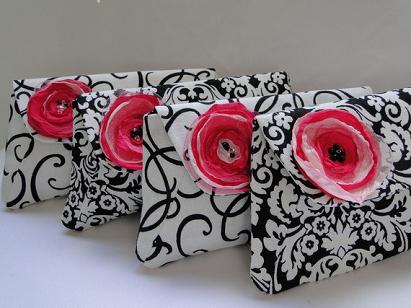 Photo:Etsy.com/shop/Paperflora
Price: $98.00 Set of 4
Damask is a very popular accent forwedding decor. You can find it on wedding invitations,** table runners**, favors, and now on your bridesmaids' clutches! These** damask clutches** are the perfect touch for your wedding theme, plus they are a great** girl's night out** clutch they can use time after time! Are you looking for a gift to match your decor?
---
2

A Clutch to Match Your Atmosphere...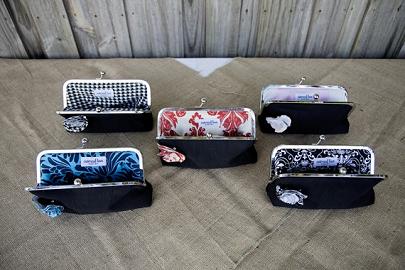 Photo: Etsy.com/shop/Oatmeallacedesign
Price: $50.00 each
Classy, Sophisticated, and something she'll love for her first date with her new crush! I love thisclassic black clutchand how the little rosette matches the inside fabric. What's even better is how you can detach the little flower and just carry a black clutch everyone will love! Match your** black tie wedding night** with these beautiful clutches and match the rosette color with yourbridesmaids' dresses.
---
1

A Clutch to Match Her Personality...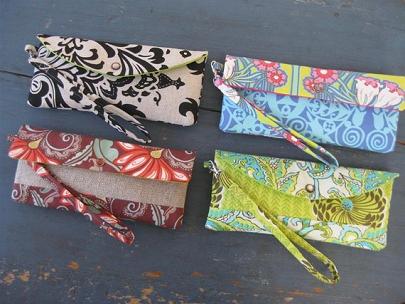 Photo: Etsy.com/shop/KaraMiaSofia
Price: $72.00 Set of 4
Each one of your ladies has their own quirky, funky, outgoing personalities, so why not get them a gift that matches that** cool side** of who they really are. Don't let them walk down the aisle in uniform, let them pick out theirfavorite colored dress, bright colored heels, and afunky clutch. I love how each clutch has multiple colors, great for any bridesmaid who needs a great bag to match her outfit after your wedding day!
**Did you buy a clutch for all of your favorite ladies? **
Top Photo: NelleHandbags.com
---
Comments
Popular
Related
Recent