Spring and Summer Weddings are right around the corner, which means brides are already busy planning and shopping. To help bring that warm, bright Spring feeling into your heart here are 5**** Hot Bridesmaid Dresses for Spring 2011... why not let your girls choose the right one for them!
---
5

April Showers Bring Dresses with Flowers...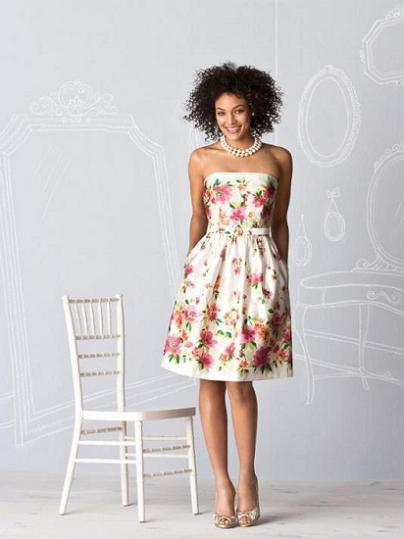 Photo: Fashionablebride.com
Dress: Dessy.com
Fresh, Fun, and Funky! She looks like a bridesmaid who is at a beautiful Spring wedding having the time of her life with her best friend, the bride. A small bouquet of purple tulipsor a butterfly bouquet would be the perfect compliment to complete this fun floral dress. Think outside the traditional bridesmaid box to give your girls something they will love forever like this striking dress from After Six. Will your bridesmaids have a cute pattern on their dresses?
---
4

Bridesmaids like Pockets Too...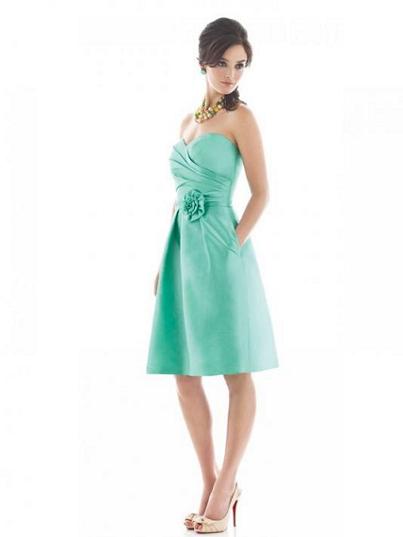 Photo: Fashionablebride.com
Dress: Dessy.com
Simple, Sophisticated, and Classy. Your bridesmaids don't want a dress that looks too difficult or uncomfortable to wear. Give them a simple, yet sophisticated dress like this Alfred Sung sweetheart with cute little pockets for her lip gloss! Looking for a gift she will love to wear with her dress, a lovely silver drop necklace is just the accessory she was looking for. How many bridesmaids are in your bridal party?
---
3

The Vintage Look...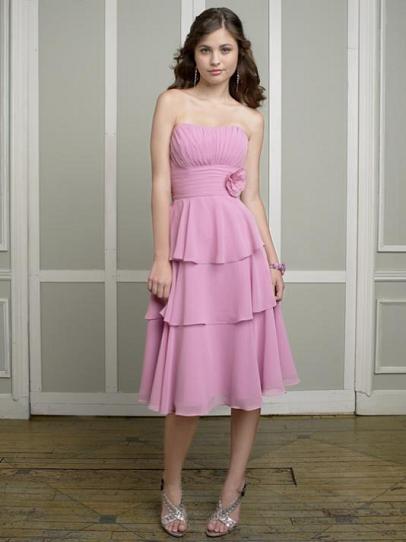 Photo: Fashionablebride.com
Dress: MoriLee.com
Vintage, Sweet, and Romantic! A sweet tiered bridesmaid dress perfect for your romantic vintage wedding. Mori Lee's dress may be new but it has a vintage look that will pull your theme together. Give your girls romantic bouquets filled with pale colors of Apricot, Sage, and Canary Yellow. Are your bridesmaids wearing dresses to match a theme wedding?
---
2

Ruffle Your Bridesmaids...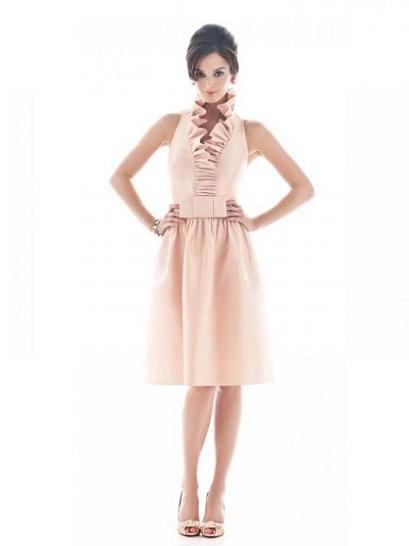 Photo: FashionableBride.com
Dress: Dessy.com
Chic, Modern, and Trendy. There are peonies in your mason jar centerpieces, you're glowing in the latest Vera Wanggown, and your groom is wearing the coolest argyle socks! Sounds like you are a very trendy, chic bride who only wants the most fabulous wedding **ever. With your **bridesmaids walking down the aisle in this modern Alfred Sung ruffled dress your guests will see how well your wedding day reflects your personal style, as it should! What modern trends are you planning for your big day?
---
1

A Dress to Party in...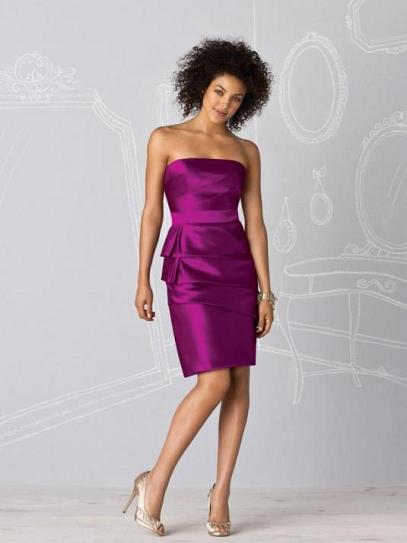 Photo: Fashionablebride.com
Dress: Dessy.com
Sexy, Elegant, and Flirty! She'll have fun in this dress feeling elegant and flirtatious as she dances with the rest of the bridal party to "I've Got a Feeling" ! The only accessory needed is her silver clutch that matches her hot silver heels that will bring all the single groomsmen out on the dance floor with this bridesmaid. Give her something to feel special in when she wears this After Six sexy yet elegant cocktail dress! What length will your bridesmaids be wearing?
**Have you found the perfect dress for your bridesmaids? **
Top Image:JessicaClaire.net
---
Comments
Popular
Related
Recent