I am so excited to share with you the lovely Etsy shop, Oceanside Designs, of my sweet friend Mel who is also known as The Oceanside Bride. She recently got married on the beautiful beaches of Cabo San Lucas, Mexico with the help of wedding planner Jacin from Lovely Little Detailsand photographers/videographers Steph & Robin of BubbleRock Studio and she is now creating her own magic with her handmade coaster designs...
Getting to know Mel of Oceanside Designs...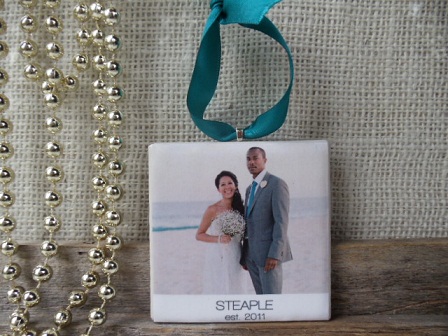 Photo Credit
1. You've recently got married, is that where your inspiration for your personalized photo coasters comes from?
It sure did! I've always enjoyed giving personalized gifts and those that have some kind of sentimental value. My sister hosted the most amazing bridal shower for me and I knew I wanted to give her a personalized "Thank You" gift. During my gift search, I came across a nice ceramic tile coaster set. While contemplating buying the set, I had an "Aha! Moment" I guess you could say. I would make a coaster set and personalize them with photos! But an even better idea- I would use her own wedding pictures, as she was a newlywed. I went on to make a set for both our videographer and wedding planner as "Thank You" gifts using their wedding photos since they were both newlyweds too!
2. When did you know that this was something you wanted to do?
I've always been the crafty type since I was little but that urge to craft and create with my hands grew as I got deeper into my own wedding planning. After seeing the smiles and positive emotions my handmade photo coasters brought out of those I gave them to, I knew I wanted to share them with others.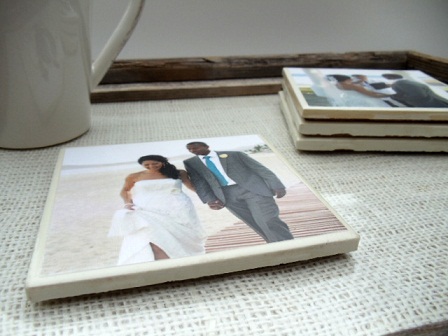 Photo Credit
**3. Your shop just opened, what does it take to go into business for yourself and open an Etsy shop? **
Well my husband and I actually started a business developing a network of online retail stores two years ago. While technically making my "first sale" in 2009 was exciting, selling commercially manufactured products online does not in any way compare to the amazing feeling I got this year when I became the designer and hand maker of these personalized gift items. After I finally believing that my friends and family really did love my coasters, I began to wonder if there were others out there who would love them too. But the first thought of making something with my own hands for a "stranger" was terrifying. I just chose to push those daunting thoughts aside and with the encouragement from my wonderful husband and other supporters, I charged ahead and decided to join the world of Etsy. It's been fun and exhilarating and the wonderful feedback I've received so far from those customers I've recently worked with, has given me the encouragement to keep moving forward.
4. There are a variety of photo options, from kids and pets, to weddings and engagements, do you think one will be more popular than others?
Definitely those pieces customized for brides (such as wedding favors or save the dates) and newlyweds (Wedding Date Trivet or ornaments) have received the most interest so far. I've also had some customers purchase items as a wedding gift or engagement party gift. They are so versatile so there are many options.
Continue Reading...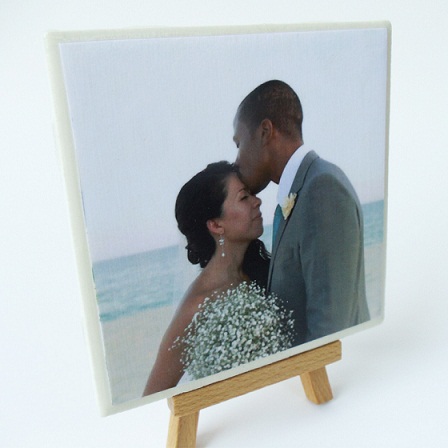 Photo Credit
5. Which photo coasters do you enjoy creating most, do you have any favorites?
Oh I don't know if I have just one! Every photo has a story behind it and without asking for it, the buyer often shares a little piece of that story which I just love. It's so fun to work with the engaged bride who is so excited to create her "Our First Christmas" ornament or newlyweds who can't wait to show off some of their wedding photos on a set of coasters. Bu then there is the proud mom or grandparent who can't wait to personalize some pieces with their adorable kids' pictures and show them off too.
6. Do you think your personalized photo coasters will be bought most as gifts, wedding favors, or by the people who want them for themselves?
I think most will be purchased as gifts or wedding favors/save the dates, although I might get surprised later on. So far I've had a split down the middle with orders going out as gifts, favors, and some who want to keep a set for themselves.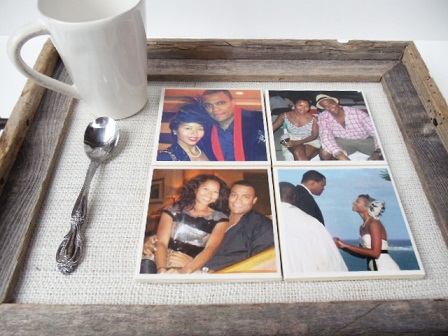 Photo Credit
7. Where are you hoping your company goes next, will there be other items in your shop down the road?
I definitely would love to partner with photographers in the future, offering discounts to them and their clients so we'll see how that unfolds. As for other items- you bet! I have a whole list of new item ideas and would love to start working on them but given the limited time I have, I know the rollout may be a slow process. I'll be adding a few more though over the next few months. I just look forward to seeing my store mature and grow, continuing to perfect my craft, and build some awesome relationships with my customers.
I am so happy and excited for Mel and want to send her a big congratulations on her beautiful wedding, her marriage, and her lovely Oceanside Designsshop. Right now she is hosting a 12 Days of Christmas Sale until next Tuesday...so hurry on over for wonderful holiday gifts your entire family will love. You can send her photos from your engagement, wedding, new baby, pets, or even a picture of your parents for their anniversary gift!