Every girl has that one thing she looks for in her wedding dress, and for me it's the backs of wedding dresses that really catch my eye. There is something so wonderful and sensual and unexpected about having a gorgeous back to a wedding dress. It's more than a grand entrance; it contributes to a grand exit. Everyone sees how beautiful a bride is when they walk in, but a gorgeous back makes everyone see how beautiful she is even when she leaves! Here are my choices for the 11 most gorgeous backs of wedding dresses.
---
1

The Custom Dress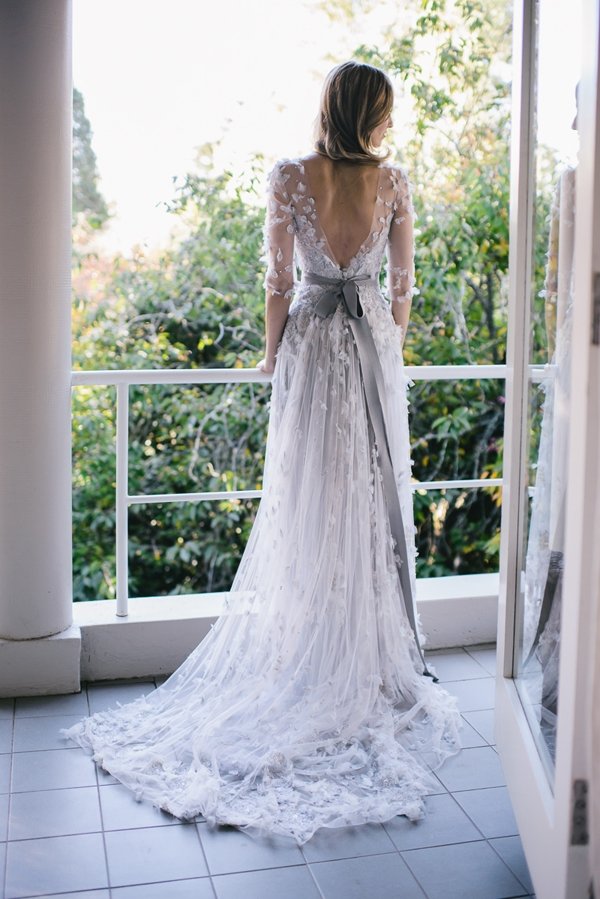 Now this may be one of the most gorgeous backs of wedding dresses I've ever seen, and there's some debate as to who the dress is from! The site that brought this dress to us says it's a custom dress, so I'm going to go with that! Really though, this is just stunning, it's feminine, romantic, and appears to be light as air. I love the flowery detail on this, and the bow adds a perfect touch and balance to this - definitely a great way to make your grand exit!
2

Claire Pettibone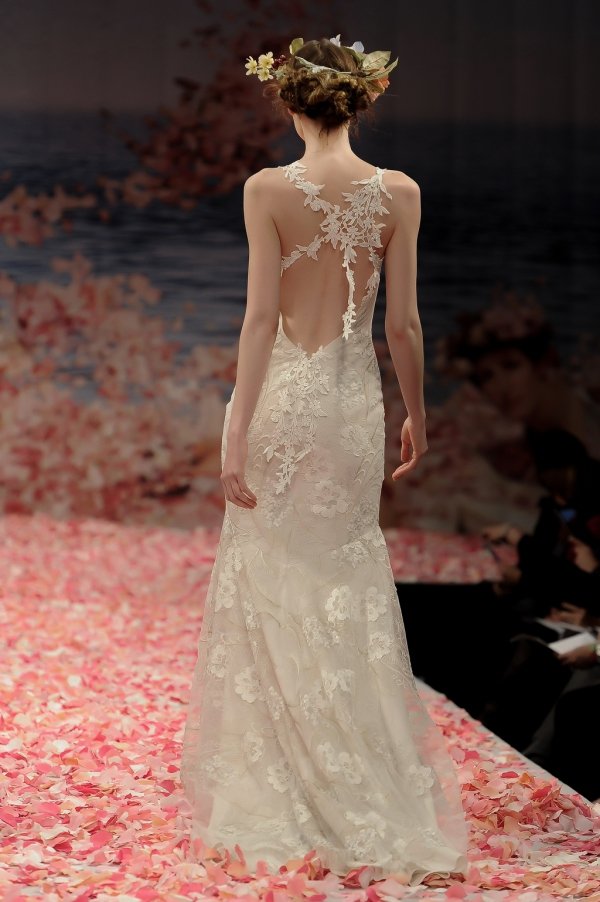 I've always loved Claire Pettibone, because her dresses are just stunning. They're works of art, and the backs of wedding dresses from her are perfect showcases of that. Her dresses are always very feminine, bohemian and just all around dreamy. I mean, look at how this dress falls on her! It's completely effortless and makes you want to just reach out and touch it, to see what it's made of, and to feel the texture of it. It's perfect for any romantic bride, and no matter what your style is you'll find something extraordinary from Claire Pettibone.
---
3

Anna Campbell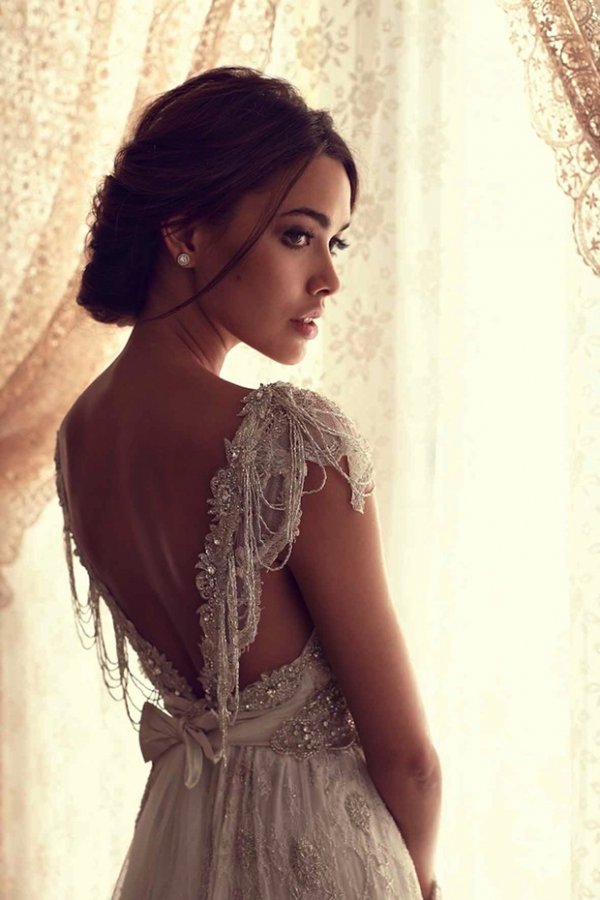 She's an Australian-based designer, and after just discovering her, I've added a new designer to my never-ending list of dream bridal designers. The backs of wedding dresses in her portfolio are stunning. She loves beadwork and jewels, there's no doubt about that. She knows how to make it modern, feminine and classy at the same time. The worry is with too much beading and lace is that it can look overwhelming, but Anna Campbell does it all exquisitely.
---
4

Galia Lahav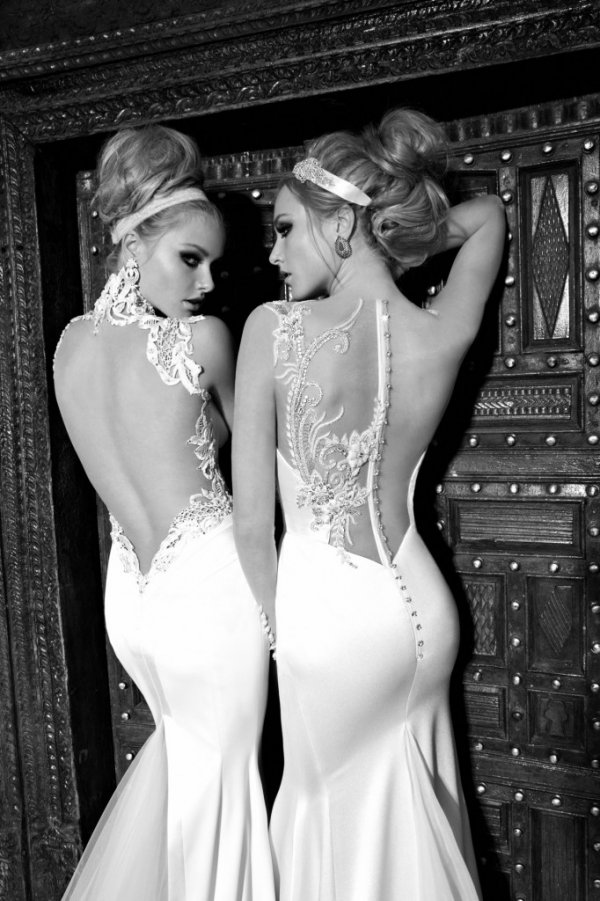 Let me start by saying that the backs of wedding dresses from this designer seem to defy gravity. Look at them! How is it possible that the beading and lace are even staying on her body? What makes the back of a wedding dress so intriguing to me is because it's sexy and seductive without being too obvious. A woman shows up in a dress that reminds us of J.Lo's famous Grammys dress (yes, that one that had the front cut out all the way down to her belly button), and it's not exactly deemed appropriate. Also, it's a bit risky, especially for a wedding! Yet with gorgeous back like this, they have the most dazzling and mysterious effect. I just love it!
Sveta
love it where can I get one of these dresses...
---
5

Rosa Clara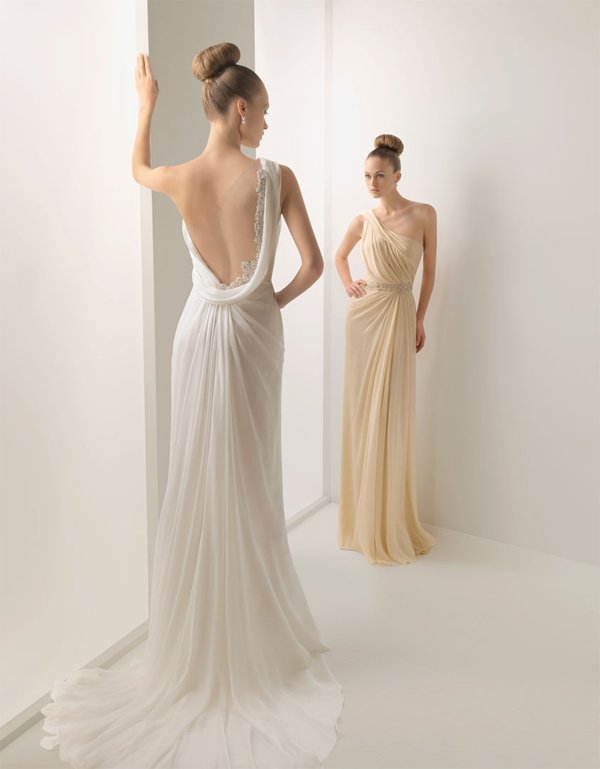 I'm personally not the biggest fan of one shoulder wedding gowns, but then you look at the back of this dress and wow – it's beautiful! Rosa Clara is an Italian designer who has the most wistful backs of wedding dresses out there. This one is so delicate yet lovely at the same time, and would go perfectly with a simple, romantic wedding, or even a rustic themed wedding! What I love about it is that it perfectly shows the curve of a woman's back, and just how soft and ladylike that part of the female body is.
---
6

Monique Lhuillier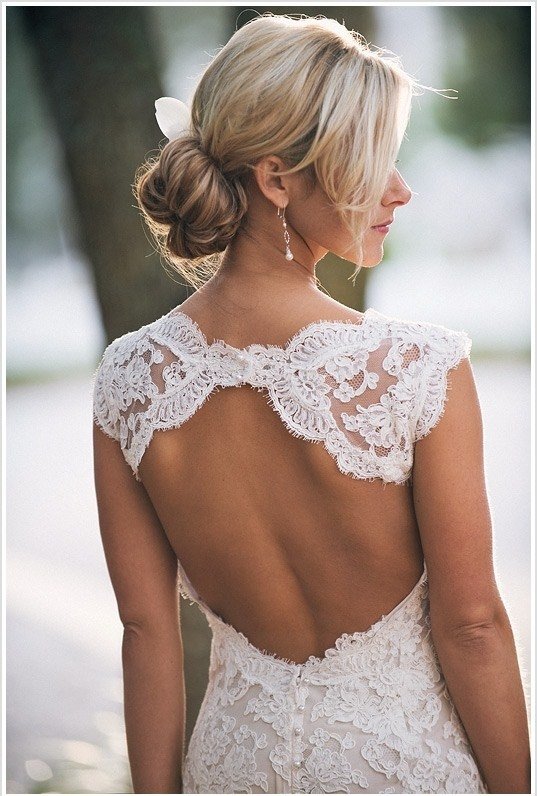 First thing's first, the L in her last name is silent, which makes her that much cooler as a person and another small reason as to why she is one of Hollywood's most coveted wedding gown designers. The fact that she has created some of the most gorgeous backs of wedding dresses really is just the icing on the cake. Everyone from Reese Witherspoon to America Ferrera, Carrie Underwood to Vanessa Minnillo all love her creations, and looking at this stunning lace back, it's not hard to see why.
---
7

Inbal Dror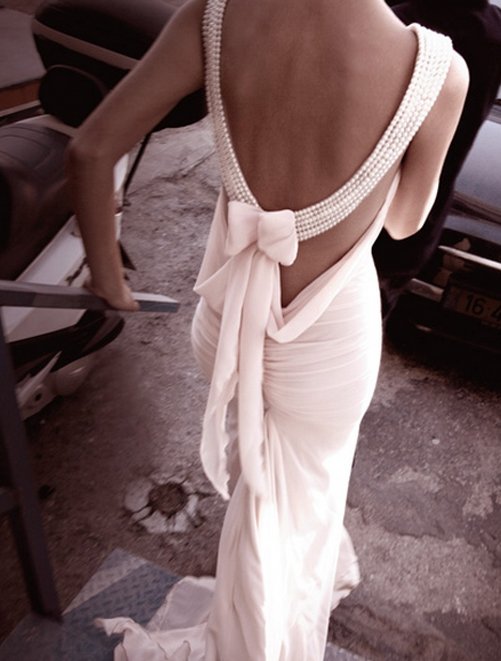 I found this dress on Pinterest, and instantly fell in love. It is without a doubt one of the top 11 most gorgeous backs of wedding dresses I've ever seen. It's so simple, yet elegant and modern at the same time. I can't tell if it's a soft pink, or if that's really the way it was photographed, but either way, it's stunning. I love the pearls, it's reminiscent of Audrey Hepburn in Breakfast At Tiffany's, and as an added bonus – it looks so comfortable! I'd love a dress like this! Now let's all just Google Inbal Dror Bridal, and drool.
---
8

J'Aton Couture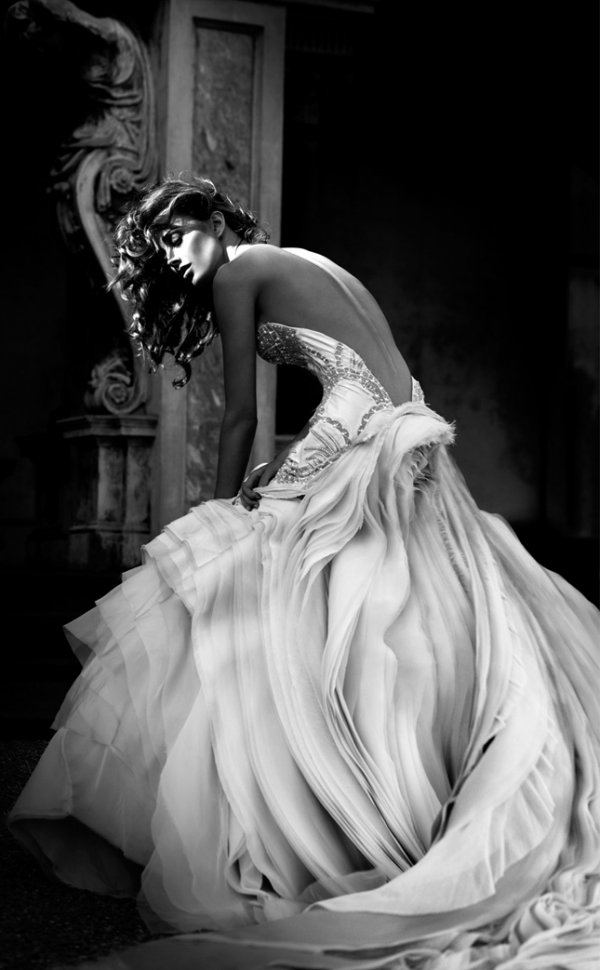 Breathless. That's the best word I can use to describe this dress, because it's just so beautiful I can't even begin to comprehend it. The layers of tulle, the beadwork, the layers, goodness me this is a princess gown if there ever was one! The back dips just down to the small of her back, then cascades out in layers of gorgeousness! This is one of the most visually stunning gowns, and as the backs of wedding dresses go, one of the most glamourous. J'Aton Couture specializes in glamourous gowns, and for any girl who's looking to be a princess on her wedding day, this designer is the best way to go.
Emily
.. The design of the bottom is called raw edge, bc...
---
9

Grace Loves Lace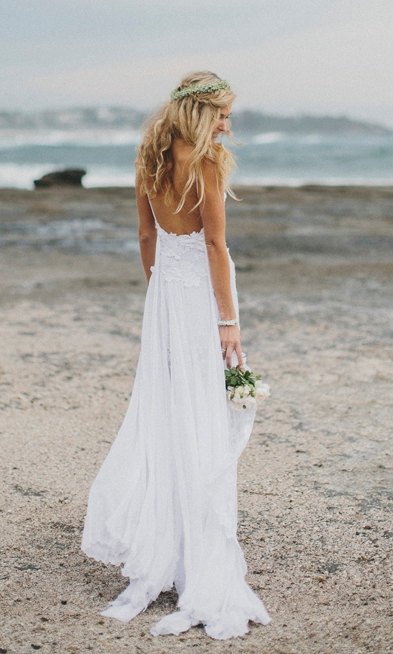 First off, this is found off Etsy, and it's so beautiful in its simplicity, it's an instant favourite in my book. This is one of the most lovely and girlie dresses I've ever seen, and easily one of the most gorgeous backs of wedding dresses out there. I love the lace and how it looks so easy to move in. Her store has tons of beautiful dresses of a similar nature, and as you can tell, she loves lace! This is perfect for any beach bride with a boho vibe, I can just see a bride breezily walking along the shore line right now!
---
10

Nevestinski Fustani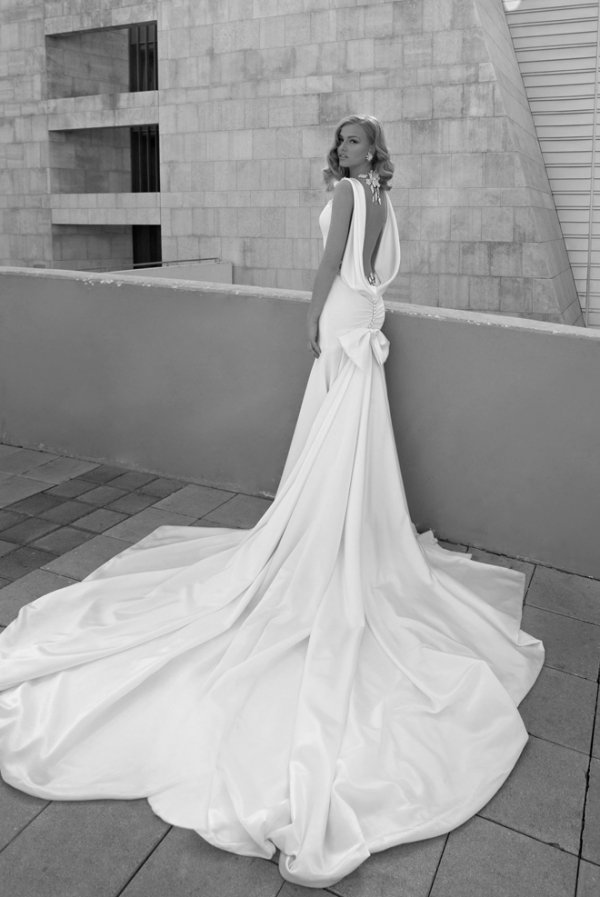 I can barely pronounce this designers name, but that hasn't stopped their appearance on the list of 11 most gorgeous backs of wedding dresses. I mean look at this dress, there's something about dramatic simplicity that always makes me look twice. It's bold, it's elegant, and it's just stunning. Having a gorgeous and dramatic back is just part of this designer's artistry. Now if I were to ever look for one of these dresses, I'd have a very hard time getting the name out, but once I get there I think I'd be okay! What I can say is this – GORGEOUS!
---
11

Vera Wang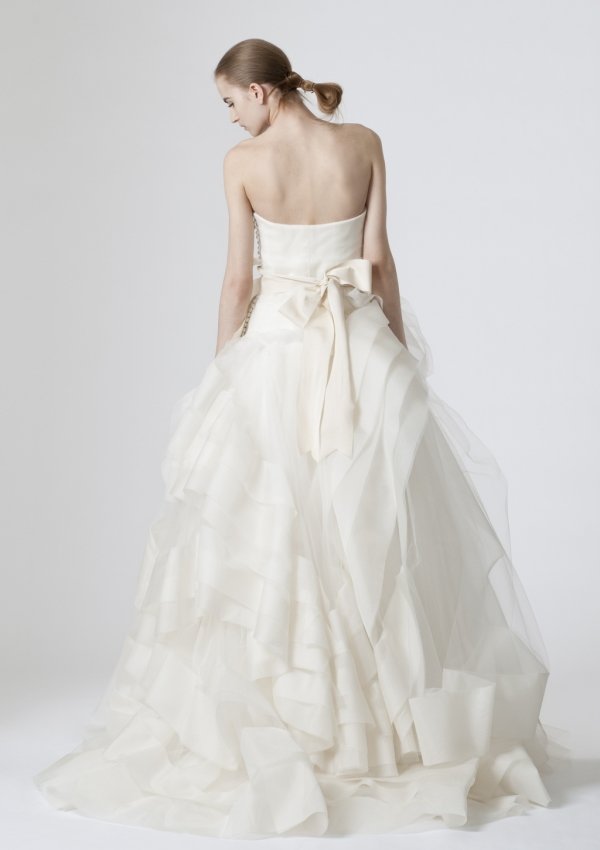 No list would be complete without Vera Wang when it comes to the bridal universe. There is good reason for that, take a look at her gowns for instance, from every angle her dresses are just stunning. All of her gowns showcase some of the most gorgeous backs of wedding dresses on the market, and she continues to be an inspiration not only to the designers around her, but to brides everywhere. Vera Wang revolutionized how women look as brides, and gave them options that were both fashionable and functional. Any angle of her dresses are beautiful, and the back is no exception.
Every girl has her own must have when it comes to choosing a wedding gown, for me it's the gorgeous back! With an infinite amount of designers and styles out there, sometimes a girl may seem spoilt for choice, but it doesn't make it any easier! So for all of you who share my love for gorgeous backs of wedding dresses, I hope I did you all justice! If not, tell me what are some of your favourite wedding dress backs?
---
Comments
Popular
Related
Recent