If you're a bride-to-be, you're going to love these adorable DIY bridesmaid gift ideas. Your bridal party does so much for you from planning the bridal shower, to the bachelorette party, to making sure that your wedding day goes seamlessly, so these ladies definitely deserve a special gift for all their hard work. I've made a list of some fabulous gifts for your bridesmaids that you can put together yourself, without breaking the bank, too! Check out this list of easy DIY bridesmaid gift ideas:
---
1

Wine Bottles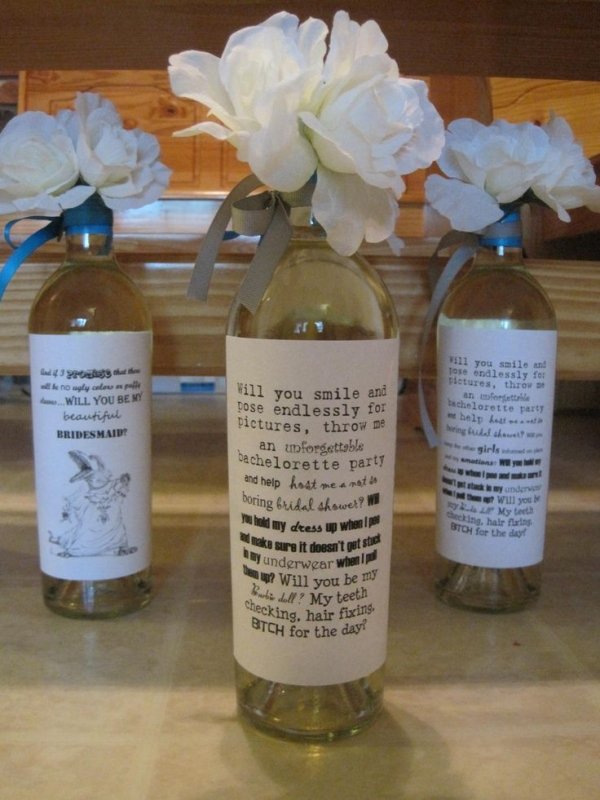 One of the cutest DIY bridesmaid gift ideas is a personalized wine bottle label. You can either use this as a way to "pop" the question to your prospective bridesmaids or to give at the bachelorette party or on the day of the wedding. Print the labels yourself with a personal quote or use a picture of you and your bridesmaid together on the bottle. Cheers!
---
2

Manicure Kits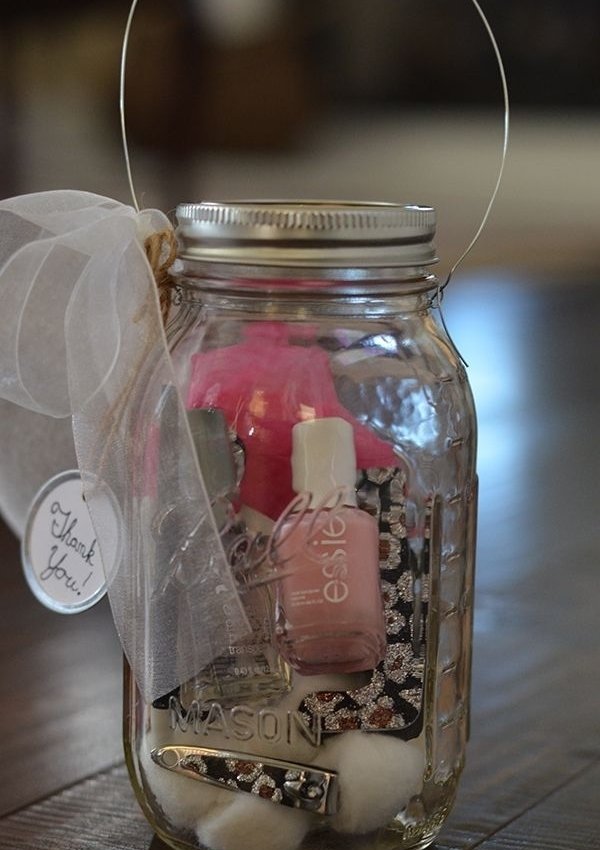 OK, so most bridal parties get professional manicures for the wedding day however, with this gift, your bridal party will have their own little kit to do their nails whenever they please. Fill a bag--which can be personalized with paint pens--with nail polish, cotton balls, polish remover, a nail file, cuticle pusher, clear coat, and any other odds and ends you'd like to throw in.
---
3

Personalized Coffee Mug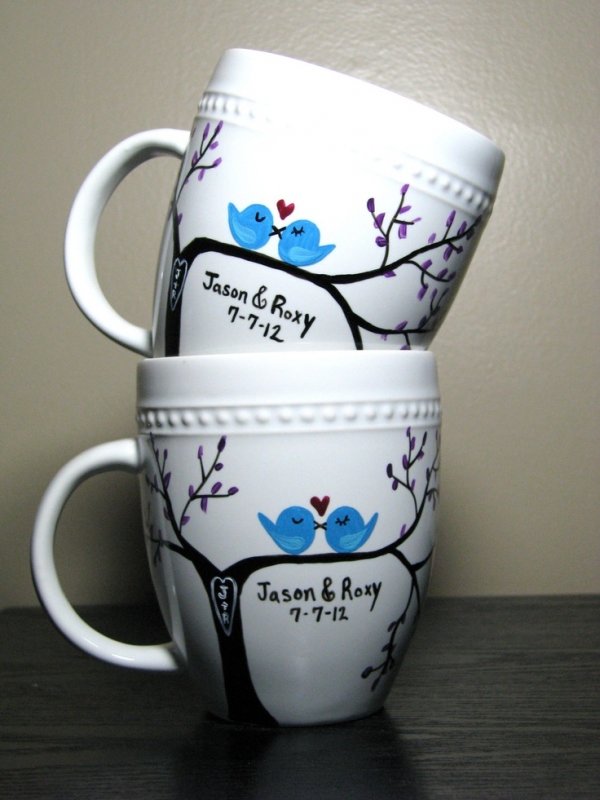 Find a blank white coffee mug and draw the name of your bridesmaid, just the word "bridesmaid", or really anything you like (the possibilities are endless!) with a porcelain marker. Some markers just need to sit overnight, while others need to be baked onto the mug. Once the ink is set, the mugs are dishwasher safe and your bridesmaids can cherish their mugs forever! Goodness knows they'll need caffeine for the big day, too!
---
4

Wine Glasses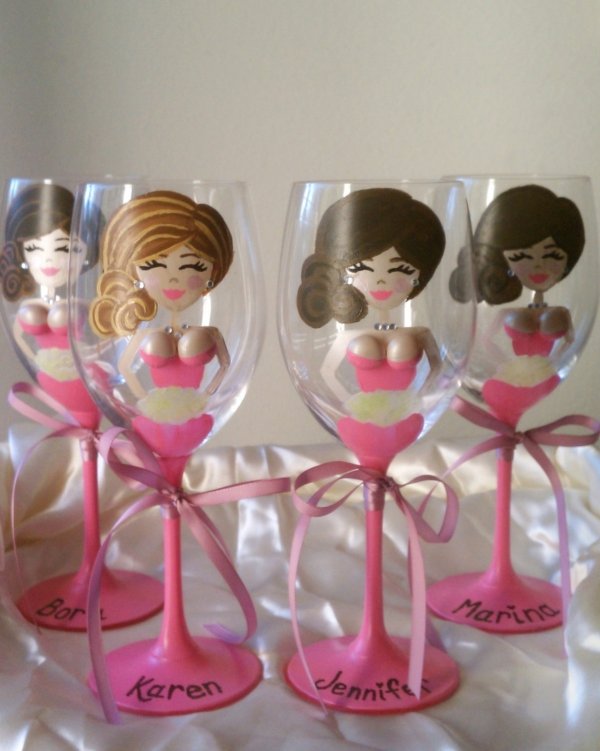 Break out your painting skills and dress up come basic wine or champagne glasses with designs and loving words for your bridal party. Make sure that the paint is permanent and instruct your bridesmaids to wash them gently by hand.
---
5

DIY Clay Mask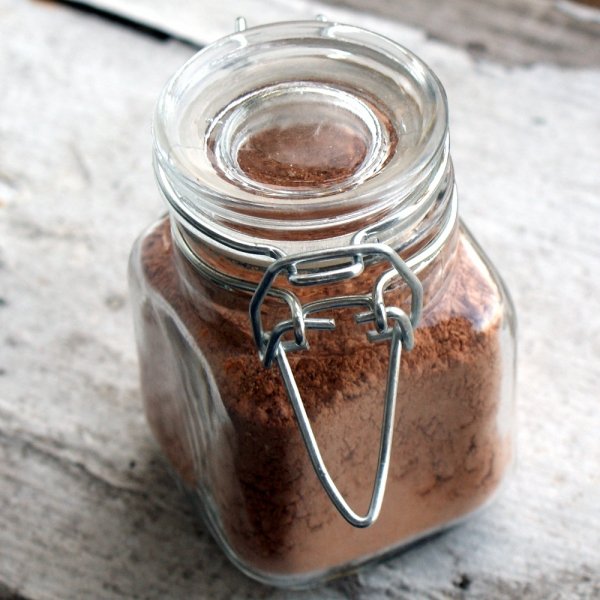 Put together all of the ingredients for an at-home facial mask in a mason jar or cute sealable jar and include a note with all of the ingredients and how to apply it. This would be great to give your bridesmaids the day before the wedding so that their skin can be especially glowing for the big day.
---
6

Wedding Survival Kit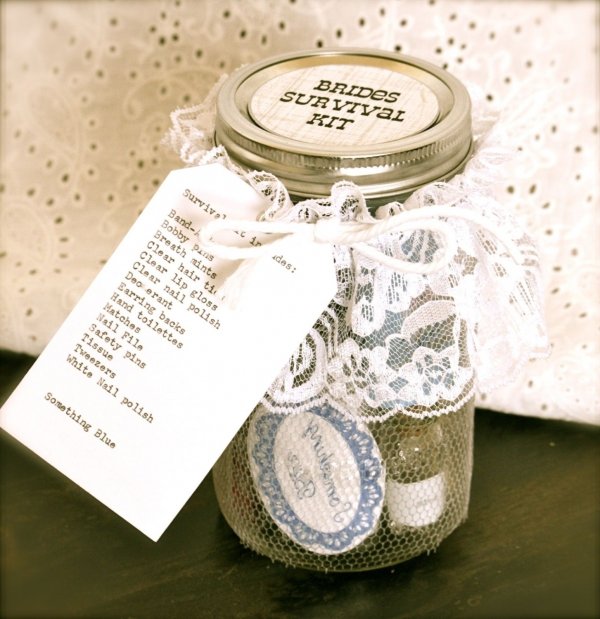 As much as you may feel that you need a survival kit for your wedding day, your bridesmaid will need one too! Put together a couple of staple items like tissues, mints, bobby pins, a mini bottle of hairspray, etc. into a bag and label the bag "survival kit"--super cute and much needed for a long, emotional, and beautiful day.
7

Dress Hangers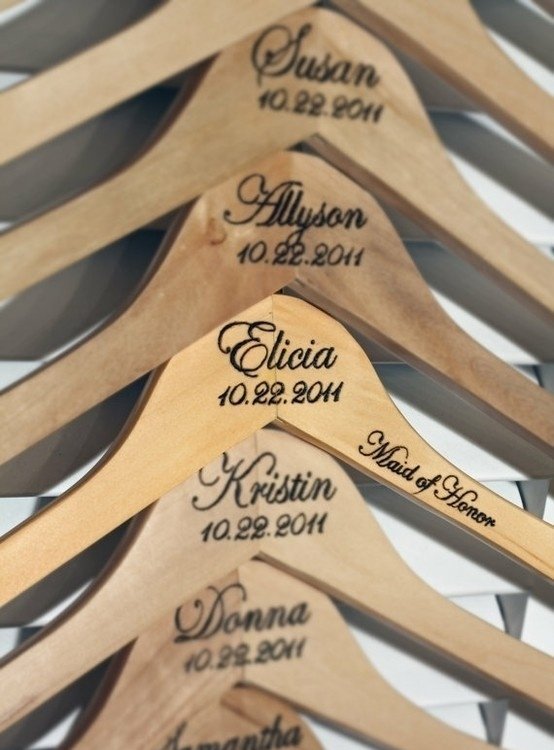 As a cute little keepsake to give the day of the wedding, either use pre-printed letter stickers or draw by hand the names of your bridesmaids and the date of the wedding onto a large wooden hanger. This way all of the bridesmaids can keep their dresses straight and have a little token of your appreciation.
Bridesmaids are truly important people in the wedding process, and you have to remember to show them some serious love. Without your bridesmaids, the work seems to pile up a lot before your eyes, so having their help is truly a key factor. Are you going to be an upcoming bride or bridesmaid? What gifts would you like to give/receive?
---
Popular
Related
Recent