Weddings are expensive enough, so why not save a little extra cash with some DIY wedding invitations? Sometimes the wedding invites can seem like a really taxing task, not just because of the plan for the layout of the invitation in general, but because you need to plan out just who exactly you want (or don't want) at your special event! It's also important to be cognizant of the theme and dress code of your wedding when planning your invitations; for example, if you're planning a black tie wedding, of course, a rustic-style invitation would be quite misleading to your guests. Just a little disclaimer: not all of these ideas are 100% DIY as you may need to go to a professional printer if you are not well-versed in printing from your own computer. In any event, check out these DIY wedding invitations and let your crafty side show!:
---
1

Fingerprint Hearts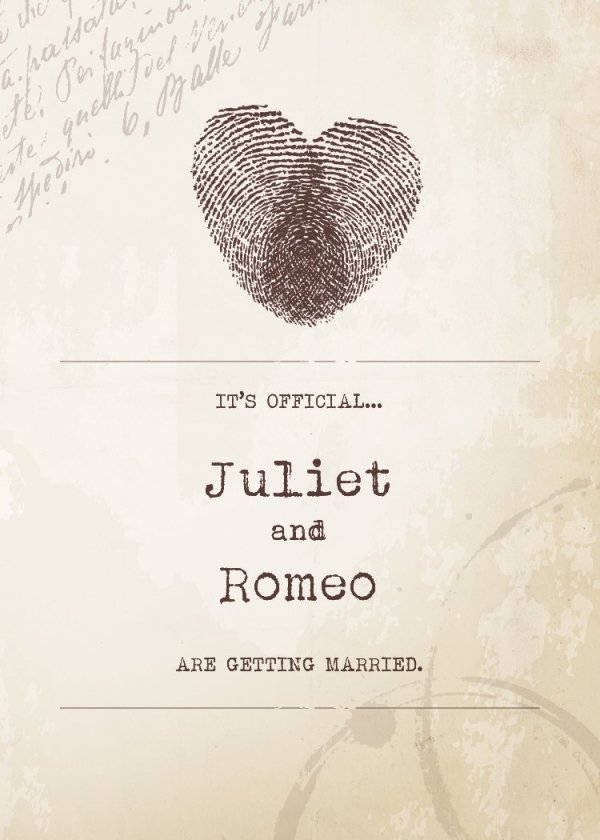 The first idea on our list of DIY wedding invitations is this adorable fingerprint heart that you and your fiance can make together. Find some pretty cardstock at a craft store, print whichever message you like on the front of the card, and have fun creating the finger print hearts!
---
2

Personalized Picture Envelope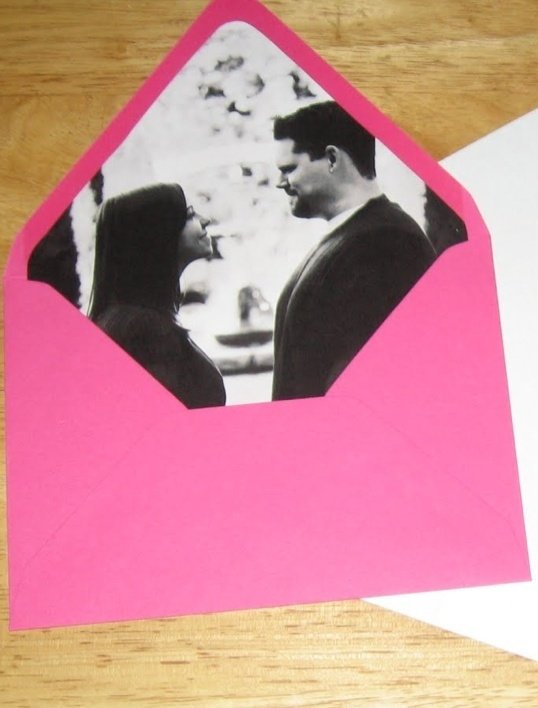 How adorable is this custom invitation envelope? Although it's not an actual invitation, it will definitely make your guests think you're really crafty and clever. Print out a picture of you and your SO and cut it to fit on the inside of an envelope. Make sure to choose the small, square envelopes instead of a white business envelope--this is a wedding after all, people!
Trendinig Stories
More Stories ...
3

Photo Booth Tag Invitations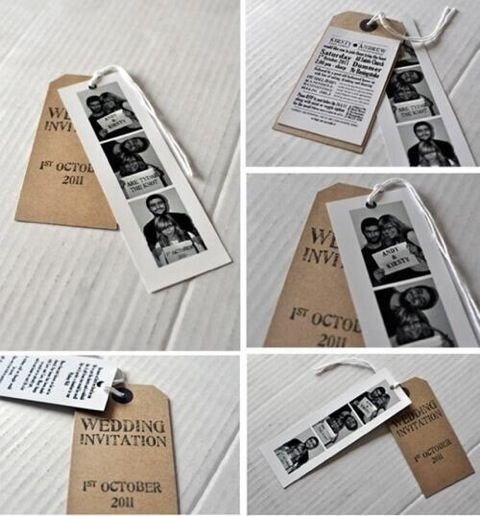 You can either venture to a real photo booth for these, or use an app like PiciBooth to get the vertical picture layout. Once your pictures are done, print multiple copies or scan copies if you did an original photo booth pic. Paste these onto some pretty cardstock, punch a whole in the top, and use a metal reinforcement ring to cover the hole. Next, find some tan cardstock that mimics the look of a brown paper bag and print your message on the cardstock. Cut the cardstock (around the wording) into an old fashion tag, and perform the same hole-punching steps as mentioned previously. Finally. loop some string through both the pictures and the tag.
---
4

Invitation Ornament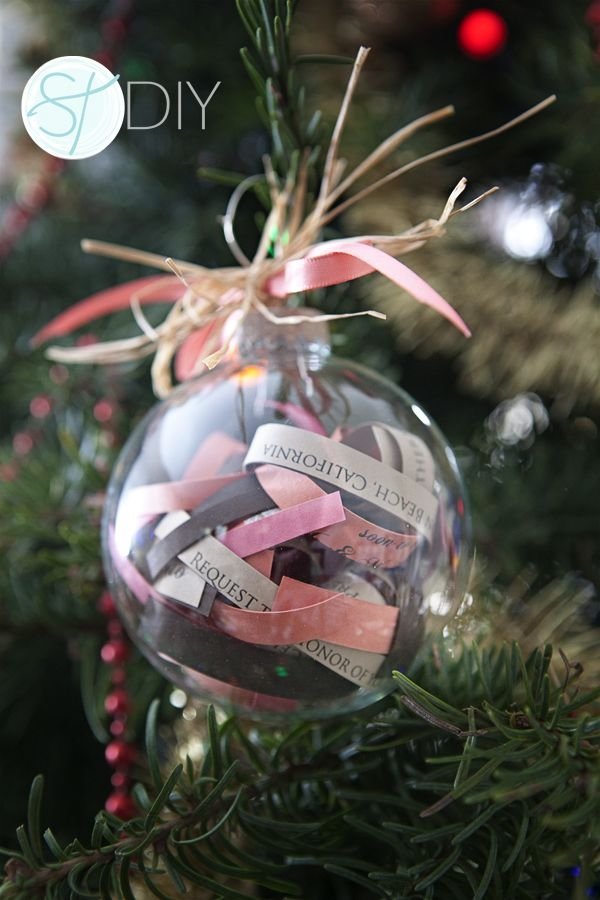 While many like to use this idea as a keepsake to save old wedding invites, it can also be used as your actual invitation! Cut up a simple homemade invitation outlining the details of your wedding into 6 or 8 strips (so there aren't too many little pieces) and put them into a glass ornament. Decorate the outside of the ornament with paint or a picture. When your guests receive their ornament (in a travel-safe box of course), they will have a little bit of a puzzle to put together, as well as a new ornament!
---
5

Bride and Groom Invitation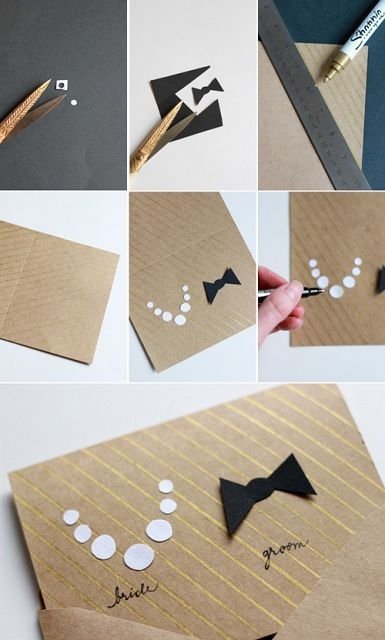 This simple and cute design is super easy to make. Cut varying size circles into white paper for the pearl necklace and a bow tie shape out of black paper. Glue these on to your cardstock of choice, and write the words "bride" and "groom" under their respective accessories with a calligraphy pen or Sharpie.
---
6

String Invitations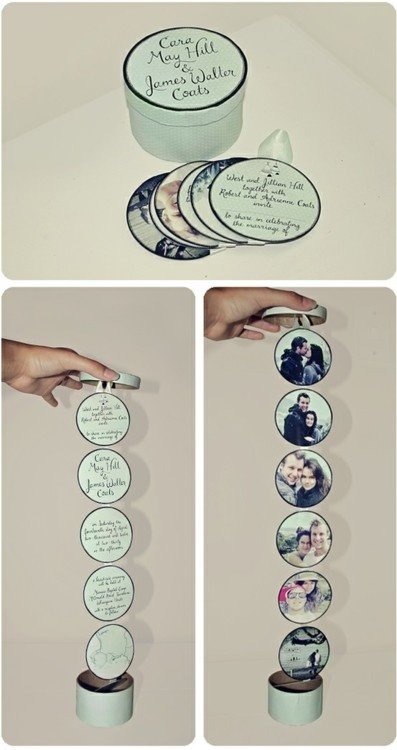 This invitation is a bit more labor-intensive than the previous styles, but if you plan to have a small party and have some extra time on your hands, this invitation is totally worth it. First, cut out printed pictures of you and your SO into a circle. Next, type up information about your wedding in small sections that can also be cut up into the same size circles. Next, paste the circles of wedding information onto the back of your picture circles. Lastly, cut small holes into the tops of the circles and string ribbon through so that you end up with a chain of circles. You can either place these in a tin like the picture above, or into an envelope for a simpler and less expensive option.
---
7

Winter Wedding Invite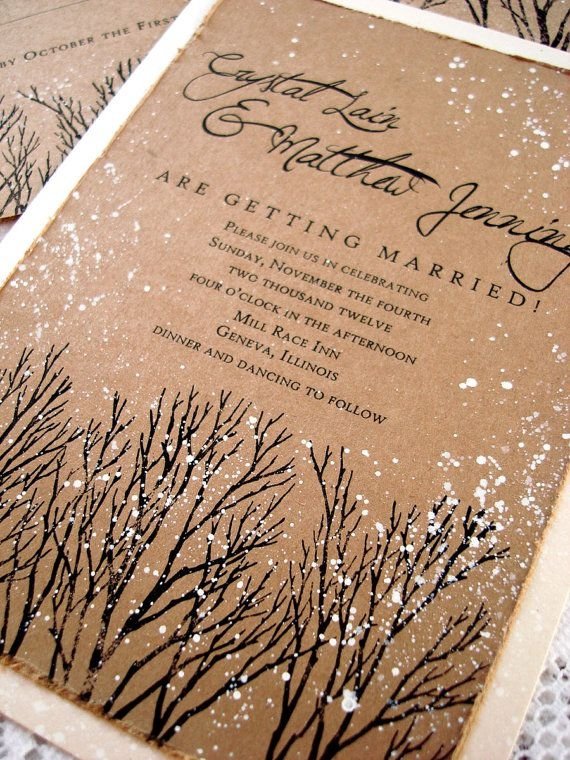 How cute is this idea for a winter wedding? Find the same style of paper bag cardstock mentioned previously, print your message and even stamp some tree branches onto the bottom for a chic aesthetic. Lastly, splatter white paint by flicking a dipped paint brush gently onto the invitation. Voila! Snowflakes-a-plenty.
DIY wedding invites are the perfect way to make a custom and unique introduction to your fabulous day. You can perfectly tailor your invite to let your guests see through the portal to your theme. Have you ever considered making your own wedding invitations? Please share your ideas in the comments!
---
Comments
Popular
Related
Recent