Your wedding day is about you and your husband-to-be but it is also about your families, especially the important woman in your life who you call mom! The mothers of the bride and groom want to look and feel special too, they don't want to look back at your wedding photos and feel old or dated. Help your mom feel gorgeous and classy in these sexy mother of the bride dresses... and maybe you can glow together!
---
1

Sparkly Mother of the Bride Dress...

I love how this sparkly mother of the bride dress looks sexy yet classy. There isn't too much skin showing but with the sheer sleeves and sequin accents your mom will look elegant and sexy at the same time! The gathering of the side ruching will also frame her curves nicely and make her feel confident no matter her size.
---
2

Lacey Mother of the Bride Dress...

The lace, the bow, the one shoulder detail, what's not to love about this gorgeous mother of the bride dress! I love that the gown is full length but still has a sexy element to it with the one shoulder and the beautiful lace. I could see my mom wearing something like this and looking amazing!
3

Illusion Mother of the Bride Dress...

The satin piping that wraps around this mother of the bride dress gives a great shape to the body along with the beautiful mesh illusion bodice. What's great about a dress like this one is that your mom can feel great about being able to wear it again to another event.
---
4

Beaded Mesh Mother of the Bride Dress...

I can picture an older mother of the bride wearing this gorgeous, beaded gown and looking elegant and sexy with just a peep of the leg showing. The draping and ruching will help hide what she doesn't love, but the sparkling details will keep her glowing all night long.

Lisa How can I order this dress or where can I buy it...
---
5

Faux Wrap Mother of the Bride Dress...

Simple, sweet, and sexy just like the mother of the bride! This is a great dress for mothers of any age to feel beautiful in with the faux wrap and the sweet ruffles that flow from the gathered twist of fabric on the side.

Penny Where can I try on & purchase this dress? ...
---
6

Beaded Bodice Mother of the Bride Dress...

This beautiful mother of the bride dress would be perfect for a mom who wants to look conservative but still feel modern and sexy as well. The neckline and the beading on the bodice are thoughtfully made with an older, classy woman in mind.

Jami Where can I purchase this dress and does it come i...
---
7

One Shoulder Mother of the Bride Dress...

If your mom is young and enjoys working out she may want to show off her gorgeous body and this one shoulder mother of the bride dress would be the perfect way for her to show off those muscular arms. One shoulder dresses are a chic way for your mom to look sexy without trying too hard.
---
8

Crystal Beaded Mother of the Bride Dress...

This mother of the bride dress is lovely for a formal, black tie reception in the city where she will sparkle under the night stars and glow alongside her beautiful bride daughter. An elegant dress like this shows that your mom can be sexy without having to look trashy by showing too much cleavage. This dress is classy and modern and any mother would be proud to wear it.
---
9

Grecian-inspired Mother of the Bride Dress...

You have always looked up to your mom because of her chic fashion sense and now she has done it again in this lovely grecian-inspired mother of the bride dress. As you dance together at your reception she looks like a greek goddess and you both can't help but to be proud of each other.

Madonna Exactly what I am looking for!!!...
---
10

Flutter Sleeved Mother of the Bride Dress...

Some dresses just fit perfectly and hug all the right curves, that's why this flowy sleeve, tiered dress would look amazing on a sexy mother of the bride who is full figured and knows how to show it off! She looks like she could stop traffic in this dress and have all the guys asking for her number, but she also looks classy and chic.
---
11

Embroidered Lace Mother of the Bride Dress...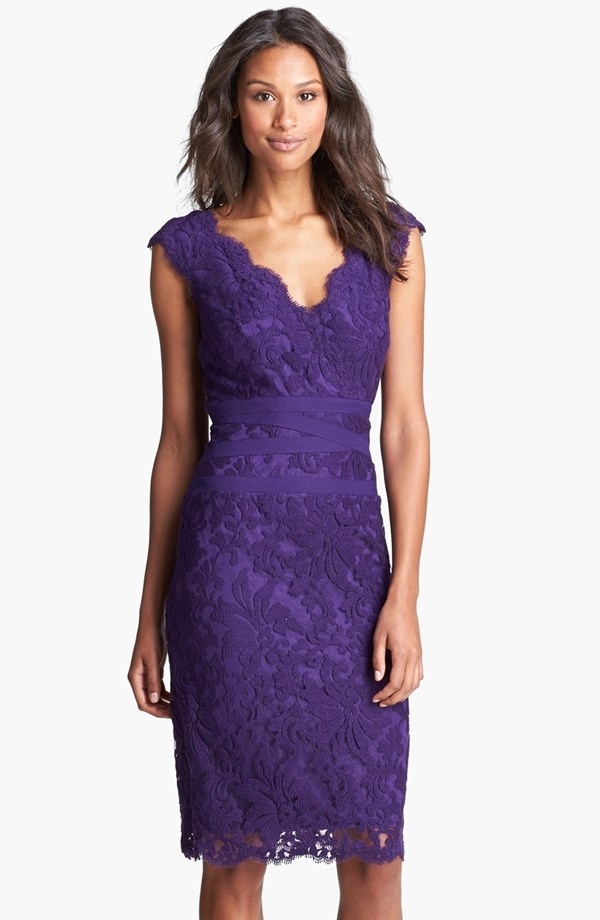 Dresses with texture always captivate me! I love the detailed lace embroidery of this dress, combining two delightful textures in one beautiful look. In any color, it would look stunning. But personally, I adore this deep amethyst shade for a sexy and breathtaking mother of the bride dress.
---
12

Twist-Waist Mother of the Bride Dress...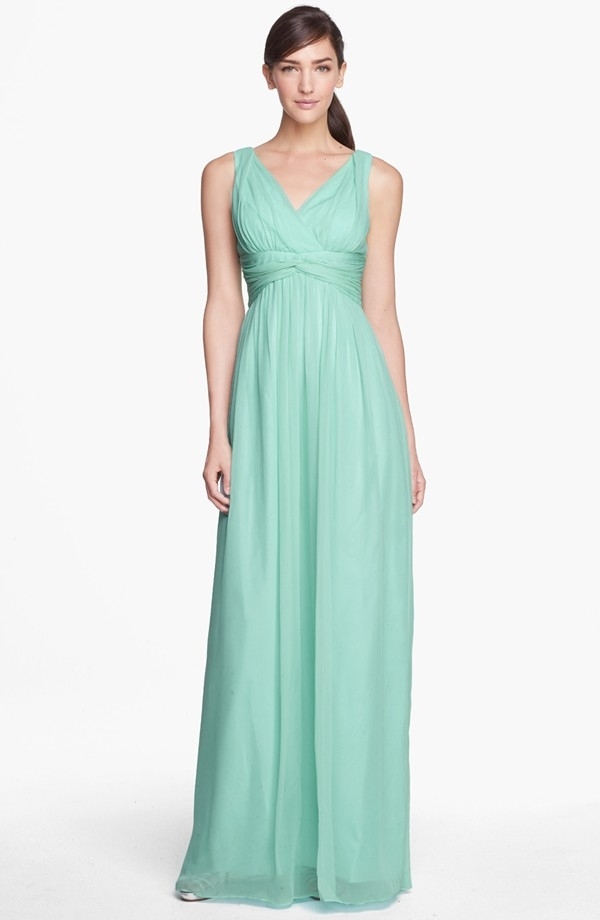 If I've learned any fashion tip from my mother, it's to always find clothing that slims your waist. If that's one of your mom's goals while selecting a dress, this dress may be perfect one for her! The "twist-waist" draws attention upward and away from the stomach. Plus, its loose fabric doesn't cling to the "jiggly bits", as my mother would say!
---
13

Midnight Black Mother of the Bride Dress...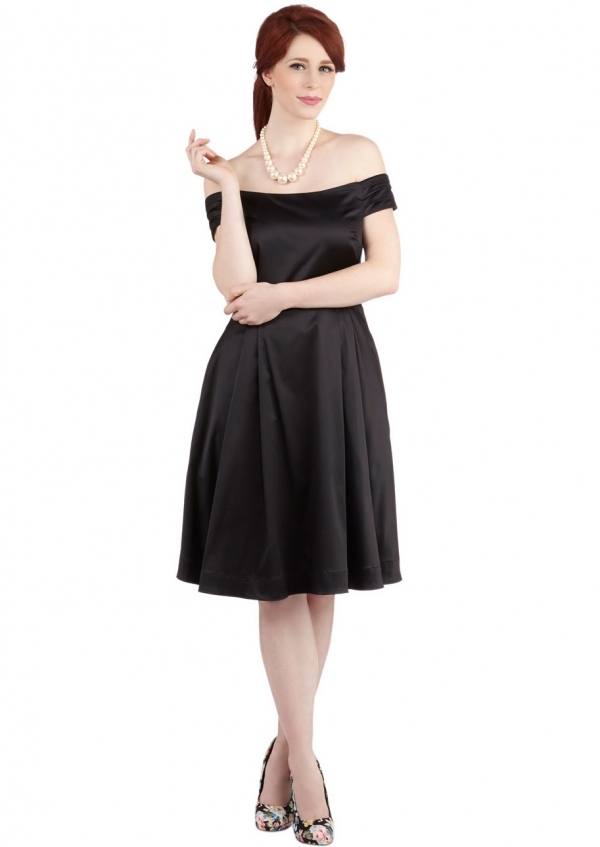 Since the mother can't wear white, why not wear black? This sexy mother of the bride dress is for mothers who love their shoulders! If your mom has been working hard to get in shape for your wedding, it's time for her to show off all she's done! This off-the-shoulder look is glamorous, timeless, and definitely sexy!
---
14

Beaded Mesh Mother of the Bride Dress...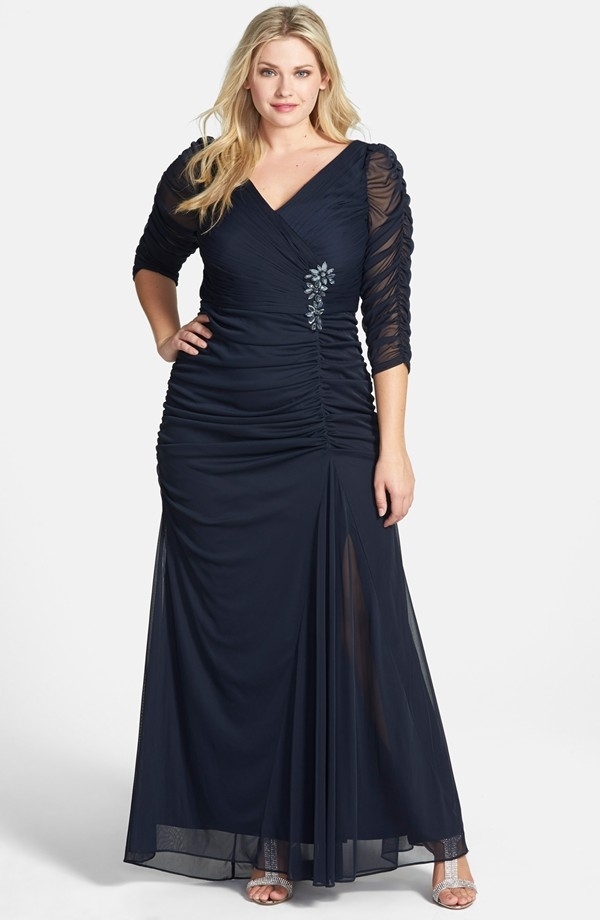 This dress is hardly like a dress and really more like a gown! The deep ink shade is positively enchanting, with sheer sleeves that will look amazing on! Your mom will come close to stealing the show in this fabulous ensemble!
---
15

Beaded Lace Mother of the Bride Dress...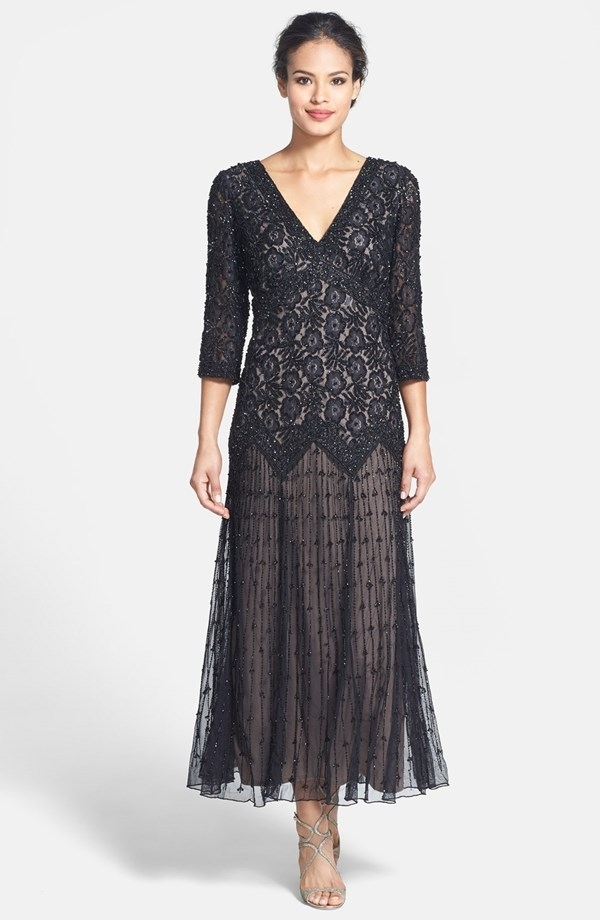 This gorgeous dress will look amazing at any nighttime or winter wedding. Its flowy style creates a sense of elegence and grace with every step, while the shimmery beads and lace make it sexy and captivating! Any mother would look truly stunning in this beaded lace dress.
Mother of the bride dresses don't need to cover every inch of skin, but they also shouldn't show too much skin. You want her to look flirty, but sweet, and any of these mother of the bride dresses will give your mom the boost of confidence she needs but the conservative look she wants. As she is proud of you and the gorgeous bride you are, you want to be just as proud of her and the mother of the bride dress she wears on your big day. Shop together to find something that complements your gown, but doesn't look too out of place. Have fun and show your mom how she can look sexy, yet chic!
This article was written in collaboration with editor Sabrina Yates.
---
Comments
Popular
Related
Recent