Couture wedding dresses are masterpieces of design, unparalleled in craftsmanship, created from the world's most luxurious fabrics, and forged with an exquisite attention to detail. Defining the elite standard, high fashion wedding gowns influence not only the couture bridal wear market, but also the trends that pave the way for ready-to-wear designers all over the world. These dresses are true representations of grace, elegance and imagination - designed to inspire, to engage and to evoke beauty and emotion. On that note, here are 8 gorgeous couture wedding dresses from the breathtaking 2012 collections of design powerhouses Vera Wang, Elie Saab and Ines di Santo.
---
1

Vera Wang "Helena" Ivory Strapless Ballgown with Appliques and Full Organza Skirt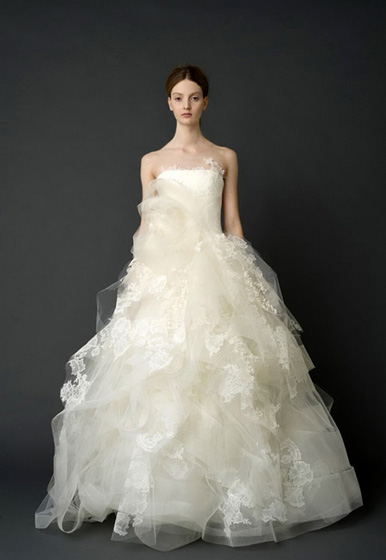 Known to many as the queen of high fashion wedding gowns, this breathtaking dress designed by Vera Wang is sophisticated and striking, ethereal in style, yet majestic in structure. "Helena" features extravagant lace appliques of crystal sprigs and subtle flowers - a tribute to the purity of nature - highlighted by a sumptuous organza skirt, both delicate and dramatic.
Please visit verawang.com for details.
2

Vera Wang "Holly" Pink Strapless Mermaid Gown with Corset Bodice and Petal Skirt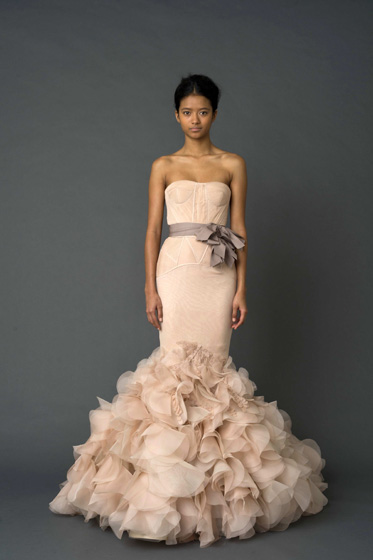 A nod to the more imaginative, sensual side of couture wedding dresses, this lavish gown is a flawless choice for the fashion forward, modern bride craving something gloriously different. From the sultry bodice, to the luxurious pink color, to the immaculate petal skirt, the "Holly" dress is a truly show-stopping, one-of-a-kind statement gown, perfect for a cosmopolitan wedding.
Please visit verawang.com for details.
---
3

Vera Wang "Hazel" Ivory Ballerina Ballgown with Pleated Bodice and Tiered Skirt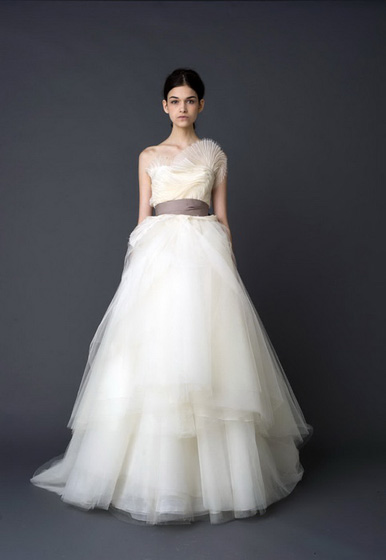 Conservative in design and delicate in detailing, the "Hazel" by Vera Wang embodies the more refined notes of couture bridal wear. Evoking a sense of old world romance and effortless elegance, the ivory organza ball gown, with a distinctive pleated bodice, empire waist and tiered cut skirt, is the ideal blend of timeless good taste and subtle, understated appeal.
Please visit verawang.com for details.
---
4

Elie by Elie Saab "Belisama" White Sleeveless Gown with Floral Applique Bodice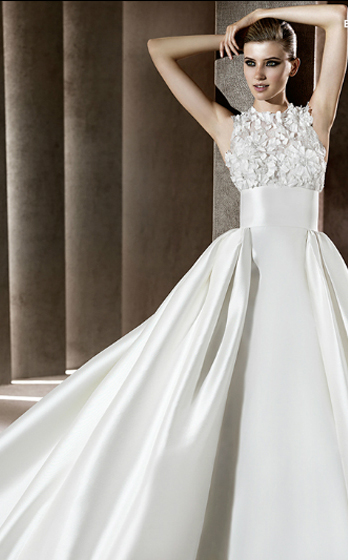 The "Belisama" gown, a highlight from the Elie Saab for Pronovias collection of couture wedding dresses, is truly a breath of fresh air, with a crisp design, elegant detailing, and a clean, white silhouette. Featuring a full, sleek skirt, high defined waist and floral applique bodice, this beautiful dress is modern, regal and youthful all at once - a dream for any bride looking to balance conservative structure with sweet style notes.
Please visit pronovias.us for details.
---
5

Elie by Elie Saab "Neftis" White Ballgown with Full Organza Skirt and Floral Bodice Detailing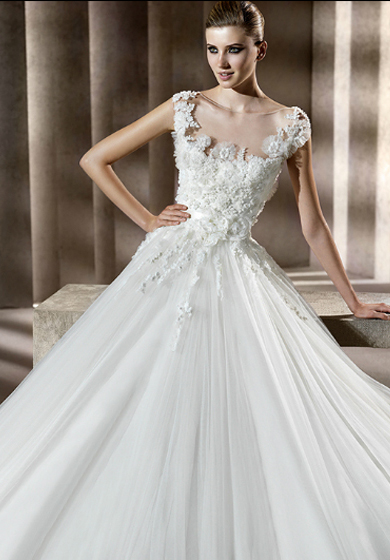 A blend of some of the industry's most sumptuous fabrics - silk taffeta, embroidered lace and silk organza - Neftis is the ideal gown for a bride looking to combine both modern and ethereal elements. Nipped in at the waist, with a full skirt and subtle boat-neck, this amazing dress is highlighted by the monochromatic floral detailing and the fresh, elegant feel. A true testament to the radiance of bridal couture, sleek hair, natural make-up and light accessories are the perfect elements to enhance the look and allow the bride to take centre stage.
Please visit pronovias.us for details.
---
6

Ines Di Santo "Emmy" Silver Sequin Plunging Neckline Fit-and-Flare Gown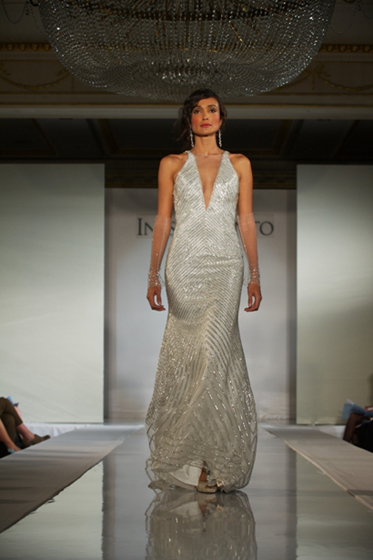 Reminiscent of old Hollywood style, the "Emmy" is a luxurious take on high fashion wedding dresses, fit-and-flare with a sexy plunging neckline perfect for the confident, dramatic bride. Adorned with silver sequins, it is both light and eye catching in a streamlined, sexy silhouette. In terms of couture wedding gowns, this dress is an opportunity to create a glamorous, memorable bridal look entirely your own.
Please visit inesdisanto.com for details.
---
7

Ines Di Santo "Cameo" Ivory One Shoulder Sweetheart Gown with Lace Underlay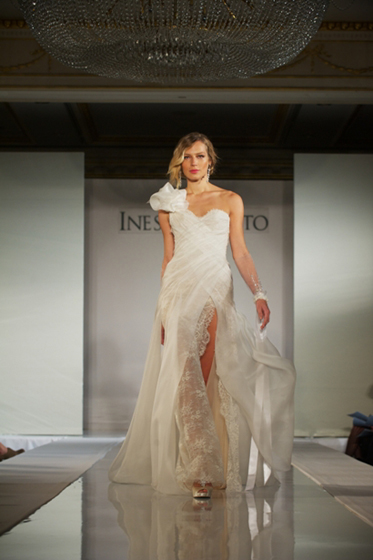 Couture wedding dresses are inspired by long-time bridal traditions, yet they are forged with the desire to design something from a fresh and innovative perspective, something unexpected. This unique creation by Ines di Santo, the "Cameo", is a good example of this process, in ivory silk with a fitted bodice and flowing skirt, featuring a dramatic one shoulder organza accent, a thigh-grazing slit along the left front panel and Chantilly lace underlay for an alluring, sensual point of visual interest.
Please visit inesdisanto.com for details.
---
8

Ines Di Santo "Serendipity" Chai Taffeta Gown with Corset Bodice and Full Skirt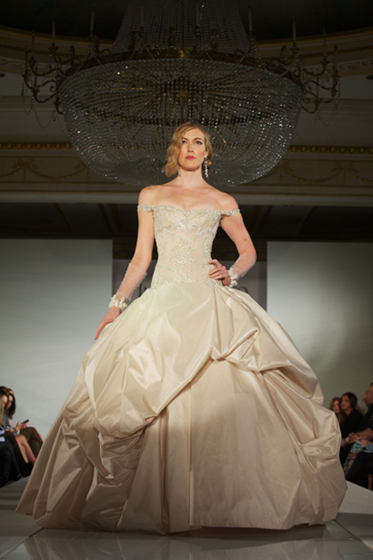 To complete our selection of couture wedding dresses, the "Serendipity" gown is a princess inspired, dazzling look. From the absolutely stunning chai silk taffeta - complimentary against a variety of skin tones - to the transparent beaded corset bodice and full, elegant skirt this dress is regal, formal and picturesque... truly a blend of the romantic notions, the dramatic designs and the intricacy of producing high fashion wedding gowns.
Please visit inesdisanto.com for details.
Each of our couture wedding dresses is magnificent it its' own way - fueled by the attentive, imaginative and extraordinary design visions of Vera Wang, Elie Saab and Ines di Santo. Through the use of immaculate fabric choices, detailed design work and incredible style variations, these high fashion wedding gowns are representative of the wide spectrum of amazing, unique bridal pieces leading the market. Which of these couture wedding dresses is your favorite?
Top Image Source: weheartit.com
---
Comments
Popular
Related
Recent