Are you looking for some bridesmaids gifts to give to the wonderful ladies standing by your side at your soon-to-be wedding? If so, you can't go wrong with the ones listed below. Cute and useful, these bridesmaids gifts are sure to please your girls!
---
1

Puzzle Piece Necklace

This necklace is one of many unique bridesmaids gifts. Give each member of your bridal party a piece of the puzzle. The puzzle represents your own heart, where each one of your bridesmaids has a part. How cute is that?
---
2

Memento Box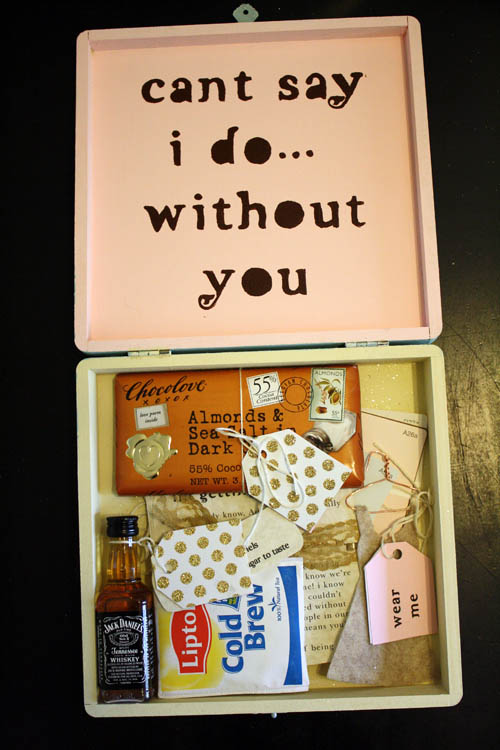 This is a very original idea! Instead of giving your ladies one gift, give them many! A memento box is the perfect lovely present! Include a mini liquor bottle of her favorite alcohol, a heartfelt note on why you want her to be your bridesmaid, an invite to the wedding and a few other items you find necessary! Be creative with decorating the box and choosing the items you put inside. The box in the picture is a wooden cigar case, but you can use any box you'd like to hold your items!
---
3

Bow Bracelet

How can you go wrong with this cute, dainty bow bracelet? Bows are totally in style right now! A bow can also represent them helping you "tie the knot." How neat is that?
---
4

Initial Necklace

Give them a more personalized item with this beautiful necklace! It comes with a lovely card and the necklace features a freshwater pearl! Customize the necklace with the initial of your bridesmaid's first name!
---
5

Initial Heart Bracelet

I can't get over this bracelet! I just love it! It's so delicately lovely, cute, simple and fashionable! It can easily be layered with other bracelets too! Your bridesmaids would totally appreciate this gift!
---
6

Message Locket Necklace

Who doesn't love lockets? I remember having a locket when I was younger and I just loved the concept of holding something in it that was dear to my heart. Now, you can give these precious lockets to your bridesmaids and insert any message you want inside each one. How cool is that?
---
7

Personalized Name Ring

Rings have really become trendy, so keep your bridesmaids in the style loop! You can customize each ring as well. It doesn't need to be a name. It could be your wedding date, you name it. I really love this idea; I'm planning on using it when I get married!
---
8

Shower Soap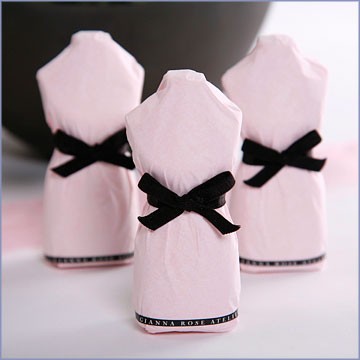 These cute little soaps were too adorable not to put them on the list! The shower soap is infused with the scents of melon and floral. Plus, the soap has a rich lather too! Who doesn't like to smell nice? You can purchase them at americanbridal.com.
---
9

Personalized Travel Mug

What girl doesn't love her coffee and tea? Make it easier to bring it with her everywhere she goes by giving her a travel mug personalized with her favorite colors and initials!
---
10

Personalized Cosmetic Bag

Help your best friends organize their makeup with these trendy monogrammed cosmetic bags. They come in a variety of colors so you can please each one of your bridesmaids' personal tastes.

Not every bridesmaid has the same taste, so mix it up if you have to. That being said, if you were a bridesmaid, which one of these gifts would you like to receive? If you've been a bridesmaid before, what kind of gift did you receive? If you're a bride and purchased gifts for your bridesmaids, what types of items did you give them? Thanks for sharing!
More
Comments
Popular
Recent