I'm always excited to learn and to share information about a new** wedding vendor** that I haven't heard about before. There are so many different vendors out there who bring their own** unique ideas** to one very special day; from photographers and wedding coordinators to bakers and entertainers, no two weddings are alike. Today I am happy to share not only a wedding vendor with you but also a cultural tradition that can be a part of anyone's wedding day. Soraya's Mid-East Dance and Music Productions provides a fun cultural experience that will make your wedding day memorable from start to finish.
Egyptian Wedding March...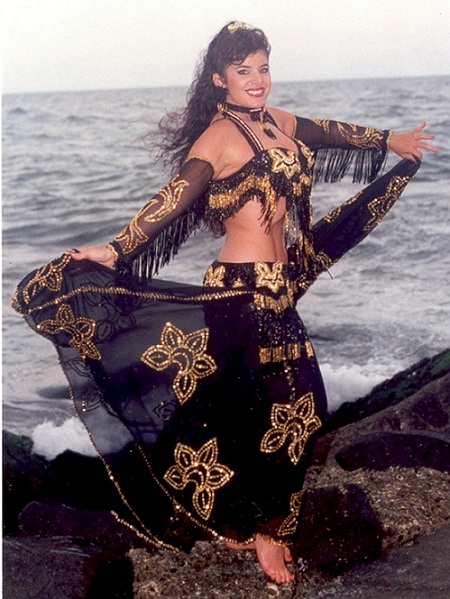 "There is a huge difference between my authentic style and the more watered down, Westernized version. What I do is more conducive for a big stage concerts such as my frequent performances in the Atlantic City casino showrooms. My clients are in the know I also enjoy putting together huge corporate "Arabian Nights" theme parties for fortune 500 companies with my musicians. I also LOVE doing gorgeous weddings. By request I will perform what is traditionally known as 'EL ZAFFA or ZEFFA'. This is a ritualistic** Egyptian wedding march**. However, other countries in the Middle East and Mediterranean use this as well. There is a specific musical rhythm that is played as I will lead the bride, groom and entire wedding party into the ballroom. Back in the native Arabic countries this is done to announce that a wedding celebration has occurred. The wedding party carries candles as the ZAFFA rhythm plays. I play my finger cymbals or Sagat (as they are known in Arabic) to the beat. After the newly married couple sits at the head table and the wedding party is seated, I go into a full** belly dancing performance** of high energy dance for the next 20-30 minutes. EL ZAFFA lasts from 10-15 minutes depending on the window allotted for dance entertainment. Every bride and wedding is unique. I personally work with my clients to tailor the perfect show case of** sight, sound and culture**."
Who We Are...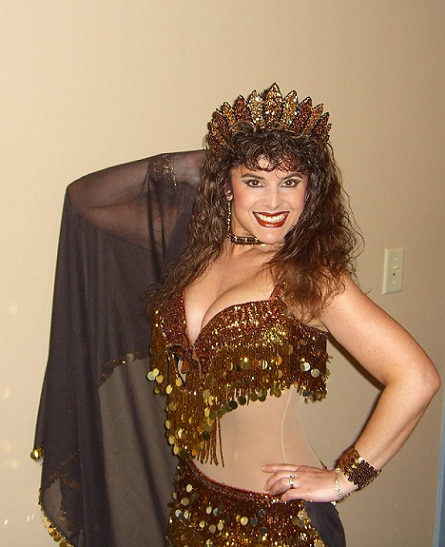 "When I work at the casinos, I perform for audiences of thousands who are mostly Middle Eastern, not a small birthday party. I get hired to open concerts for big name Arabic singing stars from Egypt, Lebanon, Syria, and Morocco. My dance concerts are on the main casino showroom stages where the headliners perform. My last showroom concert was at Caesar's AC with Lebanese superstar Fares Karam. We had over 3,000 people. I also enjoy performing in ethnic weddings in beautiful hotels and ballrooms.
I own a large, global entertainment agency called: 'SORAYA'S MID-EAST DANCE AND MUSIC PRODUCTIONS'. My company is based at the beautiful southern Jersey Shore area. We are very close to Philadelphia, so I produce and perform at many hotel ballrooms and other theatrical venues. My agency is busy with numerous requests. I enjoy helping out other artists with giving away overflow. Being able to spread the joy around makes me happy. I never take a monetary commission from my artists, that is never necessary. Rather, I enjoy for them to keep all of what they earn. Giving back feels great. My husband and I are into many forms of philanthropy. This is what I call "BELLY KARMA" ;)
Since this is my cultural craft, I work hard at abolishing any incorrect or ignorant stereotypes. It is hard in the US because belly dancing is seen more as a side show. Belly dancing should be held in the same regard as ballet. When done correctly this dance is perfect for the entire family celebrating an ancient culture but with my own modern flair. In my opinion, strong technique such as proper step execution is paramount but also displaying natural feeling for the music. The music and the dance is one in the same. The steps should reflect the beat changes and performed from the heart. When overly choreographed in an Americanized way, it loses the soulful essence. My style of belly dancing is not contrived but rather it is felt on an earthy, natural and rhythmic level. I love connecting to my audiences through my personal, musical tapestry."
Continue Reading...
Stay True to Your Dreams...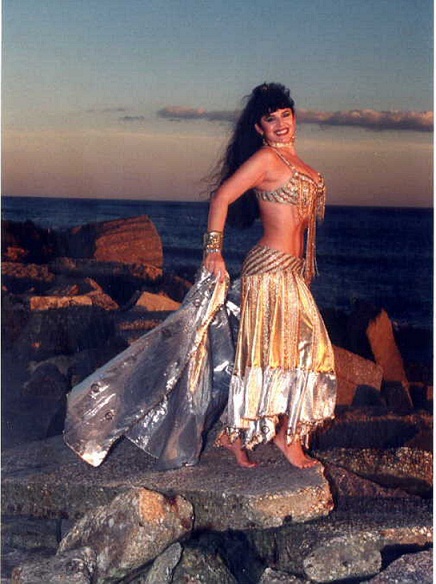 I would love to talk a little about my cultural heritage and how I literally grew up constantly surrounded by Middle Eastern music and belly dancing. Thanks to very hip (no pun intended lol), and open minded parents, I was always encouraged to follow all of my dreams and make them a reality, which I have. My husband is incredibly supportive and takes pictures and video at all of my shows. He is not in the arts like myself but rather works as a prominent physician.
My heritage is Syrian and my style of Arabic dance reflects my culture and my authenticity. I believe in staying true to the real cultural connection of what I grew up with as a child. Turning down numerous reality television show and bad gigs, is a pleasure as I will never sell out. I am an intense Scorpio that believes in being extremely selective with what shows, concerts and events I personally take. I base all of my performance and media appearance decisions on whether or not I feel a client or show is in the best interest of true professionalism. I am all about AUTHENCITY and being elegant in my approach to "RAKS SHARKI" (Arabic for DANCE OF THE ORIENT).
I use my college degree to research and study my own heritage and art form. I love to educate people about what real Egyptian dance is supposed to look like. I hold a B. A. in cultural Anthropology and Sociology. I have successfully created my own style of belly dancing with a very evocative and highly authentic approach. The costumes I wear are all costume made for me in Cairo, Egypt and sometimes Beirut, Lebanon. I feel the belly dancing costume should always be in great taste and family oriented. My conservative, ethnic clients love this about me. They are lavishly beaded, sequined and geared towards upscale events and weddings rather then the type of gigs I avoid. I like to leave more to the imagination and believe my unique costuming
My style is heavily based on percussion featuring the** TABLA** which is the name of the main Egyptian hand drum. It is crucial to really understand the intricacies in the Middle Eastern music in order to do it right. I love to interpret what it means to the audience rather than just going through the motions. I will never debase my art form in any way hence happily turning down reality TV. ;) The calls and requests come in from California and New York from different producers and networks. Most do not take no for an answer but I graciously keep refusing. I am flattered but not interested. I am very protective of my brand and personal image. When I show the world what I have created, it will always be in the best light possible. Hence, I would never turn my art into a bad, circus side show.
Raks Sharki or** belly dancing** can be a sensual dance but is NOT sexual unbeknownst to those who have no connection to the music they are dancing to or the culture they are trying to represent. It is so much more than just mindlessly shaking around, begging for dollar bills as a bad restaurant diversion, very degrading and insulting the culture. I always choose quality, authenticity and character first. As a real professional belly dancer who is actually of Middle Eastern heritage, I turn down what I call typical gigs that are not for the type of parties, events or clients who appreciate my work. Staying true to the authentic art of my culture heritage has become a lifelong passion. Life is good and I could not be happier...;)
In closing, I strongly encourage your readers to never give up on their dreams, display integrity of character and great success will follow.
Sincerely,
Soraya, authentic International
Egyptian belly dancer
Soraya's Mid-East Dance
and Music Prodcutions
P.O. Box 3284,
Margate, NJ
08402
(609) 823-2029
I want to thank Soraya for sharing with us her beautiful cultural tradition, her background, and for inspiring us all to stay true to our dreams, our beliefs, and who we are and hope to be. You can also find her on twitterand see her beautiful dances on YouTube.