We're so excited to give more brides another chance at winning a personalized bridal hanger, this time from Etsy shop Pimp my Name! We want to thank the lovely Mari for this wonderful giveaway, we know so many brides are just as happy as we are right now. Maybe you will be the lucky reader who wins this beautiful "Love is Forever" Bride hanger for your big day...
Getting to know Pimp my Name...
"Hello my name is Mari, and I am the owner of PimpMyName Wire Creations. I was born in Manhattan N.Y. raised in Puerto Rico and moved to Buffalo N.Y. when I was 19 years old. I am the proud mother of a 20 year old young man, and married 23 years to my wonderful husband Papo.
I have always loved crafting all kinds of things. I specially love working with wire, and started creating wire jewelry approximately 1 year ago. Since I was already a frequent buyer on EtsyI decided to open my Etsy shop a few months ago. I noticed the high demand that existed for Bridal Dress Hangers, and decided to concentrate my creative side on these hangers. I am so exited to make these custom hangers, my favorite hanger is always the hanger I most recently designed. So right now the Bridal Dress Hanger with a small 3-D bridal dress on top is my favorite. I have two most popular hangers, the Personalized Bridal Dress Hanger and the "Bride" Hanger.
As owner of PimpMyName Wire Creationsmy desire is to continue creating these beautiful hangers and make as many bride's big day just a little more special. Please visit my shop to view the different styles of hangers I have designed."
Update: We Have a Winner!!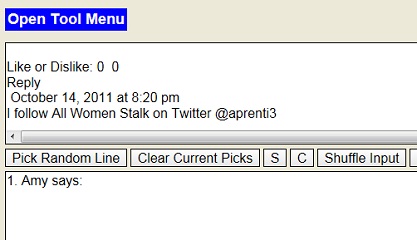 Congrats to Amy on winning this beautiful bridal hanger from Pimp My Name Wire Creations! We are so excited for you and can't wait to hear more about your 2012 wedding! Thank you to Mari from Pimp My Nameand to all our bridal readers who entered. Come back and check out the rest of the giveaways on AWS!
(Contest Now Closed) How to Enter...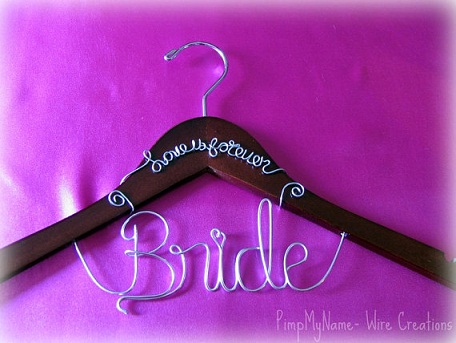 To be the lucky bride who wins this beautiful "Love is Forever" Bride hanger from Pimp my Nameplease leave a comment telling us when your wedding day is and what your favorite hanger from Mari's Etsy shopis. For a 2nd chance leave another comment telling us you like All Women Stalkon facebook and for a 3rd comment let us know that you shared this or likeAll Women Stalkon Twitter. Good luck to all of our bridal readers and thank you again to the sweet Mari! Please check out our other giveawaysand come back next Tuesday to see if you are the lucky winner!
---
Comments
Popular
Related
Recent