Not every couple gets the chance to capture their marriage proposal on camera. Sometimes it's an after thought and you really wish you would have caught the** magical moment** on film. Well Elissa's fiance Jeff knew better than to miss the opportunity and the little hints from his soon-to-be-bride to contact Kristin, Elissa's friend, from Photomuseto take surprise photos of his big moment...maybe after seeing this romantic story unfold your sweetheart will get the hint too!
---
10

Rainy Day Picnic...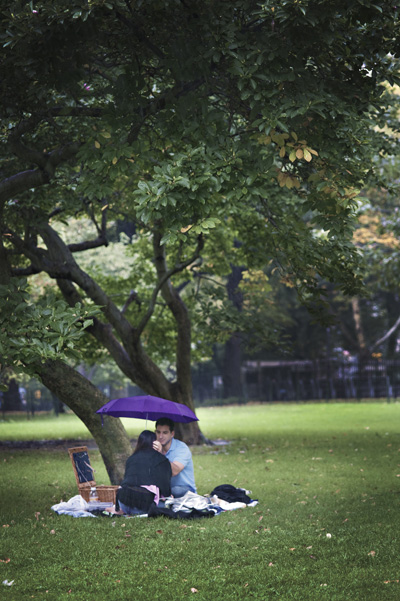 Jeff had already set up a lovely picnic inCentral Parkand had photographers Kristin and Steven from Photomusehiding in the background, what was a man in love to do when it started raining! He was to go on with his plans and not worry about a little rain storm!
---
9

I Have Something to Ask You...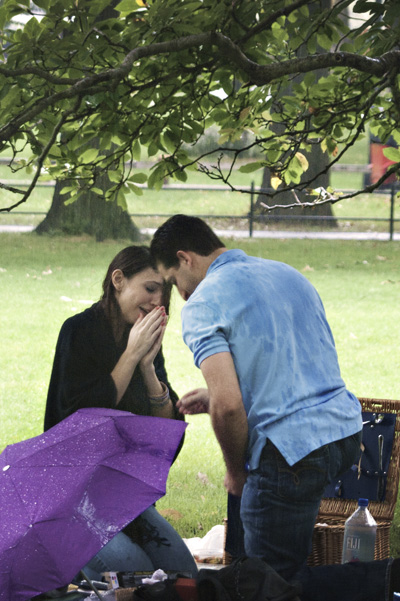 Jeff's beautiful girlfriend would soon find out that this was not just any picnic he had planned, besides why else would they still be sitting in the rain! I love her reaction and that she didn't mind the rain either!
---
8

Will You Marry Me...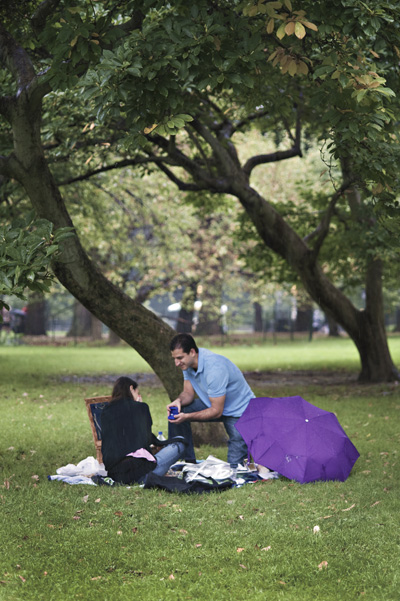 A word from the beautiful bride to be....
"Although we didn't start dating until 2006 (when I was 21), I actually met Jeff 3 years before when I was 18......Jeff is my brother-in-law's friend and fraternity brother.
During one of my trips to NYC to visit my older sister, I had a chance to hang out with her boyfriend (now husband) and their friends -- one of those friends was Jeff. We caught each other's eye and flirted one night...but (as a young 18-year-old girl about to start college in September and Jeff 7 years my senior) flirting was all that there was for us at that time. About 2 years later however, I saw Jeff once again at my sister's wedding. Jeff was single, but I attended the wedding with my then long-term boyfriend. We caught each other's eye once again, but for very obvious reasons, there was nothing more..."
---
7

She Said Yes...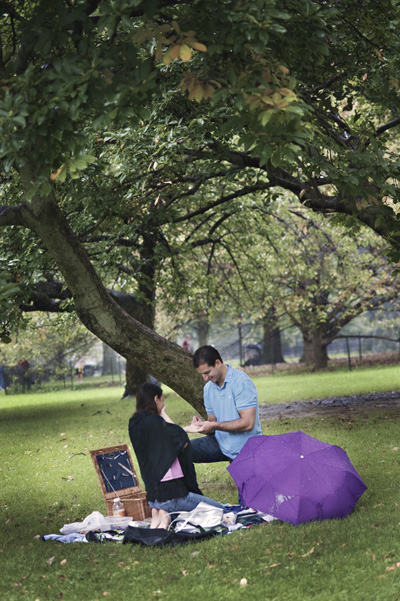 "Fast forward a year later to a newly single girl, and I decided to once again go visit my sister in NYC. When I got to the Big Apple, Jeff immediately popped into my head and I thought about that spark we always seemed to have, so I curiously asked my sister about him.
Knowing that Jeff would be at a party with my brother-in-law and their other friends, my sister took me to hang out and meet up with him....As soon as I walked in, Jeff and I locked eyes and immediately were drawn to each other....And the rest, I guess they say, is history. Now together almost 5 years, Jeff and I are getting married in June. Now Jeff's fraternity brother will actually become his BROTHER-IN-LAW :)."
Continue reading their love story...
---
6

What Rain?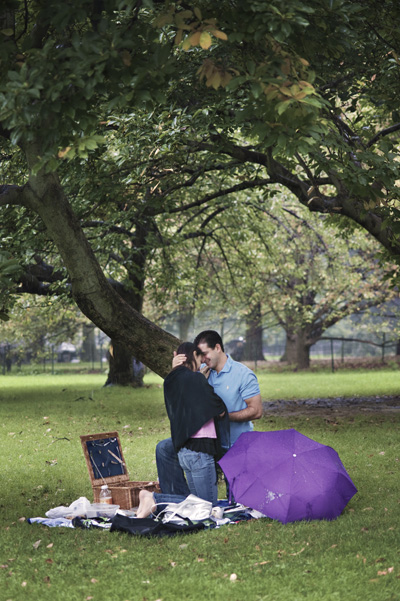 He always knew this would be the perfect proposal....
"Jeff proposed to me in Central Park in NYC. One of our favorite activities to do in NY is to have picnics in the Park. A year before our engagement, while celebrating our anniversary with a picnic in the park, Jeff gave me a gold ring. He told me that this ring would hold the "place" on my ring finger until we got engaged. He used the ring to symbolize his promise to me that we would soon have a future together as husband and wife...."
---
5

Always & Forever...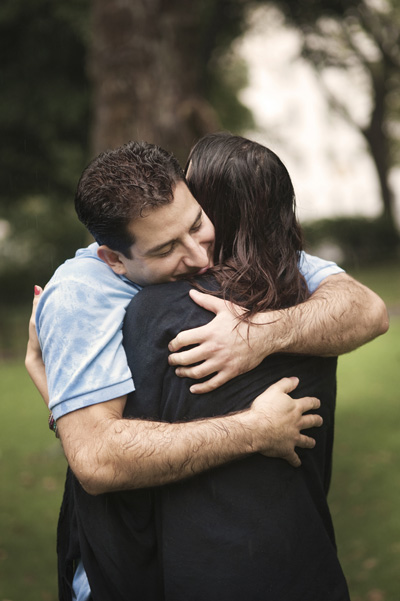 "A year later, while once again enjoying a picnic in Central Park, Jeff fulfilled his previous-year's promise by proposing to me with an engagement ring. :)
Kristin is a friend and colleague of mine and, because I LOVE her photography style so much, I always joked and dropped hints that I would want her as my wedding photographer AND would want her there the day Jeff and I got engaged. Well, Jeff remembered those hints! Kristin and Steven hid out 'ninja-style' behind trees in the park waiting for the moment Jeff proposed. I had no idea they were there at all! Ironically, just as he got down on one knee to propose, the drizzles that were dropping turned into a full-fledge DOWN POUR! haha But with being so caught up in the moment, Jeff and I didn't even notice. The downpour not only made a wonderful moment but also created a picture-perfect engagement scene! "
4

Happily Ever after...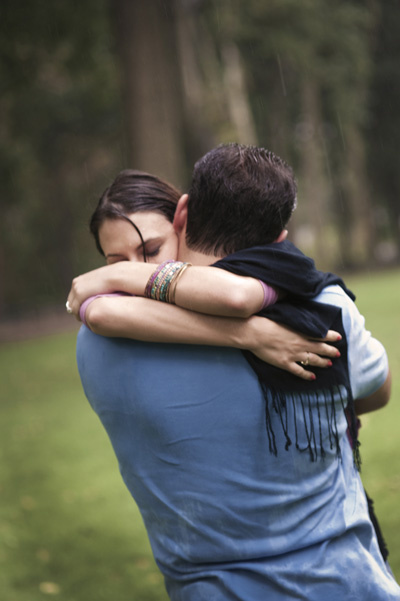 "P.S.
There's a tree in Central Park whose bark holds the very tiny initials of 'E.M. & J.P' :)."
Continue for my favorite photo of their proposal....
---
3

This is What Love Looks like...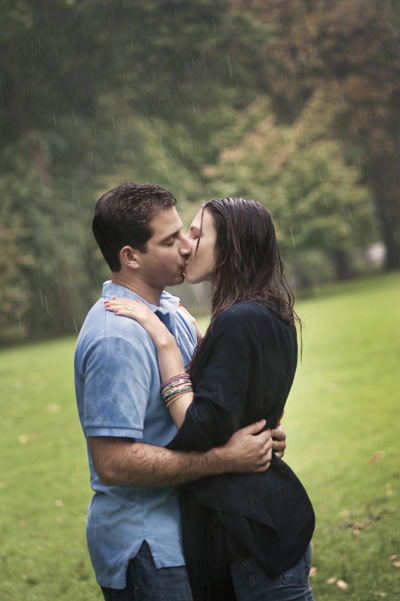 This is my favorite shot of Elissa and Jeff. It just says so much about their love and excitement. Doesn't this make you want to grab your sweetheart's hand and run outside for a kiss in the rain!
---
2

Surprise...
Look how big their beautiful smiles are! What a lovely couple. It makes me happy to see a wonderful couple so in love and a romantic proposal caught on film. I can't wait to see their wedding photos, they are going to make a gorgeous bride and groom!
---
1

Kiss Me...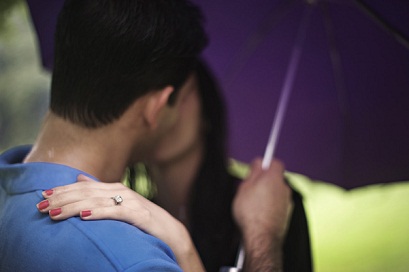 Check out her stunning engagement ring! This is such a warm photo. I love the way he is protecting her from the rain with the umbrella while kissing her softly...it's just so sweet.
Congratulations to Elissa and Jeff who will be married this June!
Special Thanks to Kristin Reimer & Steven Fontas of Photomuse
---
Comments
Popular
Related
Recent