After hearing the news of Brad and Angelina finally getting engaged, I started to think of what other celeb brides I can't wait to see. There are fashionista's like Michelle Williams and Blake Lively and there are our favorite girl's next door like Drew Barrymore and Emma Stone whose wedding gowns we dream about especially when they're always wearing designers like Vera Wang and Oscar de la Renta. I wonder if any of these 8 Celeb Brides You'd Love to See Walk Down the Aisle will be saying "Yes to the Dress" soon...
---
1

Blake Lively...

Blake Lively played a bridesmaid in Gossip Girl wearing a very lovely Vera Wang gown from the Spring 2011 collection, so we already know how gorgeous she looks in bridal attire. She is a fashionista who sets trends on and off screen and whether she wears Vera or Versace, she will be the celebrity bride everyone wants to design for.
---
2

Anne Hathaway...

From a Disney fairytale wedding to her relationship with Raffaello Follieri turning into a train wreck, Anne Hathaway has grown up right in front of our eyes from an awkward teen to a classy young lady. She has put her relationship troubles behind her and became engaged to boyfriend Adam Shulman last November. Anne is going to be a beautiful, classy celebrity bride; I can see her wearing a gown similar to Kate Middleton's.
3

Zoe Saldana...

Did you know that Zoe Saldana was engaged before? She was in a longtime relationship with actor Keith Britton before they broke off their engagement in 2011 and Zoe has since dated and broke up with People's Sexiest Man alive Bradley Cooper! She is such a natural beauty and will some day find her soul mate and be an elegant celebrity bride, because as we can see from her SAG awards gown, she already looks amazing in white!
---
4

Drew Barrymore...

Drew Barrymore has been my favorite actress from the moment I saw her in ET and although she is twiced divorced, I was excited to hear about her engagement news! She's never really had a wedding and I would love to see her in something just as hippy chic as she. Rumor has it that she is pregnant, but she wouldn't be the first celebrity bride to get married with a baby bump!
---
5

Jennifer Hudson...

Jennifer Hudson has been through some very rough times with the loss of her mother, brother, and nephew in 2008, but has since found some happiness in her life with the birth of her first child in 2009 with fiance David Otunga. She also went through a major weight change after becoming a spokeswoman for Weight Watchers and has inspired women every where. Jennifer will no doubt be a beautiful, healthy **celebrity bride **when she walks down the aisle.
---
6

Adele...

Do you think Adele would sing at her own wedding? She has encouraged us to be happy with our curves and love our bodies no matter what size we are. As a celebrity bride she would look amazing in a vintage gown with a 20's themed wedding. She has written beautiful songs about heartache and learning to move on, but perhaps when she gets older she will write a love song about a romance that will last a lifetime.
---
7

Michelle Williams...

When Michelle Williams stepped out on the Oscar red carpet in this gorgeous Louis Vuitton two-tiered gown she had brides every where wanting to walk down the aisle in this same style. It will be very interesting to see when she is a **celebrity bride **what she wears and what sort of trend she starts. With her sophisticated pixie cut I can picture her in a retro chic gown or something bold and dramatic.
8 Miley Cyrus...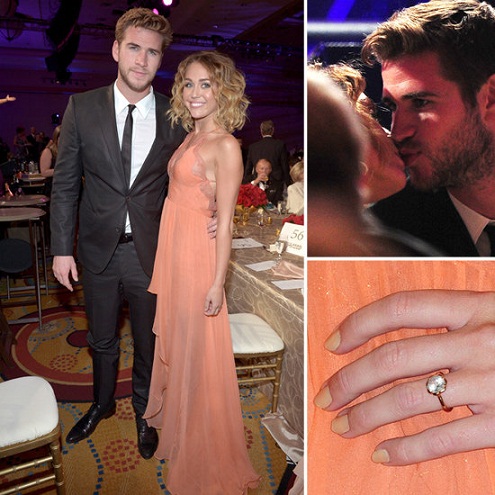 Photo Credit
I can't believe little Miley Cyrus is turning 20 this year, so naturally when I read that there were rumors that she and boyfriend Liam Hemsworth got engaged I thought, "Wow, they seem too young for that step". But that's all it was, a rumor and as for the ring on her finger...it's just a ring. Can you imagine how paparazzi packed this celebrity bride's wedding will be some day, especially now that Liam is rising to stardom with The Hunger Games. They do make a gorgeous couple and know how to dress well! Update: Miley has a new ring on her finger and is engaged to Liam!
We hope all of these lovely women get the chance to live happily ever after instead of becoming another celebrity bride who lands in divorce after a year of marriage. I think Anne Hathaway, Drew Barrymore, and Jennifer Hudson have it right as soon-to-be celebrity brides to not share too much information about their wedding dates and to keep most of their love lives private. We may dream about what these celebrity brides will be wearing as they walk down the aisle, but we can also respect that they want their day to be shared with only their close family and friends and not the entire world!
---
Comments
Popular
Related
Recent