I love weddings and checking out all the beautiful gowns and reception dresses, so when I found these reception dresses under $150, I was thrilled! Now, I'm not getting married anytime soon, but a girl can dream! Here are some reception dresses under $150 – just try not to buy all of them!
---
1

Tie-back Dress

This is one of the cutest reception dresses under $150! If you're known among your friends as a fun girly girl, this is the perfect dress to rock! The tie in the back is adorable, and it even mimics the groom's tie! You can find it at ROMWE.
2

Heart Front Dress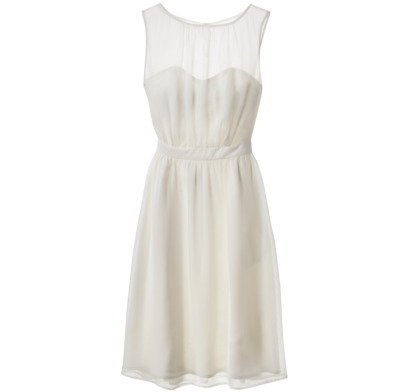 I absolutely love this dress from Target, because it's incredibly casual but also has a vintage touch to it. Similar dresses can be found on ModCloth. I can totally see Zooey Deschanel wearing this on her show! This would be a dress that I would wear on a date, with some major accessorizing, of course!
---
3

Rare Rosettes Dress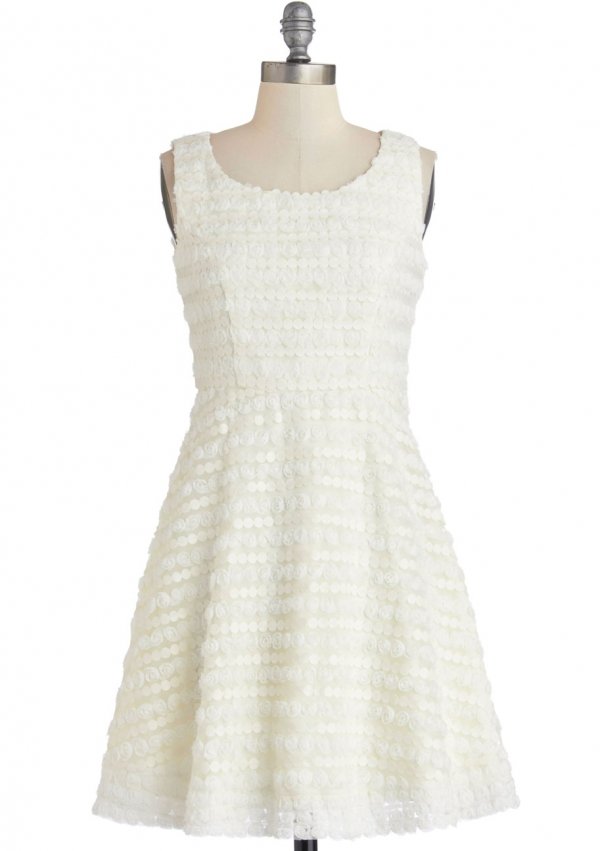 This is one of my favorite dresses on this list! It is so classy and just absolutely beautiful. Just look at the delicate details! I know I'll definitely keep this on my list of reception dresses! It totally looks like something right off the red carpet… but one tenth the price! Find it at ModCloth.
---
4

White Tie Optional Dress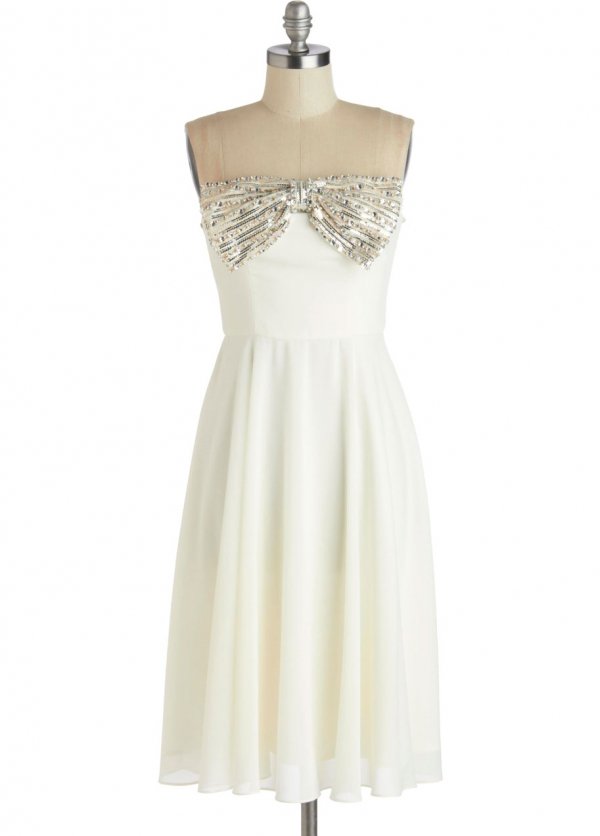 I absolutely adore this dress, which is also from ModCloth. I love the bow embellishment and the simplicity throughout the rest of the dress! So elegant! Pair this with a sparkly clutch or silver bedazzled pumps as you strut out in this lovely dress.
---
5

Love You Ivory Day Dress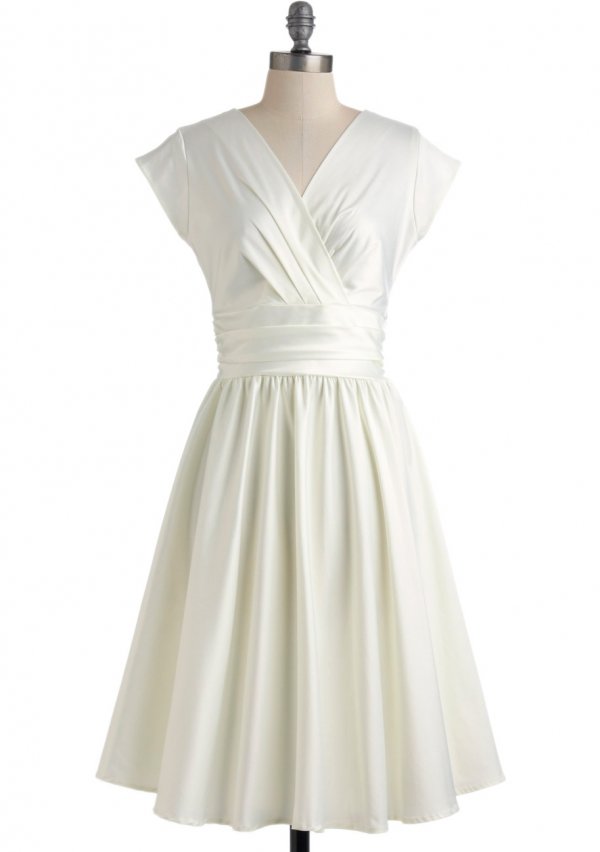 Keep it classy, ladies! This dress is so Audrey Hepburn, and I love it so much! This would be a wonderful option if you don't want to rock a more daring dress like those cutout dresses. Plus, this would be a great dress if you are having a summer wedding with a fun picnic afterwards! Check it out at ModCloth.
---
6

Lace Back Dress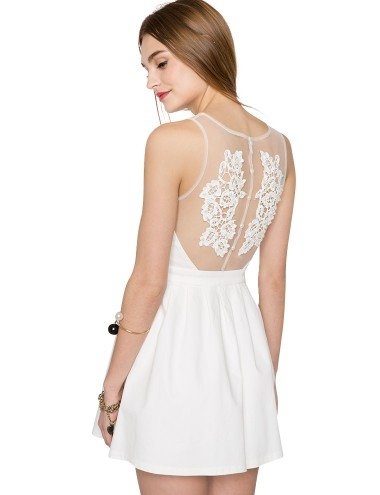 This flirty dress from Pixie Market is very simple, but those back details are unexpected. Now, I've never worn anything with an open back or with back details, but after seeing this adorable dress, I would definitely try it! There is a wow factor to this dress!
---
7

The Mini Dress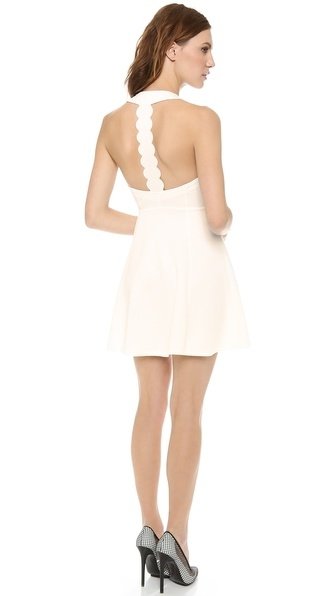 Don't underestimate this dress! It looks simple from the front, but the back makes up for all of it! I am really starting to love open back dresses and patterns, and this one is just plain yet cute. The A-line skirt is very flattering, and the scalloped T back is super girly! You can snatch up this dress at ShopBop for less than $50! At this price, I wouldn't blame if you got the black one, too.
---
8

Simple Strapless Ruffle Dress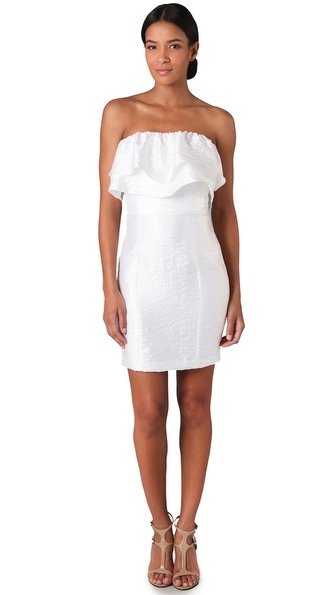 If you are having a beach wedding, this reception dress from ShopBop will be perfect! It's totally casual and comfortable! Similar options can be found at regular stores, such as Forever 21 or Macy's.
---
9

Crochet Lace ¾-sleeve Dress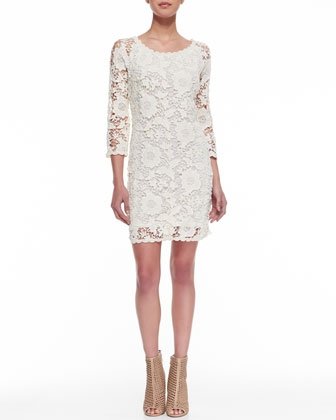 Who says that the reception dress can't resemble the wedding dress? If you absolutely love your wedding dress and don't want to get out of it, no worries! This dress is stunning and probably not as bulky as your wedding dress. The peek-a-boo details make it much less formal. You can find it at Neiman Marcus.
Those were some of the dresses that I have been swooning over! Do you see any that you like? What did your reception dress look like?
---
Popular
Related
Recent