Alternative style engagement rings are very underrated these days; it seems as if everyone wants to keep things the way they have always been! There are always many different opinions about getting married, and similarly not everyone goes about buying an engagement ring the same way. Nonetheless, if you're one of the growing few who prefer an alternative style engagement ring because classic is simply not your thing, then pay close attention to these seven smashing styles.
---
1

Cushion-Cut Lotus Ring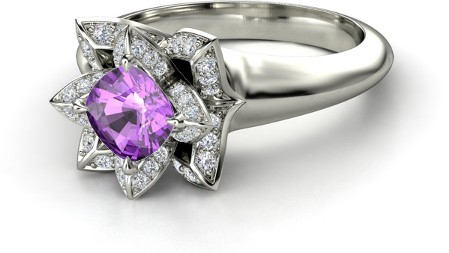 I love the lotus flower style when it comes to alternative style engagement rings because it's not too far off the beaten path but it's still unique enough to be called alternative. I've seen this particular style in many different department stores, including Macy's and Bloomingdale's, and they are available with different colored gems. Overall it's an elegant and classy buy but I doubt anyone in your neighborhood will have anything remotely similar.
---
2

Antique Belmont Ring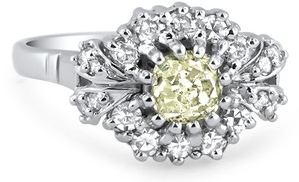 This is one of the alternative style engagement rings that really could border on being pretty classic and traditional. This antique-type style can be seen in plenty of summer and fall wedding catalogs. It's the perfect addition to a spring or summer wedding and it looks great with all skin tones because of the gem shade.
Trendinig Stories
More Stories ...
3

Precious Pearl Cradled in Diamonds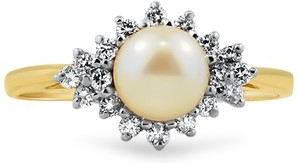 I love pearls on alternative style engagement rings. It makes the ring very unique and different, but you still won't stand out at a dinner party. It is still clear that it is an engagement ring but doesn't have the same exact diamond shape and layout that everyone else is wearing. I love pearls in general because I think they are so classy and elegant. And if you think about it, it is definitely possible to be unique and alternative after all, buying a pearl engagement ring is proof!
---
4

Eco Friendly Ring Made with Recycled Sterling Silver by Etsy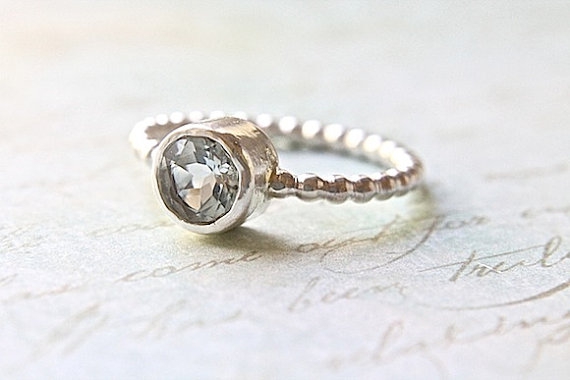 This ring by Etsy is one of many by the same designer that incorporates so many elements from way out of left field. I honestly wouldn't even think to buy a ring made out of recycled sterling silver, mostly because I didn't even know that they existed. Finding these amazing alternative style engagement rings is awesome because now I know what can be done with jewelry. Don't hesitate to follow your values and taste, and just be yourself. There's no rule that says you have to have a ring just like everyone else's.
---
5

Olive Leaf Band Ring by Paloma Picasso for Tiffany & Co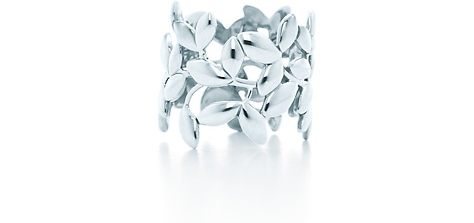 I love the symbolism present in this ring by Paloma Picasso for Tiffany & Co. Even though Paloma Picasso is a highly desired and respected designer, much to my own surprise, this ring in particular is cheaper than almost all traditional engagement rings bought in this day and age. To me it's practically a win-win situation because you get an everlasting beautiful ring made by a notable designer, and you can still wear it with casual outfits without feeling too dressy or uncomfortable. I think this is one of the alternative style engagement rings that is perfect if you are getting married and engaged, after you have already been down the same road before.
---
6

Ruby and Marquise Diamond Cluster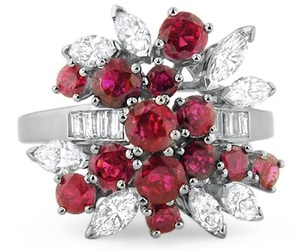 This is one of the alternative style engagement rings that is pretty much the polar opposite of designs like the Olive Lead Band. It's flashy and fun, maybe even gaudy. But if you love unique statement pieces when it comes to jewelry, why not go for this explosion of love and happiness in a ring? The precious stones and diamonds make this particular ring rather pricey, but this style isn't hard to find by any means.
Ashley
is a work of art...
---
7

Three-Tone Retro Bow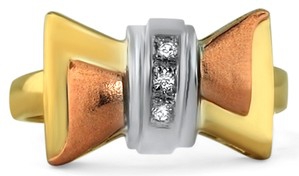 What better way to burst into the 21st century than with a not one, not two, but a three toned gold retro bow ring with diamonds!? It's a promising contender as one of your choices for alternative style engagement rings and you definitely won't be conforming to any aspect of society and marriage you may be looking to avoid. I love the craftsmanship on this piece that is usually absent on dull, boring and traditional rings made by a machine overseas. So be daring and take that leap of faith, that's what marriage is all about after all.
Not everyone likes doing what everyone else does, but more importantly everyone's marriage and wedding day should be unique and special. Sometimes the best way to ensure that is with considering one of these alternative style engagement rings. After all, everyone is treasured and priceless in their own way, so why not try something different for once? Are you a fan of alternative style engagement rings or do you prefer the classic and traditional styles? Which ring listed here is your favorite? Do you like another style that is not listed here? Let me know what you think!
---
Comments
Popular
Related
Recent