Some celebrity engagement rings have a price tag that we would only dream of and if we ever did have that kind of cash we wouldn't be spending it on a ring! Even so, they are some of the most stunning engagement rings I've ever seen. From Beyonce's expensive rock to Halle Berry's unique emerald gem, here are 8 Most Stunning Celebrity Engagement Rings, which one is your favorite...
---
1

Beyonce's Big Stunner...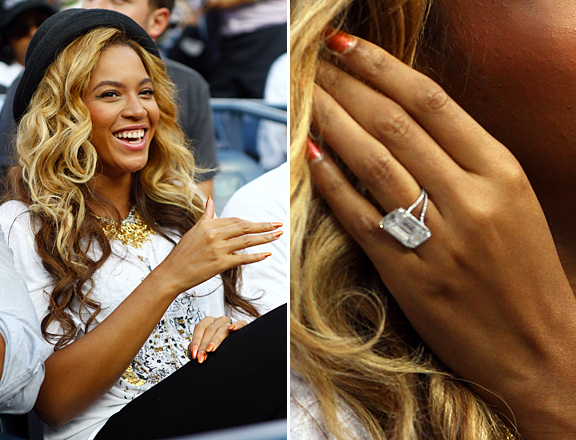 Photo Credit: MTV Style
Did you know that Jay-Z proposed to Beyonce in 2007 with a $5 million dollar ring?! Her ring beats out the price and carat size of Jennifer Aniston's, Halle Berry's, and even any of Jennifer Lopez's engagement rings! This diamond stunner is 18 carats and was designed by Lorraine Schwartz. The size of the ring may be a bit outrageous, but I do love the simplicity of the design.
---
2

Hilary Duff's Million Dollar Baby...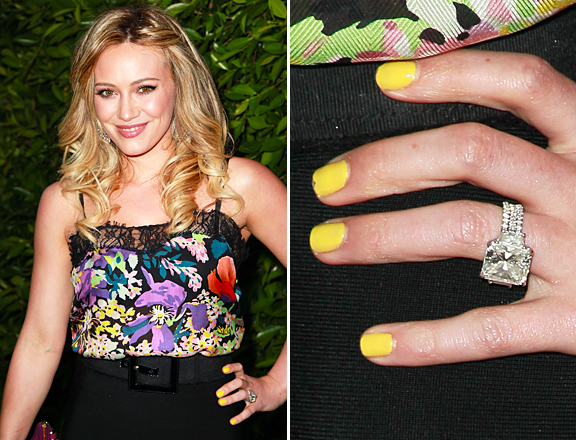 Photo Credit: MTV Style
Who would have thought that one day little "Lizzie McGuire" from the Disney channel would be wearing a $1 million engagement ring! I'm so happy for Hilary Duff and her husband, who are now proud parents of baby boy Luca, they have come a long way since their engagement in 2010. Do you think her diamond ring sparkles more than Beyonce's...hmm?
---
3

Avril Lavigne's Pear-Shaped Diamond...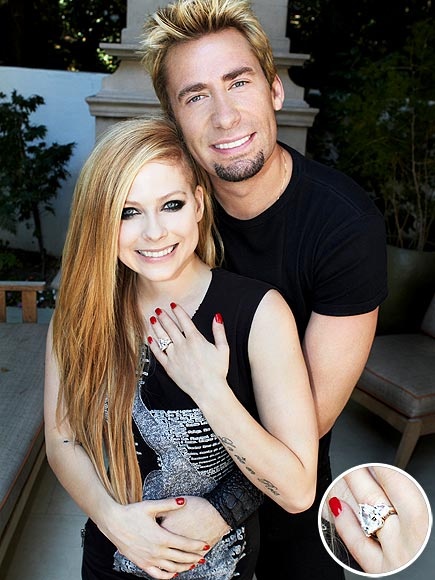 Photo Credit: People
I don't know about you, but I was totally shocked by the engagement news of Avril Lavigne and Chad Kroeger. If that wasn't enough of a surprise for you, check out the rock on Lavigne's finger! Kroeger popped the question with this stunning 14 carat pear-shaped diamond ring only six months after the two began dating. I might still be in shock, but if they are happy together that's all that matters and how could you not be happy with a ring like that!
---
4

Jennifer Aniston's Engagement Bling...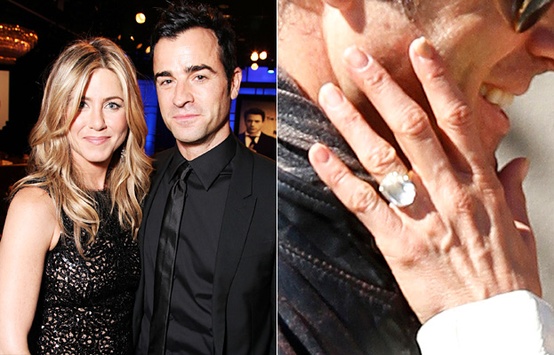 Photo Credit: Instyle
If you haven't noticed from my posts I am very much Team Jen, as you can see I did not include Angelina Jolie's engagement ring in the round up! I am so thrilled for Aniston and wow check out the bling on her finger that she has finally debuted! The style of the ring reminds me of Aniston; simple and chic yet totally amazing!
---
5

Halle Berry's Unique Emerald...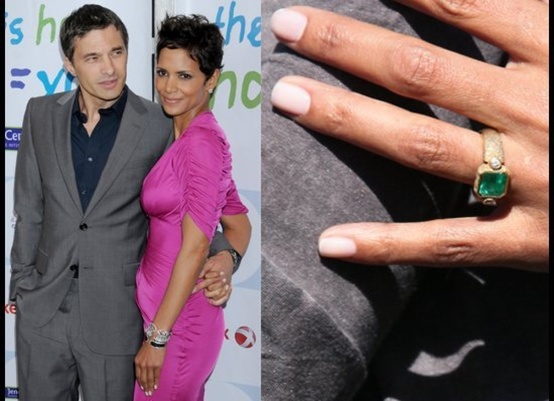 Photo Credit: Huffington Post
I am in love with Halle Berry's emerald and diamond engagement ring. Who would have expected such a unique engagement ring from Olivier Martinez for miss Berry, well she is a one of a kind woman isn't she! I was sad to see Berry split with her daughter's father, Gabriel Aubry, but who needs him when she has her French-Spanish amour Martinez!
---
6

Jessica Biel Square-Cut Diamond Ring...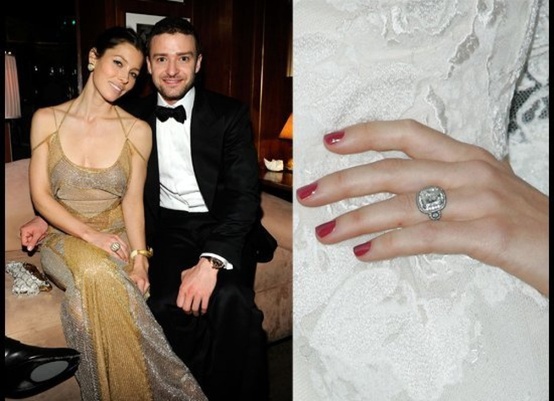 Photo Credit: Huffington Post
This fashionable and adorable couple have been on again, off again throughout their relationship, but last year they put all of that to rest when Justin Timberlake proposed to Jessica Biel with this gorgeous customized square-cute diamond ring. Timberlake was pretty money smart and only spent about $130,000 on the vintage inspired engagement ring for his soon to be wife. Now we might not spend that amount on ourselves, but at least he didn't spend a million dollars or more on it!
7

Mariah Carey's Pink Diamonds...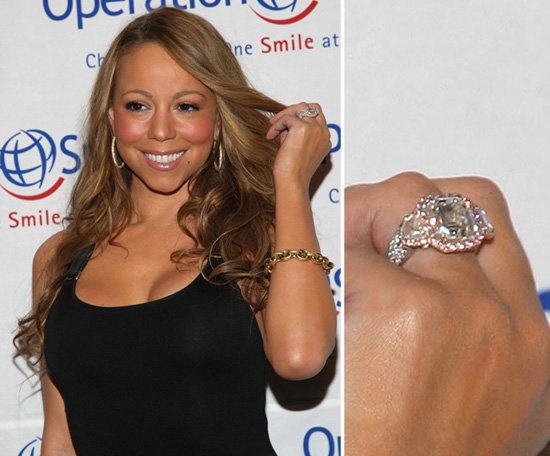 Photo Credit: PopSugar
Diamonds are a girl's best friend and so is the color pink, well at least for Mariah Carey that is! Are you blind yet by the stunning engagement ring she is flaunting in this photo? Carey's no longer thinking about wedding planning these days, her and hubby Nick Cannon have been married since 2008 and are the proud parents to adorable twins Monroe and Moroccan . Lately she has been too wrapped up with American Idol and Nicki Minaj drama to care about how much her engagement ring cost. By the way, Cannon spent $2.5 million on it, who says money can't buy love!
---
8

Miley Cyrus' Antique Diamond Ring...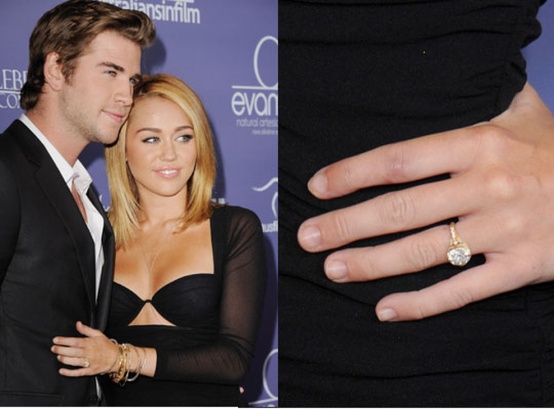 Photo Credit: Huffington Post
What a hot couple! I wonder what Miley Cyrus and Liam Hemsworth's children will look like, probably the most adorable kids ever! Ever since her engagement, Cyrus has been showing the world that she is not the "settling down" type with her short and wild hair cut and her unique style choices. I'm really interested to see what she wears down the aisle, I'm sure it will be interesting! Have I mentioned how unique her ring is, it's a 3.5 carat antique diamond that dates back to the 19th century!
Do these celebrity engagement rings inspire your style or do they make you go crazy when you think about the money that was spent on them? $5 million is really mind boggling, did Jay-Z want to beat out all of the other celebrity engagement rings out there or did he just want everyone to know that he put a ring on it! I wonder if there are any celebrity engagement rings out there that cost less than $100,000? Love them or hate them, they are stunning, fun to look at, and gossip over!
---
Comments
Popular
Related
Recent