Amethyst Engagement Ring and Other Gorgeous and Unique Rings Your Jewelry Box Needs ...
By Laura
We've been seeing throwback wedding trends for the past few seasons, but none of them sweeter than the re-emergence of engagement rings with colored stones. In centuries past, a suitor chose a stone that signified his unique love for his lady whether it was Amethyst or diamond or even Peridot-in fact, only recently have diamonds become the go-to stone. While some still dream of the diamond solitaire engagement ring, others are embracing the oddly more "traditional" engagement rings with colored stones. Looking for some inspiration? Here are a few ideas from various Tiffany collections, for who knows engagement rings better than Tiffany?
---
1

Amethyst Ring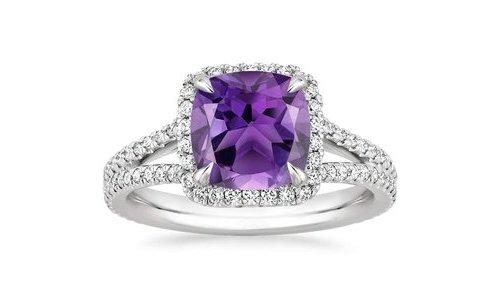 Amethyst is the birthstone of February and so underrated as a ring stone. Ancient cultures believed amethyst was synonymous with luxury and the purple is royal. Many believe amethyst to be purifying and protective of one's spirit from negative energy so receiving an amethyst engagement ring will bring good energy to your marriage.
---
1

Tiffany Bezet Yellow Diamond Ring

While it's not technically from the Tiffany engagement collection, it's still qualifies, in my opinion, as one of the prettiest and most unique engagement rings with colored stones. The brilliant yellow diamond is available in a range of carat sizes, from about a quarter-carat to more than two and half carats, cushion-cut in an 18-karat yellow gold bezel setting. How incredibly gorgeous!
---
2

Paloma's Sugar Stacks Ring

There's something about the lush, tropical green of the chrysoprase solitaire in this ring – it's almost mysterious, isn't it? It's from the Paloma Picasso "Sugar Stacks" collection, so again, it's not technically an engagement ring, but I love it just the same, don't you? It's also on the less expensive end of the engagement ring spectrum, set in sterling silver rather than white gold or platinum, but is no less stunning for it.
---
3

Tiffany Soleste Ring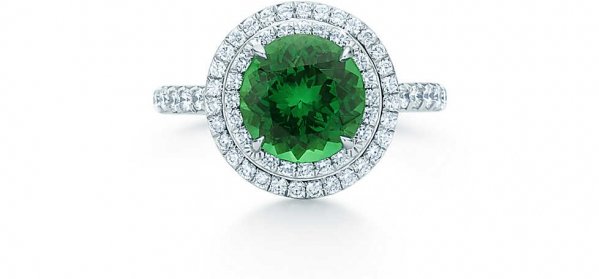 Would you call this ring stunning, or dazzling? I'd call it both! It features a luscious deep green tsavorite, set in platinum, surrounded by a double row of dozens of glimmering round-cut diamonds. There's nothing modest or simple about this ring – it's all flash and showy brilliance, eye-catching and breath-taking at once.
---
4

Tiffany Legacy Purple Sapphire Ring

At first glance, the centerpiece of this ring looks like the richest amethyst, but it's actually a rare purple sapphire. The ring and setting evoke the romance of the Edwardian era, with delicate beadwork along the sides and a row of brilliant round-cut diamonds to add sparkle and shine. It's terribly romantic, but still bold.
---
5

Tiffany Harmony Fancy Pink Diamond Side Stone Ring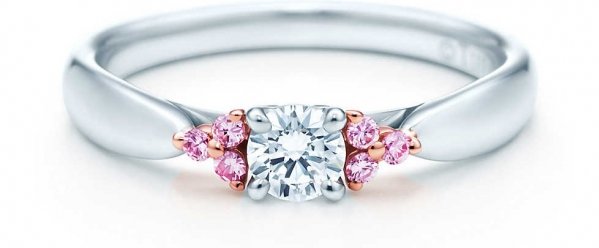 Perhaps the most traditional of these colored gemstone engagement rings, this one features a brilliant round-cut diamond solitaire set in platinum, surrounded by six fancy pink diamonds in 18k rose gold. The range of sizes is small – the ring is only available on whole sizes 4, 5, and 6 – but if the ring fits, wear it! It's so delicate and lovely!
6

Green Quartz Ring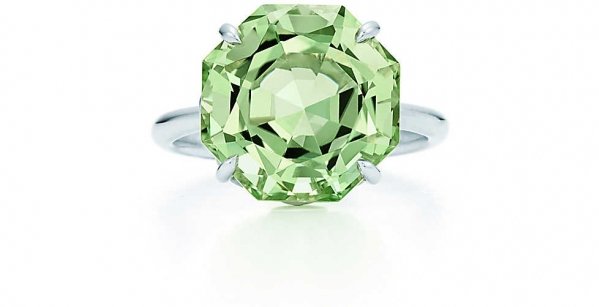 If you're set on a brilliant solitaire engagement ring, and want the most brilliant bang for your buck, consider this carefully cut seven and a quarter carat green quartz sparkler. It's set in glossy sterling silver, with a lovely sort of flower-petal pattern. It's truly unique, sure to leave anyone who sees it wondering what sort of stone it is, too pure green for peridot, too pale for emerald, too clear for tourmaline. Gorgeous!
---
7

Paloma Picasso Olive Leaf Ring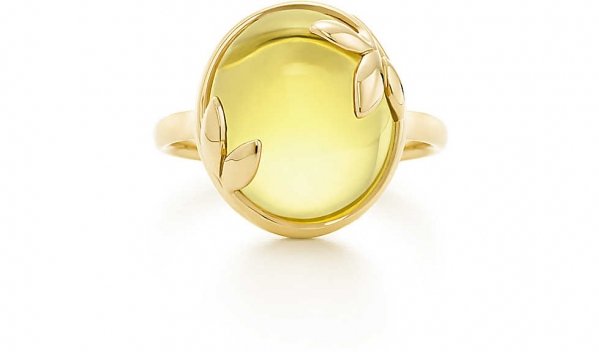 Olive branches and leaves have long symbolized peace and abundance, so choosing an engagement ring featuring two sweetly sculpted olive leaves sends a message about the happiness and accord you see in your matrimonial future. A six and a half carat citrine (or amethyst), set in 18-karat yellow gold, sends a second message: you've got elegance and style to spare.
So you see, colored stones can signify so many sorts of love and passion and adoration – and if you're a diamond lover, you can still embrace both traditions! Which of these rings do you love best, and why? Or have you spied another colored stone engagement ring (or been given one) that made your heart melt?
---
Comments
Popular
Related
Recent