Make cocktail hour a sweet time for your guests by serving delicious food items for cocktail hour while you're busy getting your picture taken with your bridal party. Serve delicious food items for cocktail hour, a signature drink, and have the DJ play soft, enjoyable tunes. Give your guests a cocktail hour they are going to remember with these tasty food items...
---
1

Wrapped Scallops...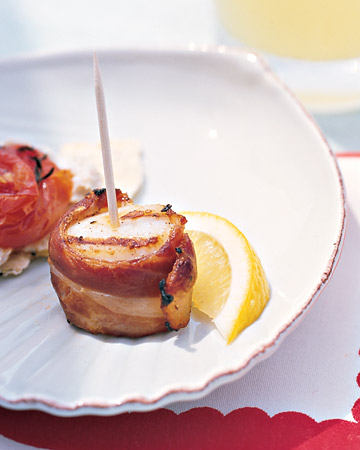 Give your guests a little party in their mouths with food items for cocktail hour likes this one. Honestly, anything wrapped in bacon or Prosciutto says party time to me! However, a wrapped scallop says cocktail hour and will go nicely with your Spicy Tequila Sunrise signature cocktail drink. No matter your theme or venue, wrapped scallops are always a good idea for cocktail hour hors d'oeuvres.
---
2

Pot Stickers...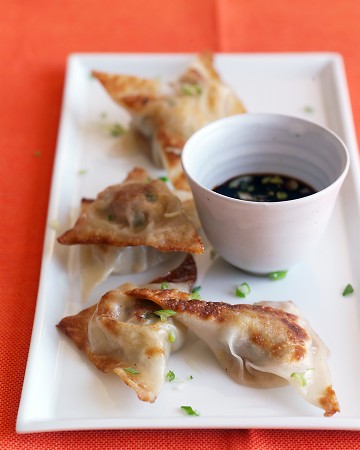 International food items for cocktail hour are a big hit whether you are having a theme or not. Many of your guests probably love Chinese food, but don't get to enjoy it as often as they like. Give them a tasty little treat like these pot stickers that they will be surprised to see, but will probably enjoy more than any other appetizer during cocktail hour!
---
3

Stuffed Mushrooms...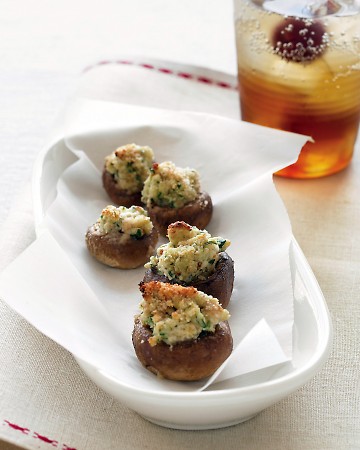 These look amazing...yum! Always keep in mind that food items for cocktail hour should be easy to eat and should only take one or two bites to eat. Stuffed mushrooms are another fan favorite, well in my family they are! This recipe from Martha Stewart includes goat cheese, but you can ask your venue to make them with spinach, crab, or the like.
---
4

Pigs in a Blanket...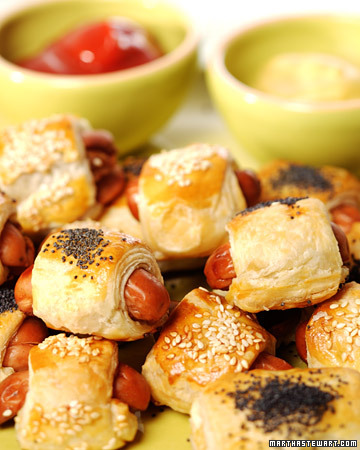 These are a fun food item for cocktail hour if you are planning a country theme or a backyard wedding. Make your pigs in a blanket a bit different by baking poppy, sesame, or mustard seeds into the pastry dough. Don't be afraid to serve items you might not see at every other wedding. Dare to be unique and playful with your cocktail hour food items.
---
5

Glazed Meatballs on a Skewer...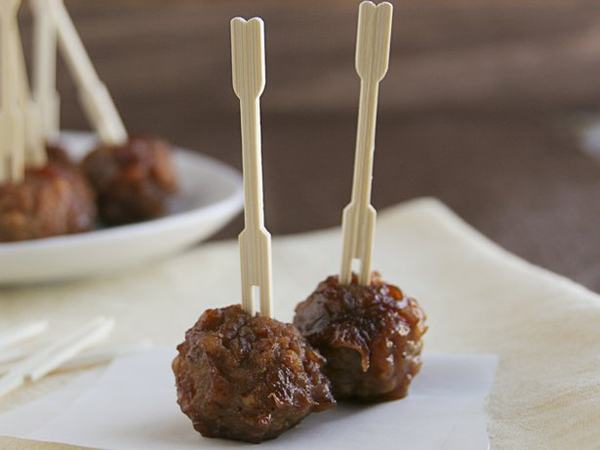 When you are making a list of food items for cocktail hour, consider old time favorites and classic foods like meatballs. Then give that favorite a twist with a tasty glaze and stick it on a skewer to make it easy to eat. Cocktail hour shouldn't be complicated, simple and sweet will always win over the hearts of your guests.
---
6

Strawberry Bruschetta...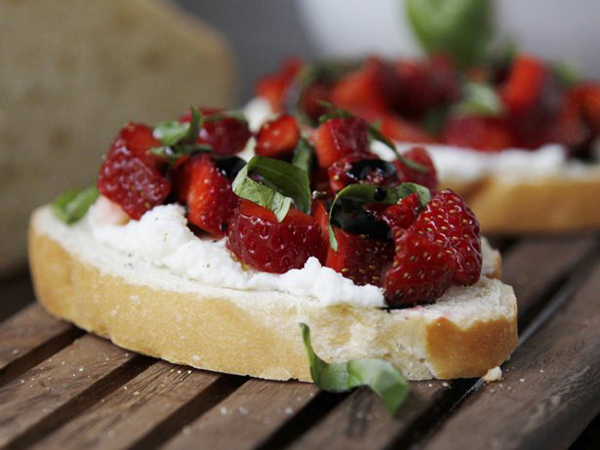 Some of your guests may be looking for a sweet food item for cocktail hour, especially during an outdoor Summer wedding. Flip the classic bruschetta recipe upside down with this strawberry and ricotta recipe to give them something simple, but refreshing. This is the perfect recipe to go along with a Berry Bellini Float signature cocktail!
---
7

Fondue...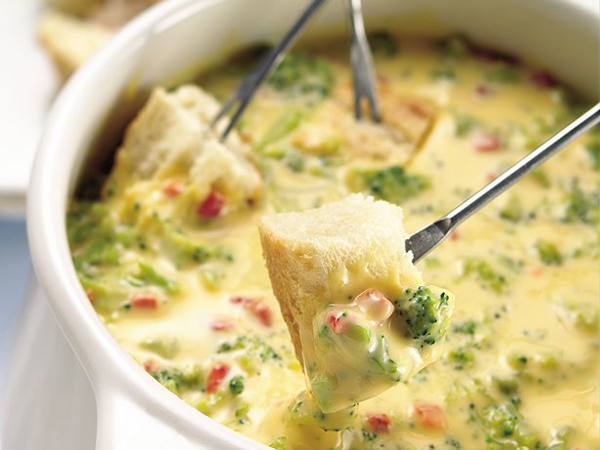 Whether it's cheese or chocolate, fondue is a fun food item for your cocktail hour. Well, fondue is pretty much a fun food item no matter what hour it is! For cheese fondue serve items like beer battered bread, veggies, and even meatballs on a skewer! For your chocolate fondue, strawberries, marshmallows, and cake pops are some favorites to dip in.
---
8

Mini Burgers...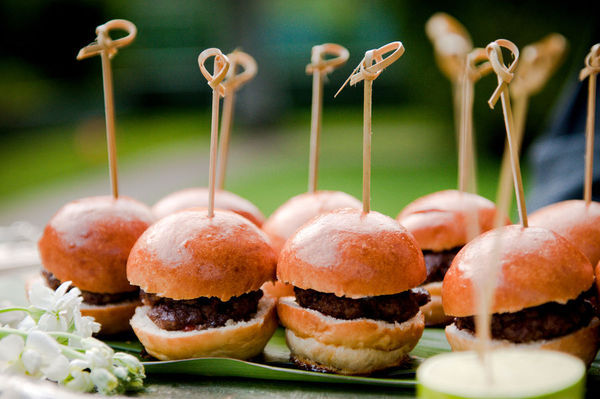 These fun mini burgers are a great idea for cocktail hour if there are a few speeches to be said before dinner is served. They are a good size, but still small enough to be the perfect food item for cocktail hour. With a few of these, strawberries and marshmallows dipped in the fondue, and a pot sticker, your guests will be all set until dinner time with no worries!
What are some food items for cocktail hour that you have considered? Are the ones on my list some of your favorites?
More
Comments
Popular
Recent