Are you planning a winter wedding? Maybe you have all the details in place, but haven't figured out what you're going to do with your fingernails. Your nail design might not be as big of a deal as getting the perfect dress, but with everyone demanding to see your new rock, it pays to have a fancy creation that will make your day even more special. Luckily, there are lots of options, whether you plan to do your own nails or are having them done by a professional. Be prepared for lots of inspiration from this list of lovely winter wedding nail art designs. They are going to take your breath away!
Table of contents:
1

Classic White and Silver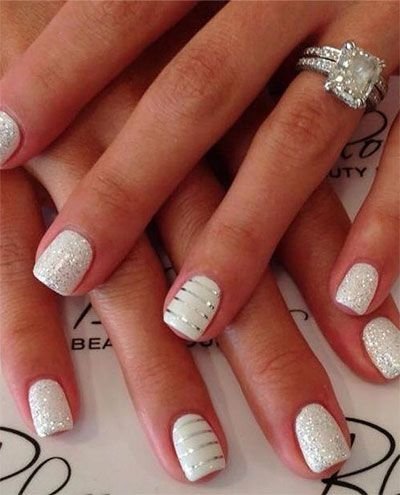 Via fabnailartdesigns.com
Using a color palette of white and silver on your winter wedding nails is the perfect complement for showcasing your new diamonds.
2

Lots of Glitter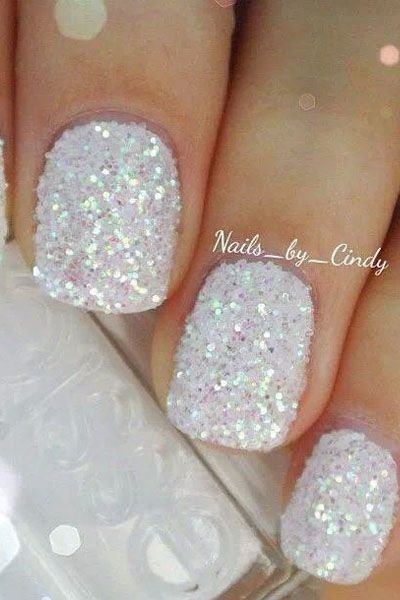 Via 15 Holiday Nail Art Ideas ...
It's your wedding day so don't be afraid to slather your nails in glitter. You want to sparkle on your big day, don't you?
3

Sparkly French Tips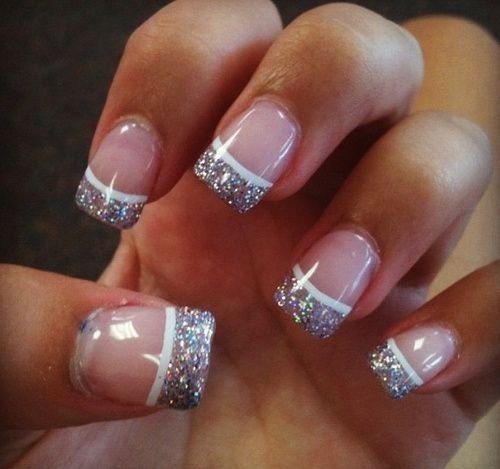 Of course, you can't go wrong with some strategically placed glitter on the tips of your nails. The white line makes this glitter stand out just right.
4

Try Gold with White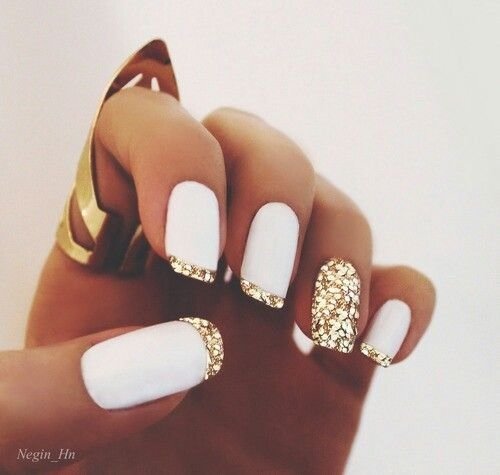 Via Esther Boutique
If your wedding ring is gold with diamonds, incorporate a bit of gold on your winter wedding nails.
5

Different Nail Designs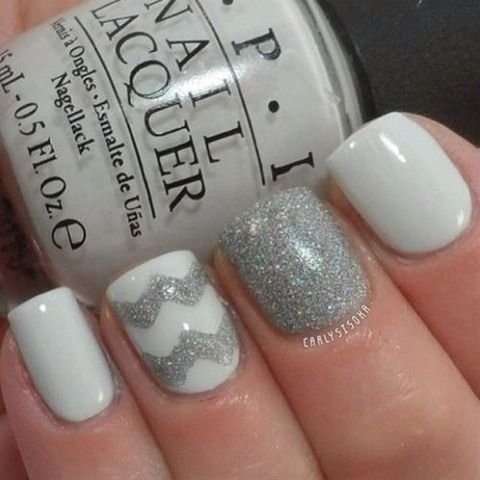 Via t.trusper.com
Having a different look on each fingernail is a hot trend right now, so go ahead and give it a try on your wedding day.
6

Glittery French Manicure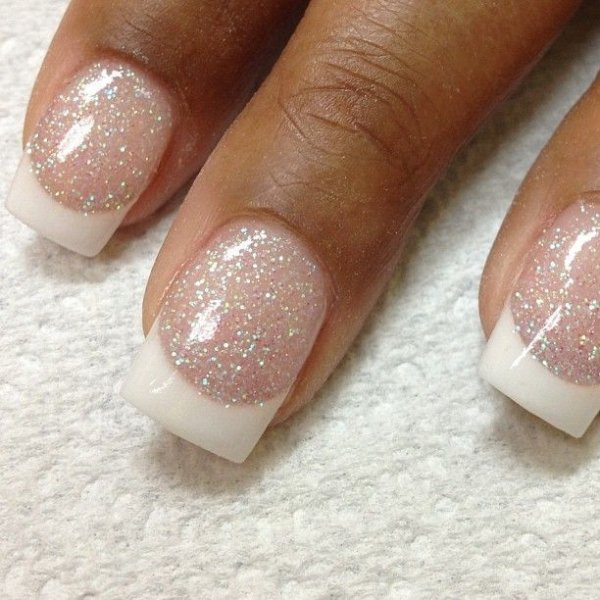 Via Tuesday Ten: Pretty Pastels
If you want some sparkle, but not too much, this is the design for you. This was exactly what I chose for my wedding nails and it made my ring sparkle and shine.
7

Glitter on Bottom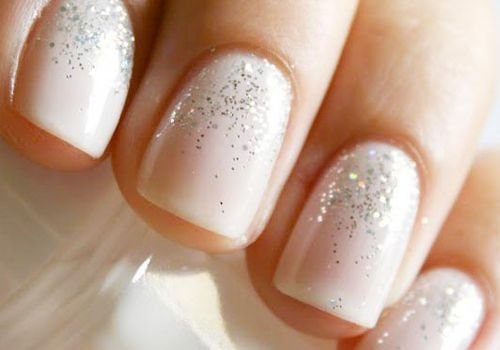 Via Beautiful Bridal Nails
Instead of glittering the tips of your nails, try putting the glitter near your cuticles for something really different.
8

Glitter and White Tips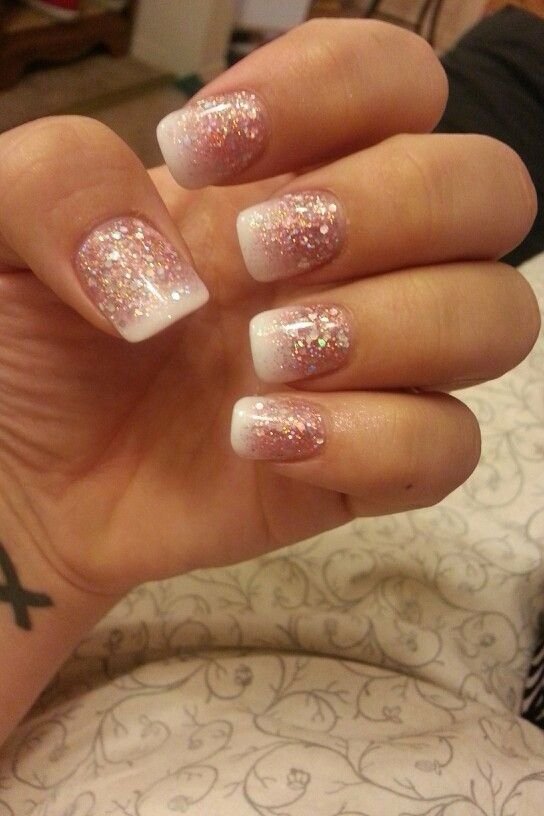 Via Discover and Share Nail Art ...
Here's another great example of how lovely glitter on the bottom of your nails will look. I like how there's a subtle touch of pink in there.
9

Shiny French Manicure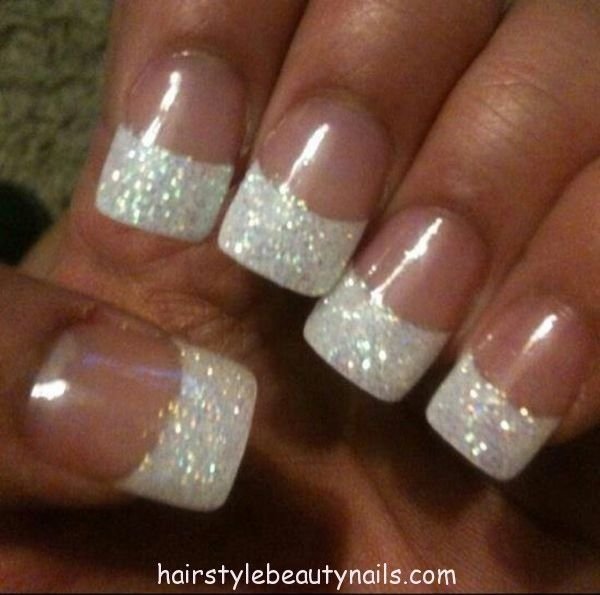 Via Beautiful Wedding Manicure Ideas - ...
This French manicure just screams, "I'm getting married!" Do you love it?
10

Swirl Nails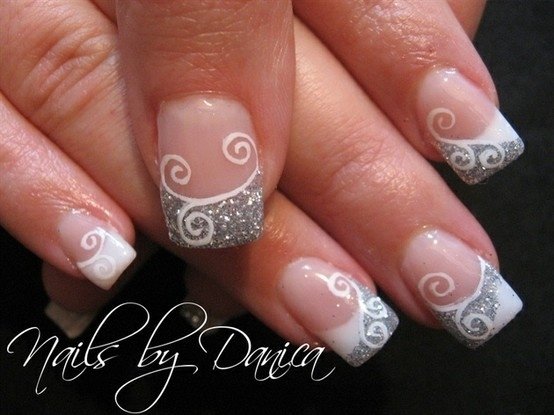 Via cute swirl french nail
If you want something a bit fancier, try incorporating a fun design like these white swirls against the silver polish.
11

White Snow Nails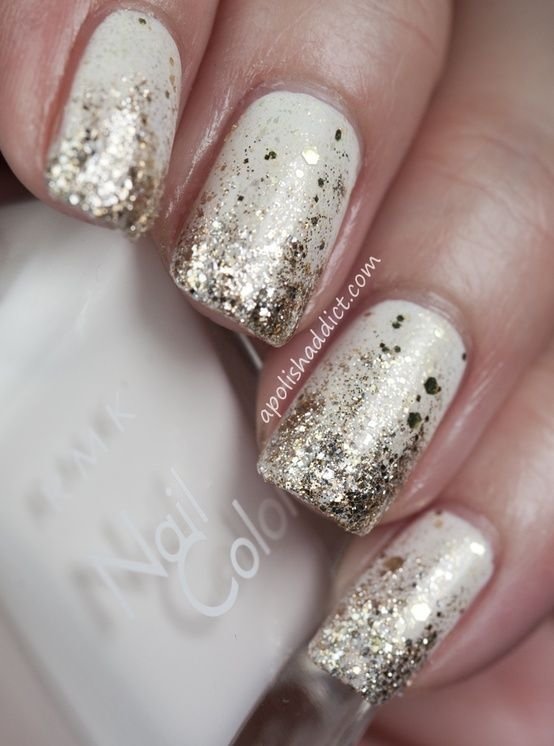 Via socialcafemag.com
It's pretty great how the glitter fades a bit as it moves toward the cuticle. This is really pretty, don't you think?
12

French Manicure with Red Snowflake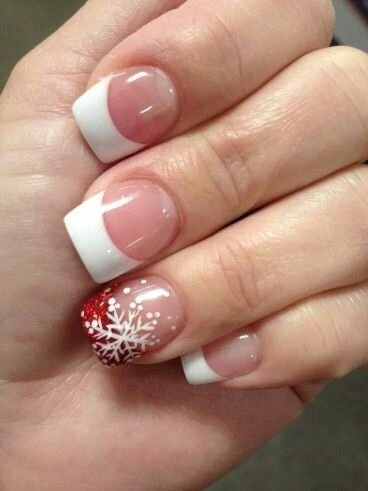 Via Christmas Photos | 30 festive ...
The snowflake is perfect for a winter wedding and you could choose a tip color that coordinates with your wedding colors.
13

Snowy Nails
Via Simple Ways To Dress Up ...
Don't you just love when the snow sparkles? Mimic that look with nails like these.
14

Cool Snowflake Nail Art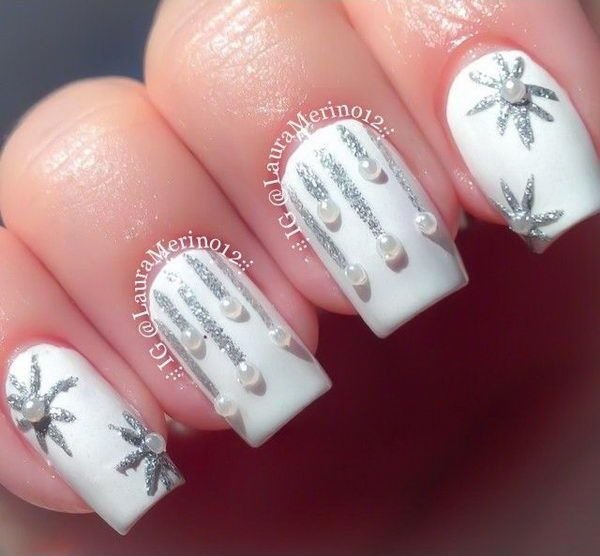 Via 20 Cool Snowflake Nail Art ...
If you have a really good nail technician or lots of your own talent, you can make something this beautiful for your wedding day.
15

Every Other Nail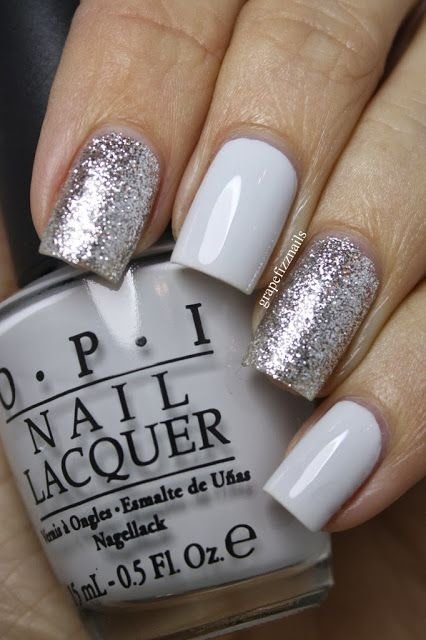 Via grape fizz nails: Twinsie Tuesday ...
Make your manicure really stand out by painting every other nail a different way.
16

Spice up White Nails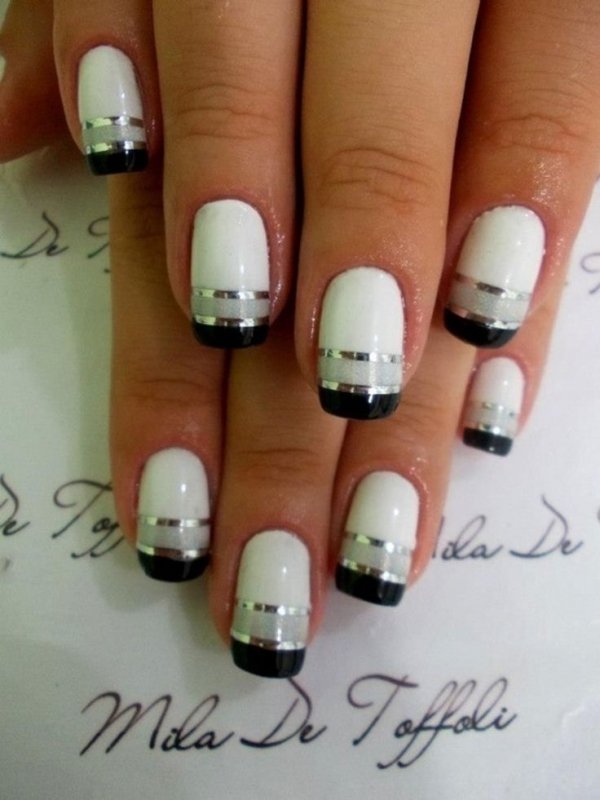 Via Top 10 Simple Ways to ...
If you're not down for only winter white on your nails, incorporate some stripes in your wedding colors against the white backdrop. Cool, huh?
17

A Little Pop of Color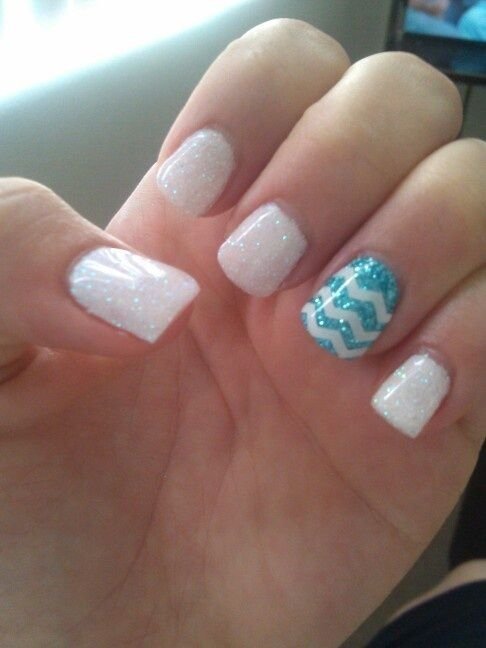 Via beautyhigh.com
Here's another easy and lovely way to make your white nails colorful and perfect for your wedding day.
18

Make Snowflakes in ANY Color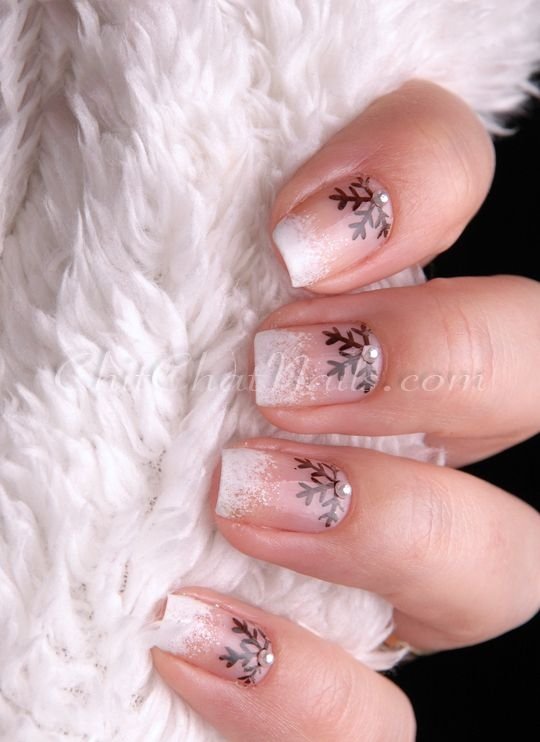 Via Snowflake Half-Moon
Snowflakes are the perfect nail art choice for a winter wedding. They can be made in any color. Add a tiny rhinestone to make them shine.
19

Light Colors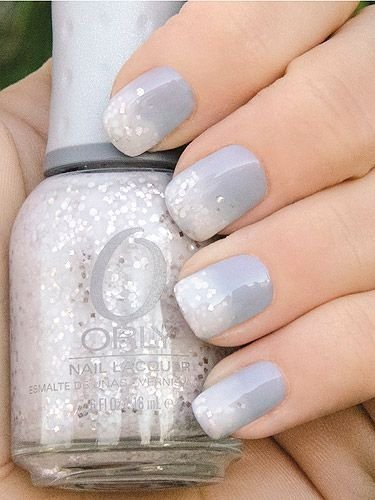 Via Top 10 Orly Nail Polishes ...
I like this look because there's some color, but it isn't too bright or overpowering.
20

Natural Nails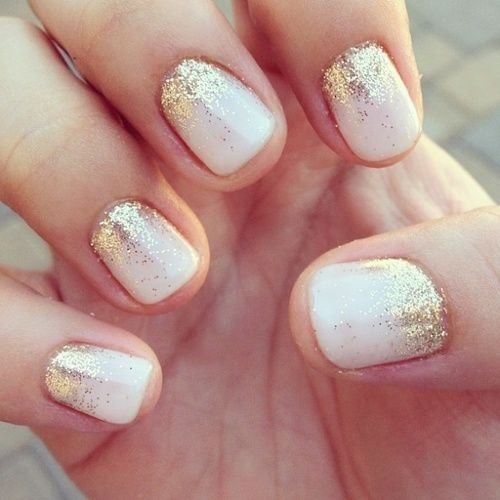 Via Target
Even if you go with your own natural nails, you can create a nail art design that will make your wedding photos memorable.
21

Single Gold Nails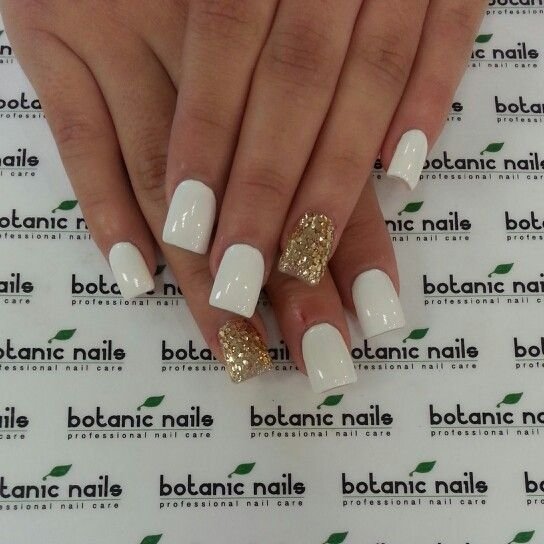 Via Acrylic nail designs, Nail design ...
The single gold nail on each hand really makes a statement, don't you think?
22

Just a Bit of Silver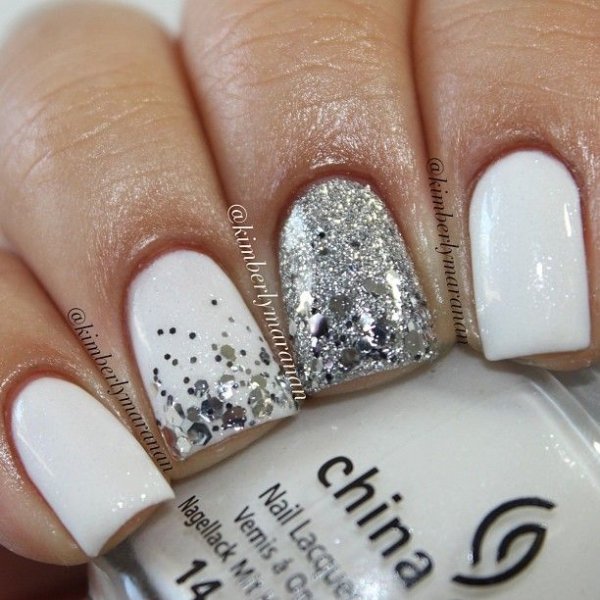 Via @kimberlymaranan My fave style of ...
All out silver is wonderful, but doing just a bit of it is also great for a wedding.
What are you planning for your winter nails? I hope you found something here that you absolutely love! Do you have any other winter wedding nail ideas to share?
Please rate this article