Some girls love the over the top, written in the sky, hot air balloon rides, fairytale marriage proposals, but I've always been a less is more kind of girl. I love the sweet picnics, the day at the beach, while reading your favorite book at the library, simple yet classic proposals that can be done without all the added stress. If you know a guy looking to pop the question or would like to throw your boyfriend a few hints, here are** 8 Sweet Ways for Him to Propose**...
---
1

Breakfast in Bed Marriage Proposal...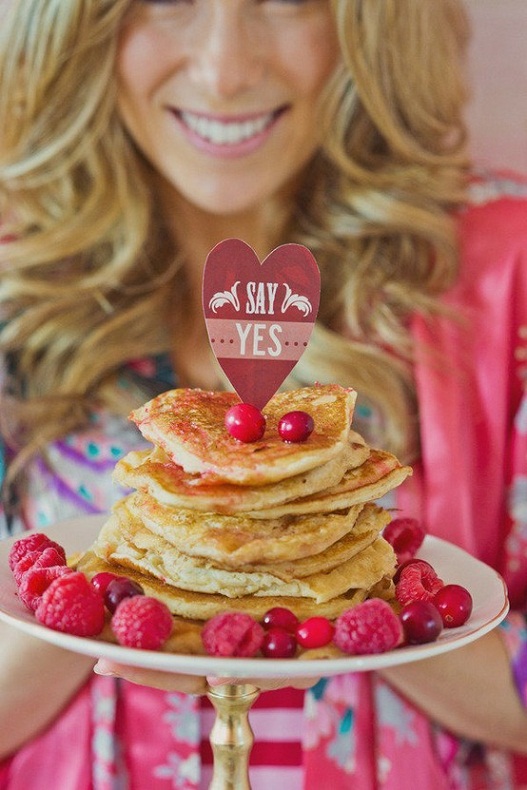 Photo Credit: Scarlet O' Neill Photographyvia Style Me Pretty
If you have been in a relationship for a while and are wondering when he is going to propose, perhaps today will be the day when he surprises you with a breakfast in bed engagement! How sweet would it be to wake up to the delightful smell and sight of your favorite breakfast food that has a little heart stuck in it that simply states, "Say Yes!". Who needs a hot air balloon proposal when you can enjoy pancakes in bed together after he pops the question!
---
2

Coffee Cup Marriage Proposal...

img.allw.mn
Photo Credit: Preston Bailey

If you are a coffee lover this would be the perfect way for your guy to propose. Can you imagine just sitting there together sipping your coffee and as you get to the bottom you see, "Marry Me", written on the inside of your mug! How cute would it be to recreate your first date if it was at a Starbucks like this adorable couple seen here. I can picture the boyfriend sitting there just waiting in anticipation as his girlfriend slowly finishes her cup of coffee!
---
3

Halloween Marriage Proposal...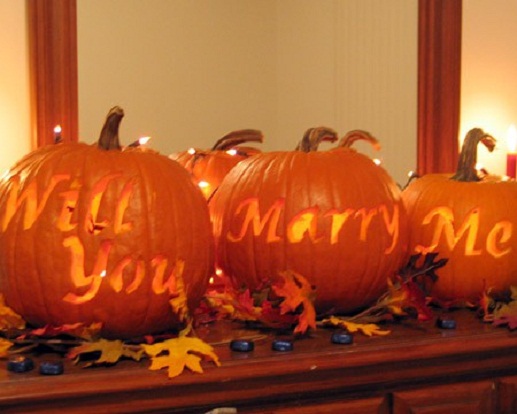 Photo Credit: Martha Stewart
Fall is one of my favorite seasons, we were actually thinking of getting married in Autumn but pushed back our wedding date to the following Spring. Every year we take the kids to the pumpkin patch and my husband gets creative with his pumpkin and carves my name or our favorite sports team into it. Just think how surprised you would be if after going to the pumpkin patch your boyfriend turns his carved pumpkins around with this proposal message on it! It would certainly be a Halloween to remember!
---
4

Birthday Surprise Marriage Proposal...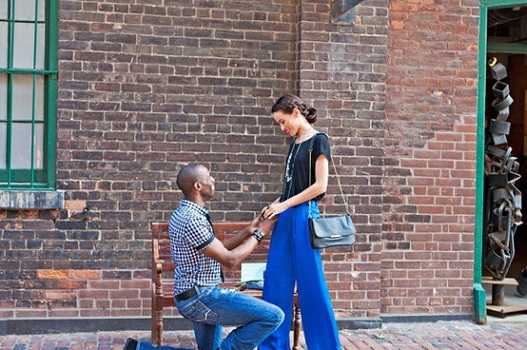 Photo Credit: Lavish & Light Photographyvia Style Me Pretty
It's just a birthday dinner date with your boyfriend, no big deal right? How much would you love to be surprised on your birthday with a marriage proposal! I love these two, they are so chic and romantic! The groom wrote his girlfriend little love notes letting her know what an exciting day she was about to have. It would begin with a surprise shopping spree with her sister and would end with dinner. When she arrived for their date, he handed her one more love note and got down on one knee...and the rest is history! Sometimes it's the little things that make a big impact.
---
5

Marriage Proposal Cake...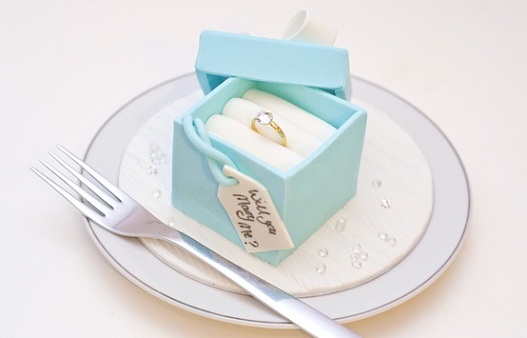 Photo Credit: GC Couture UKvia Wed in London
If your guy is thinking about cooking your favorite meal or taking you out to your favorite restaurant, this adorable cake that looks just like a Tiffany engagement ring box would be a sweet way for him to propose. At the restaurant he could ask the manager if your waiter could bring out this special dessert for you and get down on one knee as you take it all in. However, if he is looking for something more private, he could hide this in a box in the fridge and bring it out after he has cooked for you at home.
---
6

Pop up Engagement Book Proposal...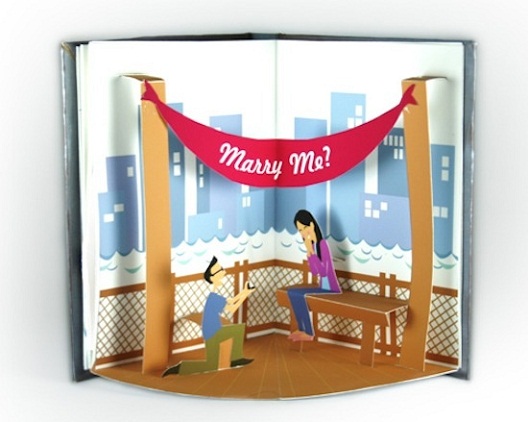 Photo Credit: Jackie Huang Paper Artvia Oh So Beautiful Paper
Is this not the cutest pop up book you have ever seen?! What's even cuter is that the groom-to-be had paper artist Jackie Huangcreate and personalize this pop up book for his girlfriend so he could propose to her! There are details and scenes throughout the book from dates and special moments that the couple shared together and at the end of the book was this one of a kind marriage proposal.
---
7

Proposal in a Box...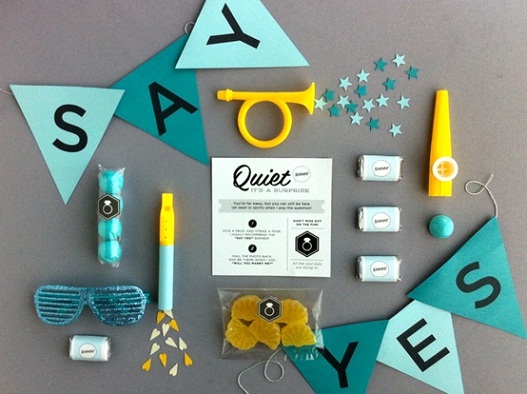 Photo Credit: Well Groomed
I adore this idea and would really love to see photos of a groom using this DIY proposal in a box to pop the question to his girlfriend. The idea is to send this proposal in a box to your loved ones, have them take photos of each other holding up the banner, throwing the confetti, and using the noisemakers, and then arrange the photos to be part of your proposal. You could burn the pictures to a DVD and as you are watching the slide show get down on one knee, or you could post them in a notebook with little love notes and as she looks over at you, you are waiting with the engagement ring in hand. Check out Well Groomedfor more ideas.
---
8

Fortune Cookie Proposal...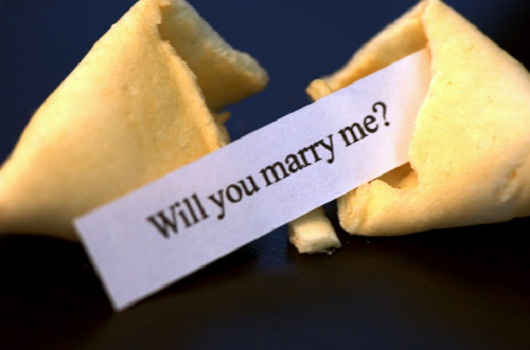 Photo Credit: My Lucky Fortune
Do you share a love of Chinese food and have a tradition of breaking the fortune cookie together? How sweet would this proposal be when you have no idea that your boyfriend is about to pop the question as you are breaking the fortune cookie open and you read, "Will you marry me?". Your boyfriend could either slip in the fortune cookie after your order is delivered to your house or he could ask the waiter to bring this special fortune cookie to your table if you are eating out. Either way, you will never forget the time you had Chinese food and he asked you to marry him!
No matter how your guy proposes, it will always be a moment the two of you will share together forever. Whether it's written in the sky or on the inside of your fortune cookie, it is a romantic and sweet way to propose because it came from his heart. Which of these sweet ways to propose is your favorite and how did your guy propose?
More
Comments
Popular
Recent