Thanks to TwitterI have found so many amazing people in the wedding industry, from photographersand wedding planners, to invitation designersand bloggers just like me! They have all been so warm and inviting like Kristen from Savy Deets Bridal blog, who will soon be celebrating her 2 year wedding anniversary!
"My husband and I had just married, had a day to pause, rest and pack, and were off on our honeymoon to Puerto Vallarta, Mexico. Neither of us had been to PVR, however I had been to other Mexican **hotspots before, so we had no idea what to expect from our honeymoon, except for us to enjoy and **celebrate our love and new marriage.
---
4

Do Your Research...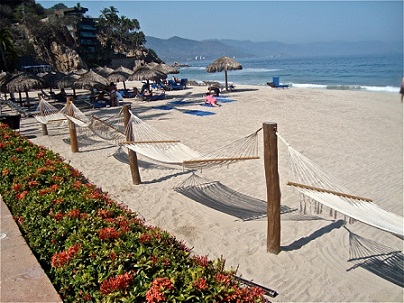 Photo: SavyDeetsBridal
Mexican sunsets, hammocks made for two swaying in the ocean breeze,
a candlelit dinner for two on the beach, a beautiful resort flanked by cliffs....it must be a Honeymoon in Puerto Vallarta.
We chose to stay at Dreams Puerto Vallarta, and had spent 3 weeks of research to decide to go with this porperty. Myself coming from a travel industry background, I fished out places we didn't want to go with, and made of list of the desired options. Further research of reviews and the like pin pointed to Dreamsand it won in a landslide! We are so glad we made this decision. We booked with Apple Vacations, which I promote a lot because they are an excellent company to work with when planning vacations. We didn't have to pay all upfront either, we paid for air and a deposit on the "land" package, and then made monthly installments until it was paid in full. We appreciated this, as we were planning our wedding afterall, and not having to put the whole amount up front furthered our committing to the package.
The nice thing about the resort is they had a car service waiting for us at the airport, we just had to not talk to do the** timeshare sharks** at the exit doors-oh they are there, teeth gnashing, greedy buggers! There is no surgar coating going through that mess and maze, we did get lured into a conversation, and then I saw the Apple Vacationsreps hanging outside the airport, and we escaped! From there, it was smooth sailing!
---
3

The Resort...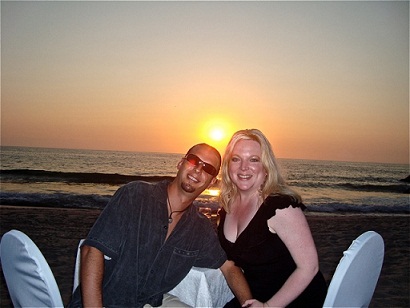 Photo: SavyDeetsBridal
The resort was beautiful! The lobby was open, very contemporary in design, with accents of the** Mexican culture**. The staff was very sweet and kind, and I loved hearing "Bienvenidos Senor y Senora", it made me smile hearing my name as a Mrs, in any language.
Our room was nice, not the greatest, but it was ocean facing, had a balcony, was simple, and really, we needed simple to help us relax from planning a wedding for 16 months! The first thing we did in the room was step onto that balcony, looked at the beautiful ocean below, held each other so tight, all the while letting the sensation sink in that we were on our honeymoon! We couldn't stop smiling.
---
2

Relax & Enjoy...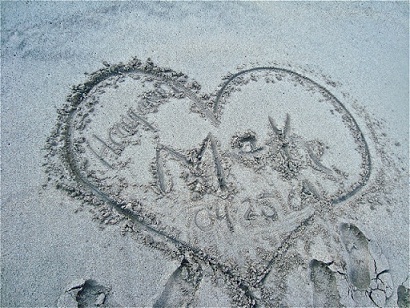 Photo: SavyDeetsBridal
Our days were filled with relaxing on the beach, enjoying the beverages being served to us, while under the palapas, enjoying the spa ammenities, and obviously what all couples enjoy while on their honeymoon, I mean really! We were away from everything, everyone, it was** just the two of us**, and we were in such beautiful surroundings, smells and sounds. The one thing that my husband really enjoyed every evening was him heading to the bar by himself, so he could see me walk up all dolled up. Its silly, but those little moments of him letting me finish getting ready so he could admire his new wife walking to meet him at the bar, I can't explain it, and it is not needed.
The** dining options** were amazing! They had different options to chose from, all unique and romantic in atmosphere. It gave us something different to look forward to in the evenings. My fave dinner was the dinner for two on the beach. This has to be reserved, and does cost extra but it is so worth it to splurge for occasions like honeymoons. They have an open air bar which has the ambiance of a swanky lounge, and I enjoyed heading there for after dinner cocktails.
---
2

Go Back for More...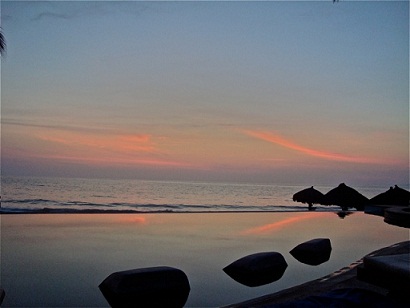 Photo: SavyDeetsBridal
Our two year anniversary is approaching, and we plan to revisit Dreams Puerto Vallartaagain. Family plans are in the works, and us getting away to our honeymoon spot will kind of be our last adventure before our family begins. I'm looking forward to this trip, feeling like honeymooners again, renewing our marriage and love.
****
Special notes of interest:
The beach is private, and only those allowed by the property to sell their wears walk along the beach.
Bees are everywhere, especially at the bars where the sugary beverages exist.
Dreams Puerto Vallartais an all-inclusive resort, meaning meals, snacks, beverages, alcoholic and non, are apart of the package price, so no need to carry your wallet, leave it in your safe!
Small change for tipping is nice, especially at the nicer restaurants.
Happy planning!
---
Comments
Popular
Related
Recent